About
MandM Direct is the fourth largest online fashion retailer in the UK, accumulating over 100 million website visits and more than 2 million active customers shopping every year. Operating as an 'online-only' store, MandM Direct owns one of the largest online user databases in the UK and relies on its web analytics and email data to generate powerful insights around customer lifetime value across all online touchpoints.
www.mandmdirect.com
The goal
Leverage predictive analytics to estimate customer lifetime value for current active users
Drive an increase in ad spend efficiency
The approach
Adopted an advanced Recency, Frequency and Monetary value model (RFM) to generate an "expected lifetime value" score for each active customer
Created audience groups in Analytics 360 based on this model for smarter bidding and effective re-engagement
MandM Direct believed that understanding customer lifetime value would enable them to make informed data driven decisions around promoting efficiency in ad spend, which would ultimately improve overall revenue metrics for the organisation.
To test this, MandM Direct partnered with Google to run a Predictive Analytics project which aimed to generate a score for each customer based on their expected lifetime value.
By leveraging the integration between Analytics 360 and BigQuery, MandM Direct were able to run a lifetime value model which considered the past purchases of customers across 3 key dimensions: recency, frequency and monetary value (RFM approach). A lifetime value score was generated for each customer, predicting their likelihood to convert.
As a way to action this new insight, new audience lists were created in Analytics 360, grouping users by their predictive lifetime value score at a user level dimension.
Taking advantage of the native integration between Analytics 360 and Adwords,  several audience-based campaigns were created and deployed using a customized bidding strategy (using Search Ads 360) based on the predicted lifetime value scores across the groups.
"We were absolutely delighted to be the first UK retailer to work with Analytics 360 in the area of predictive lifetime value. We're constantly looking at our customer data in order to drive the business forward. A 33% reduction in CPA coupled with a 37% decrease in ERS was very impressive. Getting a better understanding of expected lifetime value is paramount to success."
– Phil Twigg, Head of Digital, MandM Direct
The results
Although we have only just begun to uncover the actionable insights from this project, MandM Direct have already reported positive results. The new CRM-augmented display campaigns have generated a whopping 40% increase in revenue. Furthermore, in Search we have seen a significant decrease in CPA ( -33%) and 37% decrease in ERS, when compared to other audiences.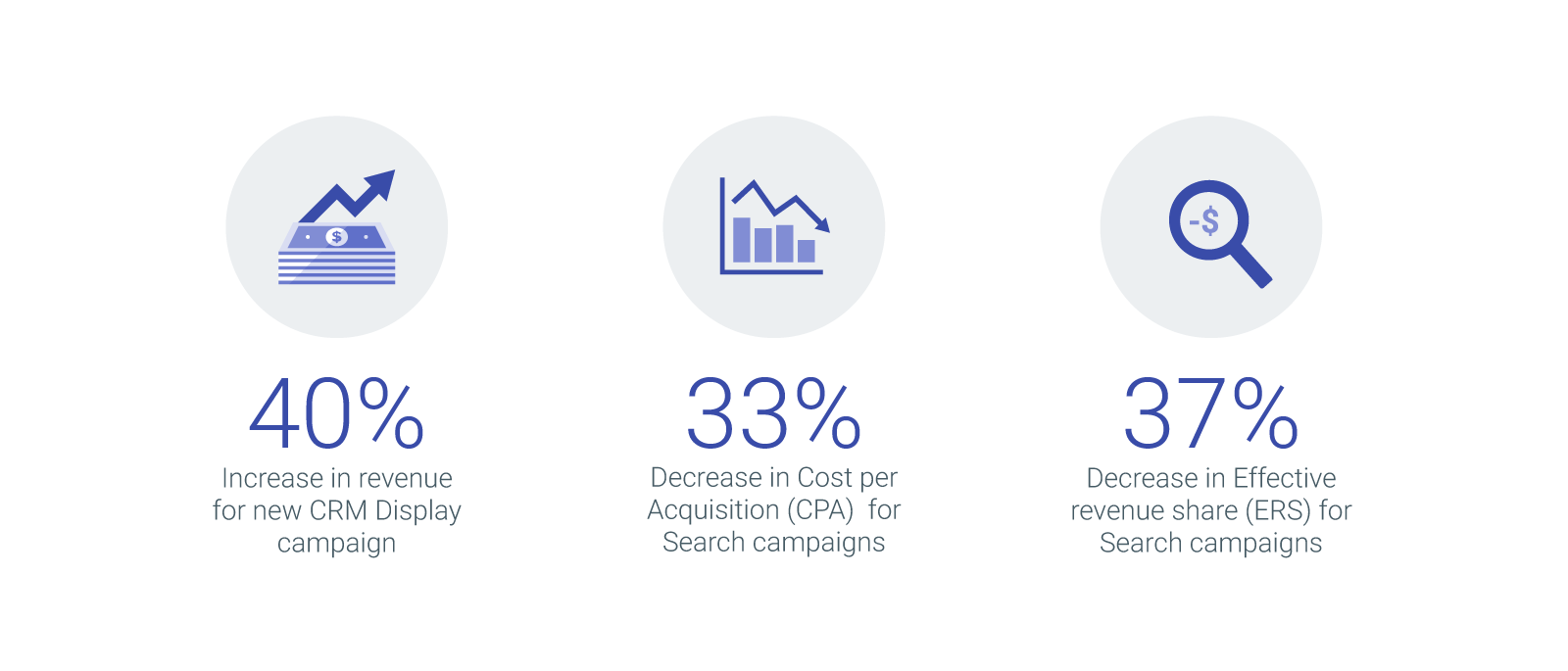 Following on from this very promising start, MandM Direct would like to scale the project to other markets starting first with Ireland and Germany, and grow the overall project scope to include a strategy adopting Similar Audiences to help extend reach and acquire high value lookalikes.