Google's Kate Crowley and Myles Riseborough met with Wavemaker's David Fletcher and Steve Richards to discuss how Wavemaker encourages and nurtures innovation, scooping the 'Breakthrough Technology as a Product Award' at the Campaign Media Awards, and what the agency of the future looks like.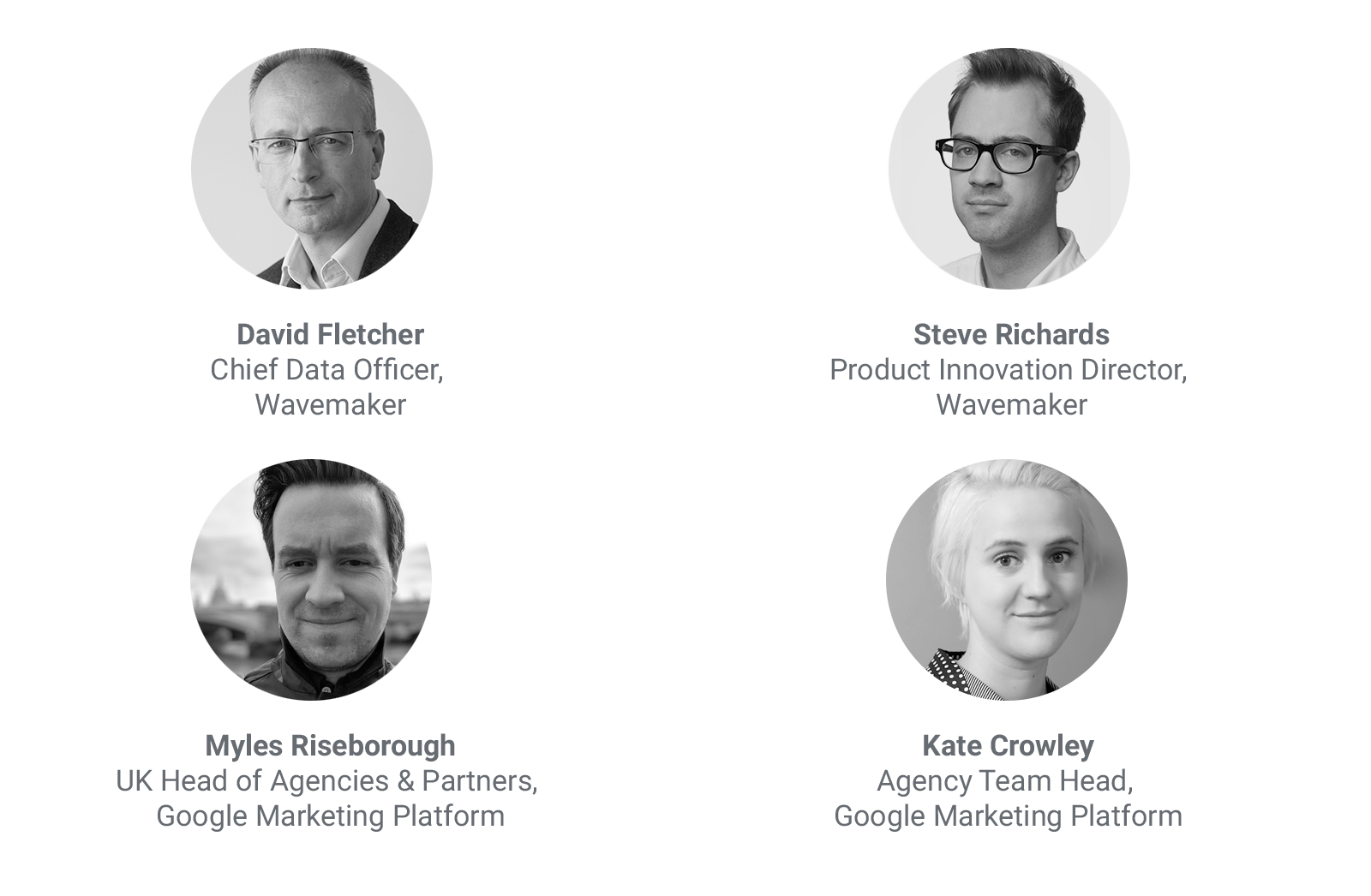 Not many companies as large as WPP group have the opportunity to melt down existing components and reforge a better, stronger offering. Wavemaker is the result of these efforts and just under a year in, the agency is already doing some game-changing, award-winning work for their clients.
Earlier this year, Wavemaker won the 'Breakthrough Technology as a Product Award' at the prestigious Campaign Media Awards. They developed a scalable, low cost, non-invasive solution to measure the effectiveness of campaigns – with Audience Lift. The fact this came so soon in the new agency's life shows that their approach to innovation is on the right track.
Audience Lift was something from the mind of a polymath. Part art, spotting industry challenges around viewability – the concern that so many unviewed impressions were waste which could potentially be recycled into a control group, in all campaigns. Part science, unleashing the computational power of Google Cloud's BigQuery to match Wavemaker's ambitions to measure campaigns at an individual event level.
In developing Audience Lift, Wavemaker has changed the apparently simple but fiendishly complex issues of digital campaign measurement, a field where it's too easy to conflate correlation (e.g. an impression in a converting path) with causality (e.g. an impression driving an incremental conversion).
Wavemaker is not just a media agency, it is an agency obsessed with consumer purchase journeys, helping clients to grow via a combination of media, content and tech. The agency is orientated around this aim and it places innovation at the heart of what it does.
We speak to Wavemaker's David Fletcher and Steve Richards to find out more.
"Innovation is a good driver of distinctiveness."
– David Fletcher, Chief Data Officer, Wavemaker
How do you create a culture of innovation?
David Fletcher (DF): I'm not sure that you can create culture. You can only create an environment where culture can develop. Some of this is by design, a lot is by accident. Once you have the culture, it's great because it's self-supporting so you're more likely to bring in people who get it. We've been on a fantastic growth curve for the last ten years and this has allowed us to be masters of our own destiny. Our success allowed us to invest in talent and introduce new technologies but we've also been able to build proof-points.
There's always been a keen appetite to identify success and export it to new corners. For example, we have a Global Head of Scalability & Innovation based in Warsaw. His team takes an idea and helps to scale it. A strong informal network exists to support this. We've definitely had to adopt new ways of sharing info as part of the merger.
You can't get set in your ways – you need to constantly evolve. We're only eight months post-merger so we have many new people with new skill sets, experts in their respective fields. Newness either happens organically or it needs to be manufactured, either way change is inevitable.
Wavemaker's structural changes have also helped. As well as restructuring two agencies to become one, we have also restructured the TAPP [Technology, Audience, Platforms and Performance] team. This has allowed us to do further work with audience science, whilst taking a look at new areas e.g. search data, social media data. We're constantly developing new ways of looking at old tech e.g. surveys. In short, we're always evolving and will continue to do so. This world doesn't stand still and neither can agencies.
Whilst our culture is underpinned by agility, we also strive to be much more agile in the technical sense of the word. This means identifying blockers and increasing the share of client problems that the teams are solving.
"Wavemaker has been built on the foundations of our obsession with the purchase journey. Our USP is that driven by growth, we have a proprietary purchase journey solution. We track this in different markets for different verticals and this is at the heart of all the work that we do."
– Steve Richards, Product Innovation Director, Wavemaker
What's your focus right now?
Steve Richards (SR): Wavemaker has been built on the foundations of our obsession with the purchase journey. Our USP is that driven by growth, we have a proprietary purchase journey solution. We track this in different markets for different verticals and this is at the heart of all the work that we do. Each team at Wavemaker is part of the journey. For example, the Journey Design team is responsible for looking across the entire lifespan of the consumer and they draw on innovation from existing products and look for future solutions. Ultimately, we are a next generation, full-service, data driven media agency; focused on nine products that accelerate purchase journeys, centered around media, content and technology.
(DF): We have a Strategy Board that works on collaboration and they are targeted on this very thing. We're the second largest player in the UK so this needs to be done on an industrial scale. This momentum was there when Wavemaker was formed.
We're also thinking in more productised terms. For example, our attribution product has ten different solutions available but it doesn't matter what they are – if you have an attribution need, then we have the approaches to fit.
How are you changing with a move to more data driven integrated personalised experiences that clients demand?
(DF): We've brought many more specialists into the business. A few years ago, we started to hire people with "data" in their title. This includes STEM graduates, developers, data warehousing specialists and more. Originally this was for a hygiene basis, such as tidying up databases, rather than a value-add but now these services can be repurposed and drive value. We started with engineering and three years ago we moved into data consultation. In parallel, we brought in e-commerce experts, organic performance became more technical and we launched our B2B offering.
Who for you is an ideal client?
(DF): The preference is for clients that are learning. If your requirements are fixed and you want us to buy things for you then of course, we can do that but you won't get a distinctive offer.
If you don't know what the answer is or even better, what the question is, then you will get a distinctive offer. Ultimately, we enjoy brands most that are obsessed with purchase journeys, just like us.
What do you think the agency of the future looks like?
(DF): It's more flexible within a broader offer. Productisation is the route to that, combined with a distinctive point of view on the route to the solution, which for Wavemaker is purchase-driven. To paraphrase Byron Sharp, differentiation is a mug's game. What you need is distinctiveness. There must be a clear reason for clients to engage with us in every aspect of what we do. This will come through partnerships and better point solutions. Innovation is a good driver of distinctiveness.
Is the current agency model fatally flawed?
(DF): All models are in states of flux. All activities need to be able to respond to disruption in the marketplace or find opportunities to grow and transform. We are at one point of the sharp end of this. Everything is based on scale. When media-buying became an independent business in the mid-80s, smart people worked out there was a business model to be made here. Version one was driving value from media owners. Then it moved from not wanting "horse thieves with calculators" to "there's thinking to be done here". The industry moved from media-buying thinking to media-planning thinking e.g. "What's the optimum frequency?" Then came media fragmentation and having to answer briefs through a combination of channels. Clients then needed advice and we moved from clients needing agencies for things that they could not do themselves to requiring trusting advisors.
Where are we now? It's the reinvention of the intelligent use of scale in terms of the ability to understand consumer and media trends. We benchmark performance internally. We're seeing industrial-level data-centric client work, the intelligent use of scale in looking where we go next. That's the ability to look across our client base, hear their questions and let them spark ideas. We can test this on an individual client but if it's a common requirement then it can become a new model.
People still buy people but a lot of new business process has formal chemistry sessions and the ability to partner is key. To get excellence you need to be smart and buy cheap but you also need engagements with key media owners to gain a competitive advantage. Clients are still looking for that trusted voice to stitch everything together. Through direct engagements and JBPs, clients want us to be active stakeholders and understand what's conflicting to this and complementary to this.