Today, 47% of Polish Internet users carry out online research looking for inspiration and exploring different options before buying clothes or footwear, with 35% completing their purchase online. It comes as no surprise that clothing queries are among the most common retail-related searches typed into the Google Search bar. This kind of search data is a powerful tool that can be used to understand consumers' needs, attitudes and inspirations.
In the latest Google Fashion report, we took a closer look at the search figures for items of clothing in Poland to learn about emerging fashion trends, as well as the broader shifts in behaviour and cultural values that these trends may represent. Three particularly notable trends are military chic, feminine style and comfortable clothing.
Military inspirations
The bomber jacket is a classic example of military style. It started to gain search popularity in autumn 2015. Interest in the jacket started in the UK and then a "search wave" spread across the world reaching Poland in the spring of 2015. Bomber jackets were one of the most popular search topics in Polish fashion in 2016 and even became a clothing category in its own right, with many retailers adding bomber jackets to their category lists in addition to the likes of coats and dresses.
It took about 5 months before interest in bomber jackets spread from the UK to Poland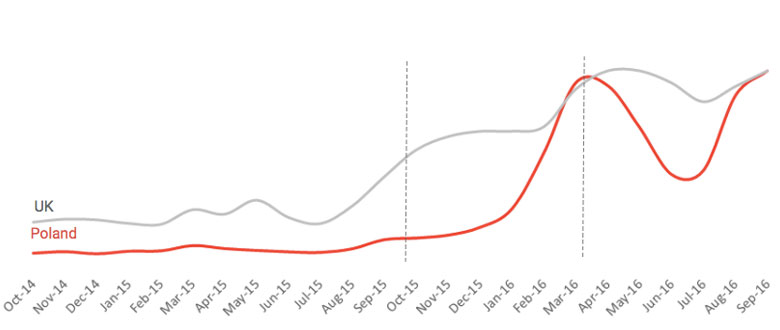 The bomber jacket is also a good example of how fashion trends diversify over time. While a year ago users in Poland searched mainly for "bomber jackets" or "khaki bomber jacket" (which is the most classic variant of this item), this autumn, bomber jackets were searched for in all types of colours and patterns: pink, floral pattern, suede, silver, padded, etc.
However, the bomber jacket is only one example of the many search topics that make up the "military chic" trend in Poland. An enormous search increase (almost 140% year on year) can be observed for the "camo" (camouflage) pattern. Just like bomber jackets, the camo trend is versatile: Poles search for "camo classics" like trousers and jackets, but also leggings, dresses and even pumps.
Femininity strikes back
At the other extreme, there are search trends referring to specific cuts, colours and fabrics that can be summarised as an "ultra-feminine" style.
We are seeing an increasing interest in more revealing designs: off-the-shoulder blouses and dresses, frills, thigh-high boots and high-heel shoes, as well as types of lingerie like bodies and delicate bralettes. Also, body-shaping clothing items are in: waist trainers, corsets and push-up leggings. At the same time, consumers usually search for bold and feminine colours: silver and gold pumps, or maroon and cornflower-blue dresses. As for materials, suede, tulle and – last but not least – lace are topping the charts.
Speaking of lace, it's actually a trend in its own right – and a very versatile one at that. With almost 50% search growth YoY, lace is associated with almost all kinds of clothing items: from underwear to tops, blouses and dresses to sports shoes.
Lace is a trend that comes back stronger with each new year. There's no specific seasonality – lace items are searched all year round.

Feel comfy in your clothes
Many of you will be happy to hear that the trend for corsets and heeled shoes is balanced out by a steady increase in the popularity of clothing and footwear that's comfy, loose and easy to wear. This comfort-focused style is represented by sports shoes (especially trainers) and sports clothing (especially tracksuit bottoms). However, it's not just limited to sportswear – we are also seeing long, oversized sweaters, jumpsuits, backpacks, etc. appearing under this cosy category.
And being comfortable doesn't mean having to sacrifice on style. One of the standout icons of this trend is the jumpsuit, with the search volume for this item growing by almost 60% YoY in Poland. For those who only associate jumpsuits with loungewear and the onesie pyjamas, it may be surprising to hear that the top search keywords associated with jumpsuits include "elegant", "wedding" and "evening".
Jumpsuits started gaining popularity in spring 2015. And in 2016, they came back with a bang, seeing especially strong search figures in both spring and summer.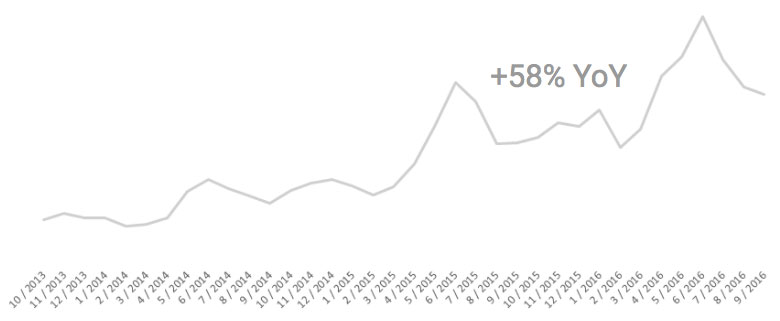 The bigger picture
So what do these search figures actually tell us about consumers? When we shift focus from clothing and style in order to gain more perspective, the data relating to fashion search trends reveals some broader conclusions:
The same trends apply for both genders. Even though some trends are reserved for women (like the ultra-feminine trend), the boundaries between men's and women's fashion are becoming more and more obscure. The top 2016 fashion trends, like bomber jackets, trainers, the camo pattern, tracksuit bottoms and belt bags, were searched for by both men and women.
Trends overlap. The military camo pattern can be found on high-heel shoes while comfortable sneakers can be decorated with lace. The jumpsuit, once considered to be a type of pajamas, is now often considered to be an elegant evening outfit. One trend can easily be combined with another – even when they seem to come from completely different worlds.
Consumers are searching for items by occasion or activity. Lace dresses may be on the rise, but wedding party dresses are still what people are searching for most. Whether it's a jumpsuit to wear at the office or a jacket to wear in spring, occasions are what's driving searches for the top-trending items.