It's no surprise that YouTube viewers seek out the useful and joyful, particularly in difficult times. But, as Google U.K.'s Phil Miles and Sarah Ashley explain, new Google research shows that marketers have a lot to gain from understanding the deeper personal connections people have with the videos they watch.
As the pandemic increases the time we spend in front of screens,1 there's rarely been a more important moment to understand the U.K.'s relationship with video — and, as marketers, to think about how to meaningfully communicate and engage with people across different video platforms and media.
We carried out survey research with 2,793 YouTube viewers in the U.K., and conducted in-depth interviews with a further 32, asking how videos they recently watched on YouTube made them feel. Their answers, in conjunction with viewing data, highlight the deeply personal meaning behind the YouTube content they love. And, for brands and marketers, they provide valuable and actionable insights into the videos people watch and why.
It's meaningful because YouTube content is so personal
The U.K. spends a lot of time on YouTube — even more so this year during the lockdown. According to Comscore, the average adult online in the U.K. spends around 46 minutes per day on the platform — with 98% of online U.K. 18- to 34-year olds using YouTube each month.2 While these numbers indicate how much and how often people are watching, they offer little information as to why.
All videos, to a greater or lesser degree, make viewers feel an emotion of some kind
To better understand this, we began our investigation by exploring how the content people watch on YouTube makes them feel. We quickly found that all videos, to greater or lesser degrees, were making viewers feel an emotion of some kind.
Whether people felt happy, sad, or indifferent, we realised that understanding viewers' engagement with YouTube would need to go beyond these more temporary and instinctive responses. Our research took on a new dimension of personal meaning: the connection an individual might have with a video because of their specific experiences, passions, or needs.
As a testament to the diverse and personal nature of YouTube, of the 2,793 recently watched videos that were randomly selected for review in the survey phase of the research, the vast majority (93%)3 only occurred once in the sample set. An outlier: a video of two ducks gobbling up peas, happened to be selected for five different people.
This popular video, with more than 18 million views, made all our respondents who had seen it feel "happy" — but when we asked them why, more nuance surfaced. For one person, the video was a funny way to entertain a toddler. For another, it was a meaningful reminder of their grandparents and growing up on a farm. For someone else, it was confirmation that their vegetarian diet is right for them.
While a feeling of happiness was consistent across the board, the personal meaning behind this emotional response was very much in the eye of the beholder.
Driving a deeper connection with viewers through personal meaning
These greatly varying and deeply personal meanings behind viewing behaviour may at first seem detrimental for marketers looking to connect with audiences at scale – yet through in-depth coding of videos, clear themes emerge.4
A video was personally meaningful — with a greater chance of driving a deeper connection — when it resonated with someone in any of the following ways:
What I know: Content that provides information, learning, or helps to expand your worldview.
Who I am: Content that brings back memories, reminds you of your beliefs and values, or makes you feel connected to others.
Who I could be: Content that inspires you to grow and better yourself.
Videos may touch on none, one, or several of these areas, but the most personally meaningful videos — in terms of intensity and depth of connection — touched on multiple aspects of this framework. In particular, they related to an individual's aspirations and ambitions for who they could be.
The most commonly occurring type of personal meaning is 'what I know'. Half (52%) of the people we surveyed felt that their recently watched video provided them with information, helped them learn, or expanded their view of the world.5
What on the face of it might seem a functional and instructional video can mean more when you add a lens of personal meaning and think about the individual.
We've seen this desire for learning and information accelerate during the coronavirus pandemic, reflecting people's changing needs and personal circumstances. Faced with prolonged periods in the home, many people have watched a cooking tutorial, taken an online lesson, or huffed and puffed their way through a Joe Wicks workout.
While the exact meaning individuals take from this popular content varies enormously, the lessons for brands are clear: using digital video to help consumers fill the gaps in their understanding and education is an effective and welcome way to engage with them.
Lean into lower views
One revealing find from our study: low views do not mean low meaning — and quite often the opposite. Videos in the long tail with fewer views proved to be more likely to be personally meaningful than those with mass appeal and large view counts to match.
Far from being irrelevant or uninteresting, videos with lower view counts were more likely to be described by viewers as having multiple (higher) types of personal meaning.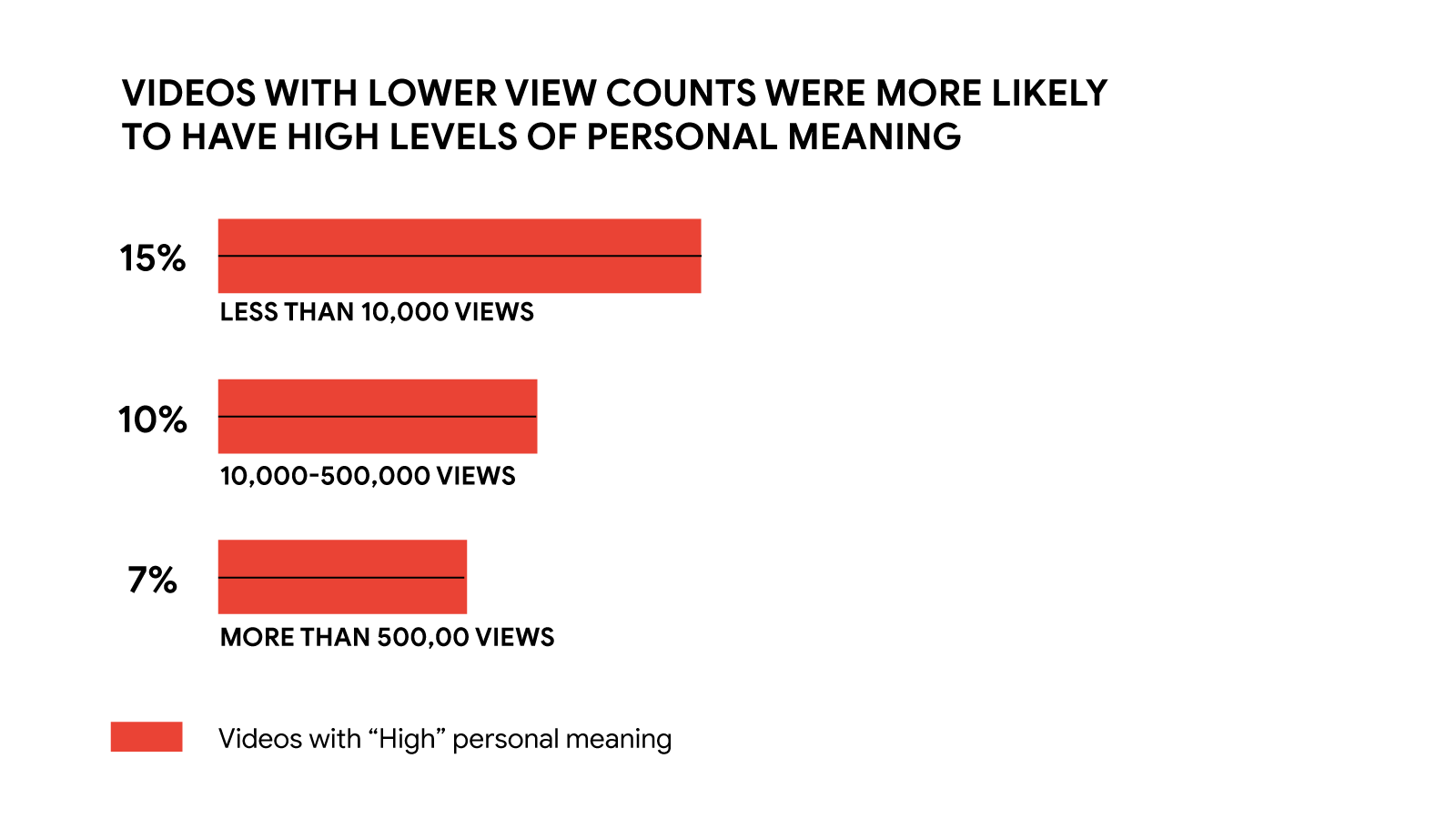 The diversity, range, and sometimes 'nicheness' of content on YouTube is part of its appeal and relevance. To quote a couple of our research participants, YouTube is a place where you can find "anything and everything", no matter how obscure — it's an "archive of amazing and rare things such as concerts and performances".6
In the long tail, marketers can find some of the most passionate and engaged viewers on YouTube, ready to hear from brands who show up with relevant messaging and focused content. To go beyond simple demographics and shape your audience based on their habits and more specialist interests, try YouTube's Find My Audience tool.
Music on YouTube brings the joy
In a recent ONS report, over a third (37.4%) of U.K. adults said the pandemic has affected their well-being — and, in a challenging year for so many, it's not surprising that many viewers are seeking joy through video.
In our study, YouTube content was considerably more likely (10x) to make users feel happy than sad. One of the categories most likely to leave people feeling happy was Music. We found it to be closely related to people's sense of who they are — the category most likely to resonate with 'who I am'. It also topped the ranks for relaxation and nostalgia.7
This deep emotional response perhaps helps to explain why the platform has been instrumental in connecting artists with fans and building like-minded communities, as pop sensations Rina Sawayama and Jessie Ware touch on in this episode of This Is My YouTube.
The heady mix of joy, nostalgia, and the ability to connect with others, coupled with YouTube's searchability and content from years gone by (half of the videos watched in our sample were uploaded before 2020), can make for a strong personal connection between YouTube users and its content — and make for a positive, upbeat environment for brands.
How marketers can harness the power of personal connection
Thinking about the personal meaning of content provides a lens for understanding the U.K. YouTube audience and their love for specific videos. It also shows that in uncertain times, digital video can be a well of learning, escape, and betterment for audiences with an array of differing personal needs.
People in the U.K. watch and enjoy content on YouTube for all sorts of different reasons — and it's the diverse and extensive range of videos available that means so many people can, and do, find personally meaningful content on the platform.
For marketers and brands, the extremely specific reason why any one person watches a piece of content isn't key. What is of value is understanding a shared framework of meaning and the themes that drive engagement and relevance, whether it's for a mass audience or a passionate niche.
To translate this understanding into action, we've pulled out three key insights to inform your marketing plan:
Content in the long tail on YouTube is among the most personally meaningful. These highly relevant moments meet viewers' needs in specific ways — and on aggregate, these moments add up. For marketers, view counts aren't always everything — consider building campaigns around more specialised content to deliver smaller but highly engaged audiences and consumers.
Music isn't just for streaming in the background. It's valuable content that informs people's identity ('who I am'), while delivering happiness, relaxation, and nostalgia. Brands who show up in these moments can benefit from strong, emotional, and deeply personal responses. Use YouTube Select music Lineups to connect with music fans at scale in verified environments.
Foster personal connections through technology. Marketers can use Google's tools to get closer to customers at scale in these personally meaningful moments — and with more sophisticated targeting than simple demographics. Use the Find My Audience tool to discover audiences on YouTube (based on their habits, interests, and what they're planning to purchase) and learn how to reach the ones most relevant to you.
Want to put a face to our findings? Hear more about the personal meanings behind the content people love in these video interviews with YouTube users.
Huda on exploring her culinary heritage
Michael on getting his cycling fix
Sam on his passion for Far Eastern culture
Melanie on the power of music
Jayesh on finding inner peace through yoga