As online video consumer behaviour shifts, agile brands are adapting their marketing strategies to cut through. Here, three industry leaders reveal what they've learnt from successful YouTube campaigns this year – and how brands can connect with viewers in new ways.
This year, we've seen accelerated shifts in consumer viewing habits and brands are continuing to navigate the new normal. For a long time, online video has been seen as a place to raise awareness, but as increasingly engaged viewers lean-in to the content they love, this means brands can do one essential thing: drive action. In a recent study, more than half of viewers said they have bought from a brand as a result of seeing it on YouTube.1
We asked marketers from a brand and agency – Danni Murray of Warner Bros, and Harriet Perry of Omnicom Media Group – for their insights on how to run a successful campaign on YouTube.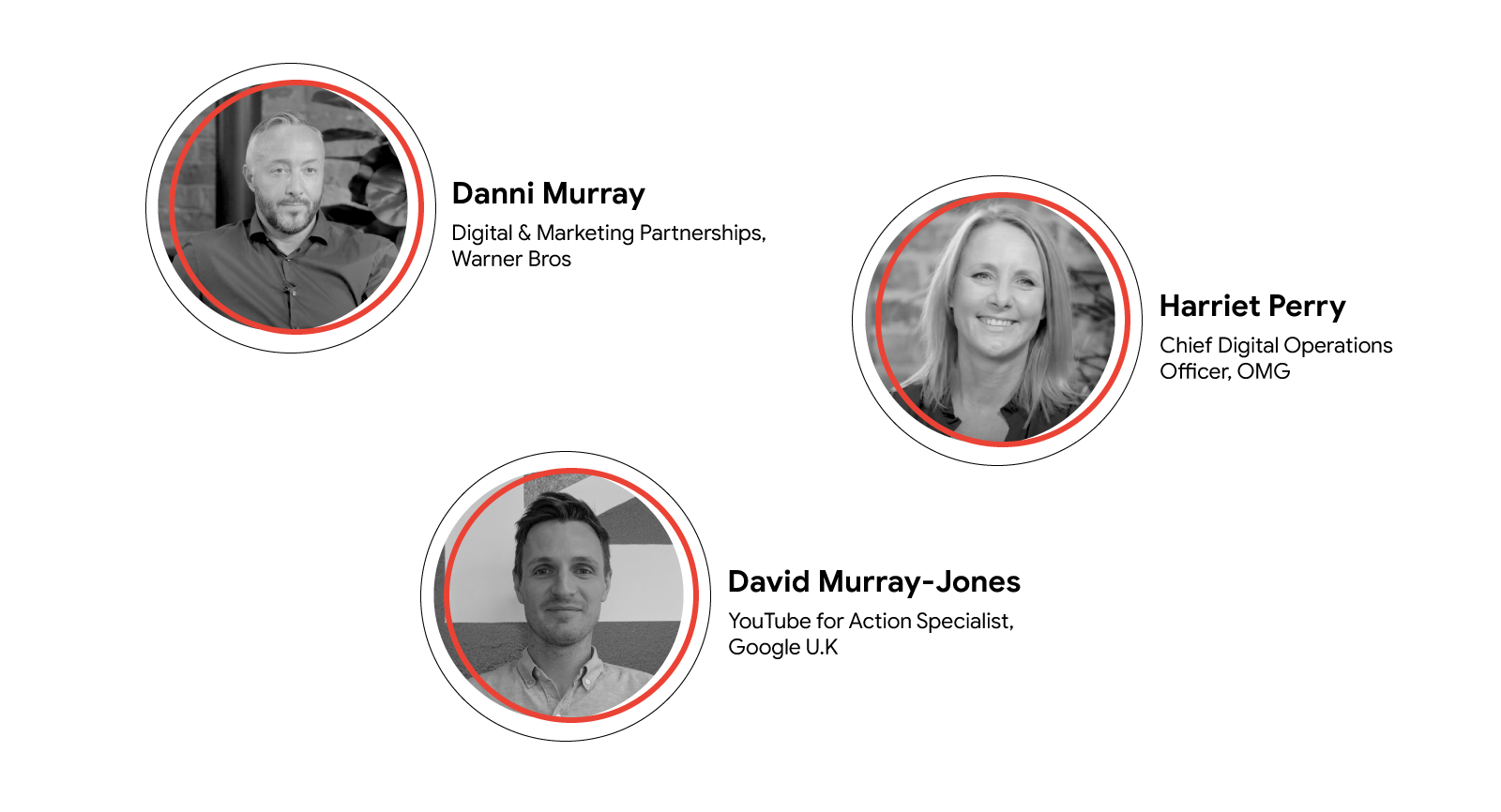 Reach different audiences across multiple devices
Danni Murray, Digital & Marketing Partnerships, Warner Bros
Marketers have the opportunity to use their advertising to cut-through and scale across multiple devices, and can experiment with what ad formats work with a variety of different audiences.
As audiences move away from TV onto various digital platforms it's essential for brands to follow. Increasingly, what we're doing now is finding ways to reach audiences as they switch between devices.
For example, for the release of the film Tenet, we made the most of YouTube to scale the campaign to multiple audiences across different devices, with varied creative. It enabled us to build a picture of what was working against a variety of different audience groups. That intel helped us make decisions for the rest of the campaign.

Be more relevant to your audience
Harriet Perry, Chief Digital Operations Officer, OMG
Using YouTube Select, we've been able to fully customise channel selections for our clients and this has been a real game-changer. It has enabled us to have a more nuanced approach to the way we plan and activate campaigns on the YouTube platform.

Now, we can identify and reach specific audiences in much more relevant ways. For some clients, that means creating bespoke content packages that can reach specific audiences. For others, we build TV extension packages that extend the reach of linear TV by only showing up with broadcaster-quality channels.
As audiences show no signs of moving away from digital platforms, being more specific in the way brands deliver campaigns is crucial – whether the end goal is driving action or raising awareness.
Drive action with data and creative
David Murray-Jones, YouTube for Action Specialist, Google U.K.
To boost exposure, drive sales, and increase ROI for your brand – here are my three tips to get you started.
Data. When it comes to performance, the first place to start is unlocking the power with your first-party data – from existing customers, site visitors, to channel subscribers.
Creative. Make your creative work hard, especially in the first five seconds where you should capture your brand, product, and call to action. Then, let TrueView for action do the heavy lifting for you, as it auto-optimises to any action on your site, whether it's "learn more", "sign up" or "buy now". Check out this new interactive guide for more tips on sequential storytelling. Brands that focus on reaching and adapting creative for a range of audiences can connect on a completely new level.
Measure. Track sales, site visits, and store visits beyond the last click. On average, advertisers running YouTube with Search see 8% higher search conversion volumes and 4% lower search CPAs. Then, when you find out what works, choose tools to build your own campaign with YouTube Select, which will enable you to make customised offerings for your brand or client.
As viewers increasingly gravitate towards online video, brands need to be more agile than ever – and the ones already doing it are seeing the results. Whether you're focused on raising awareness or driving action, this new landscape represents a timely opportunity to reflect on your marketing strategy and find new ways to connect.