When we think of an ad, we think of ad creative. A memorable script has the power to make us laugh, cry, or even — in the case of the trend for ASMR videos — lull us back to sleep.
That power is what makes creative a crucial pillar of advertising, with effective creative accounting for almost 50% of ROI. Yet when it comes to maximising the potential of great creative, many video advertisers overlook best practices and the efficiencies that AI-powered creative tools can deliver. My team has reviewed thousands of ads from advertisers of all sizes, and we see a few common mistakes limiting how effective video ads on YouTube can be. Focus on these three corrective actions to uncover quick wins and boost video performance.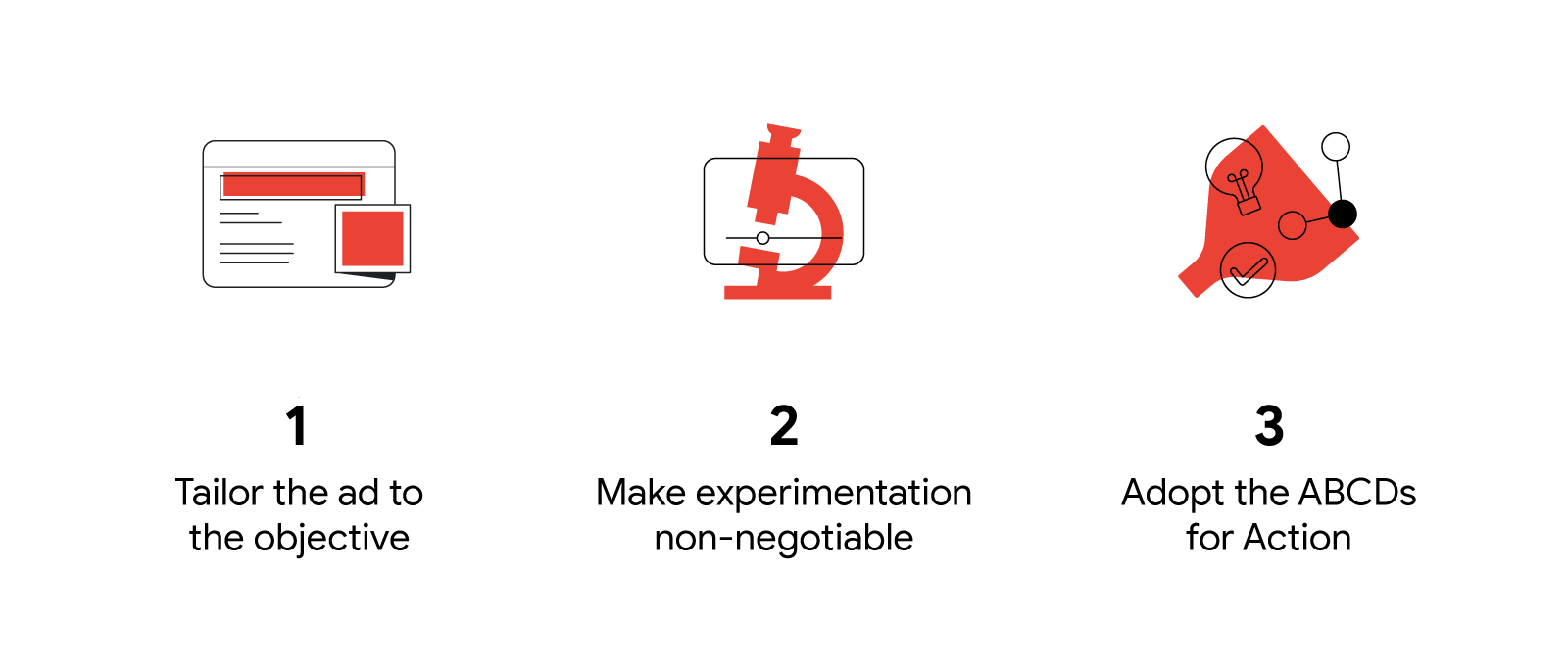 1. Tailor the ad to the objective
Efficiency is always top of mind for marketing teams, which can often mean that one ad is tasked with more than one goal. But an effective YouTube ad is one whose creative is tailored to a core marketing objective and designed to meet people where they are. By making incremental changes to an ad with a single objective in mind, advertisers can unlock big results. How do we know? More than 80% of brands that used the same ad across the funnel and saw top performance for one objective didn't replicate that same success in other objectives.1
Even the most effective video ads can't be expected to do it all. Knowing this, Ugg ran a mix of ads to meet their upper-funnel goals. The shortest ad had the most efficient lift for awareness, while the longest saw best-in-class lift for consideration. Leveraging more than one ad helps to pull the necessary creative levers up or down for a given objective.
2. Make experimentation non-negotiable
Video experimentation, a must-have part of any marketing plan, helps advertisers test creative variations of in-market ads to ensure the strongest-performing versions run. A common misconception about experimentation is that it requires a lengthy, expensive process. On the contrary, video experiments are included in a YouTube media buy, and the smallest optimisations can produce big gains. Luxury retailer Coach leaned into experimentation by adding a call-to-action to each of its ad spots, a new YouTube strategy for the brand. After seeing that the strategy led to increased favourability and a spike in searches, the brand reinvested in testing for the second wave of the campaign. Results from that phase showed strong favourability, consideration, and engagement.
Similarly, Celebrity Cruises tested slightly different messaging across four ads. The creative that used clear branding and descriptive voice-overs saw best-in-class consideration lift, providing lessons used to build a framework for future ads — and more reason to optimise videos.
Given its proven value, many advertisers reserve a portion of spend for experimentation. Media Lab, the team that manages all of Google's media strategy, allocates 20% to 30% of every campaign's budget to testing.
3. Adopt the ABCDs for Action
Recently, I've noticed that many advertisers are pivoting to a lower-funnel video strategy using ads that reflect brand marketing principles. Effective video ads are structured in such a way that every element makes an impact. YouTube's action-optimised best practices can help creative teams fulfill every asset's potential by arranging them in the most persuasive order. Aligning to this framework leads to 50% higher conversions per dollar and a 40% higher conversion rate.2 Case in point: Moc Nhu, a Vietnamese shampoo brand, drove 7X more conversions at a 78% lower cost per acquisition when optimising their Shorts-friendly, vertical creative aimed at promoting action.3
Solutions driven by Google's AI can add efficiency to building a robust creative mix.
Action campaigns perform best when there are at least five versions of the ad creative optimised for different viewing experiences, from long form to YouTube Shorts. Leaning into solutions driven by Google's AI at each part of the process can add efficiency to building a robust creative mix. Whether repurposing images and text to create a video, flipping or trimming assets to fit new formats, or enhancing videos with the voice-over feature, YouTube can help teams scale existing creative and produce new work.
Creative is critical to breaking through to valued audiences and lifting sales, but it can also be the weak link in an otherwise robust strategy. To make investments work harder, brands can follow these three core principles of creative effectiveness. Creative that consistently aligns to one objective, serves a relevant message, and applies past learnings while testing new hypotheses has the power to unlock the full potential of YouTube.