Jon Halvorson, global VP of consumer experience at Mondelēz International, explains how infusing empathy into personalisation at scale is helping drive significant growth.
As one of the largest snack brands in the world, we know what people are craving — and it's not just cookies. Based on our 2020 State of Snacking study, consumers view snacking as an important source of comfort, connection, and community, especially during the past year. Nine in 10 adults around the globe are snacking as much or more during the COVID-19 pandemic than before.
With snacking a growing part of people's everyday lives, we want to connect them with the right snack in the right moment, made the right way. By embracing personalisation at scale in our marketing, which we refer to as empathy at scale, we can create deeper relationships with our customers, while driving growth for our brands.
Mondelēz International's personalisation-at-scale journey began back in 2017. In the early stages, we took a media-led approach that cut waste and found efficiencies — but something was missing. In focusing so heavily on targeting and segmentation, we had forgotten about the creative. Our most successful ad campaigns were always those centered around empathy. Why should personalisation at scale be any different?
Our marketing approach is centered on real, human connections, moving beyond data-driven tactics to uncover what unites us all. Here's how we're delivering a more human personalisation experience to successfully unlock growth.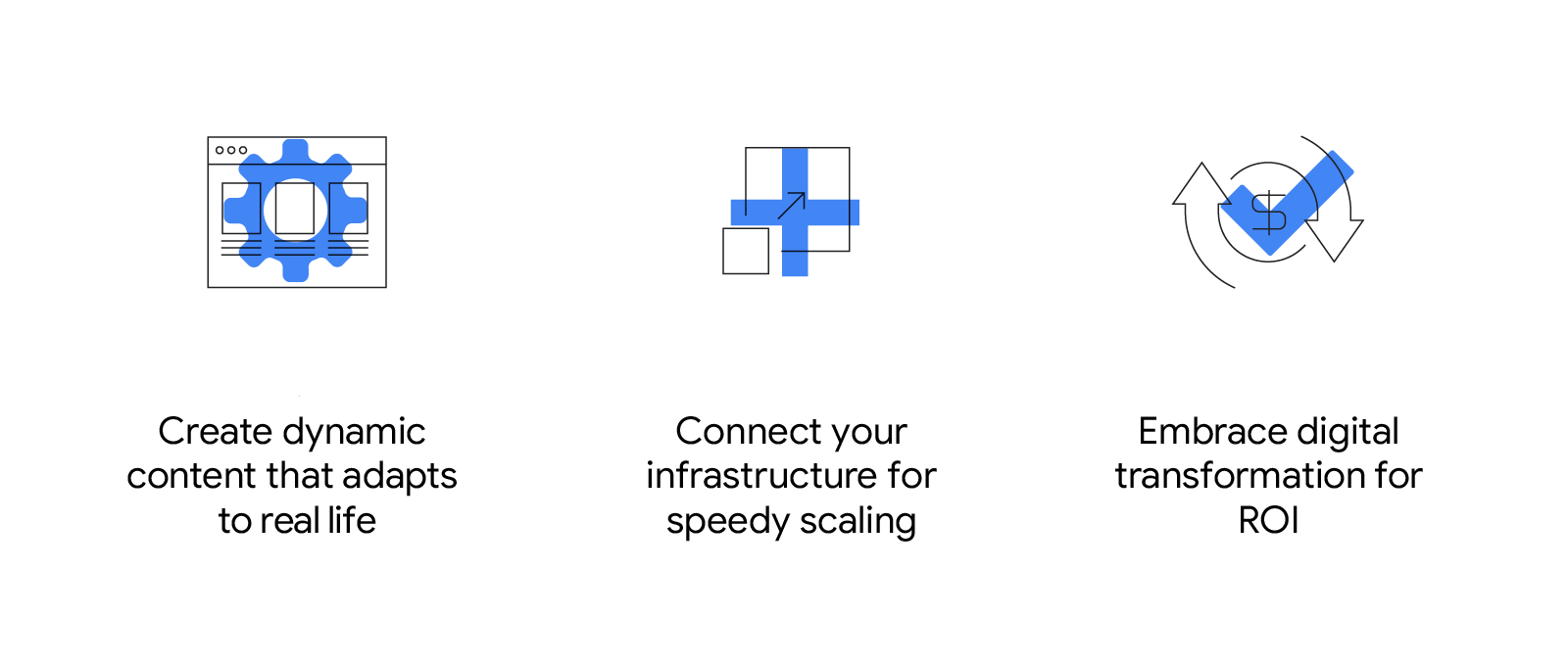 Create dynamic content that adapts to real life
Instead of delivering the same message to every person, we started creating campaign variations to resonate with different audiences. While our products may stay the same, how and when consumers' engage with them changes, and our creative should reflect that. Using insights from our snacking study, we developed personalised campaigns for some of our most popular products, speaking directly to how snacking factors into consumers' lifestyles.
In our Oreo Eye on the Clock campaign, dynamic banners served a personalised message, based on the audience and time of day, on an Oreo cookie clock. Parents in the U.S. were reminded that "nap time equals snack time," and young professionals were prompted, "Working late? Have a cookie." Powered by Google Cloud technology and delivered through Google Marketing Platform, the campaign delivered a significant increase in click-through compared with more generic messaging. And when the coronavirus pandemic caused an overnight shift in consumer lives and behavior, we quickly adapted our messaging to reflect and connect with these changes. Students' "library lunch" ads, for example, became "Chew quietly. Your computer mic is on."
Instead of delivering the same message to every person, we started creating campaign variations to resonate with different audiences.
In India, Cadbury Fuse launched the "Don't go far for hunger" campaign, which leveraged automation to drive consideration with specific audiences. Optimised creative combined eight consumer passion points, like cricket or Game of Thrones, with six other more tactical dynamic elements, including time, day of the week, and 63 geolocations, resulting in 92,000 unique, personalised assets. The campaign drove 80 million impressions, a click-through rate 2.6X better than the CPG benchmark, and a 50% increase in ad recall, all while dramatically reducing creative development and tracking time.
Connect your infrastructure for speedy scaling
Scaling empathetic personalisation requires a symbiotic relationship between creative, tech, and media. At Mondelez, an agency review helped us identify the best partners to deliver our vision and create a new, consolidated structure. We applied a robust taxonomy across all our data sets, organising our nearly 1 trillion data points in Google Cloud, which has enabled teams leveraging dynamic creative optimisation to grow from 30,000 personalised creative assets to millions year over year. Now, our marketing, tech, creative, and media teams set objectives together, aligning on how best to connect with different audiences across channels.

This infrastructure has allowed us to work on a local-first basis while operating as a global organisation. For example, the Oreo "Stay home. Stay playful" YouTube campaign, which started in response to life in lockdown in the Middle East and Africa, was able to scale globally while retaining authentic, regional relevance. Using YouTube's Director Mix, we quickly incorporated user-generated content of customers across markets getting creative at home with Oreo cookies, reflecting the changing nature of the COVID-19 situation as it evolved around the world.
Embrace digital transformation for ROI
Technology alone does not create moments of joy for consumers, but it allows us to be relevant and in the moment with them at scale. With digital, we can monitor, adapt, and deploy creative to maximise effectiveness across all of our campaigns. We can also optimise our media mix to drive reach and cost efficiencies, such as a recent YouTube campaign for Ritz, where 80% of individuals ages 25 to 54 reached by YouTube were incremental to television.
Coupling more bespoke, empathetic messaging with optimisation is undoubtedly working. Digital ROI has accelerated; we're outpacing our category by more than 3X, with double-digit growth year over year. To further sharpen this strategy, we've committed a 50% allocation of marketing spend to digital, and we only see that increasing in years to come.
Technology alone does not create moments of joy for consumers, but it allows us to be relevant and in the moment with them at scale.
People are craving connection and a human experience from brands, particularly on the heels of an incredibly unusual year. The ability to adapt with relevant messaging in real time will become even more critical to driving growth and meeting the needs of customers around the world. Just don't forget the "person" in personalisation at scale.