Great creative deserves great planning to achieve the greatest possible impact. As you think about the right marketing mix for your campaigns, you'll likely consider the role that online video will play. As people watch virtually anywhere, anytime, and on any screen, brands have more opportunities than ever before to reach audiences on platforms like YouTube. So how can you effectively harness these opportunities and drive efficiency for your client or brand?
In this article, we'll share six simple planning tips that have emerged from our research to help guide your planning process. We'll also share a success story from Mindshare and Nike, whose successful application of some of these tips contributed to them landing the number one spot on the June YouTube Ads Leaderboard.
1. Aim for ongoing ad exposure
People are exposed to a seemingly infinite number of brand messages every day, which makes it increasingly hard to cut-through and stay top of mind. With so much content, memories overload quickly and brand messages fade fast: just because someone has seen your ad once, they won't necessarily remember it.
Case in point: results from a CPG campaign showed that key brand metrics can decay within just three days of exposure if not quickly reinforced.1
Brand Lift of Skippable ad over time, Results of CPG ad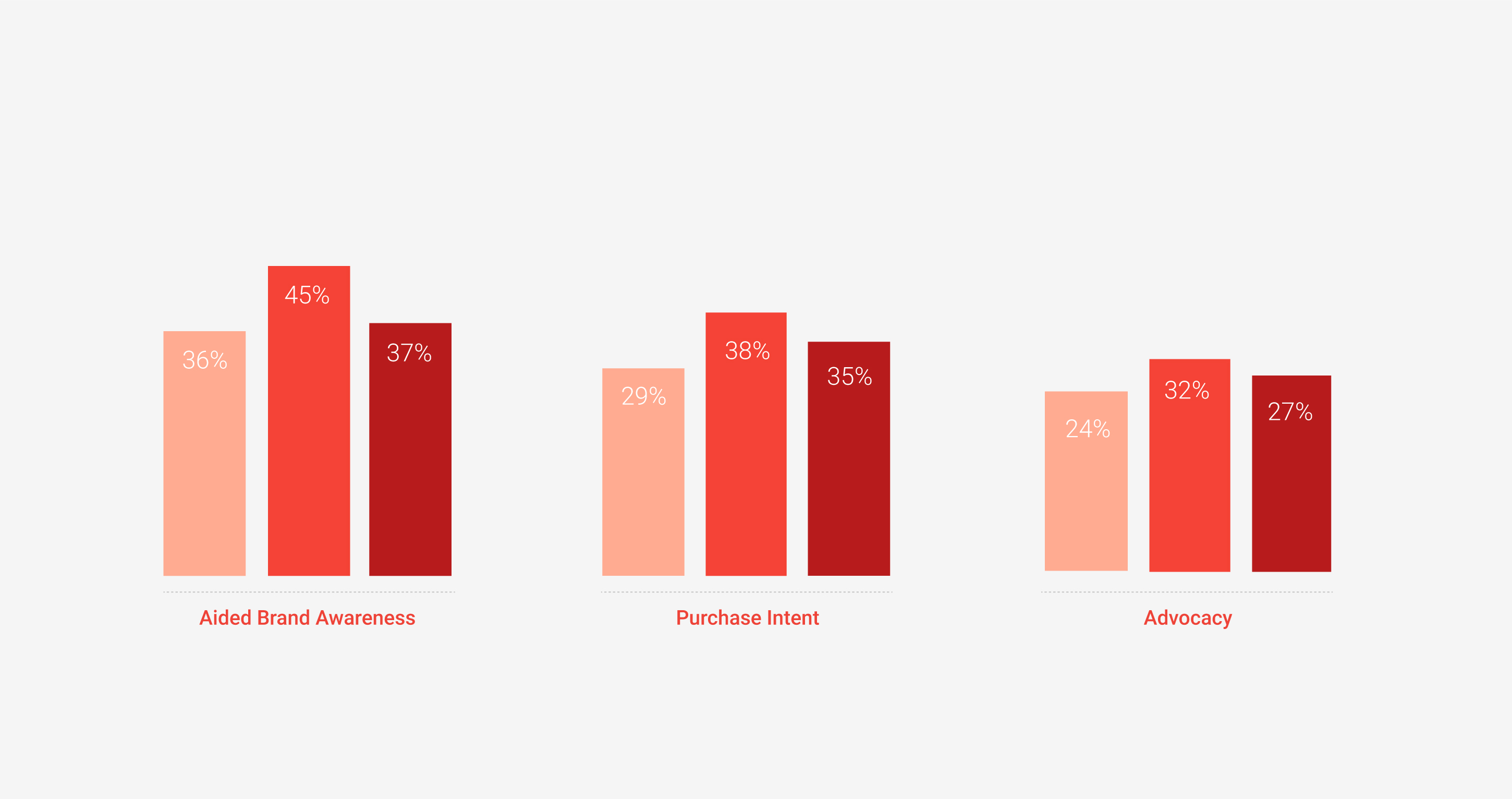 Control

Within 72 hours of exposure

Beyond 72 hours of exposure
Separate research has subsequently revealed that showing your ad to people more than once to reinforce the message can help you to stay top of mind:2
Top of Mind Ad Recall in frequency experiments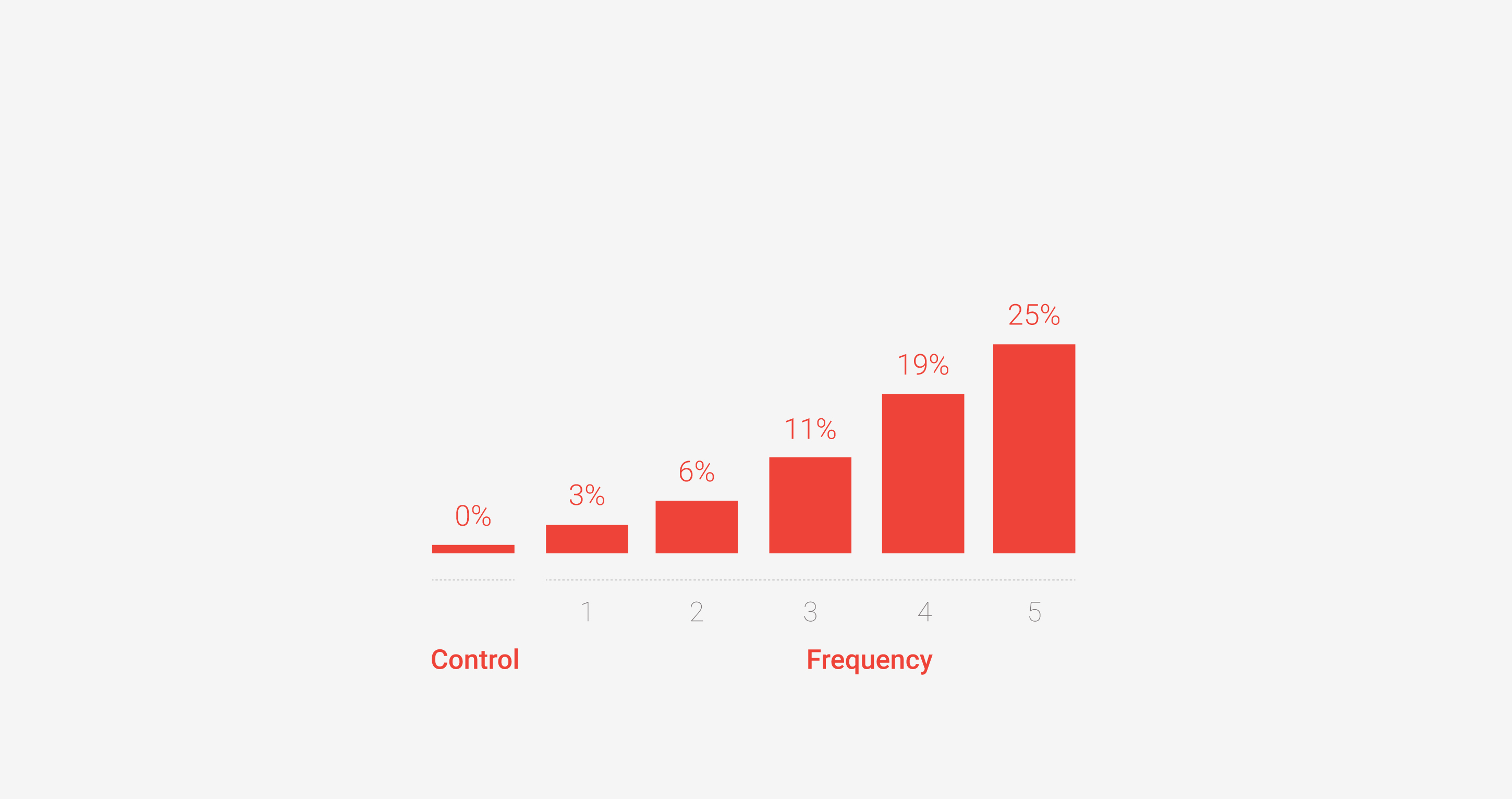 To make your brand more memorable and maximise your chance of remaining top of mind, make sure viewers are regularly exposed to ads over the campaign period. Targeting options like remarketing can help to achieve this.
2. Be mobile minded
Despite its small screen, mobile can deliver huge impact for brands. In our research, we found that people who watched an ad twice on mobile had significantly higher levels of unaided ad recall and unaided brand awareness compared to people who saw the ad twice on desktop.3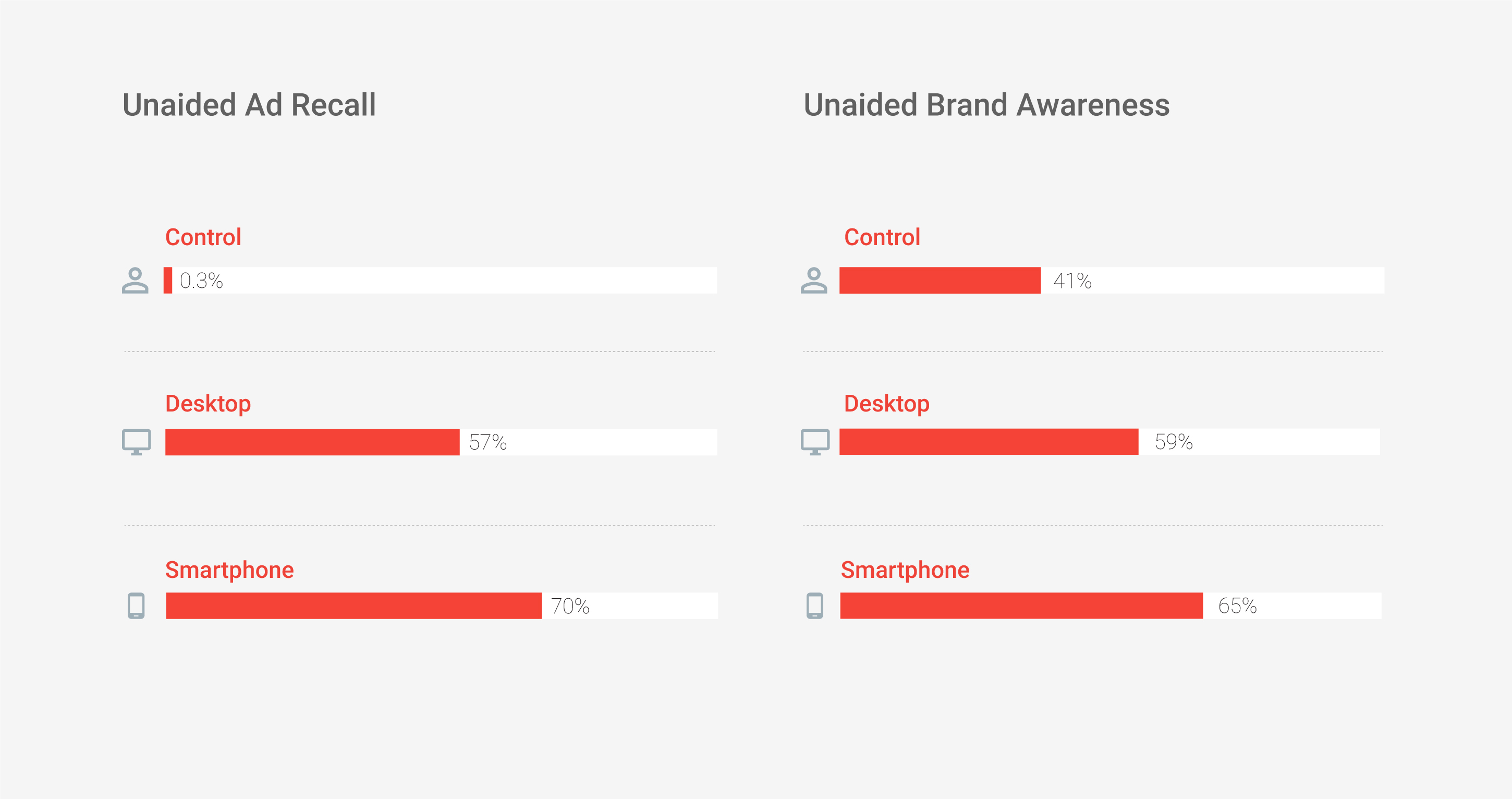 With mobile devices increasingly ubiquitous and content consumption on the move the norm, more than ever, mobile video should be an essential part of your media plan.
3. Advertise where your audience is most engaged
The inventory you buy will almost certainly depend on the audience you're looking to reach. TrueView helps you find audiences by giving viewers a choice in whether to view your ad.
For brands looking to reach key demographics or audiences in specific content, we've found that popularity and engagement levels matter. Our analysis of more than 5,500 Brand Lift studies showed that ads running against more popular and engaging content had a higher potential for brand lift. Specifically, ads that played before videos with higher Preference Scores — an algorithm that ranks channels on YouTube based on popularity and the passion of their fans — drove a higher lift in ad recall and brand awareness. In other words, brand lift increased with increasing Preference Score.4
Lift in ad recall and brand awareness increases with increasing Preference Score
Brand Lift

Confidence Interval
Google Preferred aggregates some of the most popular and engaging channels on YouTube, giving brands easy access to passionate audiences.
4. Use affinity targeting with demographic targeting
With Affinity Targeting, brands can connect with more qualified and engaged audiences based on what they are truly passionate about, whether it's football or fashion or anything in between.
Our research shows that by adding affinity targeting to demo-targeting on mobile devices, brands were able to:
• Reach people who were more aware of their brands - shown by higher levels of baseline brand awareness.
• Achieve higher view-through rates - audiences were more likely to be engaged with the content and not skip the ad.
• Attain a relative ad recall lift 5% higher than when the the same ads were served using demographic targeting alone.5
As deep personalisation encourages audiences into ever-more specific groupings, using affinity targeting with demo targeting can help you reach the right people, and improve campaign performance on a range of metrics.
5. Begin to explore what can make ads unskippable
Consumers can skip ads after just five seconds, so the challenge is to devise creative that will hold a viewer's attention and prompt an action. A number of brands have recently been experimenting with YouTube to discover what can make their ads 'unskippable' - from playing with story arc to testing the length of their creative.
While there is no magic formula to keep viewers watching, by looking at previous success stories we've been able to identify key characteristics that help ads appeal to a global audience.
Analysis of 170 creative attributes reveals that the features most closely associated with higher brand awareness, ad recall and view-through-rates include:
Humour
Celebrities
A clear call to action
The use of animation in ads is also associated with higher view-through-rates.6
If you need some inspiration to get you started, our YouTube experts can help you explore these and other creative considerations to make your ads as engaging as possible so they are less likely to be skipped.
6. Plan YouTube alongside TV
Creating a great ad is only half the battle, as without the right platform for delivery, it will be difficult to maximise its impact on your audience.
Our research has shown that integrated campaigns combining YouTube and TV can enjoy better ad recall and brand awareness than using TV alone. Both skippable and non-skippable ads saw significantly higher ad recall and brand awareness from one exposure on YouTube and one exposure on TV than from two exposures on TV.7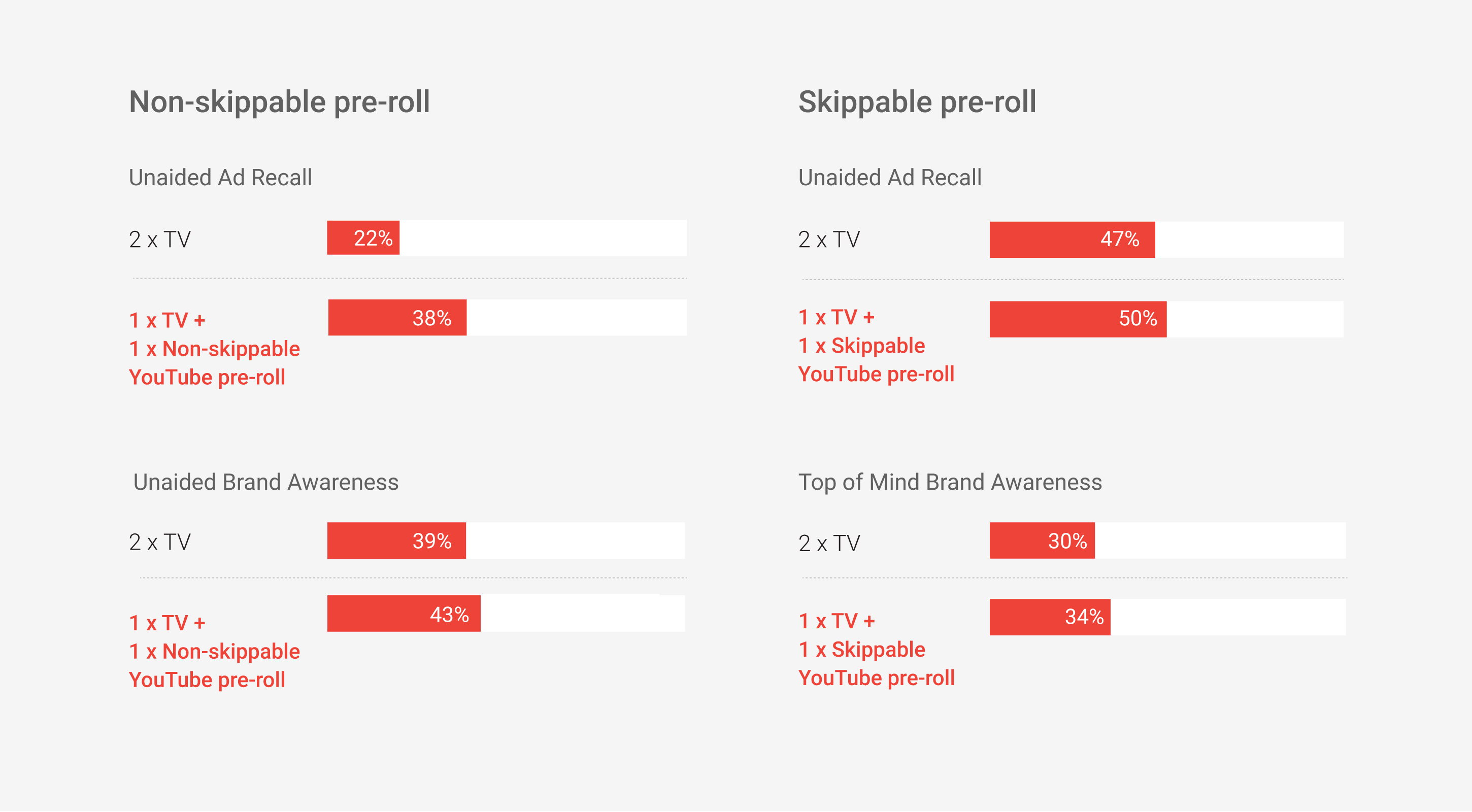 If you've taken the time to put together great creative, make sure you're planning YouTube video alongside your TV campaigns to maximise brand awareness and ad recall.
Putting it all together
Mindshare and Nike worked with a number of these principles for their 'The Switch' campaign - a 6 minute ad featuring Cristiano Ronaldo that launched ahead of the UEFA Euro 2016 tournament. The Switch went on to become the most watched ad surrounding the tournament, securing the top spot in the June YouTube Ads Leaderboard.
Mindshare's Western Europe Planning Director, Shane Roche explains: "Promoting a 6 minute film to a mobile-first audience is always a challenge, but using a combination of TrueView alongside multiple targeting strategies and continuous optimisation allowed Nike to exceed engagement targets and make The Switch the number 1 advert of Euro 2016."
The success of this campaign is testament to how great planning can supercharge great creative.
So, to recap:
Memories fade fast so stay top of mind with regular ad exposure.
Mobile ads deliver even higher impact than desktop, so ensure mobile is an essential part of your plan.
Viewers respond better when ads are shown before more popular and engaging content, so tap into these passionate audiences when thinking about where you should run.
Use demographic targeting with affinity targeting to reach people with passions and interests that are brand-relevant.
Study the art and science of successful ads to create content that viewers will choose to watch.
YouTube and TV are more powerful when they work together; plan YouTube alongside TV for better results.
For more planning resources on topics like consumer insights and trends, explore other planning tools from Google.