In this final installment of our Ramadan 2020 series, we focus on how to get your ad seen by the right audience at the right moment with an effective media strategy.
During Ramadan, people get together to pray, eat, and be entertained. During the festive period, people watch YouTube more often, with 90% of YouTube users turning to the platform every single day.
In fact, the total watch time in Egypt, Saudi, and UAE during Ramadan 2019 increased by 17% compared to the previous year. The average daily time spent watching YouTube approached the average time spent watching linear TV.
With all this media consumption comes a lot of advertising. It takes the biggest slice of annual media budgets, with an average weekly media spend that's almost 24% higher than the rest of year.
It's crucial for brands to spend wisely. To that end, here are four themes to guide your media planning decisions this Ramadan.
More signals
Intent signals are key to reaching your brand's most important audiences. Google properties serve over 1 billion users daily, but Ramadan brings even more signals across the ecosystem: 50 billion in Ramadan 2018. These leave you uniquely positioned to capture the best and most valuable audiences.
How? By leveraging one or more sources of data:
Your own
Use first-party information, CRM data, and your own audience insights
Built by Google
Use off-the-shelf audiences built by Google
Custom
Define your own audiences using Google's intent signals together with your own resources
For the first time in MENA, we recently ran a series of campaigns using video experiments to compare advanced audience targeting against demographic targeting. The results were outstanding: more views, more reach, and more lift on lower-funnel metrics such as purchase intent.

2. More 'us' time
Ramadan has always been about spending more time with family and friends. We're also seeing a new angle emerge in the way people use YouTube: 50% of users watch with others, usually on a TV screen. This is now the biggest growth area for YouTube consumption with 400% year over year increases in watch time and views. YouTube watch time via TV screen is now equal to that of desktop.
This is good news for advertisers, because YouTube ads on TV screens show a 10% higher lift in recall than ads on linear TV. All of YouTube's formats (from Google Preferred and Bumpers to TrueView and Mastheads) run seamlessly on TV screens, so reaching families and friends gathered to watch during Ramadan requires no additional steps in your campaign setups.
Video on demand is another big growth area for TV screen viewing. In the US, ad spend for video on demand is up by 38% year over year, and a similar upward trajectory is expected in MENA. As further indication of the trend, a recent survey showed that 43% of consumers in UAE expect to increase their use of video on demand apps. Advertisers looking to get ahead of the curve this Ramadan can access video on demand inventory via Display & Video 360.
3. More 'me' time
Ramadan is a season for spending time with others, but it also gives people more time to themselves for self-care, and to explore their interests. One way they do this is by searching on YouTube throughout the day, while TV spikes in the evenings. What's more, research shows that YouTube users watch on the platform 1.4 times more often than TV and pay 1.5 times more attention, too.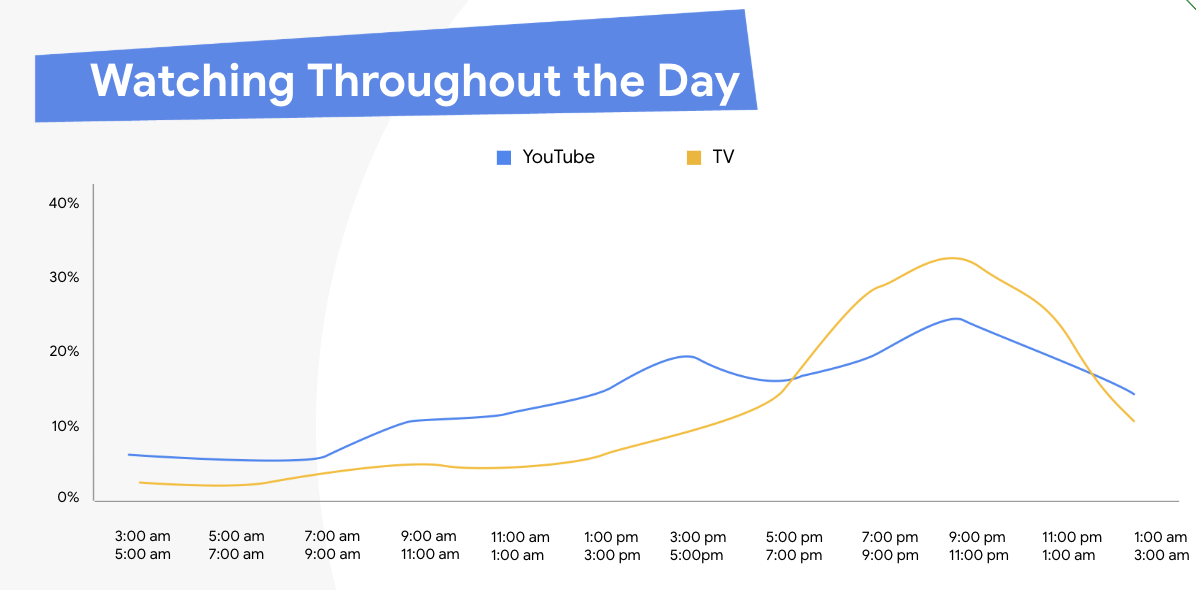 On a daily basis, people in MENA spend more than six hours online, 60% on mobile. They're looking for content that aligns with their passions, so personalised feeds displaying relevant content are becoming more and more useful. We're seeing users make use of three different personalised feeds:
Since the introduction of the YouTube Discover feed three years ago, the watch time of discovered content has increased tenfold.
This is where over 800 million monthly signed-in users get new updates on things they care about.
More than 1 billion users of Gmail receive personalized offers in their inboxes.
Discovery Campaigns are a new Google display format that allow brands to run ads seamlessly across all three of these properties, extending your reach while simultaneously bringing people closer to their interests.
4. More giving time
Ramadan is also a time to give back to the community, with consumers in Egypt, KSA, and UAE spending 53% more than usual.
How do they decide what to buy? Many turn to YouTube for inspiration. During Ramadan 2019, 49% of YouTube users said they learned about a new brand through the platform and 86% said they watched YouTube videos for brand-related information. But the power of the platform doesn't end with inspiration: conversions generated by YouTube ads are up 150% year over year, while research shows that over 70% of YouTube campaigns go on to drive a significant lift in offline sales.
We hope these metrics and trends give you plenty to work with as you develop eye-catching ads and create winning media plans this Ramadan. We can't wait to tune in ourselves during the holiday season so see what you've got!