As Rugvista's CMO and Performance Marketing Specialist, Ulrika Klinkert and Emelie Lundqvist led the launch of the retailer's new 'Essentials' sub brand, a campaign with YouTube at its core.
Rugs can be divisive. While some would say they're the centrepiece of every room (looking at you, Jeff Lebowski), others view them as pure necessity. That's why at Rugvista we've traditionally split our audience into three different types: the carpet connoisseur, the decorator, and the householder.
The carpet connoisseur knows everything there is to know about rugs, the decorator has a keen interest in all things furniture, and the householder is mostly practical. But recently, our data showed we were missing out on a key audience: the first-time homemaker. These are people between 18 and 35 years old who have to decorate their first place, whether that's couples moving in together, students leaving their family homes, or young families with kids.
In bringing our new brand into the world, we weren't just tasked with finding our new audience; we also needed to figure out how we were going to talk to them.
To connect with this younger audience, we launched a new sub brand: 'Essentials'. Affordable yet stylish, the rugs enable any homemaker to get the look they want, at a much lower price.
In bringing our new brand into the world, we weren't just tasked with finding our new audience; we also needed to figure out how we were going to talk to them. That's when we decided to turn to YouTube.
Rolling out creatives
We hadn't previously prioritised video as we weren't sure how to measure its impact. But for this campaign, we knew being creative with our storytelling would be key to reaching the right audience. So we worked with Google to set up a comprehensive and future-proof measurement framework across the funnel. And with Video action campaigns we could build our brand while still focusing on conversions.
Once we came up with our concept, we worked closely with Google's creative team to finesse it. Rugs are a sensory product – and our biggest hurdle is that people want to be able to feel the product before purchase. We took inspiration from another sensory product, perfume, and as with fragrance ads we decided to put the audience front and centre. Just like your fragrance, your home interior is a way to express yourself. We wanted to build a connection by empowering people to tell their story.
During the production stage, we were heavily led by Google's ABCD framework. This is how each principle helped us make our campaign more effective: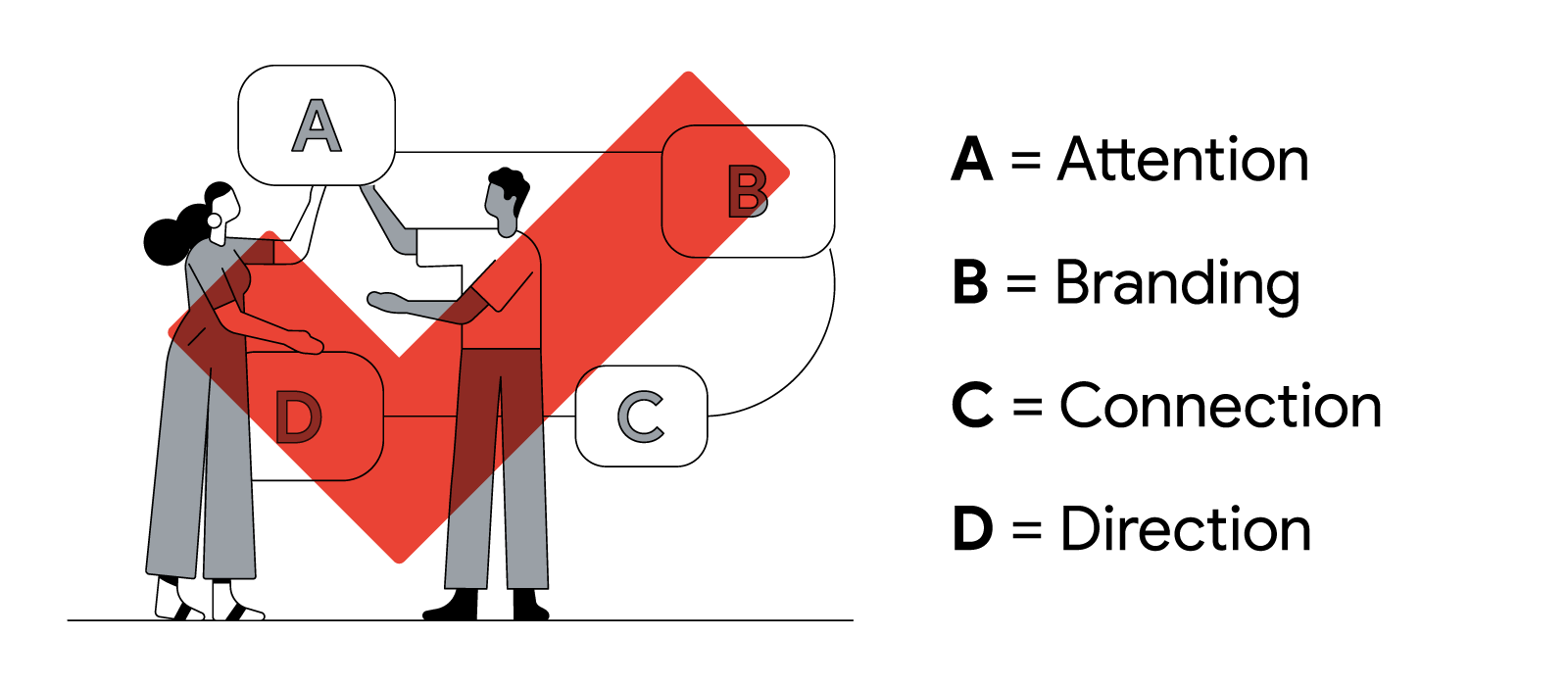 1. Attention: A 2-second hook
To engage our young audience early, we learned to maximise YouTube's multisensory aspects by focusing not just on the visuals, but the story, copy, and audio too. Both ads open with a compelling voiceover that instantly kicks off the narrative by saying 'You are here to tell your story'.
Combined with music that matches the contrasting style of each ad, both videos have powerful openers that we made snappier with each iteration. At each feedback round we tried to shave off a little more time – until we eventually ended up with an intro of just two seconds long.
2. Branding: Rugs galore
While we wanted the ads to focus on our audience, the ABCDs also taught us that it's crucial to ensure people know who you are. It's one thing to have an amazing story, but you should always ask yourself whether someone will know what you're actually selling after watching the video. To integrate our rugs in a notable yet subtle way, we made them visible in each shot, while still focusing the storyline on the viewer.
3. Connection: 1 customer, 2 moods
This part laid the foundation for our entire creative concept. We started by exploring what would trigger the new 'homemakers' audience we were trying to reach with our Essentials collection, and came up with two different moods. Our 'Night' ad focused on those who like to socialise and go out, while the 'Day' ad celebrates the people who like to spend time at home. In doing this we wanted to lean into the different sides of our audiences — you don't have to be either/or — and test which one would speak to them most in relation to our products.
4. Direction: Weaving in the CTA
Our call-to-action (CTA) was mostly led by the Video for action campaign format. We included a clear CTA button saying 'Discover the rugs' at the end of each video, but the option to add site link extensions and product feeds to the ad made it really natural to drive action. The CTA doesn't have to be something you say; it can just be the product itself.
A tapestry of future wisdom
We were excited to see how the campaign resonated with our homemakers. While the 'Day' version of the ad drove better conversions, the 'Night' version scored significantly better in our brand lift study. So the first ad appealed to a wider audience, but the second helped us stand out more as a brand. This proved to us that YouTube can help in different stages of the funnel depending on the creatives you choose to use.
Being able to measure all these different aspects was crucial as it enabled us to really embrace YouTube as a platform.
We were able to measure our activities across the funnel thanks to the three layered tracking framework we built with Google. This included our regular KPIs such as click through rate, conversion lift studies to monitor the relative lift in product views, home page views, and add-to-carts, and brand lift studies to gauge how many people would remember our brand after being exposed to an ad.
Overall, engagement results for the campaign were strong, with a 1.72% click through rate (against a 0.5% benchmark) at a below average cost per acquisition. We also ran a conversion lift study, which showed a 2.7X lift in product page views, plus 34% lift in add-to-carts.
Being able to measure all these different aspects was crucial as it enabled us to really embrace YouTube as a platform. We stepped out of our comfort zone and thoroughly enjoyed it, so in the future we'll continue to experiment with our video creatives. Now that we have a sub brand that caters for first time homemakers, we look forward to continuing building our relationship with this audience group – and use the lessons we gain to improve our marketing for all customers.