One of the biggest purchases people make in their lives is that of a car. And with a host of decisions to make around brand, size, cost, engine, and functionalities, it's not surprising that, until recently, the majority of that car buying journey took place offline.
But new Google and Kantar research about the customer journey of car buyers reveals this is changing. The research ran for the second year in a row and took place in Belgium, one of Europe's biggest markets for new cars, owing to a nation-wide lease scheme for professionals. This makes it a strategic target market for car brands all around the world.
Equally, retailers of other big-ticket items — furniture, luxury fashion, high-end electronics — can use the data gained from this study to better understand how consumers use online sources to research larger purchases.
We unearthed the insights retailers should know about — and coupled them with actionable takeaways.
Key purchase drivers
Buying a new car isn't a weekly occurrence. It requires a significant budget, and for many, public transport, bikes, car sharing, and secondhand cars offer satisfactory alternatives, so people often wait for a good reason to justify their purchase.
Of the consumers surveyed in the research, 21% were first-time car buyers, whose purchase was often triggered by a life event, such as a marriage, relocation or a new financial situation.1
Key purchase triggers for first time vs experienced car buyers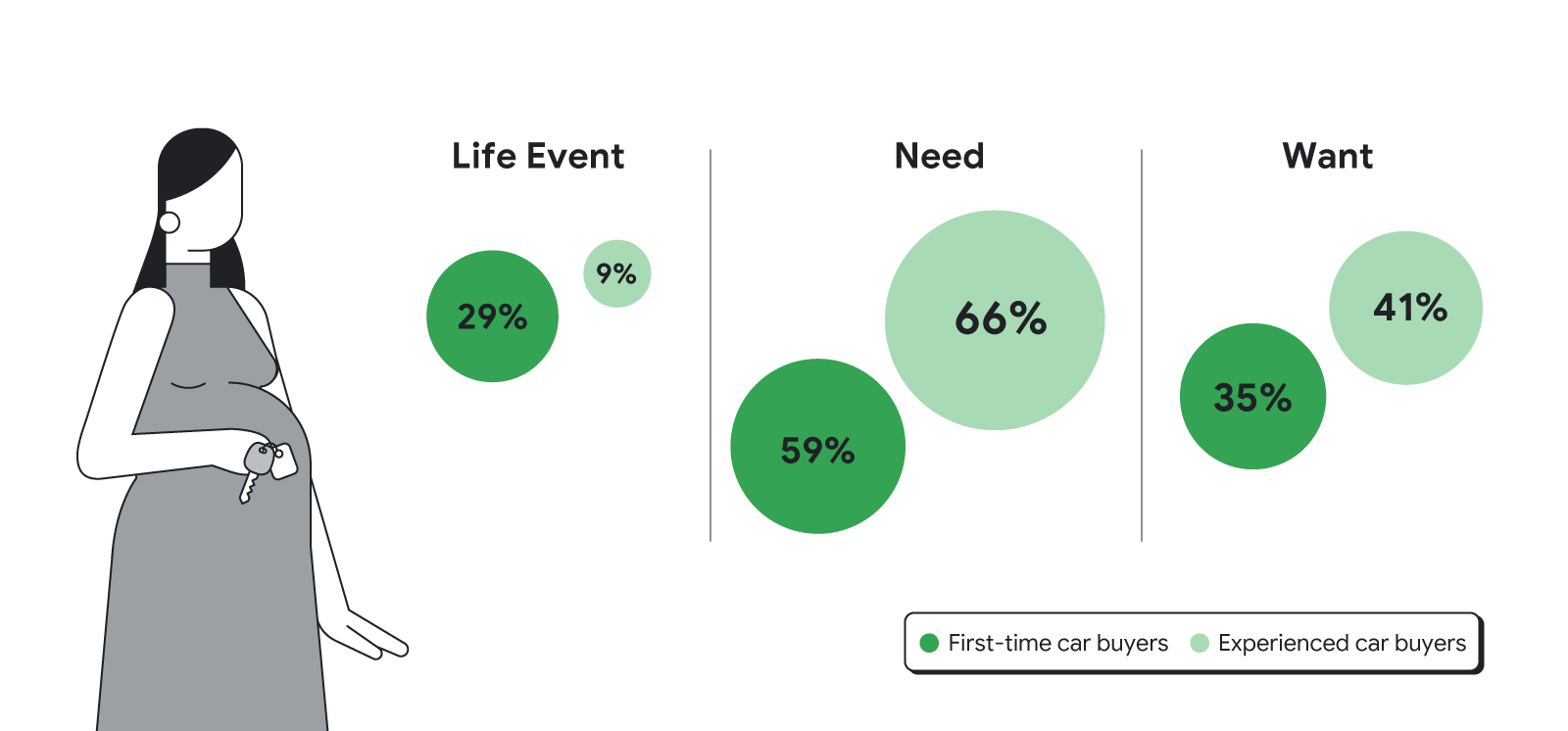 Meanwhile, experienced buyers mostly act out of necessity, and either stay loyal to their current brand (43%), switch to a different brand (28%), or return to a brand they owned previously (8%). For both new and experienced buyers, the most important purchase factors are reliability (31%), a good deal (28%), and experience with the brand (27%).2
Key purchase factors for all new car buyers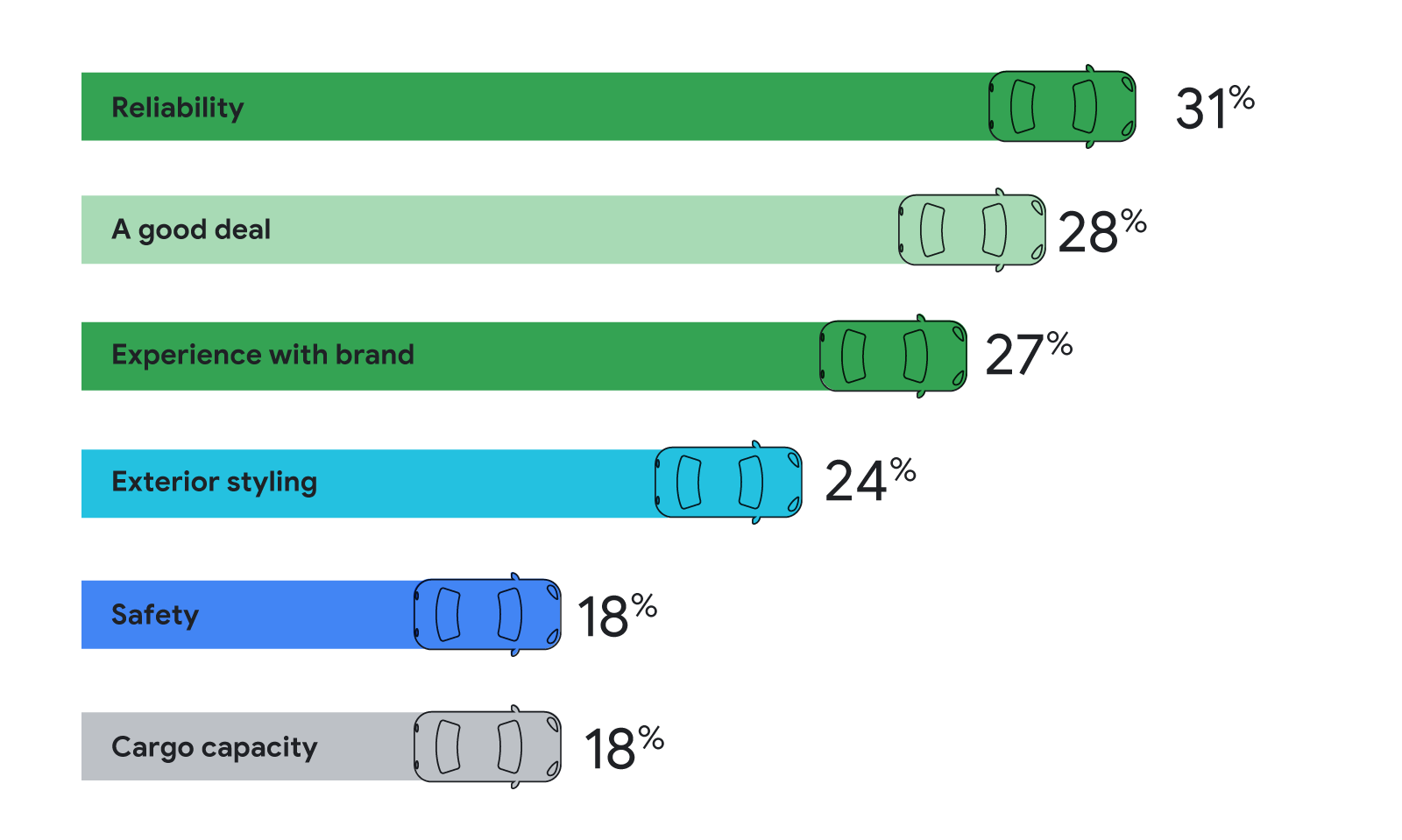 Takeaway: Identifying the key purchase drivers of potential customers can help retailers include and emphasise the right information in their advertising. For example, new parents looking for a baby-friendly car will be on the lookout for ads that highlight space as well as reliability and safety. The same goes for furniture: ads that call out easy-to-clean fabrics are more likely to appeal to young parents.
To win over customers at the research stage of their purchase journey, ensure you make it as easy as possible for them to access the information they need. In addition, remind people of who you are and what you stand for by investing in brand building. This doesn't just build brand preference with new customers, but also helps you stay connected with brand loyalists.
The modern research journey
Shoppers increasingly combine online and in-store shopping experiences. And our most recent Smart Shopper study shows that across Northern Europe, an average of 58% of surveyed shoppers research online to find specific product details or store-related information.

The same is true for car buyers, with search interest in Belgium for "welke auto" ("which car") and "auto vergelijken" ("compare cars") up 16% and 20% respectively this year. In fact, 91% of new car buyers researched online, with 68% discovering their new car this way.3
Buyers value this approach because it makes it easier to compare cars (43%), saves time (32%), and gives access to detailed vehicle descriptions (33%) and information on a wide range of models (25%) before visiting a dealer.4
The most used online sources are Search (79%) and video (66%), with no less than (67%) of surveyed consumers stating that using YouTube triggered a follow-up
action such as visiting a dealer website or scheduling a test drive.5 This makes it an important decision-making tool.
Top online sources used in the research phase of the car buying journey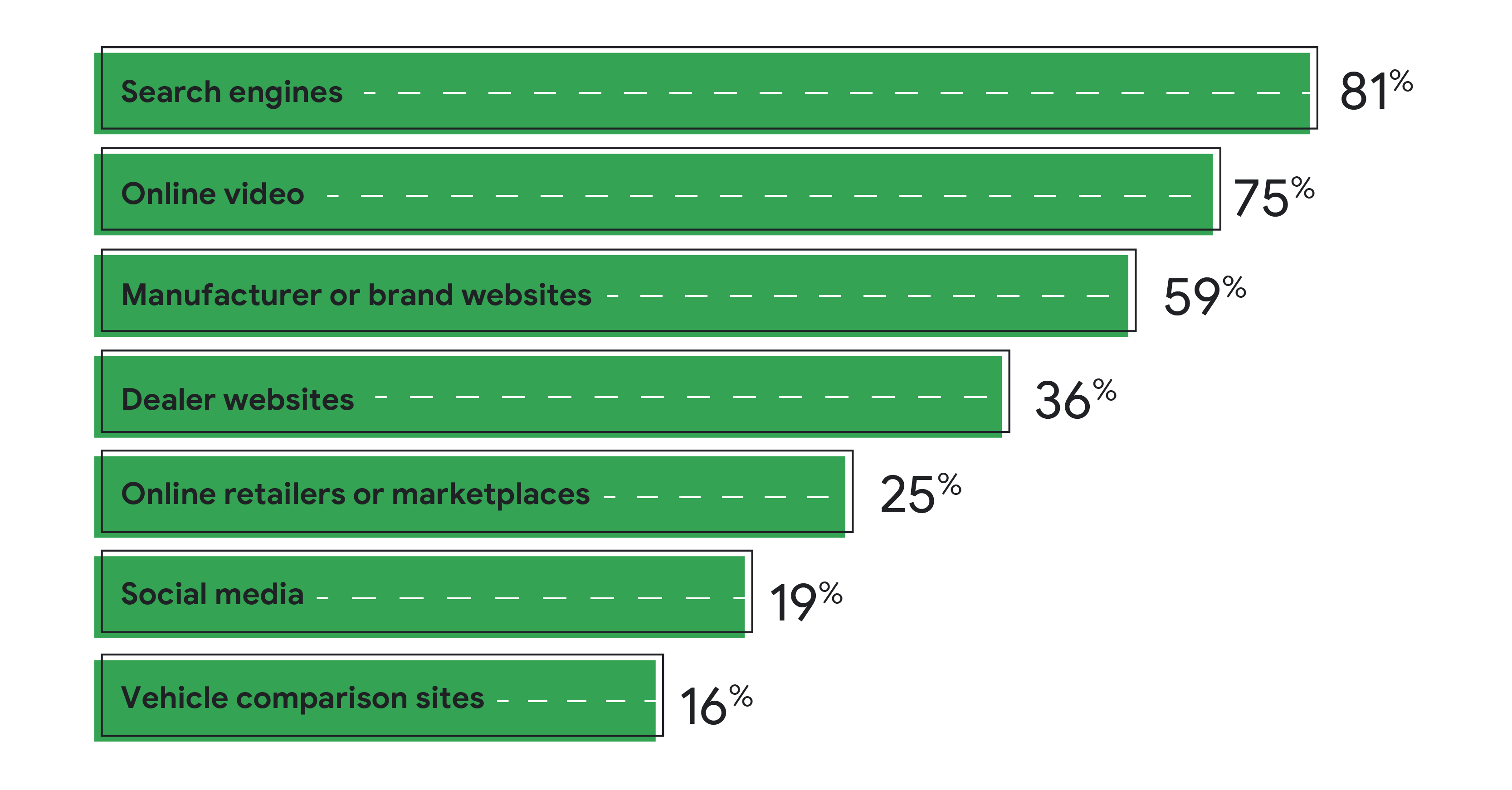 Takeaway: While consumers use Search to guide their research journey, video allows them to experience products in a real-life way, whether that's hearing the sound of a motor engine or seeing the software design of a computer.
Video helps customers experience products in a way that doesn't fall short of the real "touch and feel", whether that's through 360° videos or vehicle tests. This means it's more important than ever for brands — whether they sell cars or other big ticket items — to make video a key part of their marketing strategy. Collaborate with creators, invest in creating high-quality brand content, and boost performance by tapping into YouTube ad campaigns.
Gearing up for a new generation
While the research surveys 18+ consumers in general, a closer look at millennials (born between 1981 and 1996) reveals that, compared to the average car buyer, this generation uses more (online) sources in the research phase. And although options for making the actual purchase online are currently limited, millennials are much more likely to consider an online purchase once it does become widely possible.
Millennials are also slightly more likely to consider electric or hybrid cars, but there's a growing trend visible across the board. Compared to 17% in 2021, 30% of Belgian new car buyers now consider going hybrid or fully electric. This shift is mostly driven by necessity (64%) and often the result of an online-oriented research phase (5.3 vs 4.4 online sources).6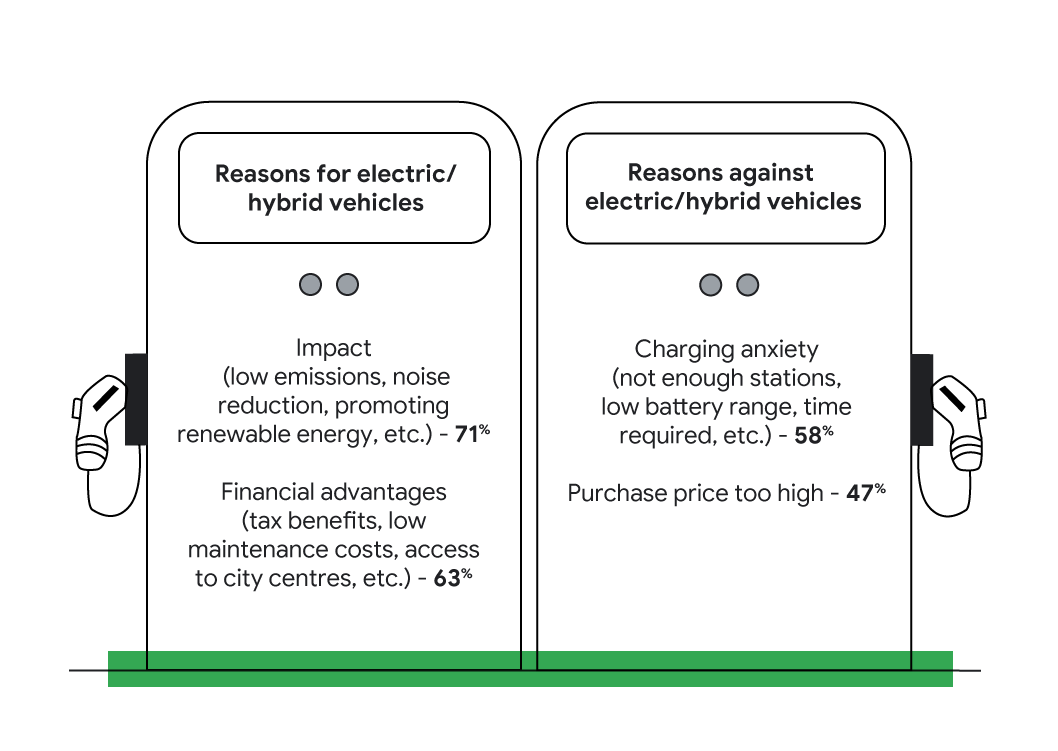 Takeaway: As consumers become increasingly conscious of the impact they have on the world, retailers have a big role to play in helping them make the right choices. To do this, be sure to highlight however your business is contributing to a greener environment, and ease concerns by being understanding and transparent about the changes that come with a shift to the sustainable alternatives you offer.
Consumers highly value brands that make an effort, so think actively about ways you can make your operations more sustainable, from reducing your e-commerce returns to getting rid of non-recyclable packaging.