In today's attention economy, views are no longer enough. To drive valuable engagement, brands must capture attention – and transform that attention into action. In this series, we explore how to meaningfully connect with audiences to generate results that matter
Once upon a time in adland, targeting was a simple thing. You'd opt for, say, 'males, 18-24', and that would be that.
Nowadays, there's a huge amount of choice in how audiences can be targeted, but finding something that works – and delivers return on investment – can be harder than ever.
Demographic targeting is often far from ideal, as not all buyers of a product or service will fit the presumed profile. Other targeting options are available on some platforms, but most rely on what people claim about themselves – which may or may not be accurate.
Targeting on YouTube is different, because, as part of the broader Google ecosystem, the platform can use signals from real behaviour elsewhere online. These signals enable advertisers using YouTube to target based on people's likely intent.
Unlike demographic targeting, intent-based targeting isn't just about finding the right people, but also about communicating with them at the time when they'll be most receptive to your product or service. While this can mean aiming directly at the people most likely to click Buy Now, it also allows you to engage with consumers in the appropriate way, wherever they are in their buying journey.
Most pertinently, it provides marketers with a more three-dimensional view of audiences. It brings consumers to life, and allows brands to tap into multiple passion points, influences and behaviours – all of which change over time. By using the signals that consumers emit in real time, marketers are able make targeting a more exact science, reaching outliers beyond stereotypical demographic boundaries.
The big question: how do the results differ from demographic targeting? The answer: drastically. Ads served with intent signals alone have 30% higher consideration lift and 40% higher purchase intent lift than when the same ads are served using demographic signals alone.1
In short, it's the difference between trying to sell umbrellas to married, middle-aged bankers and having a pop-up vending machine that dispenses them to anyone about to step out into a downpour. It's about giving people what they want, when they want it (or even before they want it). And, with a fully customisable audience at your fingertips, the possibilities are limitless.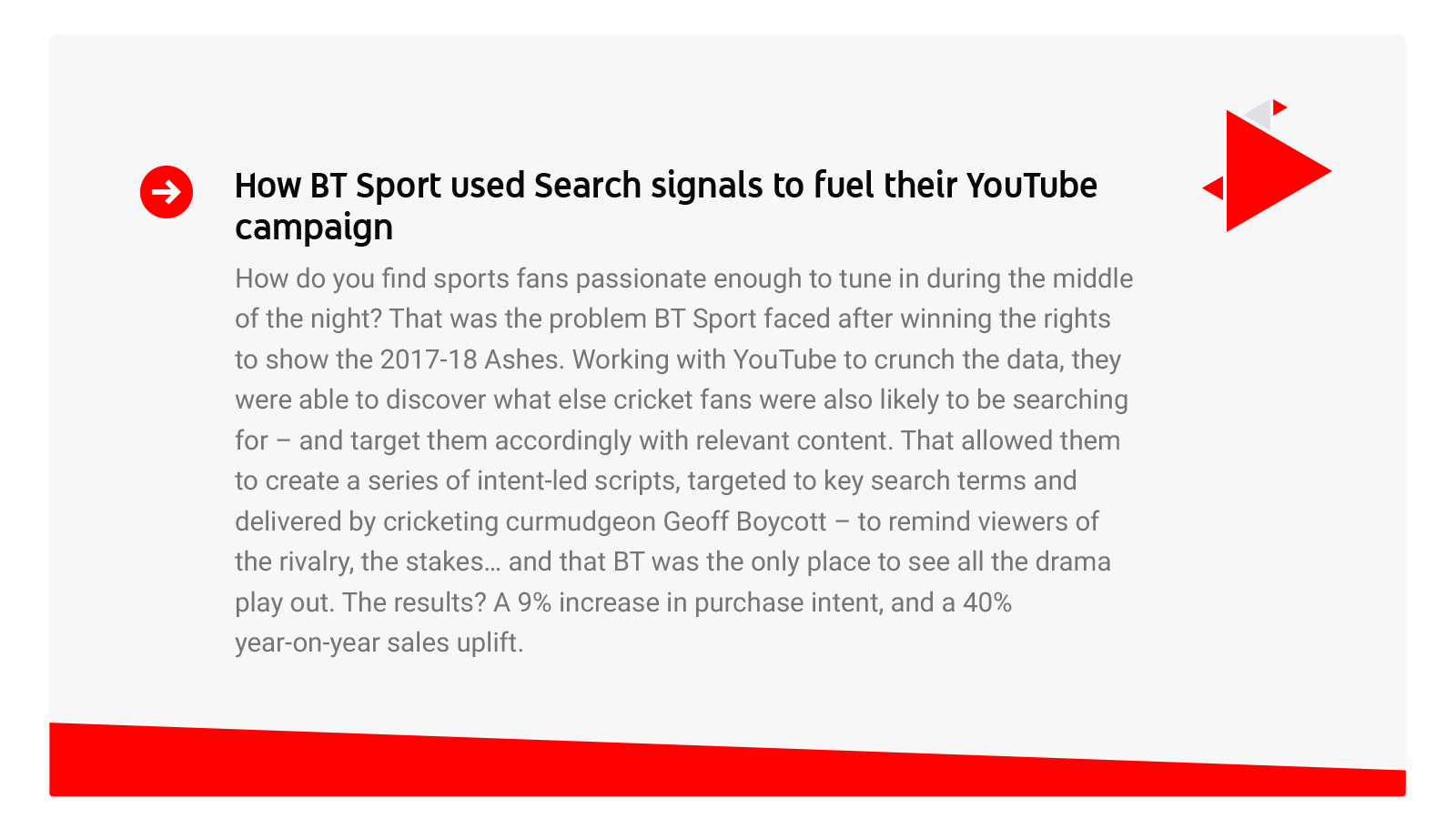 Read the full story of how BT Sport's smart targeting drove smashing results here.