For the past few years, the media strategies of Egyptian telecom companies have been very simple: run television ads featuring celebrities to increase views. However, after the pandemic hit, WE — Egypt's first integrated telecom brand — decided it was time to shake things up.
With the Egyptian telecom industry already over-saturated, the company knew it would have to change its strategy to stand out from the crowd. So instead of creating more traditional media ads, they shifted their focus to digital video. At the same time, they changed their media goal from capturing views alone to also driving reach and conversions.
Here's how WE's innovative digital approach achieved 56 million views, reached 35 million users, and saw 1 million new conversions across mobile and data products.
Platform pioneers: Navigating market saturation through tailored digital video
WE ditched its one-size-fits-all approach and pioneered a digital-heavy strategy to stand out and reach Egypt's video-loving audience.
"It's challenging to engage certain audiences, especially during Ramadan when viewers are already seeing a large amount of ads, mainly in the form of songs and jingles," explains Ahmed Naguib, digital marketing manager at WE. "Keeping our strategic campaign goals in mind, we knew a tailored digital approach was needed to connect with the right people."
WE is the largest internet broadband provider in Egypt, with over 85% market share. Knowing many people would be tuning in to watch Ramadan's all-new shows, the company honed in on three goals:
Driving downloads of its My WE app.
Showcasing WE's larger data bundles and allowing people to more easily browse, investigate, and ultimately subscribe to the package that best suits their needs.
Strengthening the WE brand proposition by crafting and showcasing exclusive data bundles and promotions with Egyptian online streaming platform, Watch It! The platform boasts exclusive rights to several new shows and significantly contributes to an increase in data consumption. Users can subscribe to the platform via WE.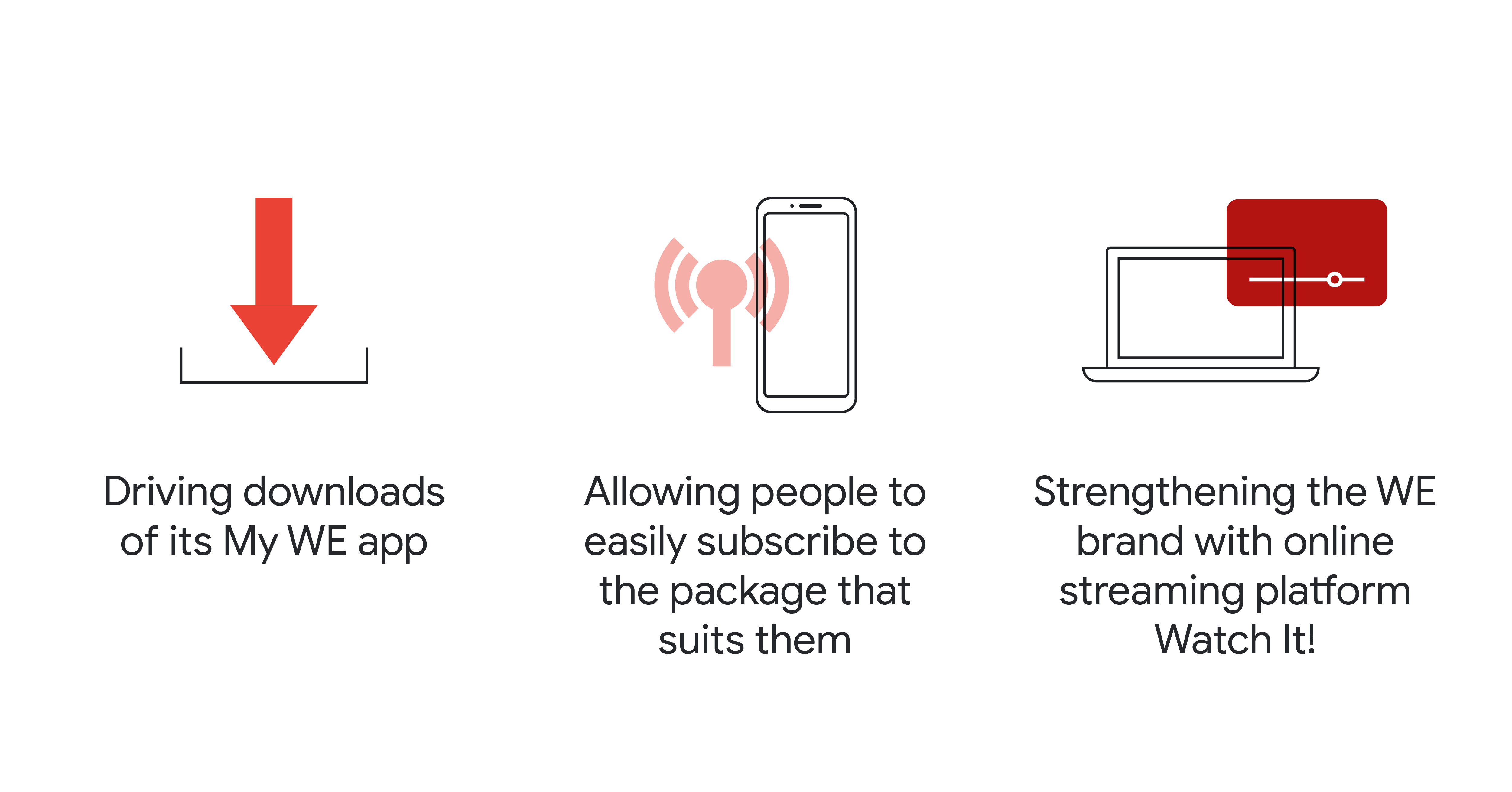 With Egyptian audiences being fond of both comedy and celebrities, WE created a series of six digital videos featuring the country's well-known Ghanem family, all of whom are comics. Each of the videos showcased a character that strategically represented a specific audience they wanted to reach, and promoted a different aspect of the company's offering.
One video, for example, showed Egyptian star Amy Samir Ghanem misreading her lines, subtly referencing WE's free gigabytes offer, much to the dismay of the director. This approach and offer were used to resonate with a younger, price-sensitive audience, as they'd likely be more drawn to comedy and be interested in getting free data.
In another WE YouTube video, Ghanem is confused at the incredible deal she's been hired to advertise, skeptical that it could ever be that good.
No risk, no reward: Going digital heavy during MENA's biggest moment
The telecom trendsetter launched its digital video campaign during the month of Ramadan, a time that traditionally sees a peak in drama production and the airing of new series and shows. This TV-saturated moment in the Middle East and North Africa (MENA) is the most important season for advertisers in the region. Going digital heavy at that time was a risk few other companies had taken. However, a well thought-out, holistic digital strategy encompassing multiple video moments throughout Ramadan helped the company confidently navigate new territory.
"We kicked off by launching three pre-Ramadan ads that warmed audiences up with exciting deals, with the first video going live ten days before Ramadan" Eslam Nassar, digital marketing general manager at WE, says. "In the final three videos — launched at the start of Ramadan — these offers ramped up, becoming more valuable as the holy month progressed."
The six longer videos were complemented by non-skippable 6-second bumper ads. These bumper ads reinforced offers through clear CTAs that used direct wording like 'subscribe now' and 'get 300X your charge amount'. WE activated its display ads across eight Google platforms, including YouTube Masthead and Discovery, to more effectively reach specific audience segments.
Real results: 35M users, 56M views, and 1M conversions in 1 month
With a tailored approach and strategic calls-to-action (CTAs) at each stage of the purchase journey, creatives reached a wide audience and achieved great results. One CTA at the conversion stage, for example, clearly asked consumers to download the My WE app to get free units for use during Ramadan. The result was double the number of installs, with 160K new downloads.
It wasn't just downloads that did well. WE's online video campaign reached 35 million users in Egypt during the month of Ramadan, the highest unique reach recorded across Google platforms in a single Ramadan campaign. It also saw 56 million views — the highest view rate during Egypt's Ramadan period — and achieved 1 million new conversions across mobile and data products.
"If the market does the same thing year in and year out and no one takes risks, nothing changes," Nassar says. "This campaign is proof that brands shouldn't be scared to take a different approach to reach their goals."
Our sincerest condolences to the families and friends of the late Samir Ghanem and Dalal Abdel Aziz, who played an integral role in making Egyptian cinema what it is today.