If the 2019 FIFA Women's World Cup has taught us one thing so far, it's that the lazy argument that 'there's no consumer appetite for women's sport' is a fallacy. Not only did 11.7m viewers tune in to the BBC to watch England battle the US in the semi-finals (setting a new record for women's football in the UK1), but many millions more have engaged online, with YouTube at the heart of this. And with viewers agreeing that a lack of coverage is the main barrier to watching more2, it's clear that there's an opportunity for brands to drive engagement with an increasingly large – and highly passionate – audience.
FIFA Women's World Cup has found a level playing field on YouTube, enabling fast-growing interest at every level from amateur to world-class. "Through live coverage of women's football on YouTube, and having a platform to showcase behind the scenes content and much broader coverage of leading female teams, there is a rapidly growing interest in the professional, amateur and participatory women's game", says Russell Stopford, Chief Digital Officer at Paris Saint-German.3 Many brands still aren't making the most of the opportunities on offer. Here's how to do it better.
1. Follow data, not stereotypes
Schedulers and advertisers tended to rely on anecdotal (and limited) experience instead of data, leading to some staggering disparities – 52% of the world's population are women, yet only 7% of sports content on mainstream media features females.4 On traditional TV, programming tends to emphasise what's worked in the past. Online, infinite space for content means women's lacrosse out of a schedule in favour of men's football. The ultimate arbiter of what's popular is engaged viewers, and the last year alone has seen more than a 300% rise in watch time for women's football, alongside a 200% increase in watchtime of women's rugby.5 Keep yourself aware of fast-changing trends to identify opportunities as they arise.
The ultimate arbiter of what's popular is engaged viewers, and the last year alone has seen more than a 300% rise in watch time for women's football, alongside a 200% increase in watchtime of women's rugby.
2. Offer different ways to engage
Not all sports fans tune in solely for live games – that's just the tip of the iceberg. Passionate fans are increasingly searching for sports highlight content, behind-the-scenes interviews, or how-tos on everything from running to ice skating, while 80% of sports viewers say they use a computer or smartphone while watching live sport to search for player stats or related videos.6 Serving up ads next to this kind of personalised content can be a great way to reach an audience that's primed for engagement.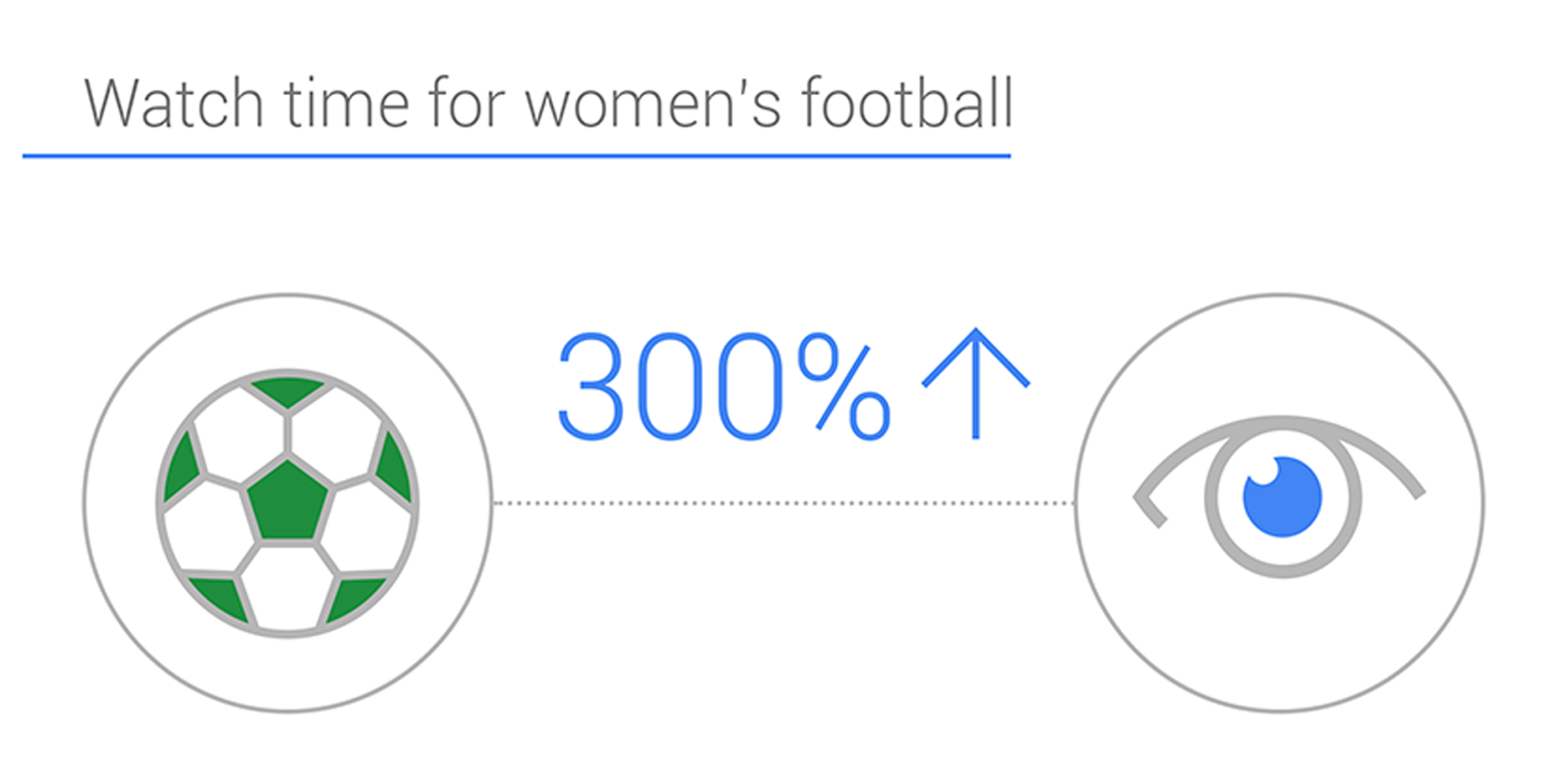 3. Stand by your values
If, as a brand, you've chosen to support women's sport on any platform, a key question is why? – can you explain it in a way that's authentic to your brand? Campaigns like Nike's Dream Crazier make it their objective to capture a cultural moment, but you don't need to be a global superbrand to win over hearts and minds. Bodyform's #bloodnormal campaign, for instance, broke taboos and provoked debate by showing blood in an advert for menstrual products, and – despite TV channels' initial reluctance to show the campaign – reached millions on YouTube, then more as it was debated and shared through traditional channels. Visit YouTube Works for more examples of smart, creative campaigns that have found a huge audience by taking a stand. It's worth being brave – women 18-34 are twice as likely to think positively of a brand that makes an empowering ad.7
4. Experiment and edit
A common theme among female health and wellbeing creators like the UK's Scola Dondo and Lucy Wyndham Read is that very few set out to be famous. Often, they were people who felt like their point of view wasn't represented and they didn't really care if they got more than a handful of views – many creators only started to iterate their content output once they began to achieve audience traction. Brands can do the same, using YouTube to publish fast – and then iterate based on the resulting insights – or get more in-depth with tools like Director Mix, which allows a variety of messaging to be served to consumers depending on their interests.
5. Use the correct tools
For brands looking to connect with this key audience - and others - Google tools offer a spectrum of different ways to engage. Google Preferred, for instance, allows brands to advertise alongside the top 5% of YouTube content across a variety of 'Lineups' – such as Women's Sport, Fitness and Wellbeing – next to content that's brand-safe and human-verified. For brands wanting to go the extra mile, YouTube also offers more traditional sponsorships – or content partnerships, where brands collaborate with partners to create exclusive content. An important point here is that these content solutions are not mutually exclusive – you could use a content partnership to create original programming and be part of the moment, segment that content, then scale across sponsorships and Google Preferred, for instance.