Despite big pushes for change, women are still sorely underrepresented in advertising campaigns. Google's Julie Eddleman shares three ways brands can ensure their marketing is as diverse as their customer base.
Every International Women's Day, brands outdo themselves with their witty, inspiring advertising campaigns that celebrate women and their achievements. Who can forget the Fearless Girl statue that was installed on Wall Street in honor of IWD in 2017? Or last year's campaign from Mattel launching Barbie doll versions of 15 iconic women, from Australian conservationist Bindi Irwin to American aviation legend Amelia Earhart?
For the rest of the year, though, women are still sorely underrepresented in advertising. Take another big annual event as an example: the Super Bowl. The NFL estimates that women make up around 50% of viewers, yet, with a couple of notable exceptions, few of the ads are targeted at them or even feature them. This gender gap isn't just anecdotal. In fact, 2017 research funded by Google found that in the 10 years between 2006 and 2016, the percentage of female characters in commercials increased by just 3 percentage points to 36.9%.

So how can brands make gender parity in their advertising a priority all year round, and not just on one day? Here are three starting points.
Turn to data for help
You can't fix a problem if you're not even aware of its existence. Luckily, recent technological developments make it easier than ever before for brands to understand how much progress they need to make. For example, the #SeeHer movement — a coalition led by the Association of National Advertisers that aims to make sure every woman sees herself reflected in advertising and media — has developed something called the Gender Equality Measure (GEM), which scores ads based on how they depict women. So far, tens of thousands of ads have been measured using the research methodology.
The best part is that data-based approaches like these can help marketers make the case with senior leadership about why gender representation in ads should be a business priority. According to a recent analysis, ads with the highest sales lift had the highest GEM scores and ads that generated the lowest sales lift had the lowest GEM scores.  
Focus on both diversity and inclusion
All too often we talk about diversity and inclusion as if they were one and the same thing, but that's not quite accurate. Diversity is about making sure your ads are representative — that they have a good balance of people of different genders, races and ethnicities, sexual orientations, and socio-economic statuses. The latest campaign from WW — formerly known as Weight Watchers — features people from all walks of life, and is a great example of a brand authentically reflecting their consumer base in their creative.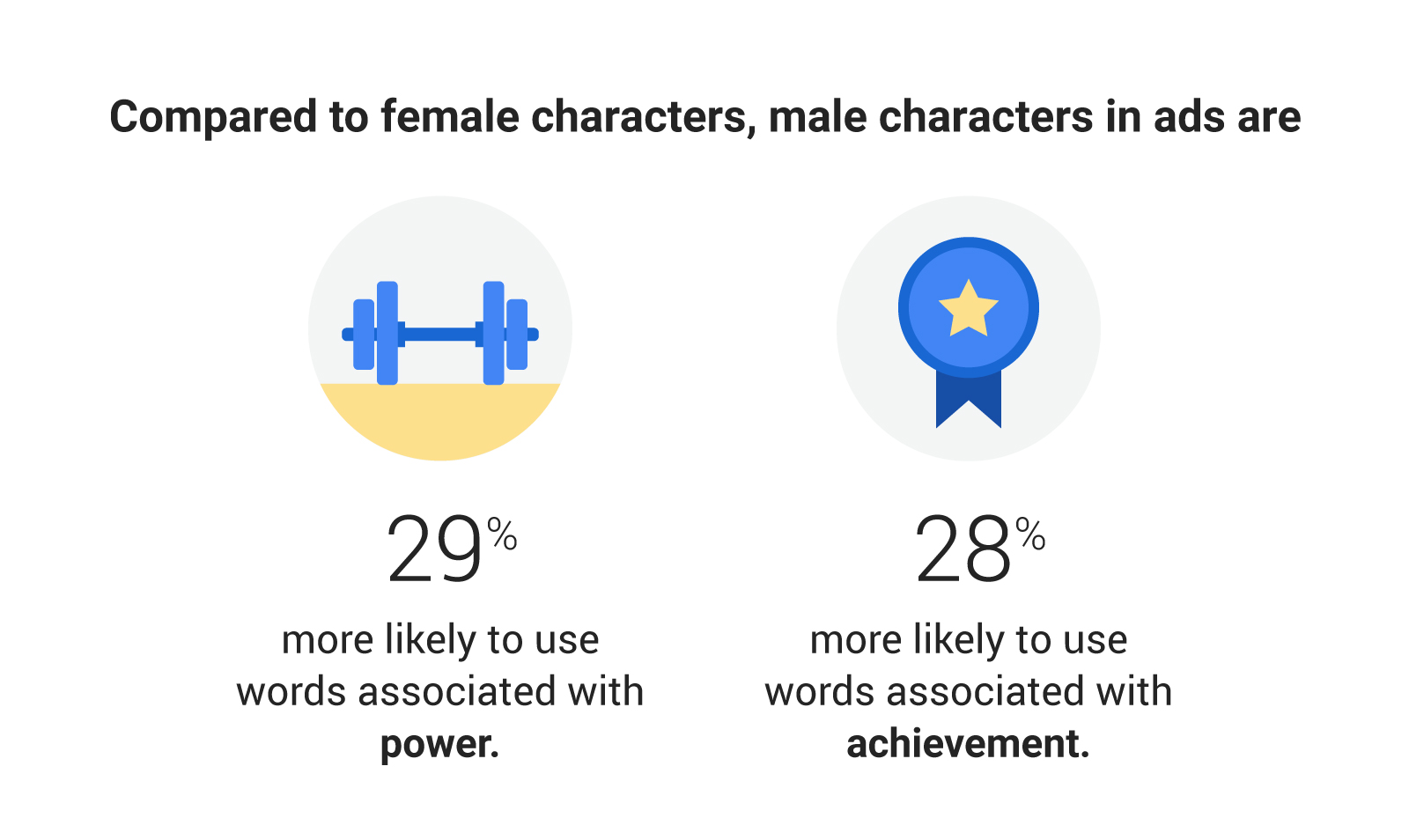 Inclusion is about making sure those diverse people feel welcome. In the context of ad campaigns, that means ensuring not only that you're featuring a diverse group of people, but that you're portraying them in the right way. And it's here that many brands still fall short. For example, a 2017 analysis of thousands of ads revealed that the men featured in them were around 29% more likely than women to use words associated with power, and 28% more likely to use words associated with achievement.
Of course, that doesn't mean ads have to portray women and girls as superhero-like figures. For example, research we commissioned to understand how millennial women wanted to appear in ads found most of them simply wanted to be portrayed "as equals" and in a "realistic" way. A fair ask, right?1
Get more women behind the scenes
It sounds obvious, but the lack of representation on-screen is often a symptom of the lack of representation behind the scenes. If we take an example from Hollywood, in 2016 only 7% of the top movies were directed by women. Is it any surprise, then, that women are also vastly underrepresented in the movies themselves?
The advertising industry is finally catching on to this and trying to do something about it. For example, dozens of agencies and brands — from long-established companies like Coca-Cola to relative newcomers like Twitter — have pledged to get at least one bid from a woman on every commercial they produce. Those brands that are acting on the pledge are already reaping the benefits. Take P&G, which signed on in June 2018. Is it any coincidence that its woman-centric Olay ad was among the most-talked-about at this year's Super Bowl?
Beyond International Women's Day
I look forward to seeing what inspiring, creative, women-centric campaigns brands will unveil this International Women's Day. But more than that, I look forward to a time when we won't have to wait for this one day a year to see ads that are truly representative of 50% of the world's population.