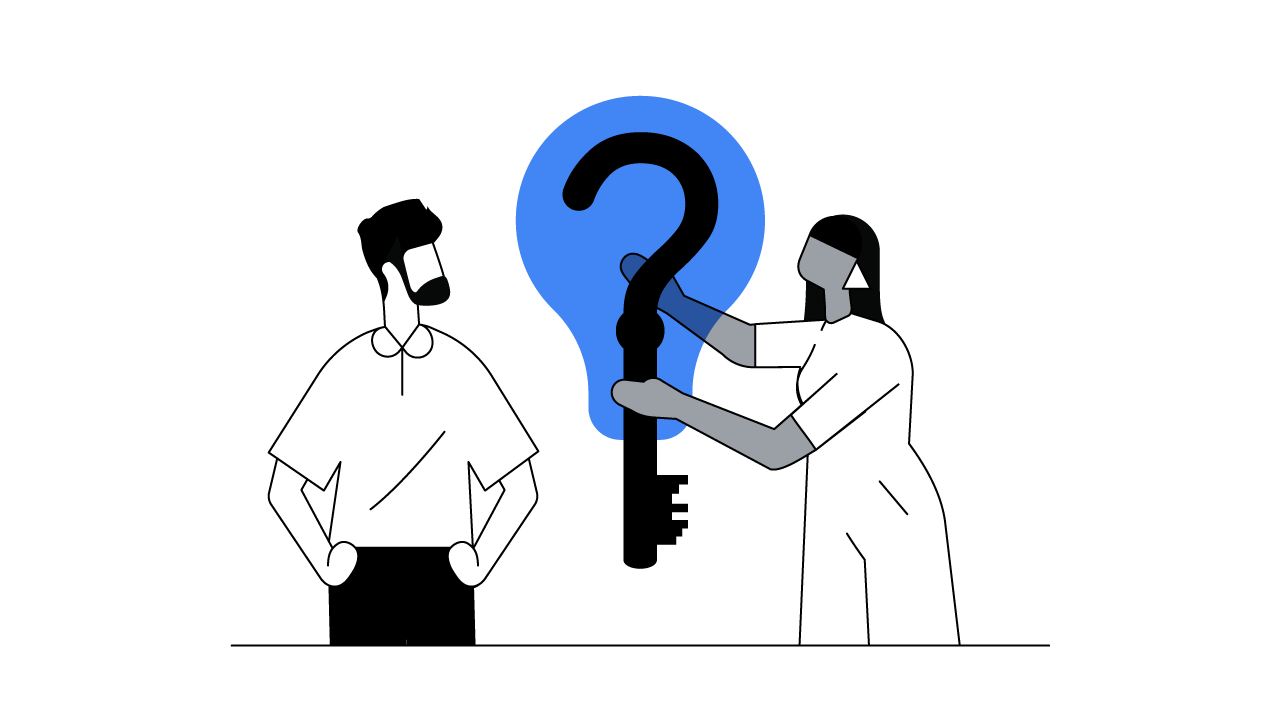 With the exponential rise in AI interest this year, we know that many marketers are exploring how this technology can fuel their businesses. In my own team here at Google, we've even been experimenting with Bard in our SEO content production to create efficiency.
But while 67% of marketers feel positive, even excited, about AI, there's also a certain level of apprehension. We know that there can be a lack of clarity around the use of this technology and many advertisers, understandably, have questions.
To help you make the most of the rapid advancements in AI, we've compiled a list of the top marketing questions our clients are asking right now. And we've enlisted the help of Google experts to answer them and to help you approach AI-powered marketing with confidence. Unlocking AI potential will be key for advertisers to unlock growth in 2023 and beyond.
What can marketers do to steer AI-powered campaigns more effectively?

AI technology brings remarkable capabilities, but it's the fusion with human expertise and strategic thinking that will drive success. That's why this needs to be a partnership from the start. For example, if your objective is to optimize your campaign to acquire new customers, you can use value-based bidding in combination with new customer acquisition goals. This tells your AI algorithm to bid higher for new customers than for returning ones or to show your ads only to new customers.
Once the right goals are in place, you need to provide the right input signals. By supplying relevant audience signals, you'll help AI algorithms learn faster who is most interested in your products and reach those users more effectively. It's like giving AI the right clues to unlock its full potential.
Finally, you can steer campaigns by adding your own high-quality assets, such as videos, text, and images, into AI tools. This will help the AI to create personalized ad experiences that fully align with your brand and resonate with your audience.
How can we share the most relevant data with AI when faced with data limitations or fluctuations?

Advertisers often face data challenges, such as clunky CRMs, long sales cycles, and fluctuating prices. That's why it's worth investing time and effort upfront to make consented first-party data work for you. While patience and experimentation are key to fine-tuning data you share with AI, here are some areas to get started:
Conversion minimums: You may not need as much data as you think. Our bidding algorithms can work with as few as 15 conversions in the past 30 days. If you don't have enough conversions, try optimizing for other valuable actions, like applications or callbacks.

Modeling: AI can help fill in data gaps with modeling and predictive capabilities within features such as Google tag, enhanced conversions, and consent mode. This helps you make smarter decisions even when you have incomplete or minimal information.

Offline conversion tracking: Import data for conversions logged offline — such as in your database, CRM system, or visits to your store — to get a more comprehensive look at which keywords and targeting criteria drive the most cost-effective conversions.

Seasonality adjustments: AI will learn and adjust over time if your data fluctuates. But you can also leverage the seasonality adjustments tool to fine-tune your campaigns for flash sales or seasonal spikes.
And remember, the key to a successful AI-powered campaign lies in selecting the right data rather than amassing a large volume.
As AI learns from my marketing data, can my competitors benefit from this data too?

All AI algorithms train on large datasets, which is what makes them so precise. This means that the algorithms powering the AI tools you use are trained on billions of signals, allowing them to constantly improve. At Google, we do not share an advertiser's data with other advertisers, unless they've provided explicit permission. This means that your conversion data in Google Ads is not accessible or beneficial to competitors.
We do use aggregated and anonymized conversion data for the overall benefit of advertisers, such as to understand whether a customer from a certain location or device is more likely to convert. This aggregated data plays a crucial role in improving automated bidding, and detecting spam and fraud. However, strict data anonymization ensures that individual advertiser data remains fully protected.
We are also simplifying how you manage and activate first-party data in Google Ads. You will be able to more easily reach relevant audiences, measure conversions, and drive incremental revenue while protecting your consented customer data.
How do we ensure generative AI assets are safe to use from a legal and copyright perspective?

Brands are experimenting with assets created by generative AI as they can help save time with edits, resizing, and localizations. AI-generated assets can even aid with the generation and production of entirely new creatives. However, the importance of safeguarding their legality, copyright adherence, and brand alignment cannot be overstated.
When using AI-generated ads, the starting point should always be your brand's own content and branding guidelines. AI technology collaborates with existing assets, maintaining consistency and aligning with your vision and brand identity.
When using AI-generated creative, it is essential to conduct thorough reviews, involving your legal team. To address any potential trademark violations, Google offers a straightforward process for reporting issues through an online form. Our team diligently reviews these reports and takes necessary actions to rectify any infringements.
And, of course, ad-related copyright and legal questions are not something new that have come in response to the rise of generative AI. We already have well-established policies in place to assess and evaluate ad content, regardless of how it is generated. These policies ensure adherence to copyright and trademark guidelines to protect the rights of content creators.
To ensure your AI-generated assets are safe to use, stay on top of the industry's evolving guidance and policies, incorporate human review, and supplement the assets with original content. That way you can confidently harness the creative power of AI while ensuring compliance.
How can insights from AI inform our business strategy?

AI optimizes toward a specific goal set by people. However, through constant learning and improving, it can find new and better ways to reach that goal. For example, over time it can learn that the best way to win the Atari Breakout game is to build a tunnel. Insights like these can be invaluable to your decision-making; you just need to know where to find them.
The Insights Page in your Google Ads account can help you make data-driven decisions to not only optimize your current campaign but to shape your overall business approach.
Key insights to explore:
Performance change history: Learn what's causing fluctuations in your campaign's performance.
Asset audience insights: View which assets are resonating most.
Auction insights: Compare your performance with other advertisers who are participating in the same auctions that you are.
Audience persona insights: Understand which audiences are driving the most conversions, so you can focus on reaching those people most likely to convert.
The Insights Page provides the most important insights to understanding and improving your campaign performance.
Will there be one AI-powered ad solution to rule them all?

We're living in an age of digital proliferation. Marketers now have an array of channels, tools, and AI solutions at their fingertips, but this abundance can sometimes lead to confusion. Amid this complexity, there's an industry craving a singular, all-encompassing AI-powered ad solution.
Two years ago, we started testing Performance Max, which simplifies ad campaigns. It weaves together Google AI technologies across bidding, budget optimization, audiences, creative, attribution, and more. It enhances what you're already doing with Search by expanding reach to channels such as YouTube, Display, Discover, Gmail, and Maps.
To help you understand how adding Performance Max to your current campaign mix drives additional conversions or conversion value, we also recently rolled out experiments. This allows you to measure the true incrementality of using it on top of Search.
But will there be a single AI-powered ad solution to rule them all? We cannot speak for the wider industry, but at Google, we will continue to use the best of AI to simplify and consolidate. However, we are not rushing into things as we need to further develop reporting to provide transparency and controls. That's why, for the best results, we will continue to recommend our power pairing of Search and Performance Max. The two can make a bigger splash together.