When you work in digital advertising, it's easy to forget what it's like to be an average internet user. But when you take a step back and experience the web as most people do, you begin to understand why so many people employ ad blockers.  
Ad blocking is bad news for everyone in digital advertising, including publishers who depend on ad revenue to fund content and advertisers trying to connect with audiences. But ad blocking is really a symptom of a broken user experience — one that marketers, agencies, publishers, and ad technology providers must work together to help fix.
For years, the user experience has been tarnished by irritating and intrusive ads. Thanks to extensive research by the Coalition for Better Ads, we now know which ad formats and experiences users find the most annoying. Working from this data, the Coalition has developed the Better Ads Standards, offering publishers and advertisers a road map for the formats and ad experiences to avoid.
Since the Coalition launched the ad standards in January 2018, I've been working with publishers to help them improve the ads on their sites. Based on my experience, here are three key things publishers need to know about what this change means for them.
Ad format dos and don'ts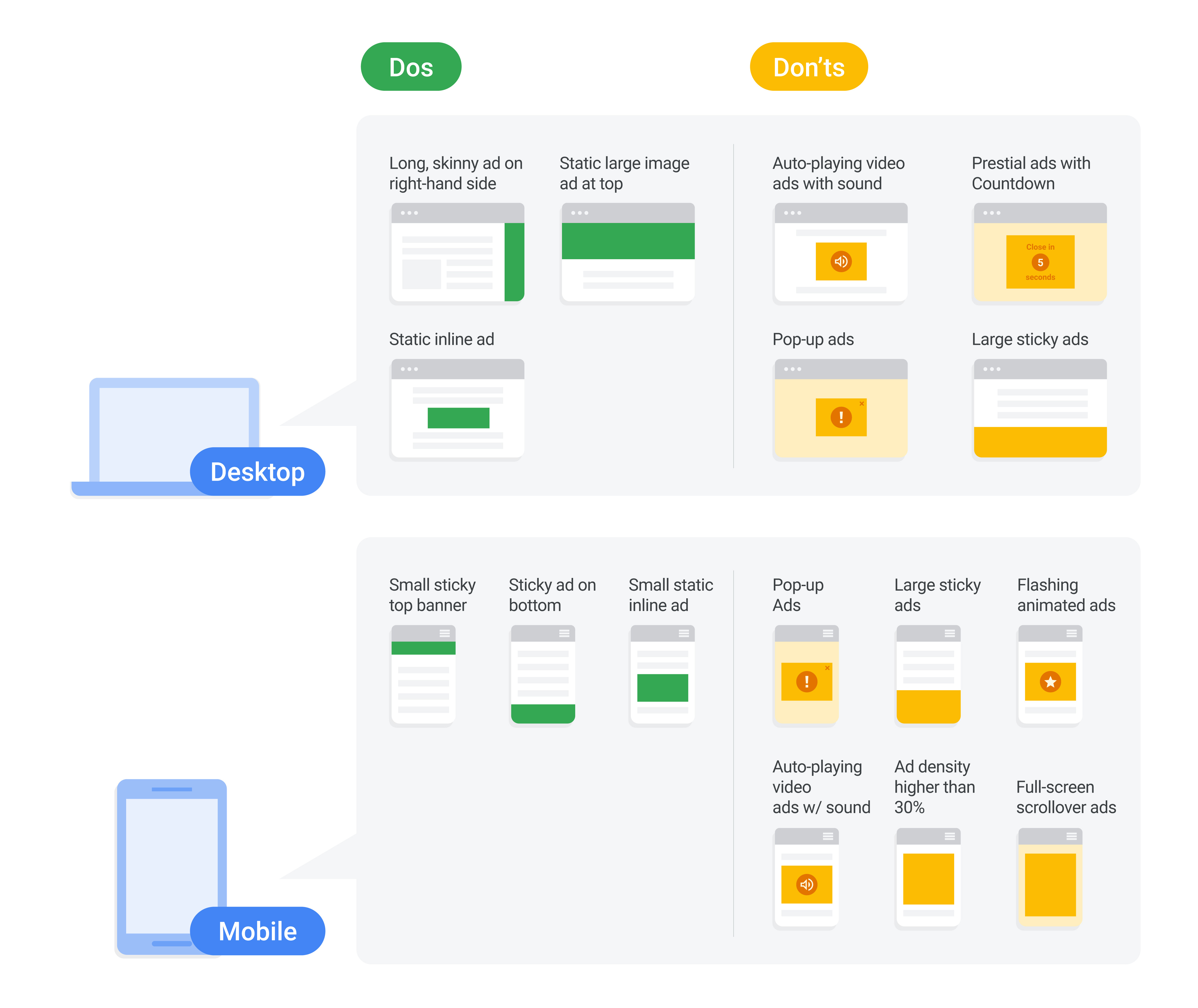 1. Bad ad formats can hurt you
After surveying nearly 66,000 web and mobile users, the Coalition identified four categories of desktop ads and eight types of mobile ads that fall below the threshold for acceptability. For example, more than half of all consumers said they would not revisit or share a page that had a pop-up ad.1 Similarly, many desktop web users were annoyed by video ads that automatically played audio, and most said they would avoid prestitial ads with countdowns and sites featuring sticky ads that obscured large portions of a site's content.
More than half of all consumers said they would not revisit or share a page that had a pop-up ad.
On mobile, user preferences are even broader. In addition to the above ad types, consumers also said they disliked mobile pages with ad densities greater than 30%, flashing animated ads, prestitial and poststitial ads, and full-screen rollovers.   
Before joining this project, I admit that I was a champion for mobile interstitials. It was easy to celebrate the revenue potential and underestimate the damage these ads caused to user experience. Now, we all know better.  
2. Convert 'bad ads' into good ones
The good news is that people don't hate all ads, just the most annoying ones. In fact, the Coalition's research identified several common ad practices that resonated more positively with people. For example, narrow ads running down the right side of desktop webpages or small sticky ads at the top of mobile screens are viewed more favorably. The research also offers a path for converting more irksome formats (such as pop-ups) into less intrusive ones (like full-screen, inline ads) that are just as effective.
Saying yes to a potentially lucrative but annoying campaign can be tempting, but it is important to take stock of the potential negative effects.
Publishers have told us that they are relieved to finally have data to understand which intrusive ad formats to avoid selling. Saying yes to a potentially lucrative but annoying campaign can be tempting, but it is important to take stock of the potential negative effects.
3. Determine if your ad experiences are compliant
Since the Coalition's definitions of ad experiences may differ from commonly used ad format names, many publishers may not even be aware if their ads violate the Better Ads Standards.
That's why we released the Ad Experience Report in the Google Search Console. The tool reviews a sample of the pages on your site, identifies any ads that run afoul of the standards, and gives you the opportunity to remove or replace the ads and have your site reviewed again.
There's a good chance that if you don't have pop-up or self-playing ads on your site, you're already compliant with the Better Ads Standards. In fact, around 98% of sites have no violations, and most sites with violations have already resolved their issues.
If issues are identified, they will be listed in the report and you'll be notified. When all ads on the site comply with the standards, you can resubmit the site for review. Publishers should make sure that ads across their entire site comply with the Better Ads Standards before submitting for another review. Only a limited number of review requests are allowed, and only a sample of the site's pages are reviewed each time.
It's encouraging to see the progress being made over the last year to improve user experiences and to make the user a top priority for publishers everywhere. Putting the user first is a win-win situation. What's good for them often ends up being good for business.