Consumer insights are one of the main pillars of any successful marketing organization. And they're one of the main pillars of Think with Google. In fact, we published so many articles focused on consumer insights in 2018 that we thought we'd highlight some of the most interesting ones, the type of insights you'll want to remember going into the new year.
People are always shopping
Consider this: 84% of Americans are shopping for something at any given time, in up to six different categories. And in nearly one quarter of shopping occasions, shoppers say they turn to their smartphone first.1
Shopping across so many categories can be overwhelming for people. In other words, they're going to need as much help as possible, providing brands an opportunity to get into the consideration set early on. Since nearly 9 out of 10 shoppers are not absolutely certain of the brand they want to buy when they begin looking for information online via their smartphones,2 there's a great opportunity for marketers who make the research process as easy as possible. That means being present — and useful — along the way. Consider finding ways to help overwhelmed shoppers keep track of items they've researched.

They're searching with natural language
People are using more conversational search queries, which allow them to ask more pointed, specific, and personally relevant questions about the products and services they're interested in. This not only enables people to cut through the clutter, getting them answers quickly and efficiently, but it also gives them the confidence that they're getting exactly what they need.
Much like when they talk to a person, people are starting to use "I" in their searches. Mobile searches for "do I need" have grown over 65%. For example, "how much do I need to retire," "what size generator do I need," and "how much paint do I need."3
Marketers should lock down key words and phrases typically associated with their businesses and then consider natural language search phrases that customers might be using to find them.
They want things nearby and now
Whether it's a jar of spices or a restaurant, today's impatient consumers want things in the moment they need them — which is typically "now." Even "near me" searches aren't just about finding a specific place anymore. A "near me" search is about finding a specific thing, in a specific area, and in a specific period of time. And if you want a crystal clear example of purchase intent, consider this:
"Near me" mobile searches that contain a variant of "can I buy" or "to buy" have grown over 500% over the last two years.4 These include things like "where can I buy stamps near me," "places to buy scrubs near me," or "where to buy vinyl records near me." 
We've also seen over 200% growth in mobile searches for "open" + "now" + "near me" (for example, "restaurants near me open now," "stores open near me right now," and "pharmacy near me open now").5
More research = fewer regrets
Search isn't just about buying things. People use it to find experiences as well. Whether it's taking a vacation or going out to dinner, people curate their experiences before they go.
The research process becomes part of the experience itself, helping to build anticipation before they even set foot out the door. Working out the details in advance — prices, maps, schedules — reduces anxiety and allows people more time to enjoy themselves once they arrive. One person Google spoke to boiled it down to one simple, powerful statement: "I wanted to research so I wouldn't have regrets."

They're looking for look-alikes
Sometimes shoppers must face the reality that the exact thing they want is out of their price range. But today's research-obsessed consumers aren't letting price get in the way of aspiration. They realize they have the tools to find something similar to that aspirational product, but that's more practical for them.
Mobile searches for "that looks like" grew by over 60% in the past two years. For example, "inexpensive tile that looks like wood," "honda that looks like ferrari," "furniture that looks like pottery barn," "rock that looks like a diamond," and "new furniture that looks like antiques."6
Voice-activated-speaker owners welcome brands
Voice-activated speakers were a hot holiday item last year and were gaining in popularity even before Christmas. So Google surveyed over 1,500 people who own Google Home or Amazon Echo voice-activated speakers. Among things we discovered, it turns out that parents are power users and Boomers see the devices as empowering companions with serious potential.
Importantly for marketers, people who own voice-activated speakers welcome brands as part of the experience. And they are open to receiving information that is helpful and relevant to their lifestyle. In fact, one respondent said the ability to purchase things made it feel more like an actual assistant. "I went from asking it questions to now it's sending me actual products. Way more involved, way more real," he said.
What would voice-activated speaker owners like to receive from brands?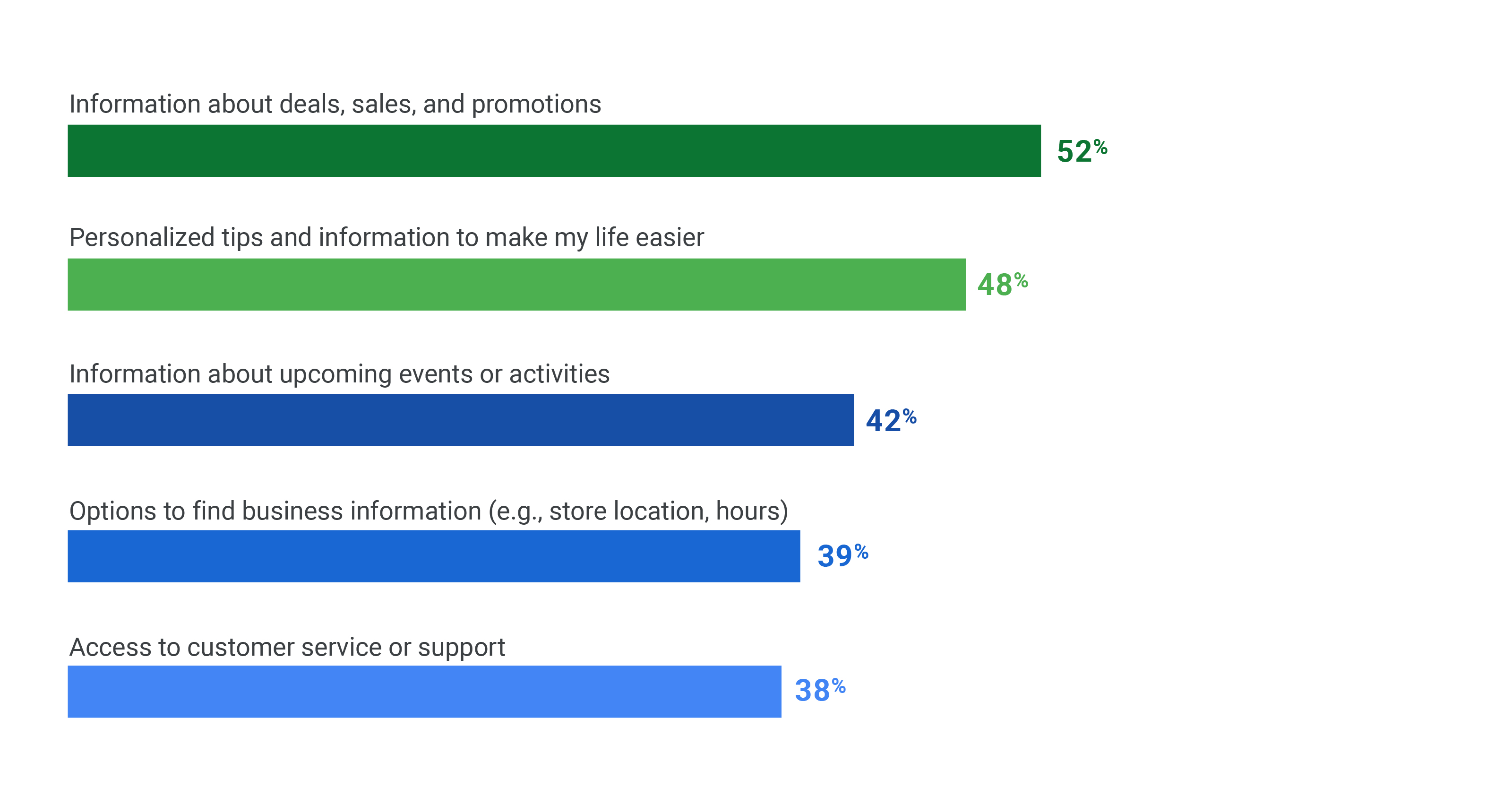 We're actually just putting the finishing touches on another round of research into voice assistance (across devices). And we're also going to have much more to come regarding the customer journey research we've rolled out recently. So stay tuned to Think with Google for more consumer insights about those topics and many more in the New Year.