We've all heard about publishers "pivoting to video." Many of these attempts at embracing an exciting new storytelling format haven't ended well, as series are cancelled, projects are abandoned, and teams are cut back. It goes to show that perfecting a video strategy can be a bumpy road.
The Washington Post is bucking that trend. Last January, the legendary newspaper retooled its video strategy to more effectively reach its audience and nearly doubled the team to make it happen. In the past year, it has tripled its YouTube subscribers, and watch time on its channel has grown 280%.1
I sat down with Micah Gelman, director of video, and Nadine Ajaka, senior producer of video platforms, to learn how they kickstarted the newspaper's digital video efforts.

Oren Fliegelman: Early last year, the Washington Post made a big investment in digital video. Why?
Micah Gelman: It might seem surprising, but video is still a novel thing for many publishers. That's especially true for legacy publishers that come from a long, rich tradition of print, like the Washington Post. But last year, we realized we needed to do more in such a critical part of our storytelling. Our audience wants to experience and engage with stories, and we have a lot of stories where the best way of doing that is through video.
For instance, our opinion writers publish provocative op-eds every week, but they often feel like one-way conversations. We realized video was a great way of making them more interactive, so we put the writers in front of the camera and got them to read and respond to hate mail.
Or take product reviews. Sure, we could just write about a product, but a video allows you to experience it in action — to find out what it looks like, watch how it works, hear if it makes sounds. We've had some big hits with this format. As of this month, our December video review of Amazon Key has more than 7 million views.
Once you had more resources, what did your video strategy look like?
Gelman: We talk a lot about wanting to become a "video destination." We want people to think of the Washington Post as a place to go for strong storytelling, investigative journalism, and breaking news. People are used to coming across our videos when they read articles, but we want them to come to us for videos.  
Nadine Ajaka: That's why platforms like YouTube, where people come specifically to watch videos, are really important for us. The way to grow your audience is to go out and meet them where they are. It's just a fact that there are people who won't visit our homepage, so to try and reach them, we're going to the platforms where they spend time.
To that point, with so many distribution platforms to choose from, including your own, how do you decide where each video works best?
Ajaka: It really comes down to creating the right video for the right platform for the right audience. We don't make one thing and expect it to work everywhere.
For example, if you come to our site to watch something while you're having your morning coffee, you'll probably see a shorter video that will lead into a print story. That's not the type of video content you'll find on our YouTube channel, though. People on YouTube come with a video-watching mindset, which makes it ideal for longer form, documentary-style storytelling.
Is it just the formats that are distinct, or is each platform's subscriber base also different?
Gelman: The audiences are definitely different across all the platforms. For example, we see YouTube as a great place to reach a younger audience that might not come directly to our homepage. To put some numbers on that point: Over half of our watch time on YouTube comes from 18 to 34 year olds, but less than 20% of our watch time on washingtonpost.com does.
Watch time of Washington Post videos by age group and platform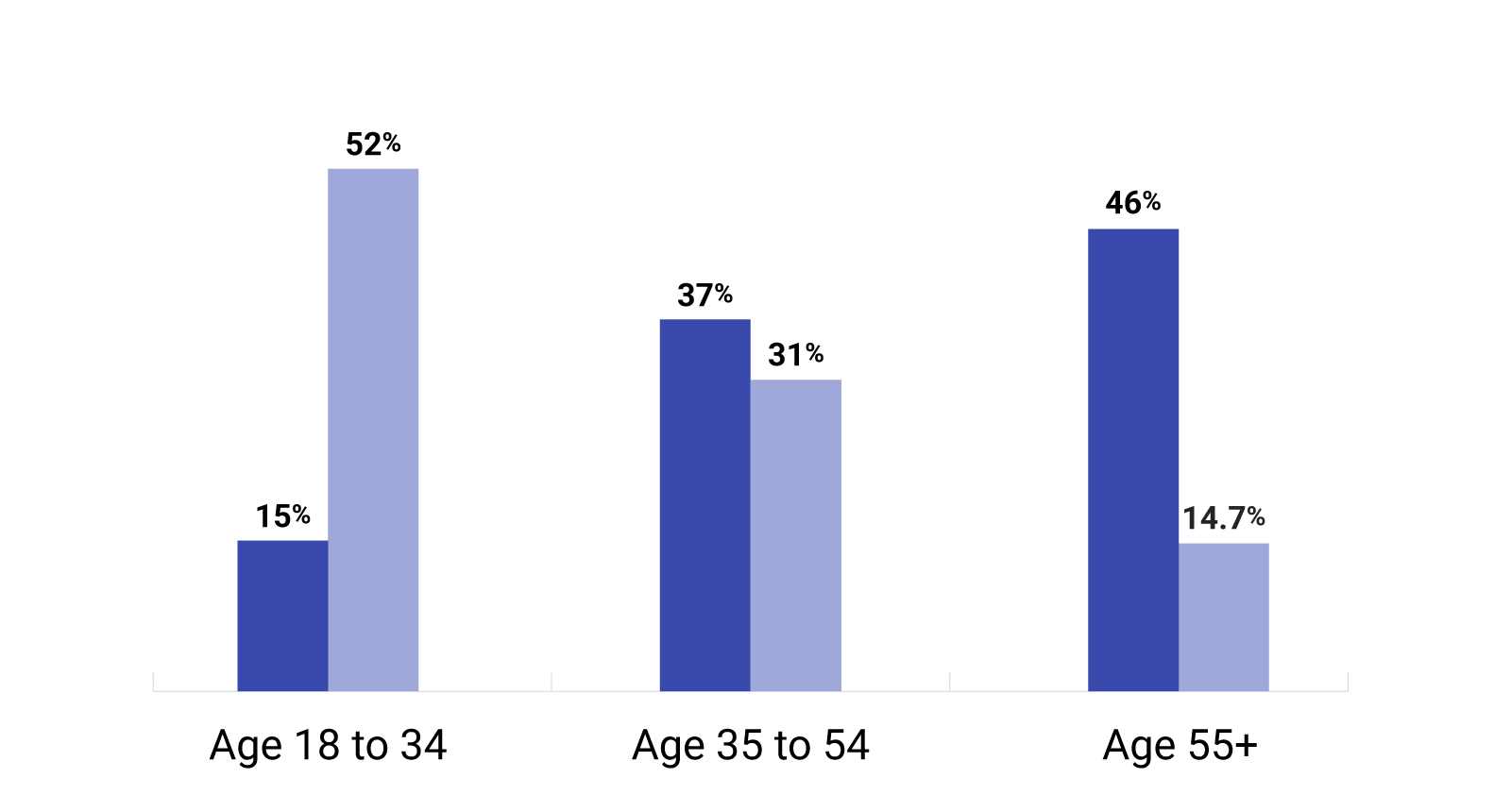 Washingtonpost.com

YouTube
And what promotional strategies do you use to make sure people are discovering your videos?
Ajaka: We share all our links on social media sites. But what's been most successful and cost-effective is using YouTube search terms. Every day, we promote a couple of terms that are in the zeitgeist to help surface our breaking news content.
We also run pre-roll brand ads. When we were coming up with the creative for those, we asked ourselves, "What do people come to the Washington Post for?" That question led us to three creatives: one for politics; one for on-the-ground breaking news coverage; and another for pop culture, health, and science. The last one isn't something people might generally associate with us, but YouTube provides a platform to showcase it.
Gelman: Of course, the publisher itself also matters. Frankly, we're latecomers to understanding YouTube's value. Facebook was a bright shiny object for video producers for about two years. But last year, we spent time thinking about where the video business was going long term and who would be a good partner for understanding monetization and audiences for repeat video views. The answer was YouTube.
What can we expect from the Washington Post video team in the future?
Ajaka: Expect to see more live events — like our Oscars live stream, which had half a million views on YouTube — more series pilots, and other experiments. We actually just launched a science show for kids, Anna's Science Magic Show Hooray, that we're excited to see grow.
Gelman: We're on a mission to give Washington Post video a voice. Traditionally, our video has been voiceless — a more in-the-box, straight-down-the-middle style. But we want to be less like TV news and more like the organic stars who have grown up on digital. That means more on-air talent bringing their own personalities to the screen.