In 2018 at Mazda, we made a total shift in approach to our online video strategy.
We recognized we needed to make this shift in our go-to-market planning because customer behaviour was evolving, and we needed to evolve with it. More than 75% of shoppers say online video has influenced their car shopping habits,1 but what they are seeking to learn about a car varies greatly from the beginning to the end of their journey. We could no longer afford to make ads that only spoke to customers at peak periods, or at one stage of their purchase journey. We knew that it wouldn't be effective to make a TV ad and simply run it online.
Leveraging insights from Google Search, we learned that our customers had very specific questions at various points along their journey: What does the CX-5 look like inside? How does it drive? Will a car seat fit in the back?
Create content to meet customers across their journey
With our new online video strategy, we were able to address those questions when our customers were asking them. For the first time, we were building content that aligned directly with where our customers were at in their journey.
The result was a series of highly successful online video ads for Mazda's CX-Series vehicles. Using products like Google Preferred to boost awareness, this creative strategy drove ad recall lift of nearly 34% (for the CX-5) and awareness lift of more than 17% (for the CX-3) — unprecedented results for our brand.2
Here's a closer look at our creative from 2018, and how we've significantly changed our approach to storytelling going forward.
Build awareness: Picture Perfect
As we discussed how to best generate awareness for our CX-series nameplates with this campaign, we had to consider a new audience of customers we had never spoken to before. Mazda is evolving to become more of a premium brand and we've gained new insights on customers who care deeply about their passions. We know they tend to be open to longer and more cinematic formats. So we asked ourselves: what would be entertaining and inspiring to people who cared not only about our brand, but also had specific interestions, such as classical music or photography?
Anchor video creative in customer passion points
This creative marked an active departure for Mazda. It's a series of short films for our CX-3, CX-5 and CX-9 vehicles, with a goal of driving awareness with ads that didn't really feel like ads. Once we'd built it, Google Preferred allowed us to reach YouTube's most qualified and engaged audiences.
The results were best-in-class. For the CX-3 creative, we saw a 23% lift in ad recall and more than 17% in awareness. For the CX-9, ad recall lift was close to 30% and awareness lift was more than 15% — a performance well above what we'd seen in the past.3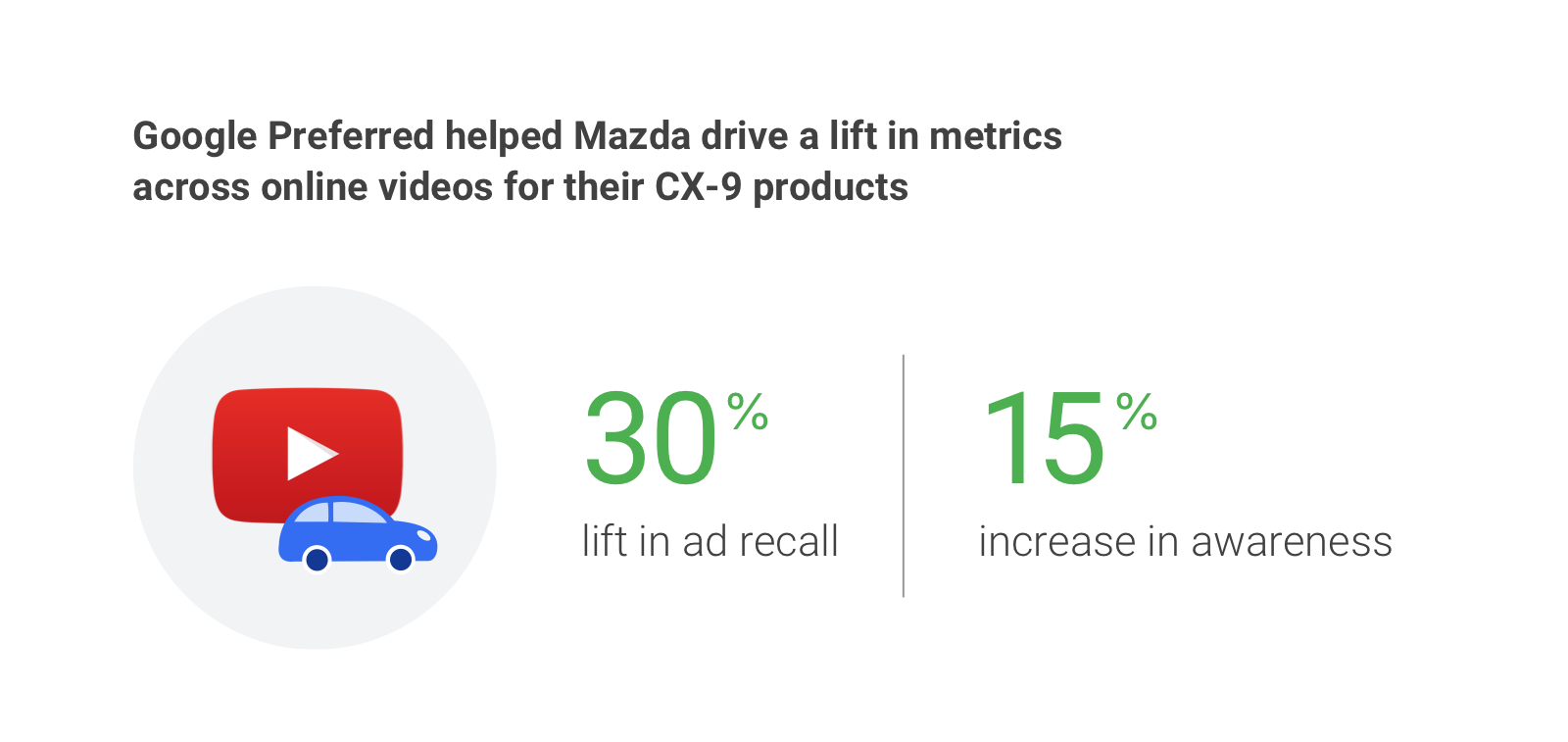 Make it easy to take action: The Long & The Short of It
When customers are near purchase, we know they have specific questions about our cars that a TV spot is just unable to answer.  
This is where The Long & The Short of It series of videos came into play. This content gave deeper insights on the specifics of our products, including what technology the CX-3 comes with. Data told us that customers were coming to our website after watching our videos — so we used TrueView for Action to provide a logical next step for a viewer who was already engaged: watch the ad, and get a prompt to click through directly to Mazda.ca if you want to explore further.
This campaign made the transition from watching a video to visiting our website so much easier — and it was twice as cost-effective for us to convert potential customers.
Looking ahead to 2019, we plan to build on these results and refine our holistic view of who our audiences are. This campaign has paved the way for us to do that.