Pioneering technology fuses live NFL data with Madden 15 game footage to generate GIF highlights for every single game–all delivered via real-time ads across sports websites and apps. The result is an ever-growing collection of GIFs that football fans can take, edit and share to shove in the face of their rivals.
THE BRIEF
Grow Madden Love Through the NFL
To launch their new game Madden NFL 15, EA Sports wanted to connect with young, football-obsessed fans and grow its association with the real-world NFL. To do this, they explored how technology could fuel the pride and passion fans feel during the game.

THE INSIGHT
Trash Talk of the 21st Century
The average football fan is now watching the game with smartphone in hand, allowing sports fans to provoke rivals from the comfort of their own sofa and bringing trash talk into the 21st century. And today, the language of fan rivalries is a visual one. Just look at the resurgence of GIFs on Google trends. Why say it in words when you can throw shade with a meme?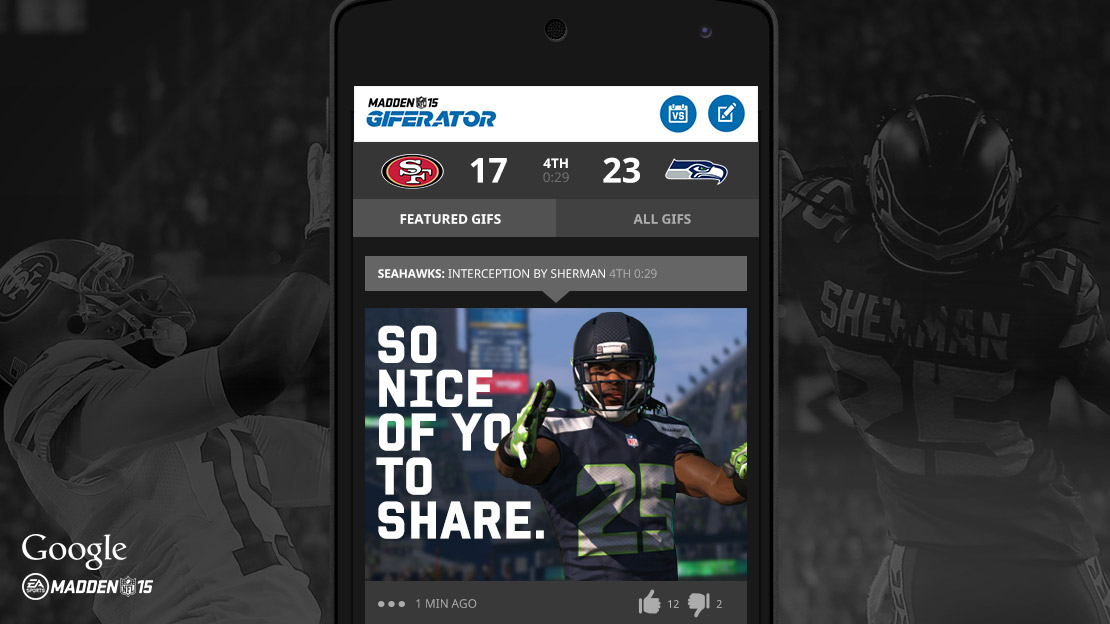 THE IDEA
GIF Your Rivals
During every NFL game, the Madden GIFERATOR will create a live stream of GIF highlights triggered by the action on the field. The experience fuses live NFL data with Madden 15 game footage to generate a fast-refreshing stream of visuals and snarky headlines that fans can edit with their own copy and push to their networks to taunt rivals. To make your own, visit the GIFERATOR site.

THE ADS
Real-time Content, Across the Web
Real-time display ads appear across the sites and apps in the Google Display Network seconds after a play happens live. Using dynamic ad capabilities, different combinations of copy, images and backgrounds can be created on-the-fly to reflect what's happening in the game, in real time.
THE WAY IT WAS MADE
Web Technologies
This project was built with many products and open web technologies that are readily available to anyone. We used the latest techniques in HTML, CSS, and Javascript to craft slick, easy-to-use interfaces and display dynamic content and images. The experience was built and hosted on Google Cloud Platform, and the dynamic rich media ads were created using DoubleClick Rich Media. Ads themselves appeared on the sites and apps in the Google Display Network, using Custom Affinity Segments to ensure that each team's fans saw the most relevant Madden GIFs.

THE TAKEAWAYS
Make Companions, Not Campaigns
When creating tools and content for the second screen, remember you're the cheerleader, not the quarterback. Instead of whole new campaigns, distracting from the action, make "companions": ways to fuel the passion without getting in the way.
Design Mobile-First
The majority of second screen consumption happens on smartphones, so be smart about layouts. Start your designs with the smallest screen, then work up to the largest.
Tell Stories with Data
Data isn't just the basis for your strategy or the way you measure your campaign. Stories told through data can be powerful in themselves. Think about some data streams that might be relevant to your brand or category. How could these influence the content you create?
The Team
Steve Stone
Executive Creative Director

Warren Cockrel
Creative Director/Copywriter

Anna Rowland
Creative Director/Art Director

Matthew Stafford
Digital Creative Director

Jayson Hobby
Interactive Designer

Will Knox
Copywriter

Andrew Lovold
Content Producer

Aaron Lang
Director of Account Service

Julia Wu
Account Manager

Aaron Richard
Strategist
Anthony Stevenson
Vice President of Marketing

Dana Marineau
Vice President of Advertising and Design

Dustin Shekell
Director of Global Creative Strategy

Scott Crissman
Senior Marketing Manager
Alexis Cox
Senior Product Manager
Jaap Tuinman
Senior Director, Campaign Strategy & Media Planning
Drew Ungvarsky
Executive Creative Director

Eric Green
Account Director

Eamon Wyse
Production Director

Brian Walker
Technology Director
Quan Hoang
Creative Director

Todd Lower
Lead Producer

Ricky Williams
Lead Developer

Matt Clack
Associate Creative Director

Eric Lohman
Lead Creative

Sonya Parker
Producer

Jordan Crisman
Producer

Matt Campbell
Developer

Gabe Molochko
Developer

JR Smith
Developer

Ann Yuan
Developer

Darius Pilapil
Developer

Zach Young
Developer

Lookmai Rattana
Developer

Will Jardine
Developer

Jeff Penano
Developer

Nate Witte
Developer

Josh Newton
Designer

Brian Villalon
Designer

Jason Levesque
Motion Designer/Artist

Thelonius Cook
Lead Capture

Franck Tchouambou
QA Analyst

Cindy Digman
Motion Artist

Louis Mcleod
Capture

Joe Branton
Design Director
The Art, Copy & Code Team