Mobile has changed the way people book travel. Part four of this six-part series on travel micro-moments dives into the let's-book-it moments that happen after travelers have done their research—and how travel marketers can capitalize on these key conversion moments.
You know what it's like as you get ready to hit "reserve" for that cruise, last-minute flight, or room at the resort. The destination ideas have been explored, the research has been done, and you're ready to book.
In these let's-book-it moments, people are ready to put their dollars behind their decisions. And they often turn to search in these micro-moments. The consumer behavior in these moments is shaping travel industry trends at large, and even business travel trends.
94% of leisure travelers switch between devices as they plan or book a trip.
Travel shoppers who are ready to book have typically narrowed their choices and may have decided on the location as well as the brand they want to book with. In these moments, people often search for something like "[brand name] + [location]." And, in fact, almost half of searches like this happen on smartphones.1
In these let's-book-it moments on mobile, it's not just searching that's happening. Travelers increasingly book on smartphones. Thirty-one percent of leisure travelers say they've booked travel on a smartphone,2 while 53% of business travelers say the same.3 When it comes to travelers looking to book a hotel, we see nearly half of Google Hotel Ads referrals now coming from smartphones,4 and this is growing by almost 2.4X year on year.5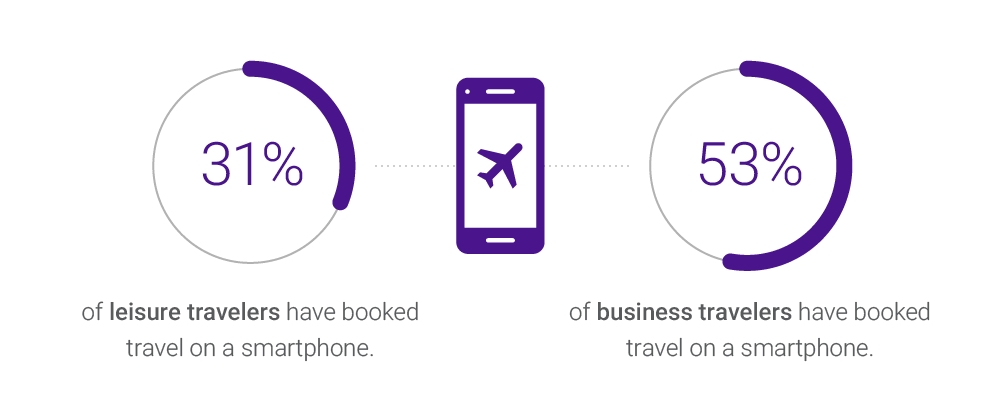 Snapshot of a real traveler's decision-making journey
Online interactions are increasingly shaping how people make a plan for their next trip. New clickstream data from Luth Research's opt-in panel (illustrating the pages a user visited, and in which order) provides a snapshot of what a real traveler's time-to-make-a-plan moments actually looked like. By analyzing this traveler's searches, clicks, website visits, and video views while she was in planning mode for her upcoming travel, we can start to see exactly how and how much digital played a role in influencing her destinations.
Meet Kendra. Kendra is a single mother of three who travels for both business and pleasure. In a five-month period, she planned business trips to Amarillo and Kerrville, Texas, while also exploring vacation destinations in San Antonio, Whistler, and Puerto Rico.
Take a look at Kendra's travel micro-moments over the course of five months: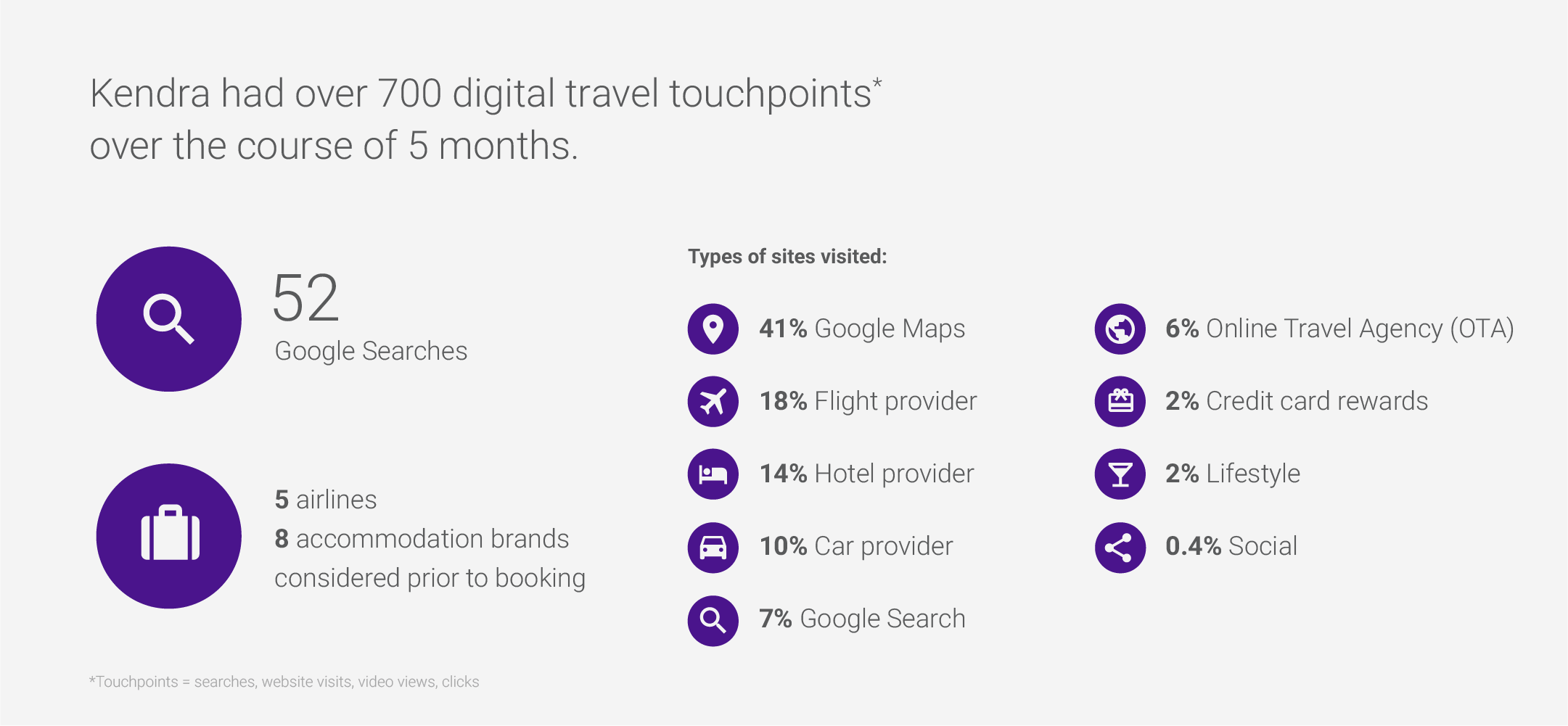 And here's a real sample of one of Kendra's research paths in a let's-book-it moment that started with a search: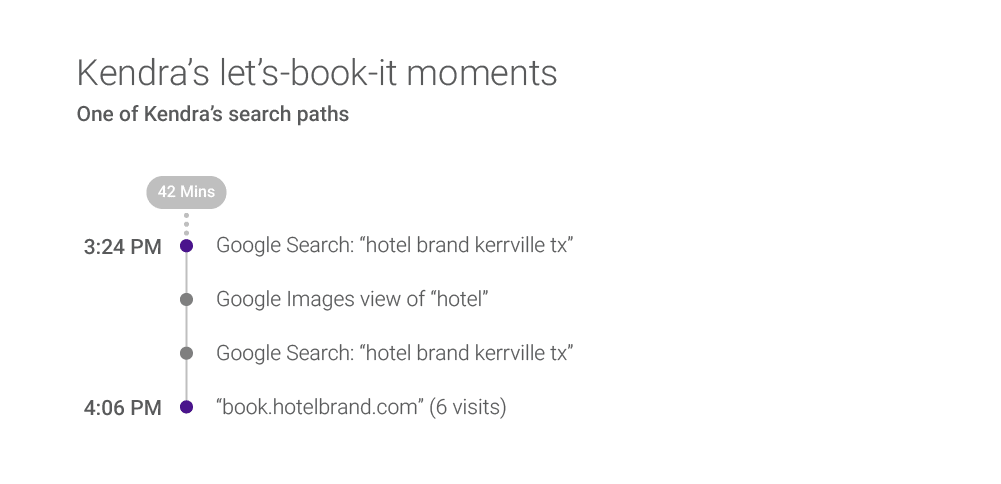 The travel booking trends on mobile specifically
As much as mobile research and bookings have grown, the majority of travelers, especially those taking personal trips, still book on a desktop or laptop. Ninety-four percent of leisure travelers switch between devices as they plan or book a trip.6 And 46% of travelers with smartphones say they make their decision on mobile, but then book on another device.7
Why is this happening? Two reasons: the anxiety factor and the limitations of mobile booking sites and apps.
The anxiety factor when it comes to booking travel on mobile
Sixty-nine percent of leisure travelers worry that they're not finding the best price or making the best decision. And only 23% of leisure travelers are confident they can find all of the same hotel and flight information on their smartphone that they can on their desktop.8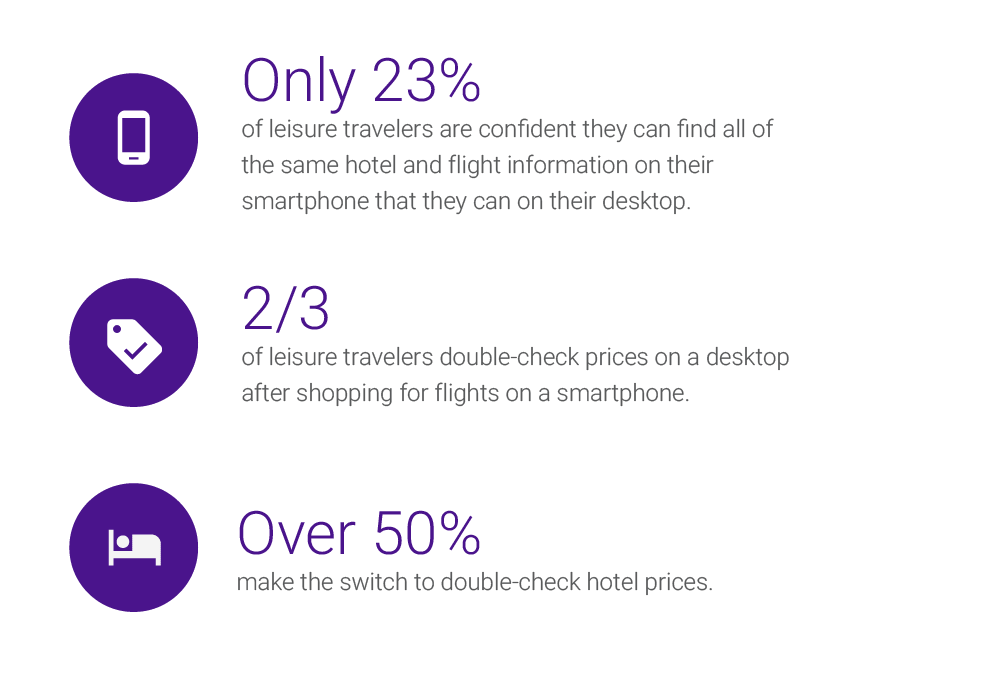 People tend to double-check things in more detail on laptops or desktops. Nearly two-thirds of leisure travelers double-check prices on a computer after shopping for flights on a smartphone, and more than half make the switch to double-check hotel prices.8
Limitations of mobile booking sites and apps
Fifty-four percent of leisure travelers and 69% of business travelers say that mobile limitations or mobile usability are their main reasons for booking on another device.9
Not only do you face travelers switching devices, you also risk losing customers to competitors. Eighty-eight percent of travelers with smartphones would switch to another site or app if yours doesn't satisfy their needs.10

How to be there and be useful in let's-book-it-moments
Offer assurances on mobile booking. To help customers feel more comfortable booking on mobile, you need to alleviate the concern that they might be missing out on additional information just because they're using a smartphone. Allowing customers to cancel with no penalties and providing a best price guarantee are two ways that companies are tackling this issue.
Eliminate steps on mobile. Think about your primary goal: Are you trying to drive engagement, to boost mobile bookings, or to help make the travel experience better? With that goal in mind, think about how to cut the number of the steps a traveler has to take to reach it. For instance, you might:
Implement one-click functionality.
Help the traveler fill in forms.
Provide alternatives for finishing the transaction (like click-to-call buttons).
Consider using Book on Google to help travelers book a hotel or flight in a matter of clicks without leaving the search results page. 
Anticipate needs on mobile. To understand consumer needs, check out your top mobile searches and your most popular mobile content. Put the call to action for these primary activities front and center on your site.
Virgin America is a great example of a brand that recently refocused its mobile experience on one simple call to action: "Book a flight." To make room for this single call to action, Virgin America steered away from other offers or distractions that might clutter the booking process or draw attention from that single goal. Today its mobile customers can (and do) book flights twice as fast.
Ensure your mobile site loads fast. Mobile users are impatient. Fifty-two percent of travelers with smartphones said they'd switch sites or apps because it takes too long to load. And 45% would switch if it takes too many steps to book or to get desired information.10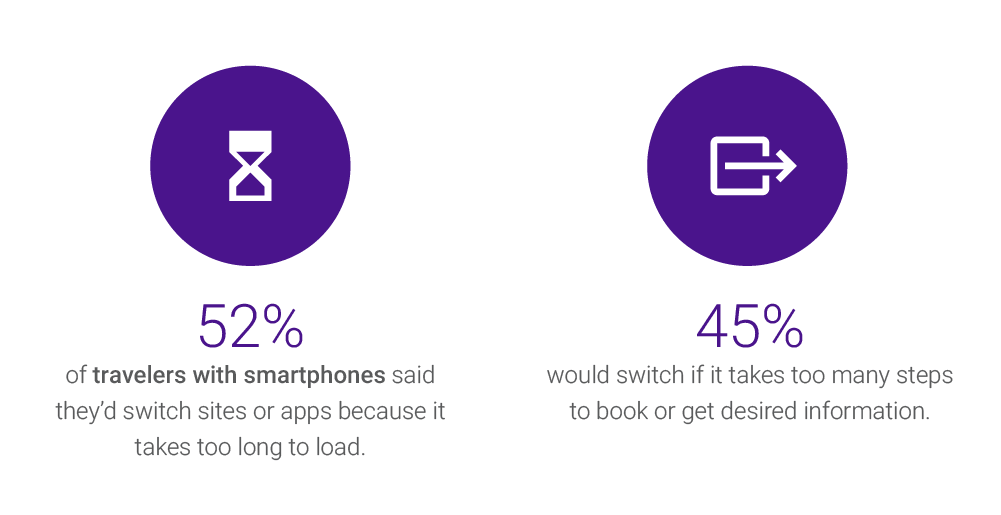 Meet their expectations by keeping your back end up to snuff. For help, try Google's PageSpeed Insights tool; it will rate your site's load time and offer custom recommendations for increasing your site's speed. And for more of a deep dive in creating best-in-class user experiences in mobile, check out "How to Create a Better Mobile User Experience." Consider using Progressive Web Apps to bring the best of mobile sites and native applications to users, fast.
Take cues from how your customers are finding you, and build for that experience. Mobile has fostered new last-minute booking behaviors. For example, 85% of non-branded hotel searches on Google related to "today" or "tonight" happen on a smartphone.11
Booking.com is responding to this need by reaching out to last-minute travelers in a very deliberate way. Booking.com noticed more of its customers booking hotels on smartphones when they were already traveling, with three-quarters of same-day bookings already happening on a mobile device.
To meet the needs of those last-minute travelers, Booking.com created its Booking Now mobile app. Based on a traveler's location, it shows the closest places to stay and offers a frictionless booking experience so travelers can make a reservation in just two taps.
Booking.com has applied what it's learned across all of their mobile experiences—and it's seen great results. As of May 2016, more than a third of reservations are made through mobile and the company anticipates mobile bookings will make up the majority of their reservations as soon as next year.
There's a lot more to learn. Check out this more detailed feature on Booking.com's approach to let's-book-it moments, including a video complete with interviews from the people driving this thinking for the brand. 
Don't manage your call center with a one-size-fits-all approach. While 75% of leisure travelers who shop for hotels on their smartphone typically end up purchasing on a desktop or laptop computer, people also call a travel provider to book.8 Over one in three mobile travelers who have researched travel on a smartphone, then called to book or to get more information.12 That's where brands like the hotel booking site Reservation Counter are finding success.
Reservation Counter has been able to more fully capitalize on mobile calls as a conversion channel. Its best-in-class call center allows the company to learn about customer behaviors, upsell repeat visitors, and give priority in the call queue to the customers with the highest likelihood of driving a booking. In addition, priority is given to calls from higher-converting geos and properties, along with a higher basket value.
At the beginning of 2016, Reservation Counter launched a mobile pilot for its top-converting properties by drastically increasing its mobile bids and using click-to-call extensions. Within weeks, it saw mobile conversions for these ad groups increase by 260% month over month, and it saw a 4X increase in offline sales via click-to-call.
Read on for the next article in this series.