Diversity in advertising matters to consumers. Research shows that people are more likely to consider or even purchase a product after seeing an ad they think features people in authentic ways. Sixty-four percent of them even report having taken some sort of action after seeing such an ad.1
As an industry, we have widely accepted the significance that diversity plays in our work, but the factors that make an ad "diverse" or "inclusive" are open to interpretation. Visible traits like race, ethnicity, age, gender identity, and body size are often the first characteristics we think of. But what about factors we can't necessarily see? How might the words we use influence perception of a brand?
These are questions cosmetics brand Bobbi Brown sought to answer by partnering with Google's Unskippable Labs, a team that runs marketing experiments with video ads to explore the changing nature of consumer attention. Together, they built an experiment to better understand how consumers respond to words used to describe their new foundation line.
The insight
The initial spark came from an analysis of audio captions corresponding to more than 12,000 foundation-related YouTube videos by top beauty creators. It revealed that top creators often use the word "color" instead of "shade" to describe foundation. Brands like Bobbi Brown, by contrast, primarily use "shade" in marketing campaigns. The discrepancy presented an opportunity.
"Taking a closer look at creator videos, we realized there was more we could do to speak to our audience," explained Jaqueleen Larson, director of global digital and social at Bobbi Brown Cosmetics. "We wanted to understand how tapping into their existing conversations around beauty products could impact our ad effectiveness." This became the focus of the experiment.
The marketing experiment
The team began by casting women to appear in the video ads. Bobbi Brown selected three everyday New Yorkers of different backgrounds: Sasha, a Black singer; Sandra, a Hispanic dancer and Spanish-speaker; and Nora, a White florist and entrepreneur.
From there, the team created two script variations to be read by each woman: brand voice and casual voice. Brand voice introduced Bobbi Brown's new product by name — Skin Longwear Fluid Powder Foundation — and described its functionality using corporate terms, like self-sets. By contrast, the casual voice version introduced the product as "Bobbi Brown's new foundation" and described it in familiar terms: dries instead of self-sets.
With the script variations in place, each woman filmed two videos: one to match each version of the script.
Using script variations to test consumer response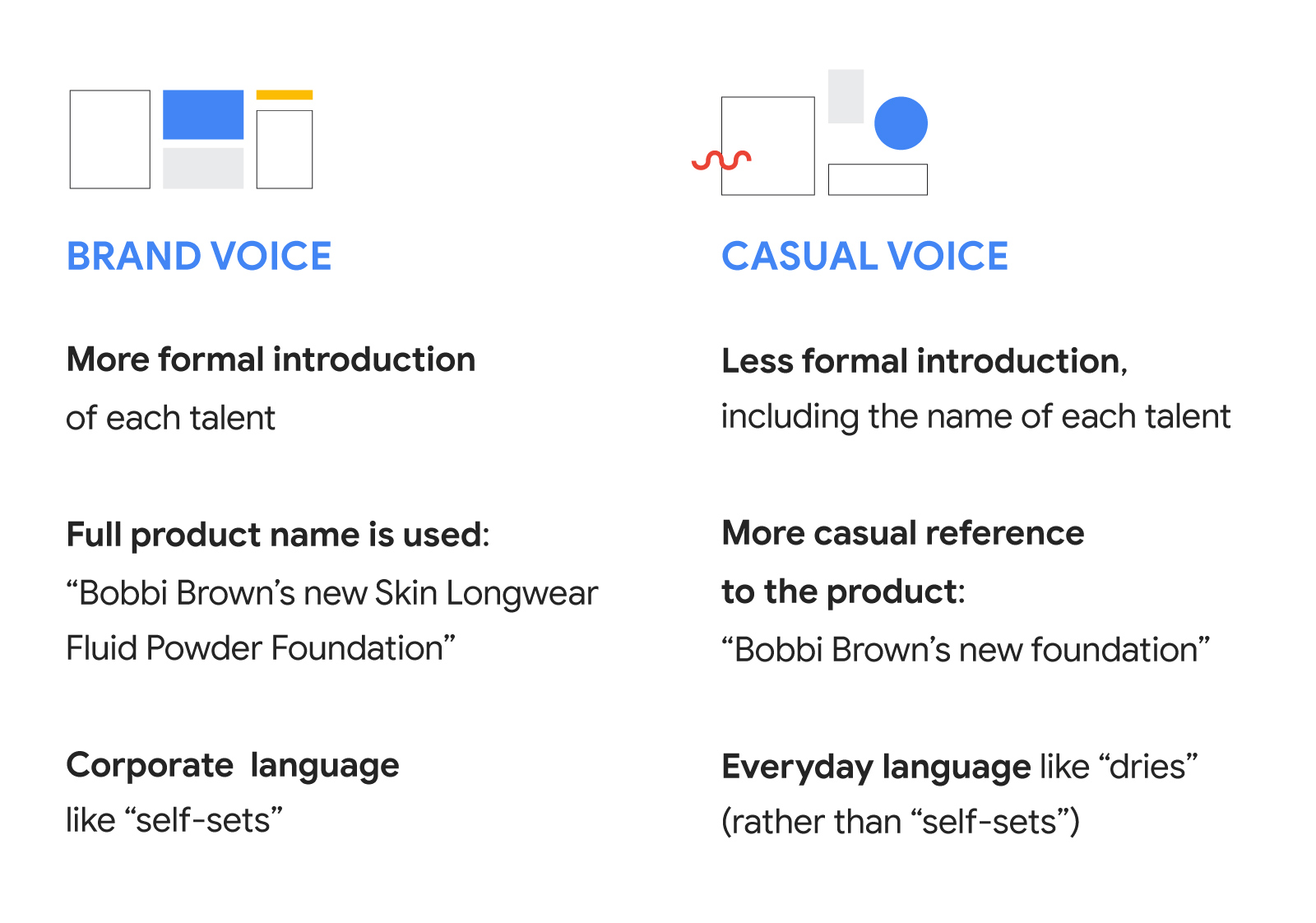 Bobbi Brown then ran the six videos as skippable TrueView ads on YouTube to reach women ages 25 to 54. Performance was measured using Brand Lift, with consideration as the core success metric.
Next, to unpack the learnings, the team partnered with Google's U.S. multicultural marketing team, which helps advertisers connect with multicultural audiences. They landed on three key insights. Brands that are interested in experimenting with their own script and casting changes can consider these as areas worth exploring.
Learning 1: Real talk shows real results
While subtle to viewers, differences between the brand voice and casual voice scripts seemed to influence ad performance. This was particularly true in Nora's case. Her casual ad — where she explains that the foundation "goes on as a liquid, then dries as a powder" — drove over 13% consideration lift, compared to the brand version, where she uses "self-sets" to describe the product.
The result suggests that consumers respond positively to hearing brands speak in a way that is authentic to their own conversations. Even minor tweaks may help drive impact.
Learning 2: Real talk is for everyone, no matter what your age
The experiment also shed light on how casual language is perceived by women of different ages. The campaign reached millions of women spanning three age brackets: 25 to 34, 35 to 44, and 45 to 54. Among the 45 to 54 age group specifically, the casual script drove greater consideration lift versus the brand script, regardless of which woman appeared on screen. Sasha's casual ad performed the best, driving 28% consideration lift.
As Larson explained, "We were curious to see if an older consumer would feel alienated by seeing younger faces and a more casual message, but were pleasantly surprised and reassured that they were excited about this content." Her recommendation to other brands? "As marketers, sometimes we need to market to psychographics more than demographics."
Learning 3: Representation matters to all of us
In addition to showing consumer appetite for "real" talk from brands, campaign findings reinforced that women want to see real, diverse women on camera. Compared to Bobbi Brown campaigns that feature celebrities and models, ads featuring Sasha and Sandra drove consideration lift more than double the beauty category benchmark.
"This experiment allowed us to embrace and celebrate real women in their totality, showcasing their passions along with their beauty," explained Larson. "It resonated with consumers and offers a guidepost for future campaigns."
Moving forward, Bobbi Brown will use these learnings as a springboard to expand the company's test and learn strategy, and a reminder to listen first and often. According to Larson, "As digital and social marketers, we strive to humanize our brands. And to do this well, we must understand the data and insights before we make assertions."