In the last few years, India's leading auto brands and original equipment manufacturers (OEMs) have noticed a steadily growing group of female car buyers. To help marketers connect with this audience, we took a look at our 2018 Gearshift study to better understand female auto buyers' preferences. Here, we share some tips to help auto brands engage more female drivers, along with a few examples of brands paving the way.
Whether they're selecting a personal set of wheels or picking out the family car, Indian women are more active in the country's auto market than ever. For instance, the percentage of women buying cars in India nearly doubled from 2012 to 2017,1 and today, 1 in 3 drivers in Mumbai are women.2
India's female car buyers nearly doubled from 2012 to 2017.
India's auto players have a clear opportunity to drive sustainable growth by focusing on appealing to new audiences. So, we explored our 2018 Gearshift research to see what female drivers are looking for. Here are three key takeaways we uncovered to help you connect with more female car buyers in India:
1. Understand what female auto buyers are looking for
Our research found female auto buyers are open-minded when it comes to considering brands. Because only 47% of women say brand reputation is a priority when it comes to buying a car,3 brands have the opportunity to engage curious female drivers by tailoring campaigns and websites to their preferences.

As for what catches their eye? Our research found that 85% of Indian women prioritize car design and style, 61% want spacious cars, and 59% look for durability and safety.4
And considering nearly 40% of female auto buyers look for driver assistance features,5 marketers can help female drivers find their ideal cars by highlighting the helpful features they're looking for.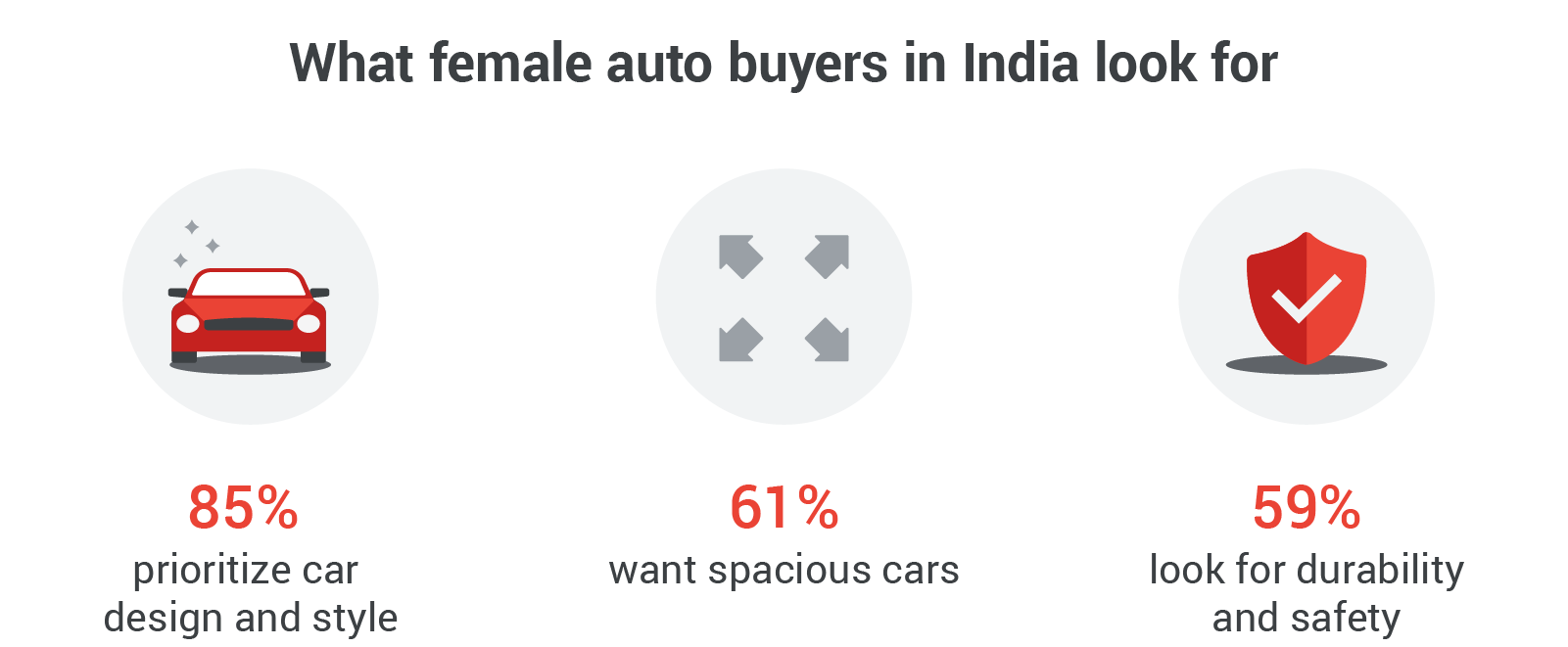 2. Engage female drivers with tailored experiences
We saw that as more female drivers research and browse cars online,6 some brands are beginning to lean on insights from digital to get a better sense of what their female audience actually cares about. And by looking beyond stereotypes and anecdotal knowledge, marketers can craft more relevant messages and tailored offline experiences.
After launching its first campaign in India, Kia Motors India subsequently saw women drive 40% of its website visits. Ford also saw an opportunity to make a lasting impression on female drivers. The brand partnered with Autocar India to create the #SheDrives event: a pro driving experience for women of all ages on a custom-made autocross track.
And when it comes to creative, we've seen that women simply want to be portrayed as "equals" in a "realistic way." To that end, brands like Mahindra and Mahindra have already stepped up by featuring more women in the driver's seat in its ads.
Furthermore, a candid view from the perspective of influencers lends authenticity and relatability to a brand. Hyundai, for instance, curates women-centric driving stories and campaigns to connect with real-time life experiences. For the global launch of its latest SUV, the Hyundai VENUE, the brand invited Prajakta Koli, one of India's top female YouTube influencers, to the New York International Auto Show 2019. Afterward, Koli shared her experience with her 4M+ subscribers.
3. Meet female car buyers online — but be ready to assist offline
Digital has a huge influence on which cars women decide to buy — so much so that, according to our study, 93% of female auto buyers said they did online research before buying a car.7

Our research also found 2 in 3 female auto buyers search for promotional offers, and that 65% of female car buyers also play close attention to warranty options — likely before even setting foot in a dealership.8

It's important to note that most female car buyers prefer to find information directly on OEMs' websites.9 That means OEMs should ensure their websites are designed to help female drivers easily find inspiration and guidance as they search for their next set of wheels.
Although most women research online before buying a car, they typically make their final purchase at a dealership (as do the majority of auto buyers in India). We saw that 74% of female auto buyers find their dealerships online,10 which makes being present and easy to discover on Maps and Search essential. The easier it is for car buyers to find your dealership, the more likely it is that they'll walk through the door.

After extensive online research, female drivers have a good idea of what they're looking for and what they're unsure of by the time they visit a dealership. That means dealerships need to be prepared with answers to female auto buyers' questions and have tailored pitches ready to go. To that end, auto players like MG India are also hiring more women across their networks to create more inclusive customer experiences by diversifying their teams.
Grow your audience by moving past stereotypes
As Priti Murthy, CEO of OMD India, said, "Marketers and OEMs that are experimenting with new strategies and campaigns specific to women's preferences are seeing more growth." To find even more success, make sure to continue challenging stereotypes and engaging female drivers on digital — especially as more of them get behind the wheel and become primary decision-makers for buying cars.