For 589 million people in Southeast Asia (SEA),1 a decade of new possibilities has dawned. The region's digital economy is moving from resilience to resurgence, paving the path for a roaring future, one where the internet economy is projected to reach a $1 trillion gross merchandise value (GMV) by 2030.2 This forecast, and fresh insights on opportunities for growth in the region's digital economy, are detailed in the latest e-Conomy SEA report by Google, Temasek, and Bain & Company.
Our extensive research and analysis show that pandemic-driven shifts in consumer behavior are expected to have a lasting impact on key growth drivers in the internet economy: e-commerce, food and transport, online media, online travel, and digital financial services. To unlock the massive opportunity for business growth, brands need to know what it takes to meet consumer expectations and increase customer satisfaction. Here, we share what the state of the region's internet economy in 2021 and this decade means for brands and marketers.
Consumption of digital services is the new way of life and set to power ahead
Not only has the region continued to add new internet users in 2021, the number of digital consumers, or users who have paid for an online service, has also increased. For a start, the region added 40 million new internet users this year, on top of the 40 million people who came online in 2020. This brings the region's internet penetration to 75%.3
Additionally, 60 million people started using a digital service for the first time following the pandemic, and one-third of them only started doing so in 2021.4 Furthermore, adoption of digital services remains robust in 2021, with growth across services ranging from e-commerce to food delivery and ride-hailing.
Percentage of internet users across digital services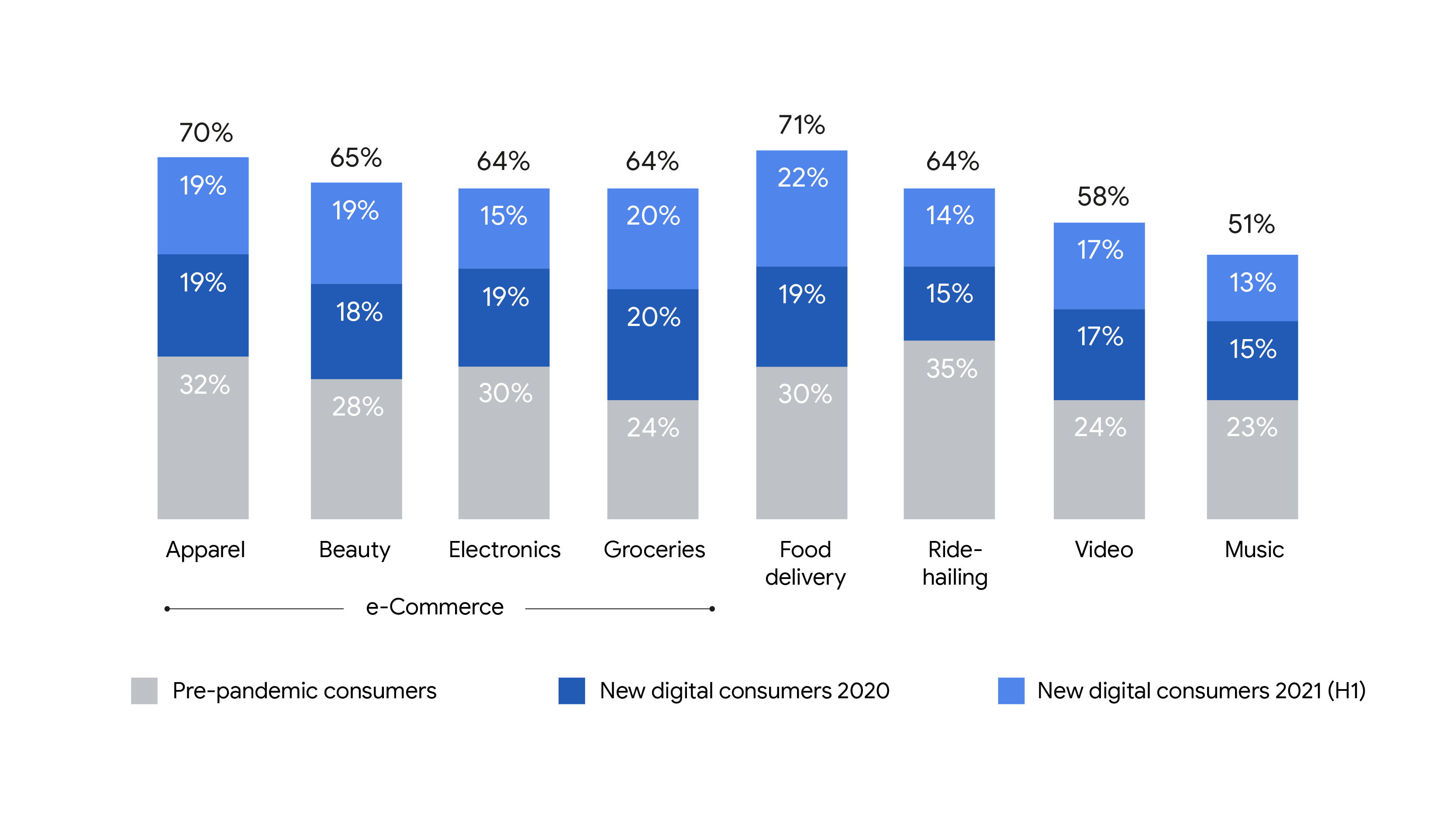 Beyond continued adoption of digital services, consumers are deepening their usage. On average, they made purchases in almost four more digital services than they did before the pandemic.5 Their frequency of use and spend across digital services is also increasing, especially for services such as groceries and food delivery. Six in 10 existing users of these two digital services increased their spend and usage frequency since the start of the pandemic.6
Indeed, consumption of digital services is the new way of life and it is expected to power ahead in the coming digital decade. Already, 80% of digital consumers in the region are satisfied with digital services,7 and 9 in 10 new consumers who started using digital services in 2020 continue to do so in 2021.8
What brands must do to thrive in this digital decade
With consumption of digital services becoming integral to everyday life, digital consumers are placing greater value on satisfaction when it comes to deciding how much they spend, and which brand they spend on.
Our research shows that there are five key factors which influence a consumer's choice to stay with a brand or switch to an alternative brand: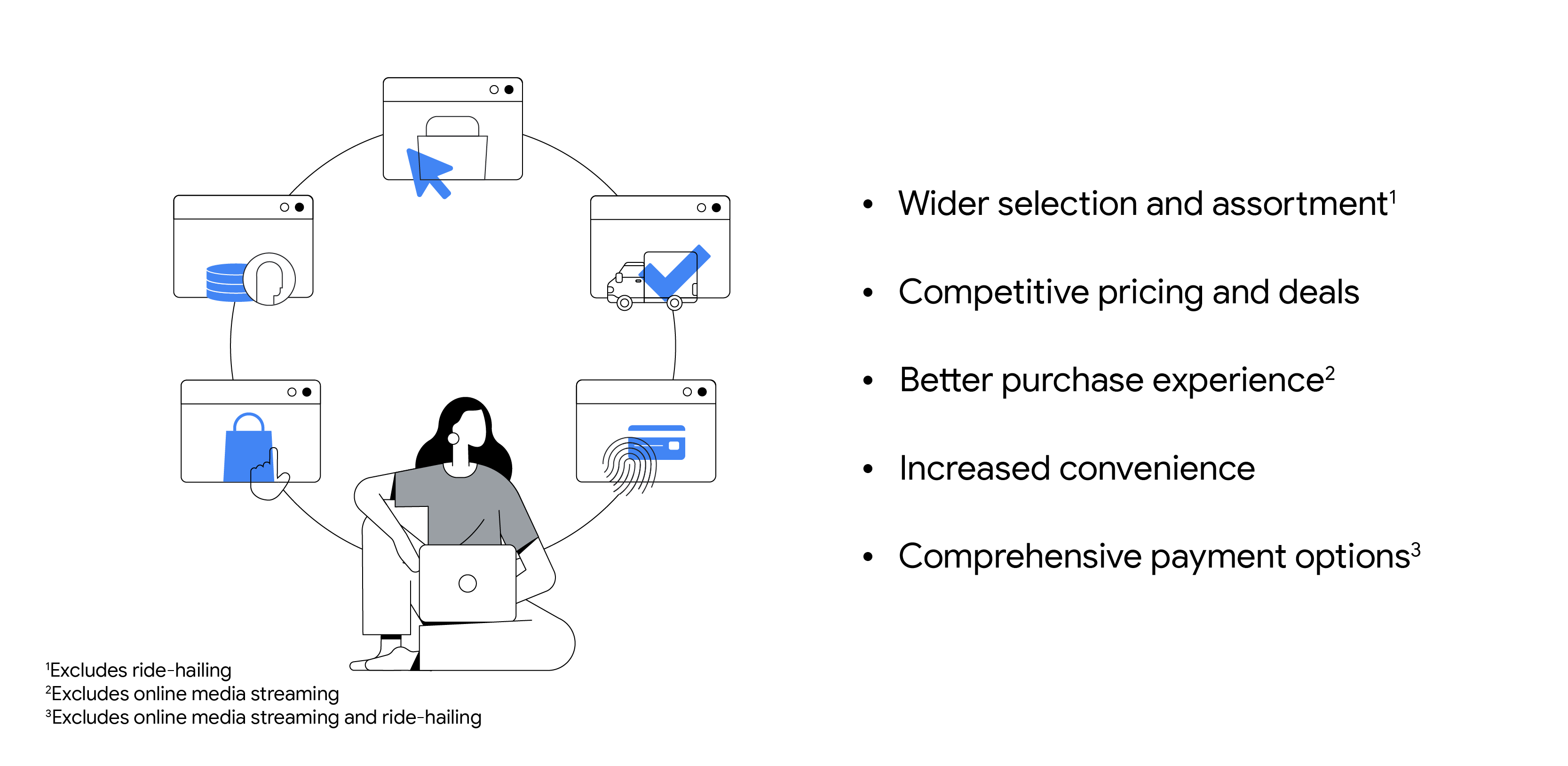 The upside for brands is that increased customer satisfaction has a positive effect on consumers' willingness to spend. For example, those who are satisfied with ride-hailing services spend 70% more per transaction, compared with those who are neutral or dissatisfied.9 And customers who are satisfied with food delivery services spend 40% more, compared with those who are neutral or dissatisfied.10
Tips for marketers
Brands that want to thrive in this digital decade must meet the rising expectations of digital consumers to retain customers and grow brand loyalty. As a start, here are four tips on how to win over new digital consumers and have them become advocates of your brand.
Make life easier or more convenient for new and existing digital consumers. Of those who intend to continue using digital services, more than 50% say it is because it has made their life easier or more convenient. A seamless online-offline customer experience is one way digital services can provide users with greater convenience.
Make your app or web interface user-friendly so that digital consumers can easily find and purchase what they need. Provide detailed descriptions of products and services, clearly display shipping and delivery options, and create a smooth checkout process so customers don't abandon their carts mid-checkout.
Offer a variety of digital payment and digital lending options, such as account-to-account (A2A), e-wallet, and buy-now-pay-later (BNPL). This is important as people across the region have differing access to payment services. A2A has become a popular form of payment amongst banked populations, and BNPL is a common digital lending option for underbanked consumers who can't acquire a credit card.
Regularly ask digital consumers for feedback on their experience across every stage of the customer journey. This will help you identify their needs, areas for improvement, and address any pain points to improve customer satisfaction.
How key consumer sectors are shifting
Our research also identified key consumer sectors that are driving growth in the region's digital economy. E-commerce leads the charge, with its GMV almost doubling year over year, from $74 billion in 2020 to $120 billion in 2021.12 Food delivery and online media are two other digital services driving growth.
Growth drivers of the SEA internet economy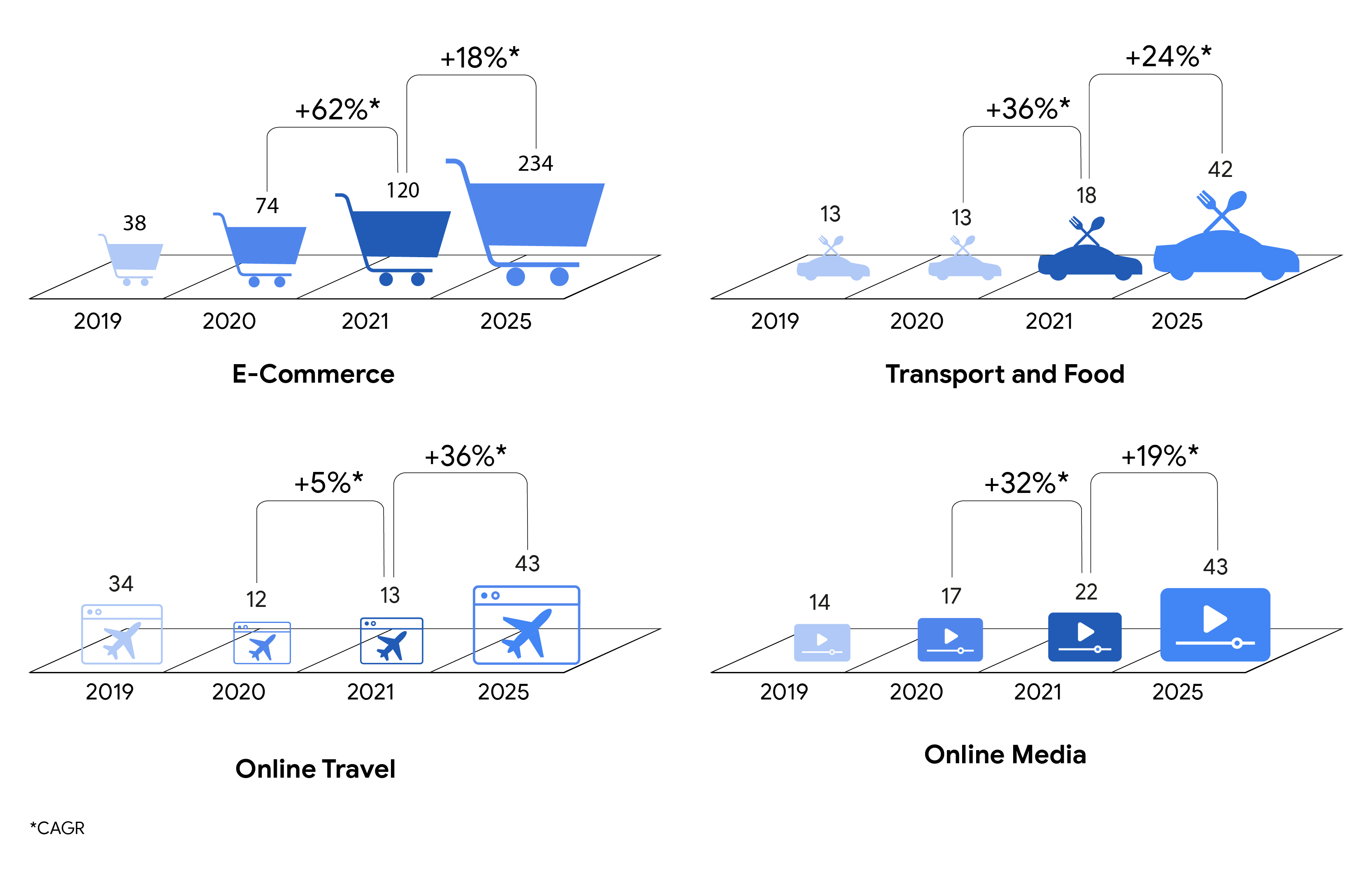 Here's what the growth potential of e-commerce, food delivery, and online video means for marketers.
E-commerce
E-commerce, which has driven most of the market growth in 2021, is forecasted to make up over two-thirds of the region's GMV in 2030.13 By then, online shopping is expected to become the norm for consumers of all ages, in both urban and rural areas, and almost 50% of retail spending will happen online, as compared with about only 10% now.14 This growth will ride on the popularity of digital financial services such as e-wallets and BNPL services, which will enable a new generation of underbanked consumers to shop online.
E-grocery, in particular, is a sub-sector with significant potential for brands to move the needle. This is so as grocery currently accounts for more than 50% of all retail spend in the region,15 but overall online share of the category remains low at around 2% due to lower purchase frequency and transaction value as compared with offline consumption.16 If penetration reaches around 10 to 20% by 2030, the sector could potentially grow to the size of the entire e-commerce market today.17
What this means for marketers: As market penetration increases, it will be crucial to not just acquire users, but also grow user stickiness and order value. This means, for example, providing a wider selection of products and developing e-commerce platforms that offer varied digital payment and lending options to make the buying experience more convenient for digital consumers.
In the e-grocery sector, showing consumers how you stand apart from other brands with a convenient, seamless customer experience is key. This includes providing more expedient delivery options, such as one-hour, two-hour, or same-day delivery for fresh food. You can also offer a seamless grocery shopping experience where people can buy online and pick up in store.
Food delivery
Food delivery is the digital service with the most substantial increase in adoption in the first half of 2021. Seventy-one percent of the region's internet users adopted the service and 65% of existing consumers have increased their frequency of use.18 This mass adoption and deepened usage suggest that the habit of ordering meals is likely to stick for years to come. If penetration and share of wallet continues to increase, the food and transport sector could reach by 2030, the size of the e-commerce market today.19
What this means for marketers: This sector will be highly competitive, not least because it is a hyperlocal service with relatively low barriers to entry, but also because the service is viewed as essential to brands that want to deepen user engagement or develop a super app. With multiple players in each country market, you will need to double down on customer loyalty, especially since 63% of digital consumers indicate that they are likely to switch to another food delivery provider that better meets their needs.20
Subscription video
Subscription video, a sub-sector of online media, is poised for strong growth. There is increasing appetite for the service and potential for it to penetrate beyond the metro areas. Subscribers grew by 30% from 2020 to 2021, and there is a growing demand for "multi-home" services, or multiple over-the-top media services. Subscriptions beyond metro areas have also multiplied on the back of ready internet access and convenient access to digital payment infrastructure.
What this means for marketers: To further penetrate the mass market and non-metro areas where consumers may still be underbanked, you will need to offer various pricing mechanisms and payment options, such as sachet pricing and top-up cards. By catering to people's different financial habits, you make it easier for people to subscribe to your service.
As the region's internet economy moves towards $1 trillion GMV in this digital decade, brands need to meet rising consumer expectations and deliver customer satisfaction at every stage of the purchase journey in order to thrive. There are many ways in which brands can start transforming to ride on this opportunity. To learn more about potential business opportunities, and sector and country market breakdowns, visit the report website or download the full whitepaper below.
Contributors: Aadarsh Baijal, Partner and Head of Digital Practice, Bain & Company. Southeast Asia; Cumarran Kaliyaperumal, Analytical Consultant, Travel and Financial Services, Google APAC; Rohit Sipahimalani, Chief Investment Strategist; Head, Southeast Asia, Temasek; Stephan Wu, Analytical Consultant, E-commerce, Google APAC; Willy Chang, Associate Partner, Bain & Company. Southeast Asia