With 1.5 million schools and over 250 million students, India has one of the world's largest education systems. Even before the pandemic, the promise of personalized learning to improve education in India had created a market for EdTech (educational technology) solutions.
When schools across the country shut last year, remote learning meant people had to adopt EdTech tools faster. Since January 2020, search interest for "online education" in India has seen a 2X growth, whereas venture capital investment in the EdTech sector jumped by 4X to reach $2.3 billion.

As schools reopen in hybrid offline and online models, EdTech companies have an opportunity to help schools and classrooms bring digital education technology and high-quality content into schools and classrooms. This will help the entire education system scale and reach unconnected students who will benefit from online education.
But what does it take to roll out digital education in India at a school, district, or state level? To find out, Boston Consulting Group and EdTech service provider Schoolnet, a Google for Education partner, studied the rollout of Google tools to over 50,000 teachers across three states in India. The schools served students from various socioeconomic levels with varying access to digital tools and who spoke different languages. From that research, we found three best practices that EdTech companies can adopt to reach public and private schools.
1. Equip schools with digital tools
Teachers can't make full use of digital education tools if their students lack access to devices, an internet connection, or educational content. In the study, around 75% of teachers cited the need for devices and internet connectivity, and roughly 60% of teachers identified the need for improved content.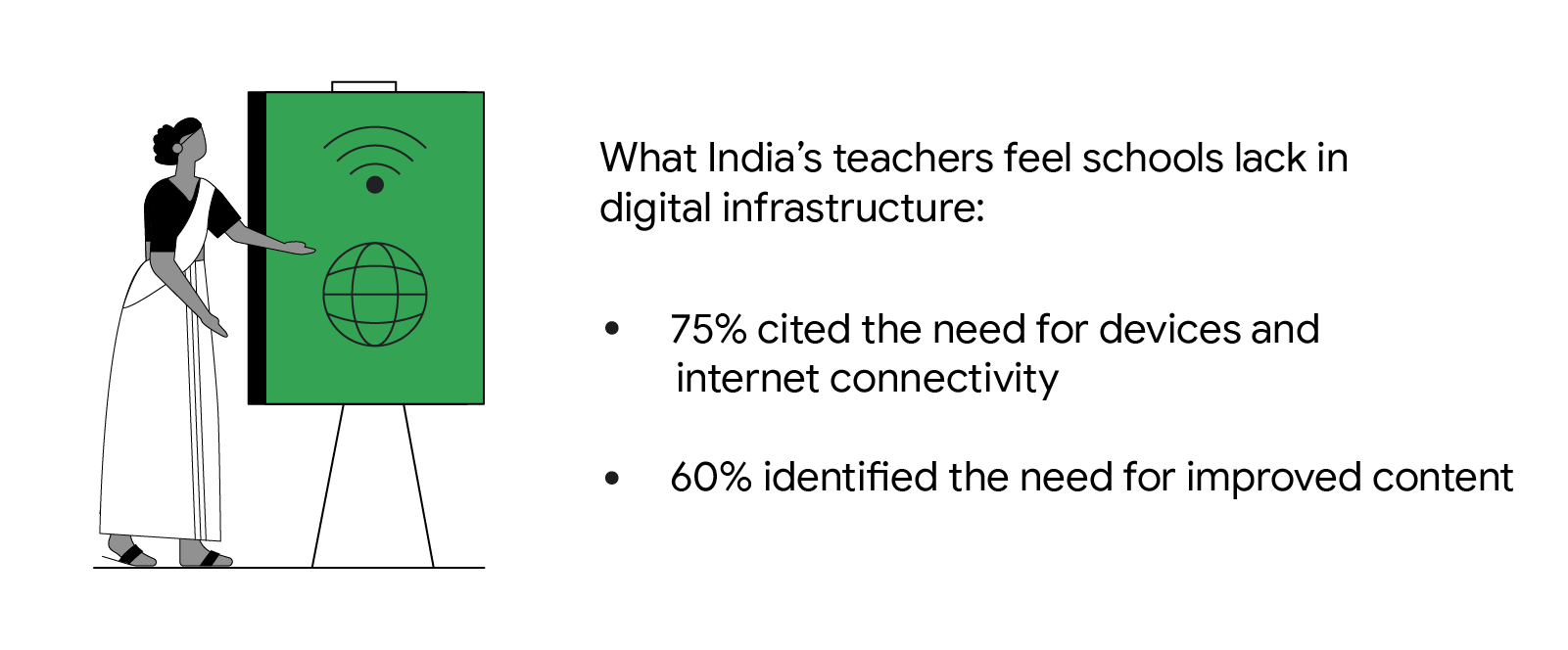 EdTech companies can draw inspiration from Japan's GIGA School Program. It provides a digital device to each student and high-speed internet to schools as well as other packages to support learning. One idea is to create a variety of packages, such as a one-device-per-student option, or provide one student with multiple devices (tablets, laptops, etc.).
Add ready-to-use learning material to these packages, such as question banks, assignments, and premade courses, to make it easier for teachers to create their lesson plans using digital tools. Bundle training with these packages to help teachers take full advantage of the entire offering.
2. Enable the ecosystem through training and engagements
School leaders, teachers, guardians, and students who have never used digital tools for teaching and learning may look to school administrations to help them with this transition. Providing state-led training can make a big difference.

EdTech companies can partner with school administrations to conduct introductory and in-depth training sessions virtually for teachers. These sessions can include the sharing of practice assignments and on-demand modules to show how digital tools can be used in lessons. Companies can also create a self-help community of certified trainers to share learning among educators and encourage peer-to-peer support to resolve practical questions.
3. Experiment with various learning models and teaching methods
Going digital can help teachers as they get easier access to content and tools for more effective lesson planning and seamless classroom management.
The study showed that teachers were moving beyond traditional teaching methods to incorporate digital learning tools such as read-along sessions, 3D images, videos, and voice notes in their classes. And about 75% of teachers said they would continue using digital tools in blended models for revisions, assessments, extra classes, and virtual parent–teacher meetings.
Going digital can unlock many benefits in education

However, to get the most out of digital learning tools in the classroom, teachers need to know which teaching methods work best with the tools available to them. This is an opportunity for EdTech companies. They can work with school administrations to evaluate teaching methods, such as class lectures, activity-based projects, and individual or group assignments, and they can help teachers get the most out of their digital education tools with various teaching methods. The companies can even hold competitions to spotlight best practices and to reward teachers who are driving innovation in digital education.
EdTech companies can also use experimentation to find the best learning model at a local level. One way to do so is to set up experiments at the school, block, and district levels to measure the impact of digital education on student engagement and learning.
Four questions to keep in mind when planning your digital education strategy:
Which schools and classes should you prioritize for digital adoption?
What connectivity or content solutions can help them move online?
Who will need training and support?
How can you experiment and learn to improve teaching methods?