Meeting potential customers in the moments they search online is crucial for brands that want to attract shoppers to their stores. Here, we learn how Japan's Isetan Mitsukoshi used digital ads to drive store visits—and how Google's store visit conversions helped it see exactly how effective those ads were.
Thanks to Japan's digital revolution, people rarely visit a store without a purpose anymore. By the time they head to the store, shoppers have used their smartphones to research and they have a pretty good idea of what they want. So while the number of store visits in recent years has fallen, the percentage of Japanese consumers making purchases and the average amount spent per purchase has increased.1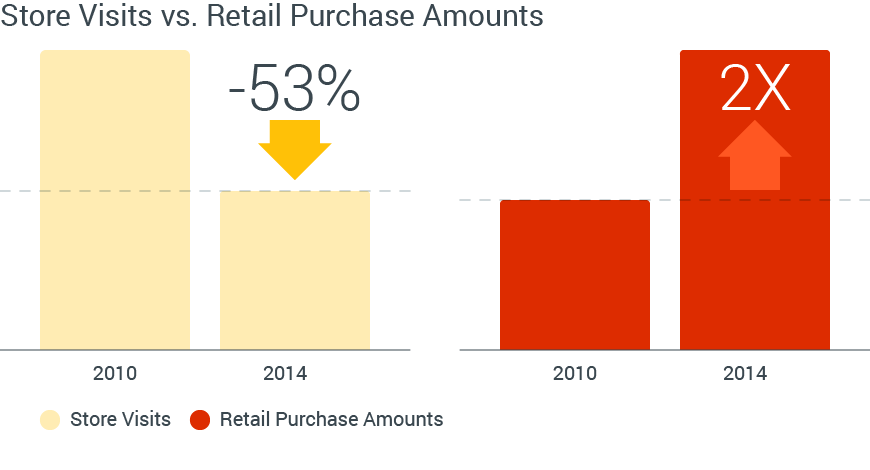 We call these searches before a store visit "local intent queries." They include the name of an area along with the name of a product, brand, or store (e.g., "tennis shoe store in Kyoto"). In the last three years, the number of local intent queries in Japan has increased 150%,2 giving brands ample opportunities to lure more customers to their stores.
Number of Local Intent Queries in Japan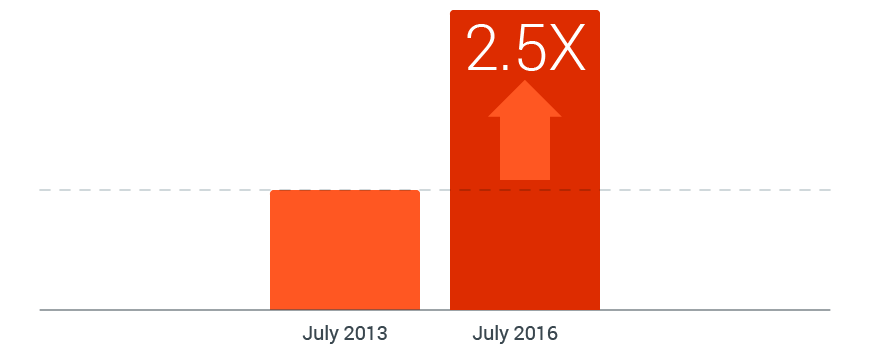 Turning to digital to attract new customers
Isetan Mitsukoshi was formed in 2008 when two of Japan's biggest chains merged, becoming the #1 department store in the country. The brand saw this shift in Japanese consumer behavior and looked to meet potential shoppers as they use the web to search products and brands.
Both stores had historically used direct mail promotions and storefront displays, in addition to their social networks and company websites, to keep loyal customers informed. But Isetan Mitsukoshi wanted to move beyond keeping in touch with loyal customers to spurring demand and attracting new customers. For that, the brand turned to digital.
Neither store had really used digital ads for store promotions because they hadn't seen proof that digital ads draw customers to stores. Most search ads were limited to products available online. So as the brand starting rolling out a full-scale digital effort, it used Google's store visit conversions to determine the connection between its digital ads and store visits.
Encouraging store visits with an integrated strategy
Isetan Mitsukoshi used an online-to-offline strategy to drive shoppers to stores for its big summer sale. The company ran Search ads to capture potential customers in their "I-want-to-shop" moments—the moments they were near a store and wanted to go shopping. The campaign focused on local intent queries, including keywords with area names ("Shinjuku department store," "Shinjuku sale," "Shinjuku Louboutin"), event names ("department store sale," "Tory Burch sale," "Isetan sale"), and brand names ("Louboutin," "Tory Burch," "Michael Kors").
Location extensions on display ads (just recently launched in APAC in late September) showed customers their nearest store locations on Google Maps, leading them right to one of Isetan Mitsukoshi's nine Kanto-area stores.
Examples of Istetan Mistukoshi Display Ads Using Local Extensions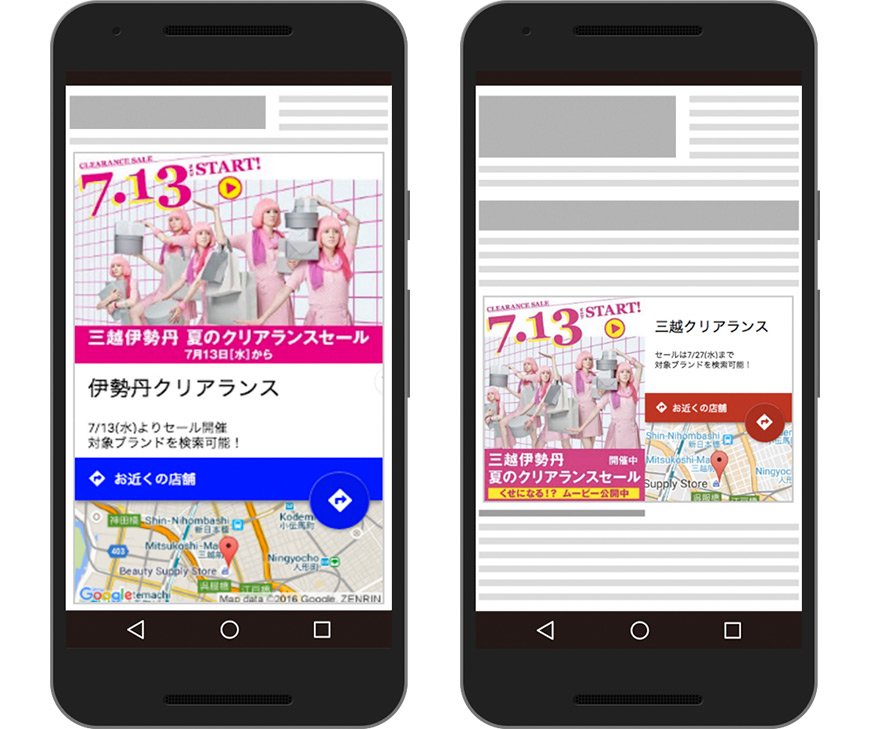 Isetan Mitsukoshi then used the store visit conversions tool to see which of its Search ads were driving store visits to its Isetan Shinjuku branch. It used the tool to measure the number of store visitors and the cost per visit (CPV).
Getting customer insights from digital ads
Isetan Mitsukoshi's digital campaign was a success. Its Search ads achieved the same reach as its conventional fliers, but at one-tenth the cost of a typical direct mail campaign. The ads achieved a store visit ratio of 12.8% and a CPV of only 288 JPY.
After analyzing the store visit data for each keyword used, the brand determined a few different things about its customers. First, non-branded keywords achieved a good number of store visits, which means the brand was able to gain new and drifting customers that probably weren't reachable through conventional direct marketing. The brand also saw that some keywords (e.g., "clearance sale") didn't perform up to expectations, and some performed better than expected (including expensive brands that consumers take a long time to consider, such as Louboutin and Tory Burch). These insights will help Isetan Mitsukoshi refine its search strategies as it rolls out campaigns nationwide.

The results revealed the true value of search ads and gave Isetan Mitsukoshi a clear view of how customers find their way to its stores. Moving forward, Isetan Mitsukoshi plans to rely on digital throughout the year and not just during special events or clearance sales.