In today's changing retail landscape, one thing is clear: Brands need to embrace digital or get left behind. As more consumers turn to their smartphones throughout their purchase journeys, traditional retailers are rethinking their marketing strategies and making the jump to digital. Japan's Sogo & Seibu's move to digital has lessons and insights relevant to all companies looking to digitize.
Japan's digital revolution has changed the way brands reach out to consumers. Today, digital ad spending in Japan exceeds $9B and accounts for just under 20% of all ad spending.1 Sogo & Seibu, a Japanese retail company that owns and operates about 20 department stores across the country, was faced with the challenge of digitizing traditional marketing techniques like direct mail promotions and storefront displays across all of its store locations.
Sogo & Seibu had begun using digital technology in its marketing mix, but it hadn't rolled out digital ads and promotions at all stores nationwide. The company knew its local stores would need time to adjust as it kicked off a full-scale digital campaign, so it turned to the headquarters' marketing team to conduct research, educate staff, and address key concerns throughout the process.
Sogo & Seibu transitions to digital
As Sogo & Seibu set out to help its local stores move away from their conventional approaches to promotions, it had several challenges to address:
How should they cultivate a mindset of proactively incorporating new ideas and methods and move away from our conventional approaches to promotions?
How do they provide support and build relevant skills among people inexperienced in digital advertising?
How could they give independence to the individual stores so that they could own their marketing efforts?
Here's the five-step plan it used to tackle these concerns and bring local stores into the digital age:
1. Encouraged clear and consistent internal communication
A traditional retailer like Sogo & Seibu knew that its local stores might not understand the potential of digital advertising, so it developed new language to motivate its staff and get them excited about digital.
Driven by the motto "from spots to people," the company provided data that showed how many consumers it expected to reach compared with its previous offline efforts. Because it's difficult to execute plans without management buy-in at the stores, the marketing team spread the news to both staff and management.
2. Pooled budgets and redistributed resources
After promoting the campaign plans internally, Sogo & Seibu's marketing team had stores pool money from their budgets to pay for the digital ads. The money was then redistributed to the stores that requested to participate in the campaign, giving each store an incentive to join the initiative.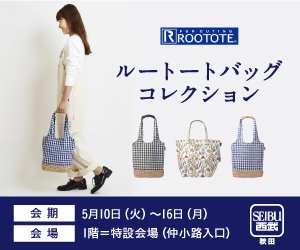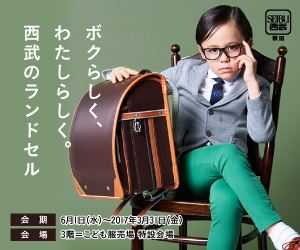 3. Simplified the process and educated staff
The marketing team made it easy for stores to request digital ads by using Google Forms. Those looking to participate filled out a "Sogo & Seibu promotion request form," which contained basic information like the name of the store, the event being promoted, the website URL, and the start and end dates of the campaign. In addition to indicating the digital ads they wanted to run, requesters could choose the campaign's target audiences, allowing them to consider the kind of message they wanted the campaign to convey.
After receiving the forms, the marketing team's ad trafficker developed an Google Ads2 campaign based on the store's needs. Meanwhile, the company helped familiarize personnel with Google Ads campaigns by circulating easy-to-understand videos and articles among the staff. This created momentum and boosted motivation while reducing the time spent figuring out a new technology.
4. Learned from the results 
Sogo & Seibu meticulously examined campaign results to determine things it could do to drive impressions and reduce cost-per-clicks on all campaigns. Successes and failures were reported at monthly sales promotion management meetings, where efforts were made to improve the campaigns. Management from stores with successful ads was invited to these meetings to share their results, helping stores take ownership of the process.
5. Fostered friendly competition
The marketing team wanted stores to clearly see how ads were performing, so they created a dashboard to track each store's performance during the campaign. The data was displayed side by side and segmented by media channel, making it easy for staff to determine what was working and what wasn't. Not only did this encourage a dialogue between stores, it also fostered friendly competition by motivating stores to outperform each other.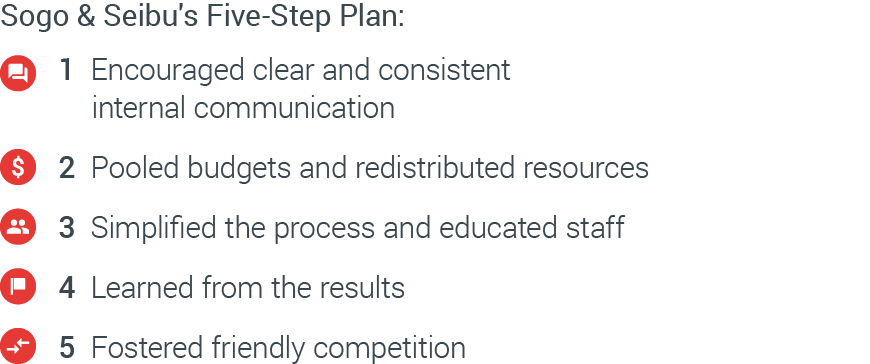 Digital ads boosted sales and store visits
Sogo & Seibu's local rollout was a success, with its stores embracing digital technology at branches across the country. "When I heard people from completely different departments—including higher-ups and management—using keywords and phrases that we use, I truly felt that our ideas had spread throughout the company," said Yasushi Sekiguchi, sales planning and promotion, advertising planning at Sogo & Seibu.
Best of all, the campaign was successful from a sales perspective. After applying digital to its marketing mix, the company saw an increase in both sales and store visits. Research conducted at the Akita Prefecture store showed that more than 20% of users who were shown a banner ad ended up at the store.