When COVID-19 struck last year, we studied how brands in Vietnam responded to the unprecedented changes in consumer behavior. This year, we uncovered new insights into consumer behavior on Search and YouTube when Vietnam celebrated its first digital Tết. With Tết 2022 likely to also be celebrated online, we look at ways brands can better prepare themselves for this using new solutions to connect with people as Vietnam welcomes the Year of the Tiger together.
Tết 2021 wasn't quite the raucous celebration it was in previous years. With COVID-19 restrictions keeping most people at home during one of Vietnam's most severe waves of the outbreak, traffic to retail and recreational destinations dropped 39% this year compared to Tết 2020.1
Despite the circumstances, people in Vietnam remained resilient and hopeful. A recent survey we conducted in May 2021 showed that 70% of people looked online to find new ways to celebrate the holiday period at home. Searches for "xem gì hôm nay" (what to watch today) rose 200% YoY,2 and search interest for (New Year's Eve) "countdown" increased by 38% in the same period.3 People also started doing more festive shopping online, accounting for a 20 to 25% increase in online sales revenue right before Tết 2021, compared to the same period in 2020.

While Tết 2022 may have the same, or tougher restrictions as 2021, 64% of people say Tết would still be enjoyable,4 with 95% of those surveyed planning to usher in the new year with one or more digital solutions.5
As this cherished occasion evolves into an increasingly online experience, how can brands reimagine Tết to connect with people? Let's explore ways to adapt your marketing strategies in Vietnam for a digital Tết.
Reach people on their couch
Historically, during Tết, broadcast variety shows dominate TV screens, giving rise to the perception that TV is the way to reach people during this season.
But broadcast TV is no longer the only way people in Vietnam are consuming entertainment. There are more people who own Connected TVs which make streaming YouTube in the living room popular.
As of 2020, 92% of Connected TV owners were streaming YouTube content on their devices.6 By May 2021, over 25 million people in Vietnam were tuning in to YouTube on the TV screen in their living rooms.7 Notably, during Tết 2021, 48% of people spent more time than previous years in front of Connected TVs with family or by themselves.8

During last year's Tết, people streamed music, watched comedy, and caught up on Tết shows on YouTube. YouTube searches for live shows syndicated from televisions spiked 12X compared to non-Tết periods,9 and music content hit a 54% peak viewership level.10 With so many people tuning in to YouTube, plan your Tết campaign to reach them on their Connected TV.
Brands can tap into these changes in consumer behavior by offering content that's popular during Tết to celebrate the season with viewers. To capture a competitive share of voice and build an exclusive connection with people, collaborate with content creators. YouTube's Tết Sponsorship program connects brands in Vietnam with popular YouTube creators to make content people enjoy and reach millions of new viewers.
In Tết 2020, Vietnamese coffee brand Highlands Coffee worked with Huỳnh Lập Official, a top YouTube channel with 3.2 million subscribers. Huỳnh Lập produced entertaining Tết variety show content while also showcasing Highlands' coffee and tea products in the show.
By covering the basics, brands can unlock the potential of YouTube on Connected TVs to reach millions across Vietnam during Tết. Add Connected TV to your media mix so people see your brand when they're watching YouTube. Then, create dedicated campaigns that can digitally track awareness, purchase intent, and brand lift. With the results, experiment to optimize performance.
Localize your content to reach diverse regional audiences
Vietnam's cultural and linguistic differences across regions show up in the search bar during Tết.
Last year, searches for "Tết flowers" increased 25% YoY.11 But these searches appeared as "Hoa đào" in the north and "Hoa mai" in the south.12 Likewise, while search interest for "dân ca" (traditional music) often spikes during Tết, people in different parts of Vietnam search for traditional folk music that's unique to their region. For example, in the Red River Delta, it's "dân ca quan họ", while on the north-central coast it's "dân ca xứ Nghệ".
Here's what brands can learn from these search trends: there's no one-size-fits-all approach for a culturally and linguistically diverse market like Vietnam. So, to connect with audiences before, during, and after Tết, tap regional insights to localize creatives and messaging for scale. With tools like the Sub-location feature in Reach Planner, brands can deliver content that is relatable to audiences in specific regions.
A good example is P&G's eight-week-long TV and YouTube campaign for its shampoo brand, Pantene. To drive brand growth in the mountainous northern midland region, the company used the Sub-location feature in Reach Planner to deliver its ads specifically to people living in these areas. By adding a Sub-location campaign to its national campaign, P&G was able to measure the incremental reach and lift in metrics for its priority market.
"Winning in rural areas is important for all multinational corporations. YouTube successfully increased quality incremental reach and will play an important role for P&G's branding campaigns in the future," said Tommy Nguyen, senior media manager, P&G Vietnam.
Use YouTube's Video Action Campaign to drive online sales
Consumers in Vietnam are also turning to e-commerce to fulfill Tết traditions of refreshing themselves, their homes, and gift-giving.
Online shopping platform Tiki noted a 50% YoY jump in transaction volume in January 2021. And in our study, 39% of people said they plan to make more online purchases during Tết 2022.13
Along with Search, YouTube is one of the key touchpoints, with 80% of people switching between the two platforms when researching products.14 By using Video Action Campaign (VAC) on YouTube, brands can reach people when they're searching for something to watch on YouTube, and drive them to online stores.
This was L'Oréal's strategy for driving traffic to its store on marketplace Shopee, which the brand uses to reach consumers online. Along with Shopee, the beauty brand partnered with Google to showcase its skincare products on YouTube.
When consumers browsed skincare reviews on YouTube, they saw VAC ads by L'Oréal, Google, and Shopee while watching videos. On the YouTube Home feed, people saw promotional videos and product listings interspersed among other organic content. When consumers clicked on a product in the video action campaign, they were directed to L'Oréal's Shopee store.
L'Oréal also ran a Smart Shopping Campaign at the same time, which enabled it to re-target customers on Search, YouTube, and Display, and bring them back to its online store. With this two-pronged approach of reaching consumers, L'Oréal achieved about 2X return on ad spend.
L'Oréal's Video Action Campaign ad appearing on the YouTube Home feed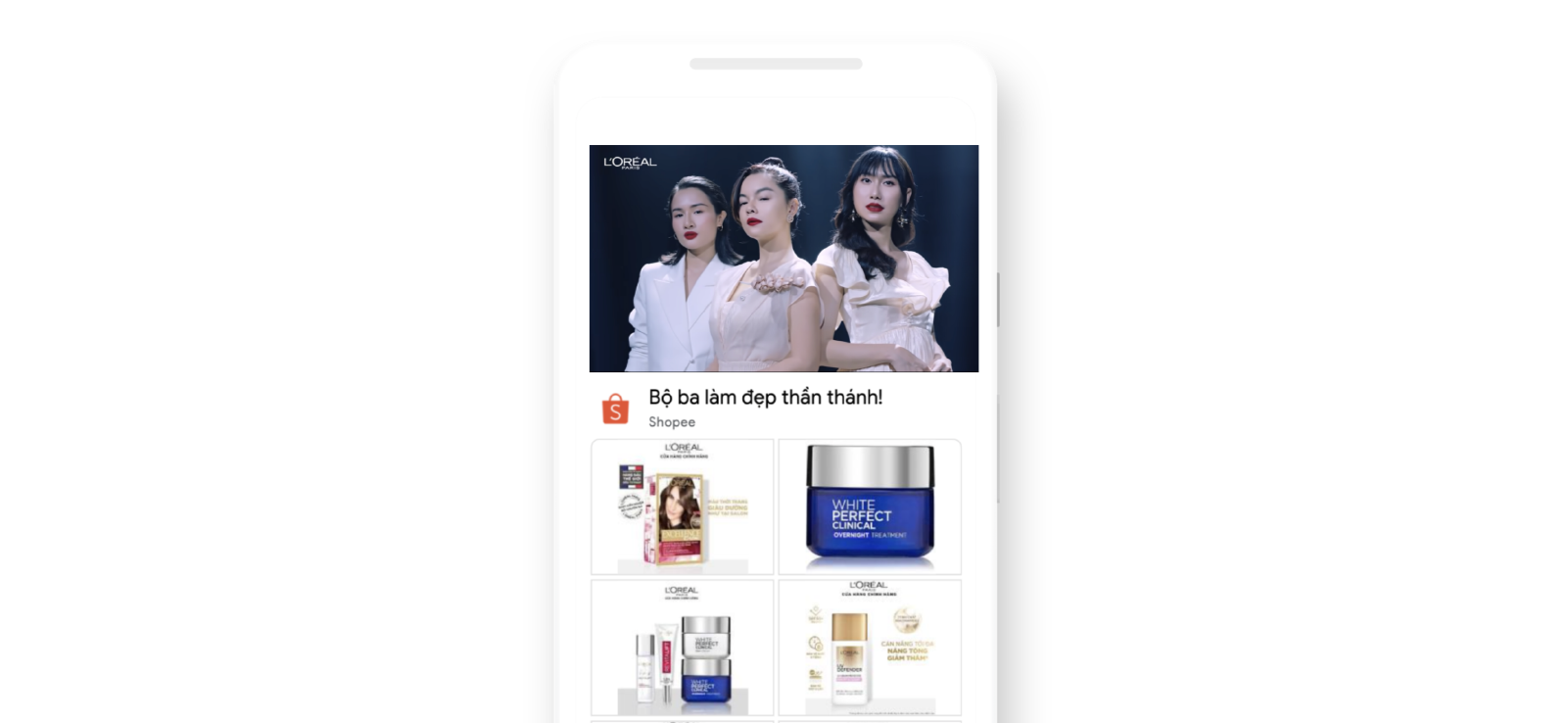 With Tết 2022 set to be another digital experience, brands can use the latest consumer insights for this festive season to plan ahead and reach people all across Vietnam as they usher in the new year. And three ways to ensure your marketing strategy is ready for Tết 2022 are: Add Connected TV to your media mix, use the Sub-location feature in Reach Planner, and have Shoppable YouTube formats.