To uncover what app developers and marketers need to know about their APAC audience when it comes to the latest messaging habits, Google's APAC Partnership and Publisher Marketing Manager Rohini Bhushan and Apps & Games Partnerships Manager Reema Garg conducted research for six months. The findings were reassuring, but not without a few surprising twists. The key learning: People turn to messaging apps for different reasons, but convenience remains of primary importance — but not at the cost of privacy.
With APAC consumers spending more than two hours daily on messaging apps,1 it's hard to deny the influence these platforms have sparked across the region. WeChat is essentially omnipresent in China now, with over a billion monthly active users. India has 400 million users on WhatsApp as of 2019 — double what it was two years ago. And in Thailand, 44 million of its 70-million-strong population communicates via LINE at least monthly. Clearly, messaging apps have gained a strong foothold in both popularity and influence across the world's most connected region, and the momentum will only continue to grow.
We surveyed 1,800 iOS and Android consumers who use messaging apps at least weekly across China, India, Indonesia, Japan, Korea, and Vietnam. What emerged are four key insights on what motivates consumers to use — and what they want from — messaging apps.
Communication mediums keep getting richer
SMS, MMS, ICQ, Skype, Twitter, Whatsapp, WeChat — the technology has gone through its ups and downs, but one thing has remained constant across the last decades (the first SMS was sent in 1992): People want to be connected to each other, and one of the best ways to do that is through communication. Whether it's family, friends, or the plumber who fixed the kitchen sink, the fundamental needs of connecting, discussing, making plans, and following up remain intact. But the way we communicate has evolved, demanding platforms become more sophisticated to meet our changing needs.
Across the markets we surveyed, we found that consumers nowadays primarily use messaging apps for individual texts, except in China, where consumers mainly use the apps for group texts.2 Group texts ranked No. 2, however, in India (72%), Indonesia (84%), Korea (75%), and Vietnam (61%).3
When it comes to rich media, photos and video are quickly becoming the norm; consumers across all six markets reported using messaging apps to send photos, while those in India (64%), Indonesia (67%), Korea (31%), and Vietnam (52%) also use them to send videos.4
Uses for messaging apps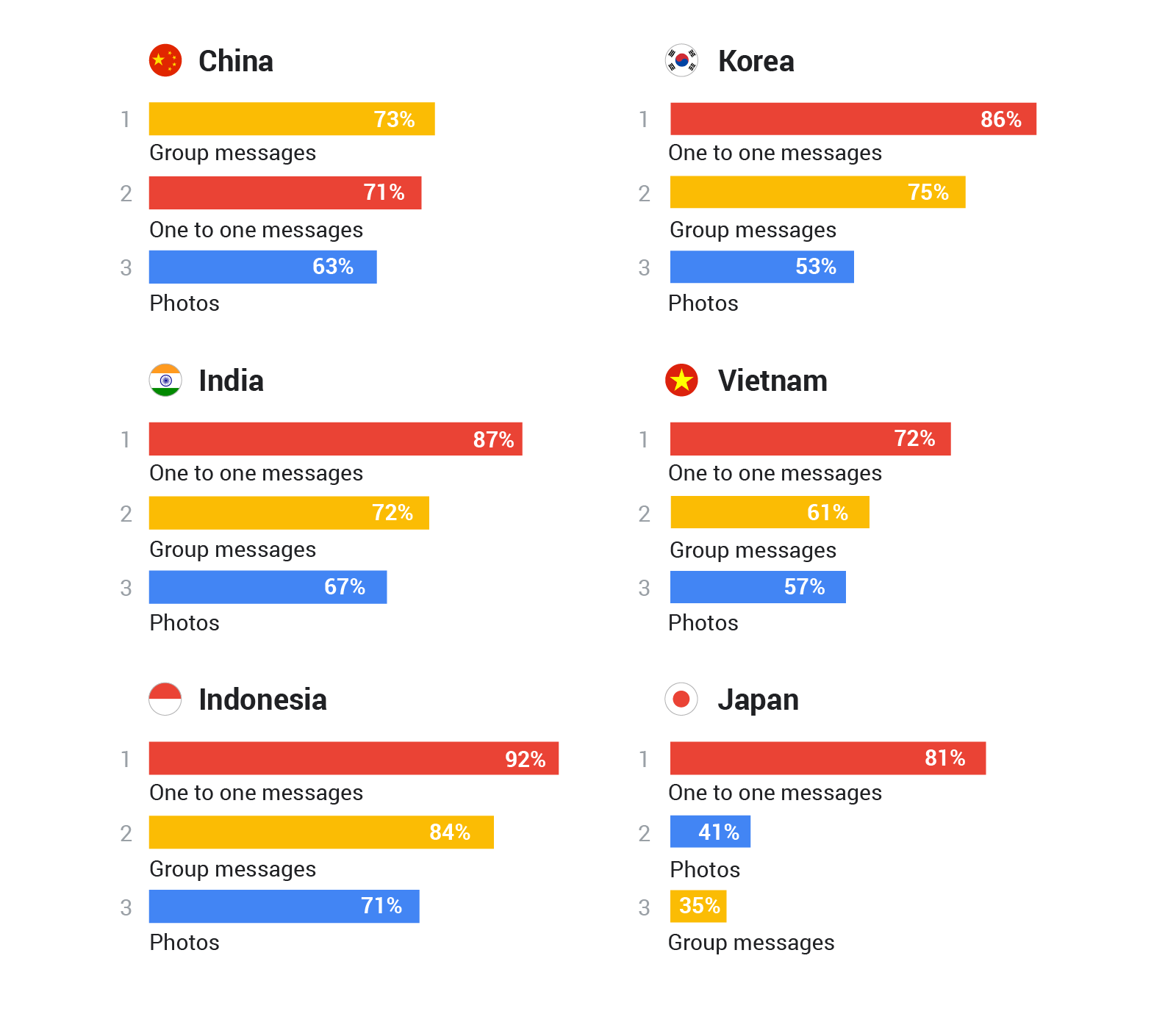 What's key to note is how uniform the whole region seems to be in how they use messaging apps. While different apps rule in different markets (local apps outpace global ones in all but two), the patterns of usage remain quite similar.5
Messaging apps used monthly

People use multiple apps and will download more — if their friends use them
Despite a clear preference for a particular app in each market, APAC consumers use as many as five messaging apps monthly for different purposes.6 For example, consumers in India (58%) and Indonesia (63%) have multiple messaging apps "just in case someone contacts them through one of those apps," while consumers in China (58%), Vietnam (58%), and Korea (52%) use different apps for messaging different groups of people.7
"All my friends use WhatsApp, so that is my go-to messaging app. But my mother likes to use Viber, so while I don't use it for anyone else, I'll keep it on my phone." — Neha, India.
Our research also showed that above all else, APAC consumers will try a new messaging app if they see their friends using it.8 This presents a great opportunity for word-of-mouth amplification. The one exception to this is China, where users make their decisions based on privacy and security.9
Triggers for trialing a new messaging app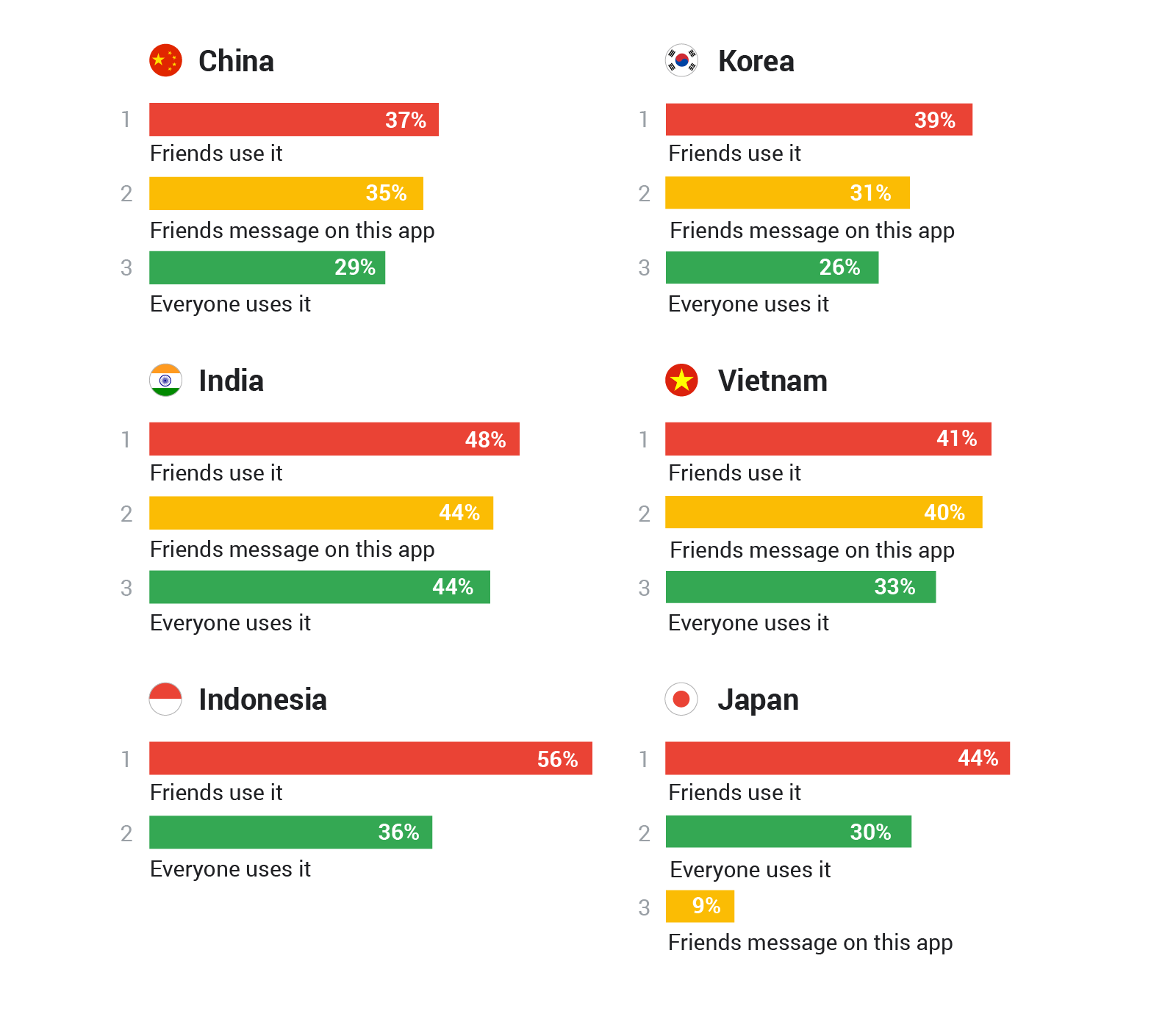 Because consumers want to use the same apps as their peers, it's imperative for marketers of messaging apps — whether large and well-established or small and upcoming — to think of creative ways to build buzz, such as encouraging referrals through exclusive access to certain new features. The key is for marketers and developers to create a snowball effect that will spur new downloads and grow their existing user bases.
Consumers want convenience, but not at the cost of privacy
Users in India, Indonesia, Vietnam, and Japan have expressed a preference for in-app links to services like payment portals for transportation or food delivery — in other words, they expect convenience.10 At the same time, privacy and security are of concern to users in China (42%), India (36%), Indonesia (31%), and Vietnam (33%) when they download a new messaging app.11
For example, consumers in India and Korea prefer WhatsApp and KakaoTalk, respectively, because users need to know your phone number or personal ID in order to contact you, indicating that privacy features contribute to the popularity of apps in each market.12
Encryption lists high for users in China (82%), where people prefer the convenience of a consolidated "super app" like WeChat but worry the app knows too much about them.13 Encryption is also important in India (83%), Japan (47%), Korea (67%), and Vietnam (78%).14 Consumers in China (75%), India (83%), Indonesia (78%), and Vietnam (76%) also wanted the ability to password-protect their messaging app.15
Interest in new features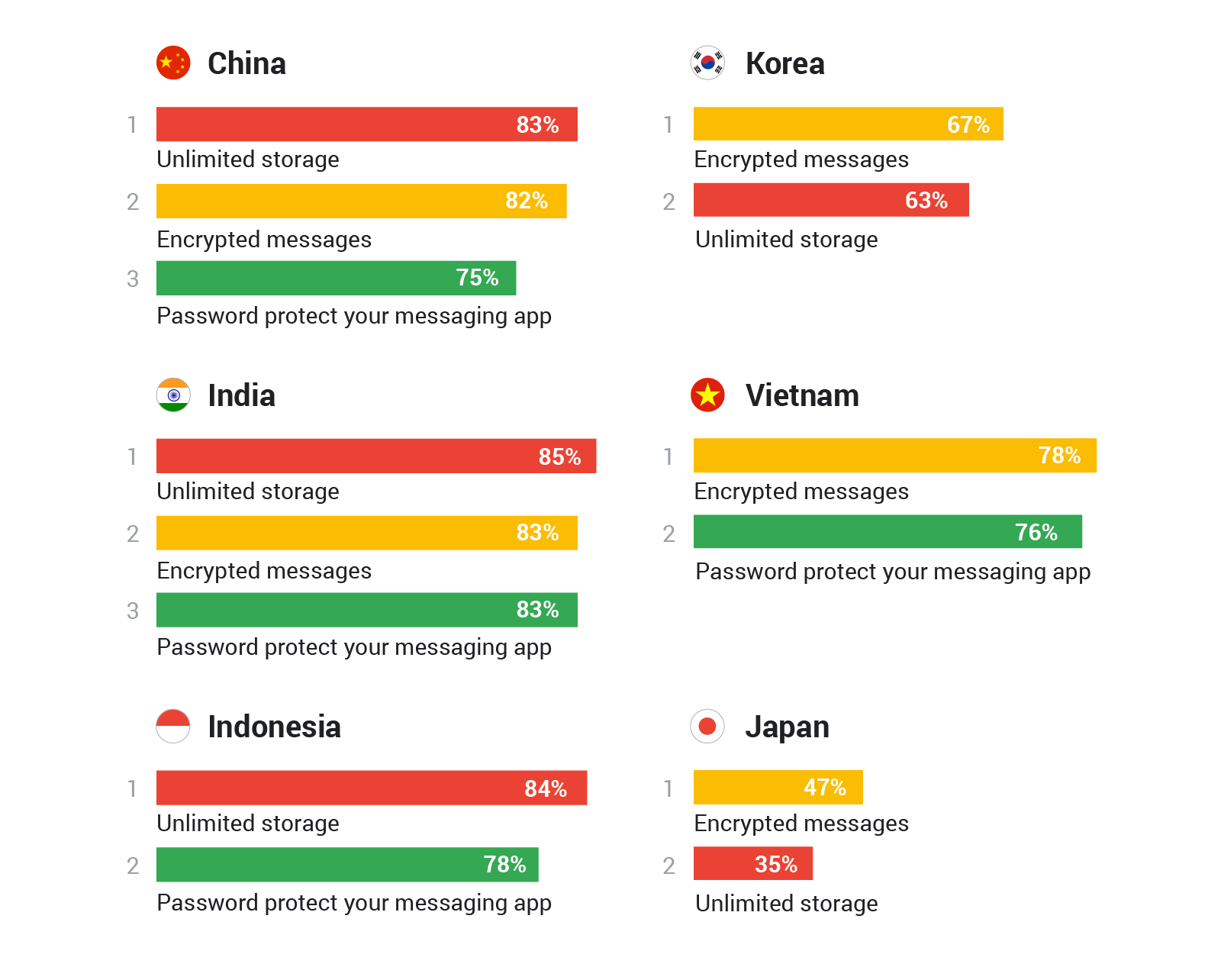 When developing messaging apps, enhanced privacy and security features must be prioritized — and marketers should consider promoting these features across their campaigns.
Meeting each country's messaging needs
It's clear APAC consumers love messaging apps, but the features favored in one country differ from one market to another. Each market has distinct needs and preferences, so taking these insights will help companies create products that generate the positive word of mouth necessary to survive in the region's crowded, competitive messaging app marketplace.
Market summary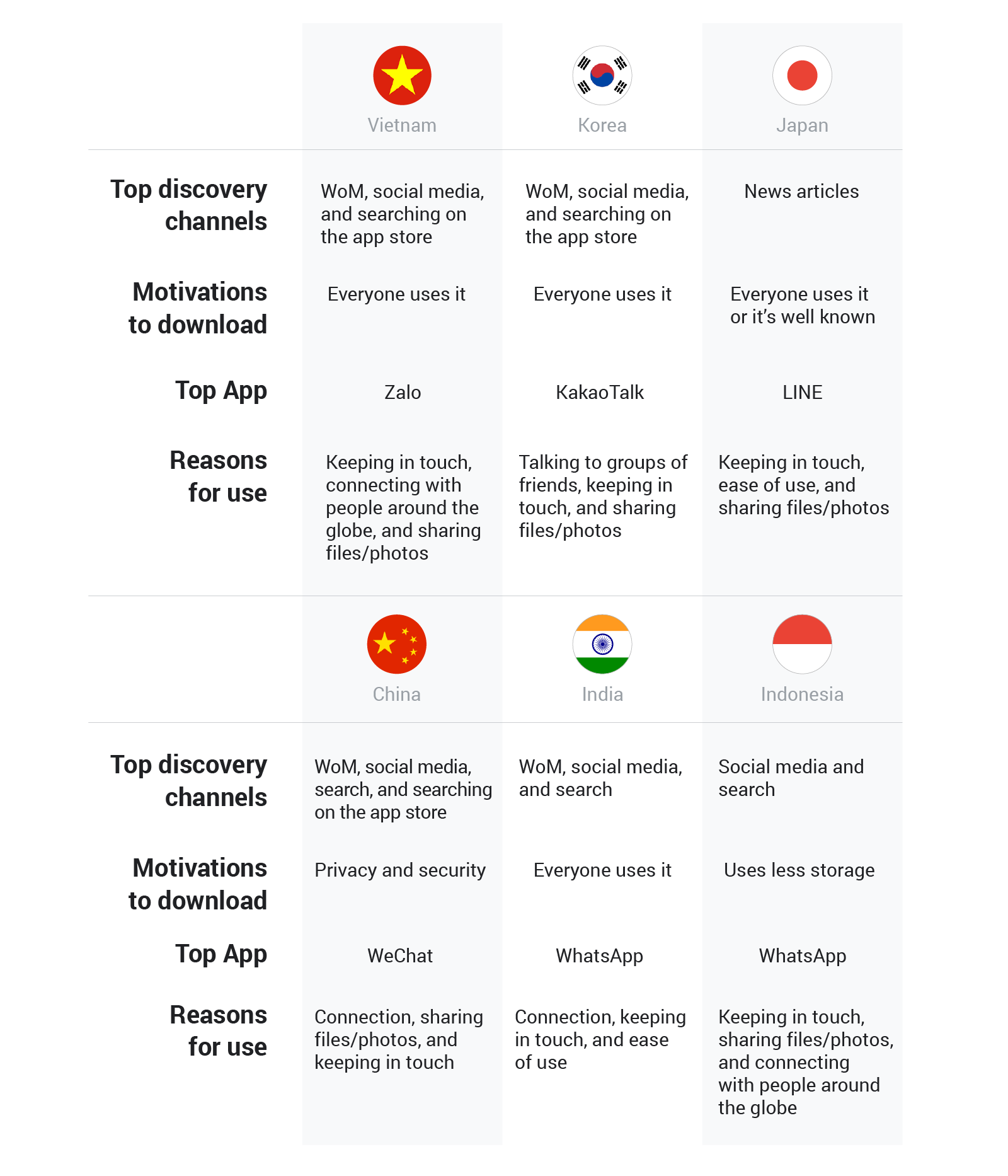 As people get busier with work, social, and family demands, face-to-face interactions have seemingly taken a hit. Kids aren't getting home for holidays, and people who have moved to the city or overseas might not be able to afford the time or money to travel to their loved ones regularly. More than ever before, communication exchange is core. Thanks to messaging apps, grandparents and grandkids can now speak daily, movie plans can be made in one text instead of 14 phone calls, and moment-by-moment holiday updates can be captured and shared — all within seconds. As this conduit of human communication continues to grow in breadth of reach and depth of media, the role of developers and marketers is to ensure a thriving platform that stays up to date on what people want and need but also meets their desires for convenience, privacy, and staying in touch.