Generation Z — people born between the mid-90s and early 2000s — is a progressive demographic of digital natives whose cultural influence is reshaping traditional beliefs about online entertainment, travel, shopping, news, and education.
In our latest three-part series, we spill the tea on Gen Z's relationship and attitudes toward brands, how digital technology fits into their lifestyle, and how their online influence is moving the needle for industries in India and Southeast Asia (INSEA).
Arguably the demographic most digitally equipped for the pandemic, Gen Z is not only made up of online natives but also master navigators of new technology and social media.
With digital tools at their disposal, these savvy shoppers have found ways to maximize value, leaning into ingenuity and scrappiness and hacking online behavior before showing loyalty to a single brand. Instead of choosing to shop with a website they use often, 74% of Gen Zers have bought products online using a mix of social media, shopping apps, and traditional and digital media to rigorously compare products to help stretch their dollar further.1
Here, we take a closer look at the defining generation of Gen Z shoppers who are adapting to global changes by embracing the technology they grew up with, offering marketers ways to meet these digital pioneers on their own terms.
Inspire me first; sell to me later
A socially-savvy generation, members of Gen Z are inspired by trending products and experiences that focus on novelty and diversity. But they don't sit around waiting to be inspired. Instead, Gen Z shopping habits include actively researching what's "in" and how they can own the trend. Daily, 43% of Gen Zers visit shopping apps, where they find inspiration on trending lewks, discover what others are buying, and learn how to style a new fit.2
In India, girls aged 18-21 years old often browse NYKAA, an online retailer of beauty, wellness, and fashion products, even when they are not looking to buy. They get tips and advice and learn about which beauty products are trending in the makeup section.
Bring the experience to my mobile
One of the key things in Generation Z consumer behavior is that their time is at a premium, and nothing can be left to chance. Experiencing a shop, restaurant or activity beforehand is intrinsic, and often they'll search for photos that help them to judge the kind of experience they will have before going. Knowing what's on the menu, discovering what other interesting places are nearby, finding out if there are any deals or promotions, and getting a feel for the ambiance are all factors taken into consideration.
Search on mobile platforms key in Gen Z's digital journeys
For example, a popular digital journey a Gen Zer will embark on before selecting a restaurant would be searching an app like Instagram for location tags from friends, sifting through user-generated photos of dishes (seeing which meals are the most popular and photographed, to select later, of course), and then visiting the restaurant's Instagram account to check menu prices or available promotions. They could also be inspired by a friend's photo shared on WhatsApp and then tap into a travel and activities app like Klook to search for promotions or deals.
The more they know, the more likely they are to make a decision. The same goes for Gen Z purchasing behavior — similar to a trip to the mall, diligent research is about knowing what the experience of the product will be like before they buy. Watching popular unboxing channels like Technical Guruji on YouTube or tuning into experiential shopping events like "Shop the Runway" help satiate this curiosity and give Gen Zers the confidence that they're making the right purchase decision.
I'm aware of how my actions impact the environment. What about you?
For Gen Z, the belief is that social responsibility is shared. In some markets, especially the Philippines, environmental volunteerism is also seen as a way to bond with others and contribute meaningfully to a worthy cause. In Thailand, 35% of Gen Zers believe sustainability is a cause worth fighting for— an idea that continues across this demographic in SEA.
Aware of the impact other businesses have on the environment, some Gen Zers have also started to create brands that are built on the premise of being socially conscious. For example, Filipino Gen Z fashion designer Alyssa Lagon is the founder of Tela, a sustainable clothing label that turns upcycled fabric scraps into fashionable clothing while helping support environmental and livelihood causes.
We grew up with digital, and we're creating new behaviors
Marketplaces are changing Gen Z shopping habits — how they discover products and services and how they pay. Brands should consider new ways of making their products both accessible and discoverable. For some apps that don't provide the functionality they crave, Gen Zers have taken matters into their own hands.
For example, some online marketplaces don't standardize product descriptions, so savvy Gen Zers have turned to reverse image search to bypass text searching.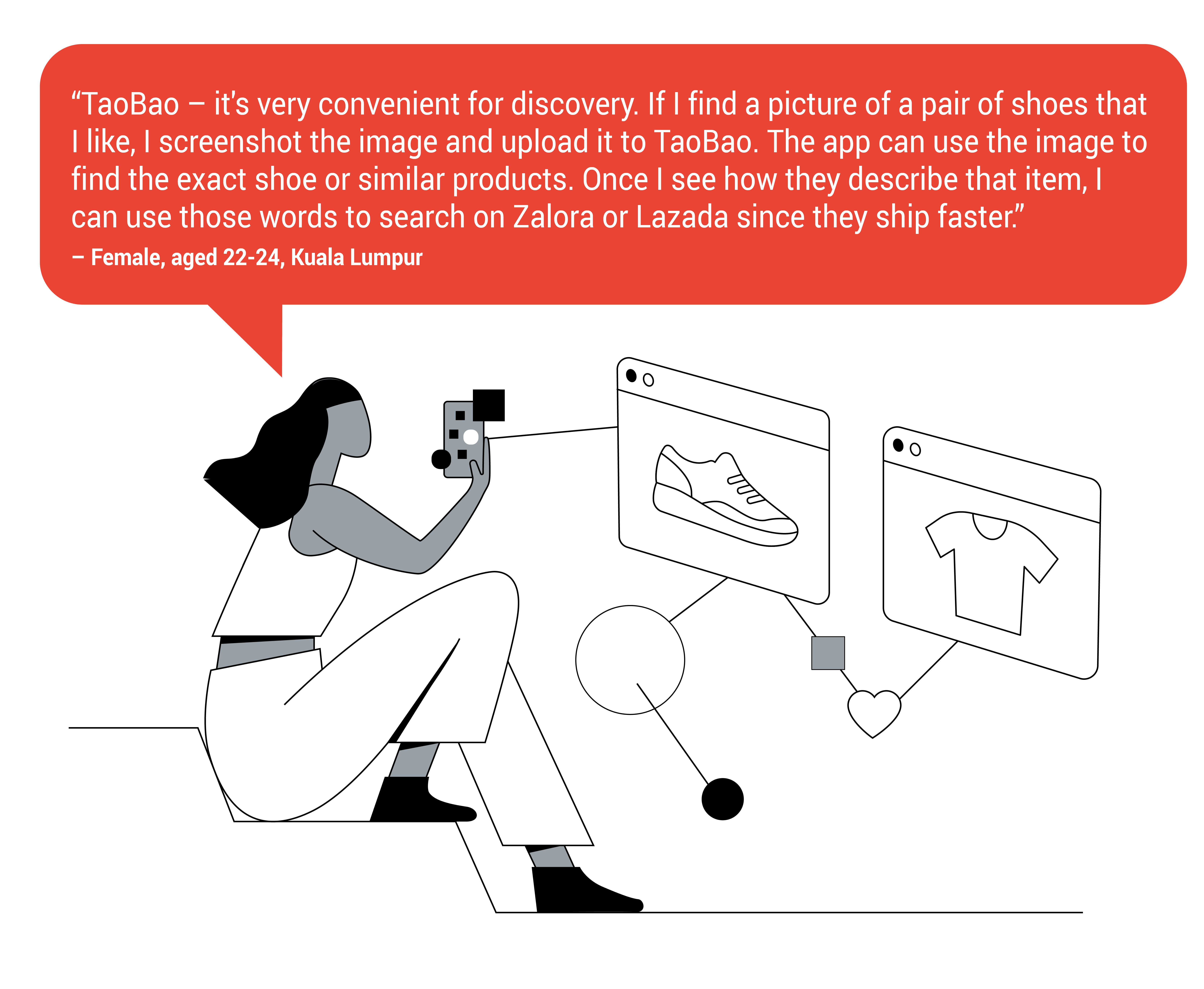 It's also important to provide multiple ways to pay. Gen Zers usually don't own credit cards, instead favoring e-wallets and "buy now, pay later" services. In INSEA, 12% of Gen Z currently use an e-wallet, a number that is higher in more well-established e-commerce markets such as Singapore (18%).3
Without access to a credit card, Gen Zers in Thailand seek out other payment methods to shop online, such as Thisshop, a shopping app that allows them to pay for more expensive items with interest-free installments.
Generation Zers are future-thinkers defined by success, connection, and expression, and the way they behave online can be seen as an indicator of tomorrow's retail zeitgeist. With technology at their fingertips, they are willing to solve for their specific needs and continue to follow trends that suit them, which can also leave brands exposed to a number of challenges. However, for online retailers willing to embrace these nuances and find ways to appeal to this savvy demographic, the possibilities are limited only by a willingness to provide and evolve their digital offering.