Machine learning helped Sands China Ltd. unify its siloed consumer data and connect with high-intent audiences.
A custom-built prediction model analyzed 200+ real-time variables and delivered a 1.5X higher conversion rate and 2X increase in bookings.
Google Marketing Platform's1 full-stack solution also enabled Sands China to serve relevant, personalized ads to potential customers, driving a 22X increase in conversions and a 30X higher ROAS.
As the largest integrated resort operator in Macao, Sands China Ltd. manages Sands Macao, The Venetian Macao, The Plaza Macao, Sands Cotai Central, and The Parisian Macao, among other business and leisure attractions in the area.
Sands China has always been well-known in the Macao hospitality market, but with the array of resort options available today, staying top of mind with different consumer segments (budget travelers, luxury travelers, tourists, business executives, live entertainment fans, gourmet foodies, to name a few) is increasingly important. What's more, the brand found its consumer data scattered across multiple channels and platforms, making it difficult to reach its target audience of potential travelers at the right time, right place, and, most importantly, right stage of their decision journeys.
Looking to gain a more accurate, holistic view of its customer, Sands China set out to unify existing consumer data and break down its siloed approach to digital campaigns.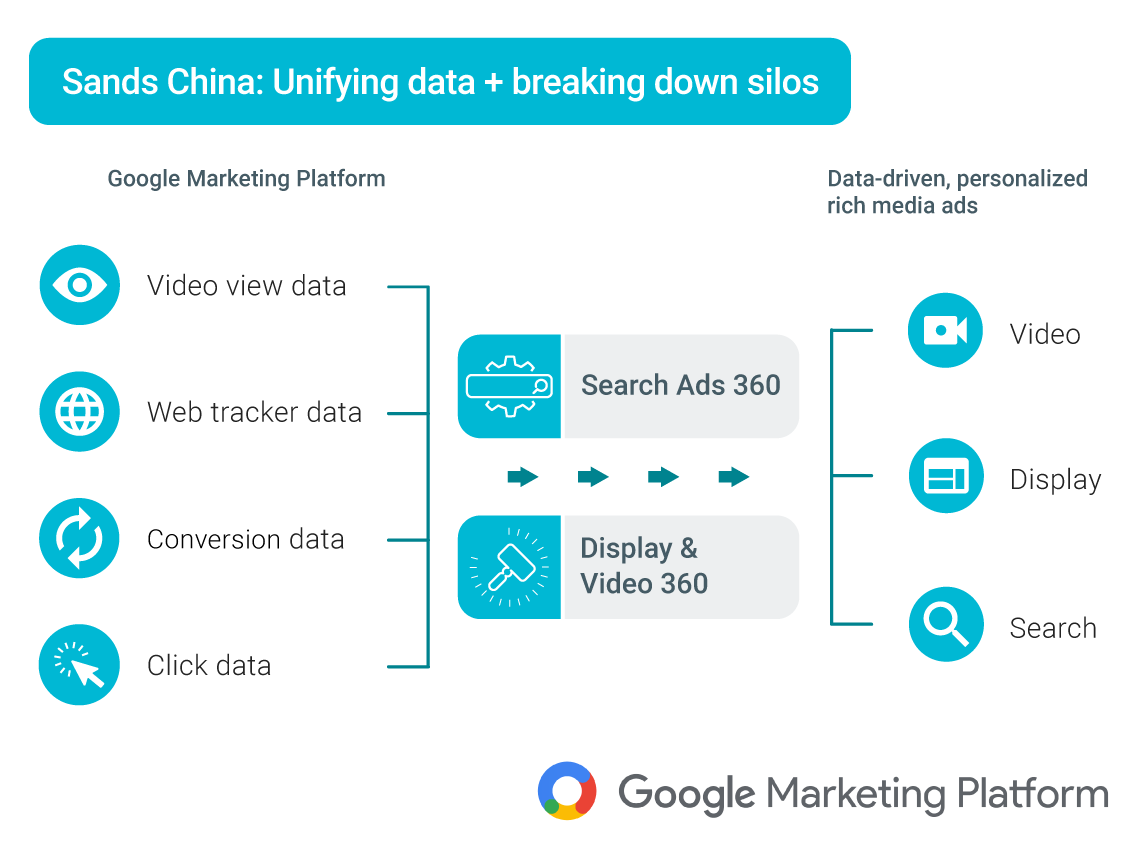 Together with Search Ads 360 and Display & Video 360, the integrated platform helped the brand plan, execute, and optimize its digital campaigns, and it allowed the team to gain a clear view of consumer behavior across digital platforms.
Using Google Marketing Platform's unified, end-to-end solution, Sands China was able to deliver rich media ads across search, display, and video that featured relevant, personalized messaging based on the user's data signals. For example, a user in China searching for "suites in Macao" was served an ad that showcased the brand's luxury suites.

Price-sensitive users searching for "deals," however, were served ads promoting offers and discounts on the resort's standard hotel rooms.

Sands China was also able to identify potential customers who were more likely to be interested in live shows and music based on websites they visited or music videos they had watched. These users were served ads showcasing the brand's entertainment packages, driving business for Sands China's hospitality and entertainment divisions.

Using machine learning to reach high-value consumers
To engage these high-value consumers, Sands China used machine learning to predict which users were more likely to book a hotel stay within the next 30 days. Using TensorFlow and Google Cloud Platform, the team built a prediction model that could identify and analyze daily changes in more than 200 features, including search behavior, keywords, intent from different geographical locations, recency of site visits, price changes in available inventory, and more. This helped TensorFlow identify high-potential customers with 92% accuracy as well as determine which ad type should be served to each individual. Overall, the model successfully identified high-value audiences ready to book, which in turn drove a 1.5X higher conversion rate and increased the volume of bookings by 2X.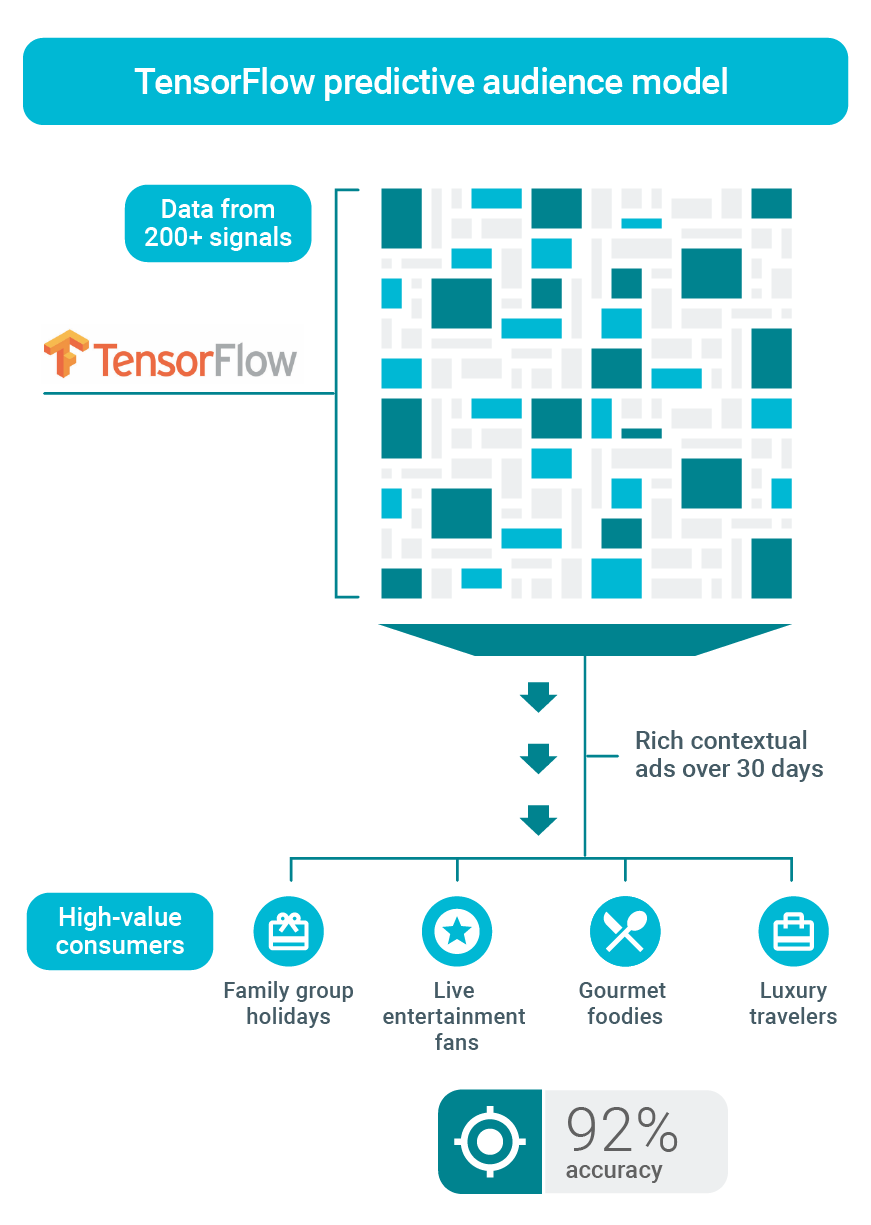 Sands China boosts bookings with Google Marketing Platform
The unified approach boosted sales and improved overall efficiency across Sands China's digital marketing efforts. After adopting Google Marketing Platform's full-stack solution, the brand saw an impressive 22X increase in conversions on display ad formats, which led to a whopping 30X higher ROAS.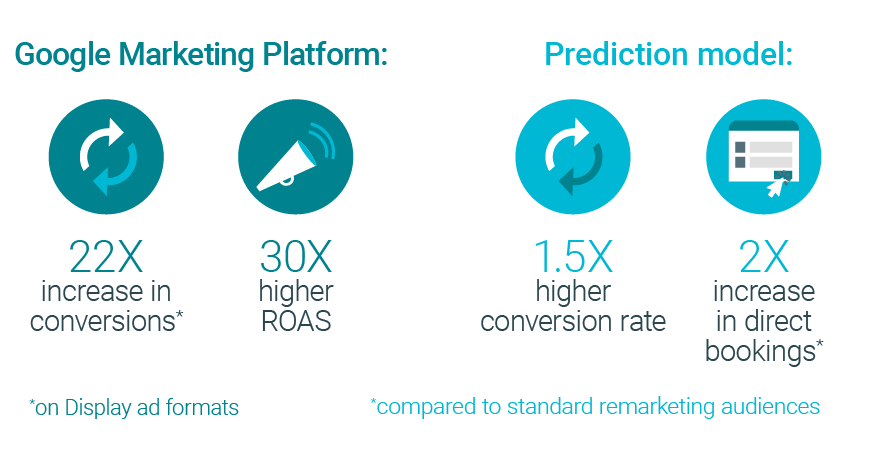 "This was a strong partnership that used an innovative approach to solving a business challenge. By leveraging the Google Marketing Platform solutions and layering machine learning on top of existing data to build predictive models, we were able to identify high-value customers. This technology is an example of where the market is headed," concluded Allister Chiong, director at Hylink Digital Solutions.