Indonesia is APAC's most valuable untapped e-money market: 66% of its population are "unbanked" (don't own a bank account) and only 11% of its e-money app users are regular users. 
Young Indonesian women are showing signs that they'll pave the way for e-money adoption.
Merchant partnerships unlock opportunities for everyday e-money usage and are pivotal to e-money becoming Indonesians' go-to payment medium for high-frequency purchases.
Educating Indonesians about security and benefits is instrumental to lowering barriers to adoption.
Indonesia is one of the most valuable untapped markets in APAC's digital finance sector. Sixty-six percent of the country's 260 million population are "unbanked" (don't own a bank account).1 And while 66% of the current population were raised with internet access,2 fewer than 40% of Indonesian smartphone users have used financial services apps before.3 This is surprising, considering the number of digital finance apps in the country has grown 6X since 2010, bringing the total to 140. And within that category, there are already 19 that are from e-money* providers that don't require a bank account.3
There's clearly massive (and growing) potential in Indonesia, but in a market seemingly ripe with opportunity for e-money brands, why is there such low adoption, frequency, and brand recognition?
Presumably, unbanked Indonesians would be eager to adopt e-money, given its convenience and the absence of monthly charges that are usually attached to banks. But even among the minority of e-money app users, only 11% are average daily users.3 That's largely why Google's estimated value of e-money transactions** in Indonesia in 2017 was nearly $1 billion, but unbanked consumers only contributed 9% of that.3  There's clearly massive (and growing) potential in Indonesia, but in a market seemingly ripe with opportunity for e-money brands, why is there such low adoption, frequency, and brand recognition?
To dive deeper, we conducted a multi-layered study with GfK across six key Indonesian cities—Jakarta, Bandung, Semarang, Surabaya, Makassar, and Medan—using online surveys of 1,351 consumers as well as passive digital measurement of 5,000 respondents between April and November 2017. Based on our findings, we've broken down three key insights to help e-money brands better connect with Indonesia's unbanked consumers:
1) Indonesian women will be eager early adopters
When we looked at the reasons why Indonesians use e-money, our surveys showed that 48% of women aged 25–28 and 46% aged 29–34 were already using it to buy their everyday necessities such as food, beverages, and groceries online. Compared with 28% and 32% of men in same respective age groups, this shows that women are more often the decision makers in terms of household spending and online grocery shopping. Those types of high-frequency domestic purchases are much easier for e-money brands to influence, compared to regular overhead payments like household utilities and bills, which are generally paid for by the male family members.
Young Indonesian women are frequent e-money users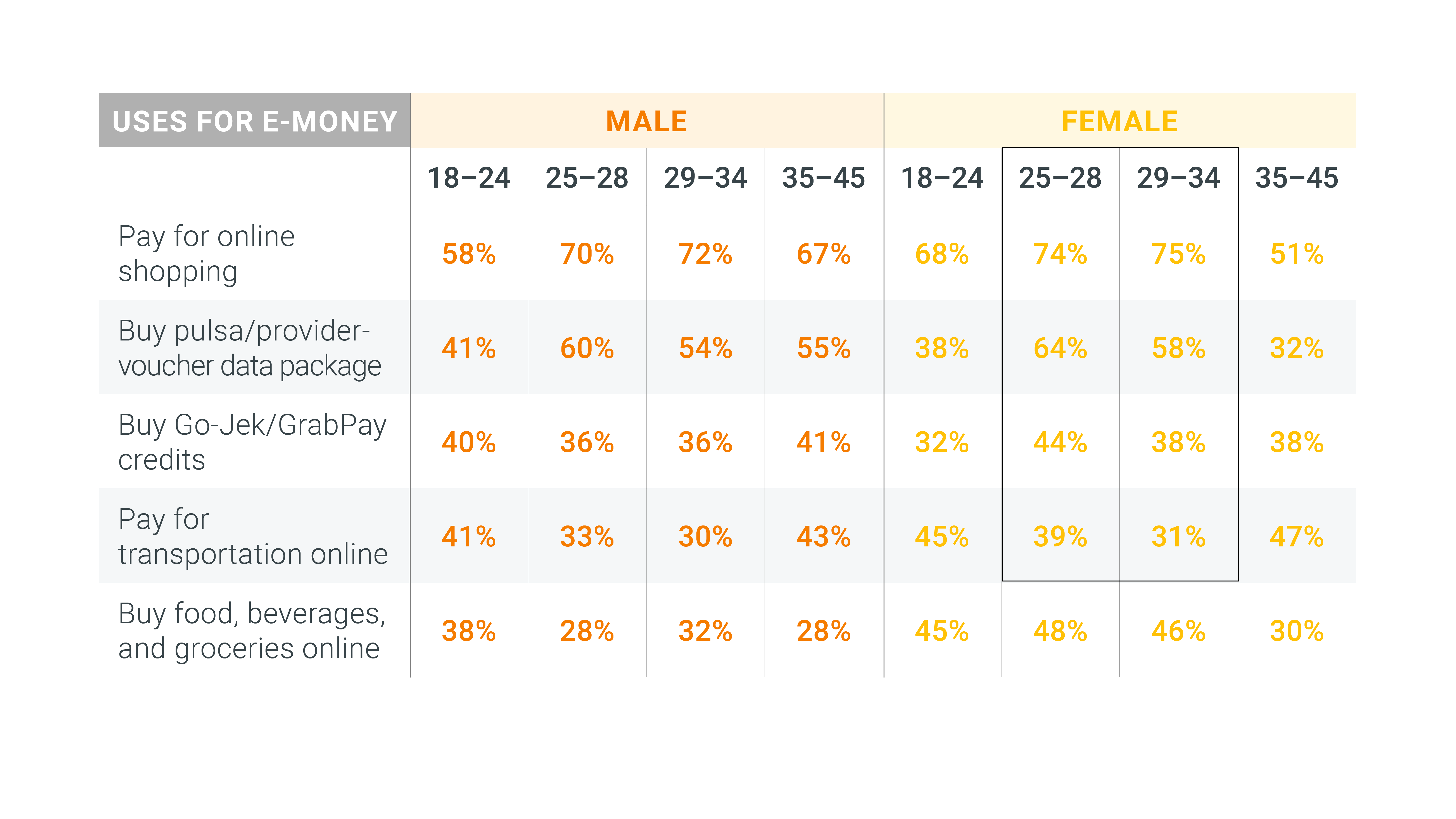 It's important to note that more than half of Indonesia's population is under the age of 304 and therefore likely to be comfortable using digital and e-money. On that note, our study showed that 68% of 18–24-year-old women used e-money to pay for online shopping, compared with 58% of men in the same age group.
2) Merchant partnerships will be instrumental to e-money adoption
When we surveyed both banked and unbanked users of e-money, the top three most common reasons for using e-money were paying for online shopping (84%), buying data vouchers for smartphones (47%), and paying regular bills (28%). However, usage rates were much lower for frequent offline purchases like in-store shopping for hijab fashion, daily transport and ride-hailing, or for paying for morning nasi goreng (fried rice)—digital transactions that are only possible when e-money providers partner with merchants.
E-money usage remains low for typical daily transactions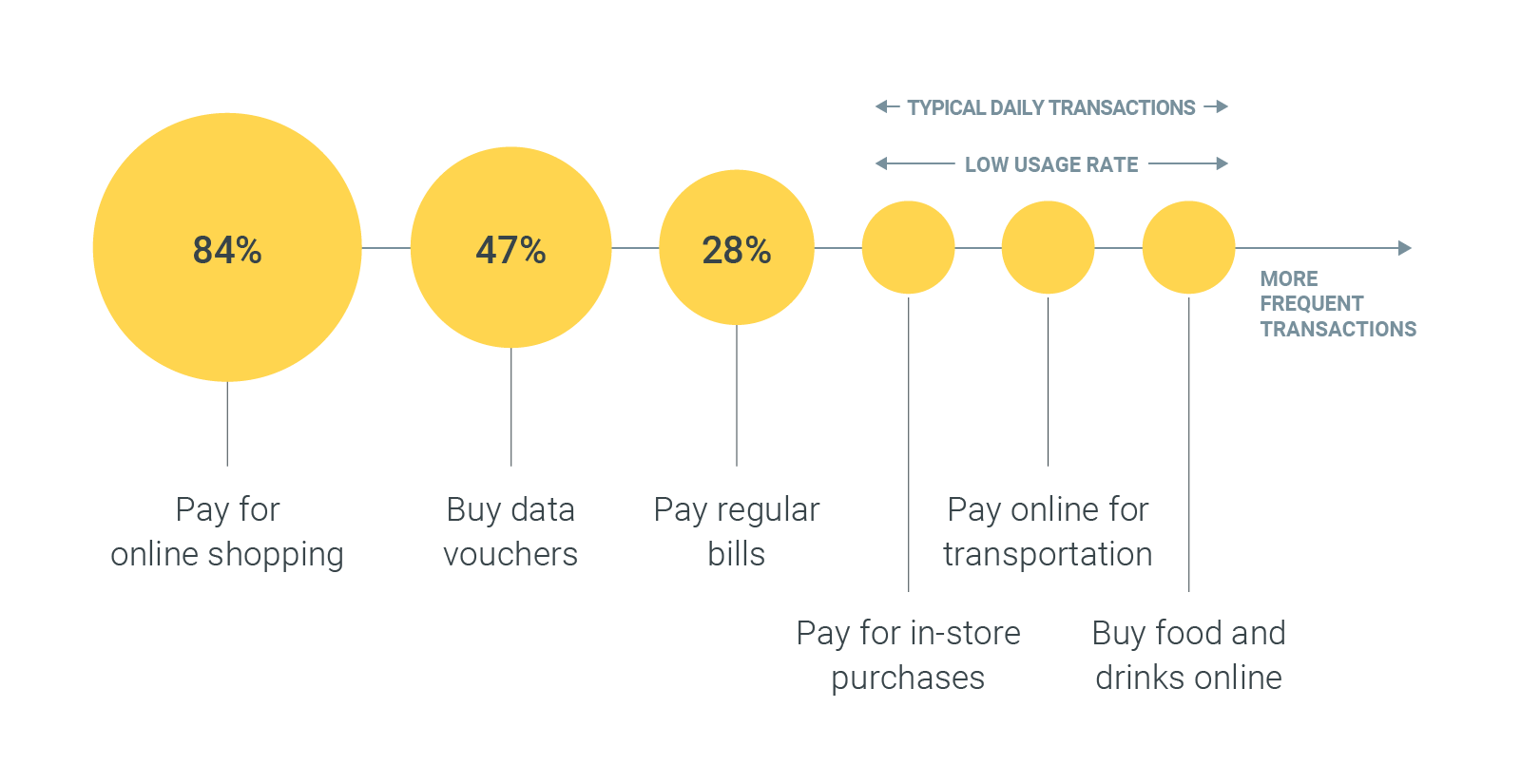 When we asked people what would drive them to use e-money apps, an overwhelming majority of respondents (87%) said they wanted more food-related discounts and promotions from e-money brands, and 85% wanted more store partnerships, both online and offline.
Indonesians want more opportunities for everyday e-money usage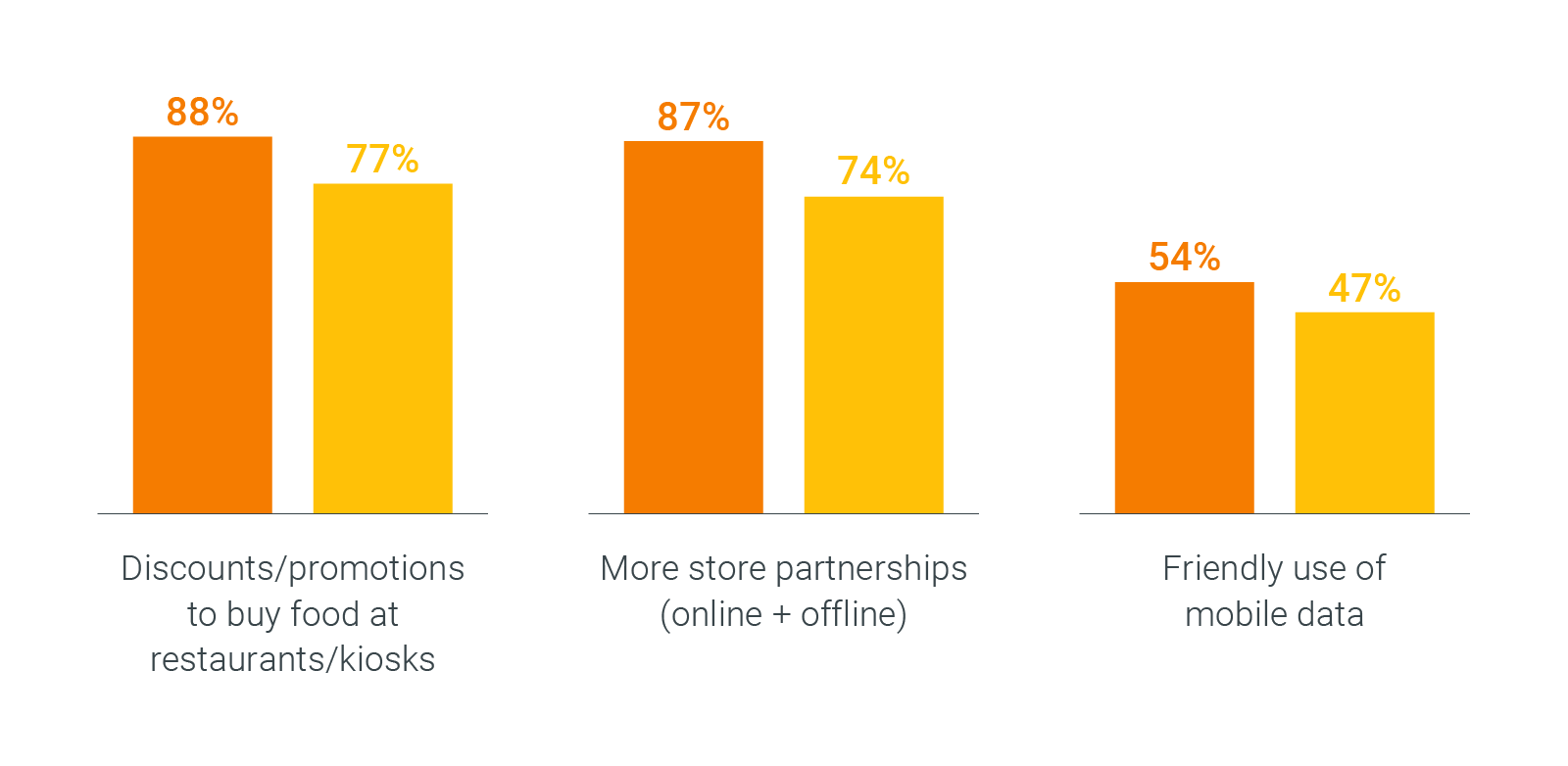 3) Indonesians need reassurances about e-money
Because digital banking is relatively new in Indonesia, consumers still have valid concerns about its safety and benefits. In our study, 50% of unbanked Indonesians said they don't see any benefit in using a digital wallet app. And both unbanked Indonesians (20%) and Indonesians with bank accounts (33%) said they have concerns about personal data loss and phone theft.
As awareness and conversations around digital banking grow in Indonesia, search has become a go-to resource for learning more about the industry. Searches for digital wallets in Indonesia rose 55% YoY in 2017,5 and nearly half (46%) of Indonesians in our study said Google search was their first stop for finding information about e-money apps (the most common queries were about e-money providers and brands, the benefits of using e-money, how to register for e-money apps, and how to top up e-money balances).
Indonesian e-money users' top sources for information about e-money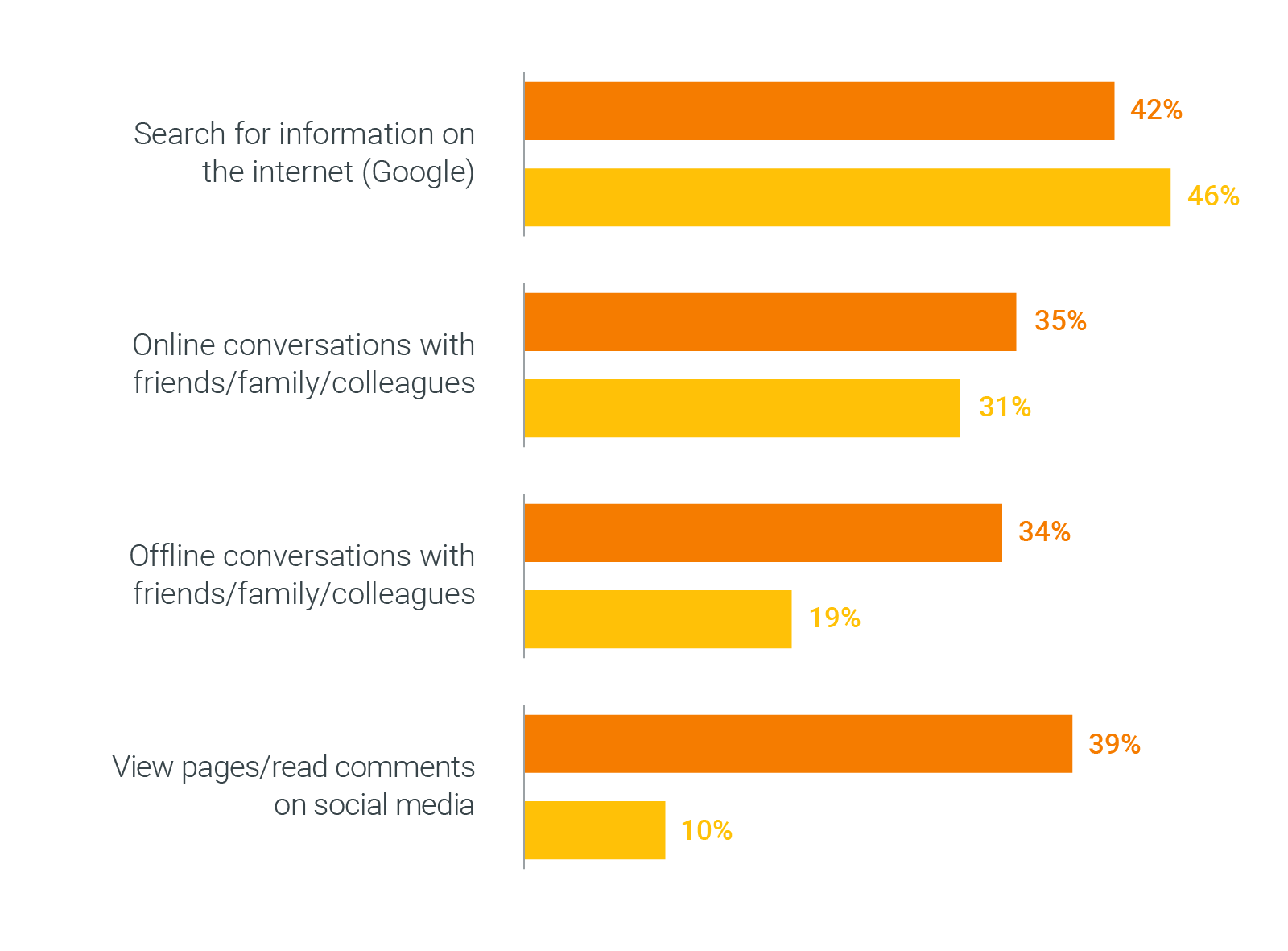 Engaging the unbanked: The future starts now for e-money brands
In the next few years, Indonesia's digital banking industry will only grow in value and intensify in competition. Now's the time to take action. The early birds will get the biggest worms, and there are plenty of opportunities for brands to show up and make their presences known.
Despite there being over 100 apps on the market, consumers in our study couldn't recall more than two specific apps, on average.3 With so few brands standing out, Indonesia's e-money market is ripe for the taking. Here are three tips brands can use to get started:
1) Find and engage the early adopters
Based on our research, it's clear that among Indonesia's digitally savvy population, women in Tier 1 and 2 cities—especially those aged 25–34 years old and of higher socioeconomic status—will likely be rapid adopters of and evangelists for e-money solutions. Focus on identifying and partnering with brand evangelists and influencers that resonate with this audience and develop female-focused campaigns that tap into their interests and online shopping habits.
2) Partner with both online and offline merchants
To boost Indonesians' daily app usage, consumers need an attractive array of opportunities to do so. Our study uncovered three apps—GoPay, TokoCash, and GrabPay—that were 40% more likely to be used on a daily basis and had 1) a wide selection of offline and online merchant partnerships, 2) a range of native products and services (such as ride-hailing, home restaurant delivery, or instant top-up for bills and utilities), and 3) the ability to transfer money electronically to other users.
Focus on increasing awareness and promoting key benefits on platforms that are native to your target audience. A wide range of partnerships with online and offline merchants can also help encourage e-money usage for routine, daily purchases. That's especially true if Indonesian women have the opportunity to use e-money to shop in-store for things like hijab fashion or beauty and cosmetics.
3) Use search to educate and inform
Searches for e-money and digital wallets are surging in Indonesia, but people still don't feel informed or comfortable enough to download and use them regularly. The good news is their search interests and survey responses show a strong desire to learn more about e-money's benefits.
Dominant providers in Indonesia—both banks and non-banks—need to be visible when consumers go online to learn about the safety and benefits of e-money. Invest in creating e-money campaigns and partnerships that can spark discussion among friends and family. Also, keep an eye on relevant search trends to ensure your keywords and search ad messages align with topics that Indonesians are curious about.
Methodology
Google/GfK digital wallet study consisting of an online survey of 1,351 consumers, as well as passive digital measurement of 5,000 respondents between April–November 2017. Consumer sample was 52% male, 48% female, between the ages of 18–45 years old and across six key cities across Indonesia (Jakarta, Bandung, Semarang, Surabaya, Makassar, and Medan).
*In our study, "e-money" is defined as the digital currency by which electronic payments and transactions are completed
**Only server-based e-money was tracked and analyzed