Hélène Duval, who leads Growth Marketing for Google APAC, shares her hard-won lessons on how brands can create a virtuous circle of experimentation to achieve sustained business growth.
As a growth marketer, I'm often asked: What is your key to successfully driving growth? I wish I had a secret to share, except my answer won't surprise many: Experiment until you get it right, and then scale. That said, there is a catch.
While most marketers know that experiments can improve campaigns and bottom lines, they have been slow to embrace it; only 46% of companies surveyed invested in online experimentation or A/B testing in the last year. In this regard, experimentation can seem like physical exercise: you know it's good for you, but you struggle to keep it up.
When teams run A/B tests, they might fail to show how the experiments contribute to key performance indicators for the business. They might also lack a structured process to manage their portfolio of tests and share valuable learnings. As a result, senior stakeholders have few reasons to take an interest, and teams eventually underinvest in experiments, missing out on sustained growth opportunities.
So perhaps the real riddle is: How can you set up a marketing experiment engine that drives sustainable growth? Here's what I've found after years of testing different approaches.
Marketers can set up an experimentation loop by aligning their experiments with key performance indicators, improving the experiment process, nailing the execution, and sharing learnings. And by playing to the behavioral motivations which underpin the loop, you can overcome barriers to experimentation and drive sustained testing to unlock continuous growth.
Tap into people's zeal for performance metrics to drive and show impact
In business, results are a powerful motivational force. With digital marketing, it is easy to obtain measurements and numbers, but less so to connect one's effort and impact to the topline metrics that matter at the highest levels of decision-making.
Having an experiment with key performance indicators that directly connect to business goals is therefore critical. It enables you to demonstrate the impact that your experiment brings and establish the test as a priority. It also helps you secure endorsement from stakeholders, who are driven by topline results and eager to improve them.
An example of this is a program the growth marketing team worked on to help people stay safe online. Initially, we measured the number of people who saw and clicked on our messages. These metrics, however, did not tell us if the program was actually helping people. So we changed our approach.
We shifted our marketing measurement to a set of actions that people can take to stay safe online, which was aligned with broader business goals. We also optimized the program against this new metric. The result was 3X more impact year over year with the same audience reach.
An experiment that directly links to business goals creates value and delivers results.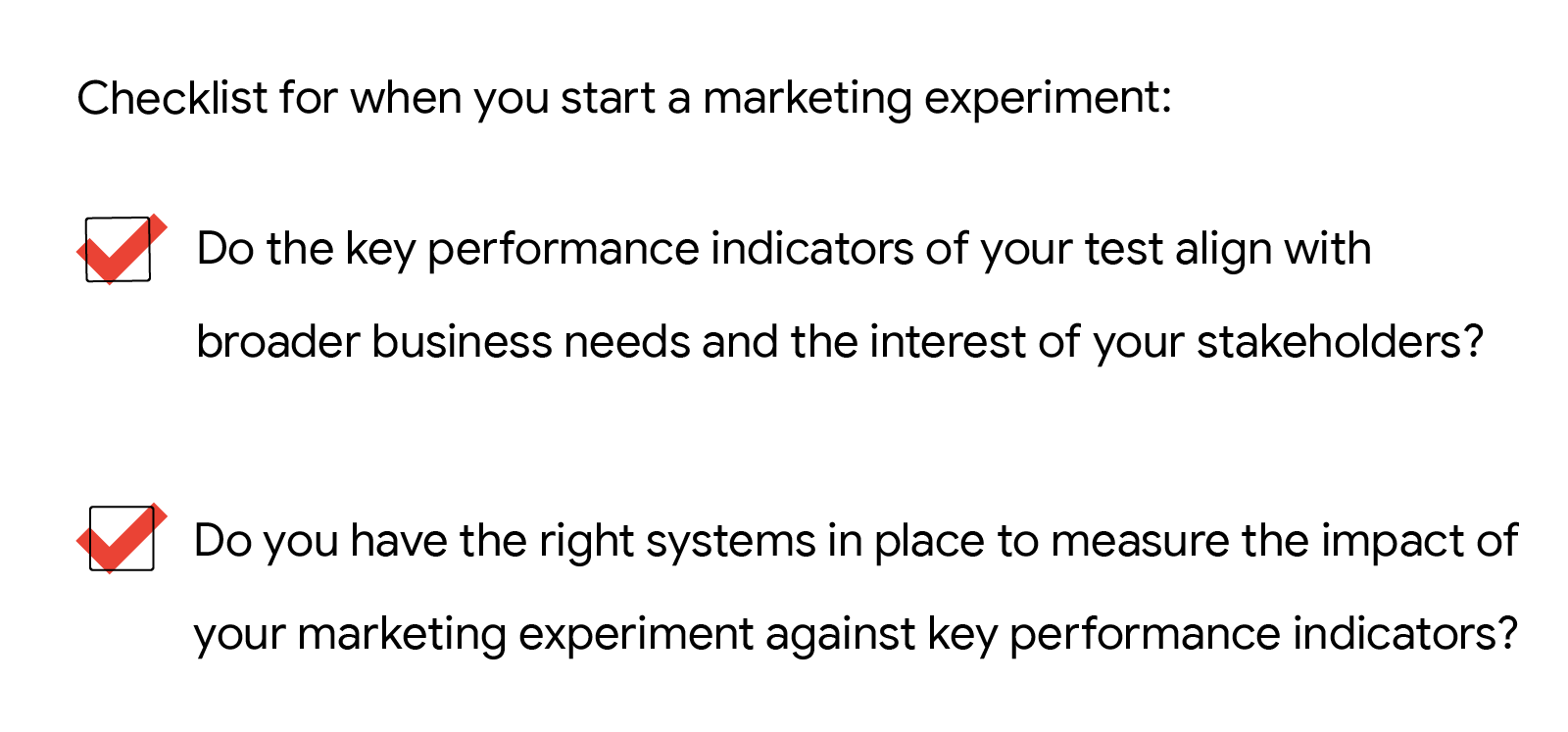 Tap into people's problem-solving instincts to improve the experiment process
Improving the process of running experiments, especially a portfolio of them, can also help drive the experimentation loop. And to keep the experiment engine well-oiled, we can tap into our instinct to solve problems.
What I learned in my time with Google's Small and Medium Business Marketing program in APAC is that having a guided process to help marketers prioritize and make strategic decisions about their experiments enables scaled success.
Back then, my team was conducting 35% more marketing experiments than we had resources for, and tests that had launched more than four months prior had a 3X higher fail rate. So we introduced processes to regulate the number of experiments and provide guided support.
For example, we developed a system of tracking the progress of marketing experiments and regularly shared how the portfolio of experiments was doing. This aroused the problem-solving instincts of team members who would provide counsel for experiments that had run into roadblocks and stalled. Two months after we launched this improved process, the average time taken to complete an experiment fell by a third to under four months.
A process that helps marketers prioritize and make strategic decisions about their experiments enables scaled success.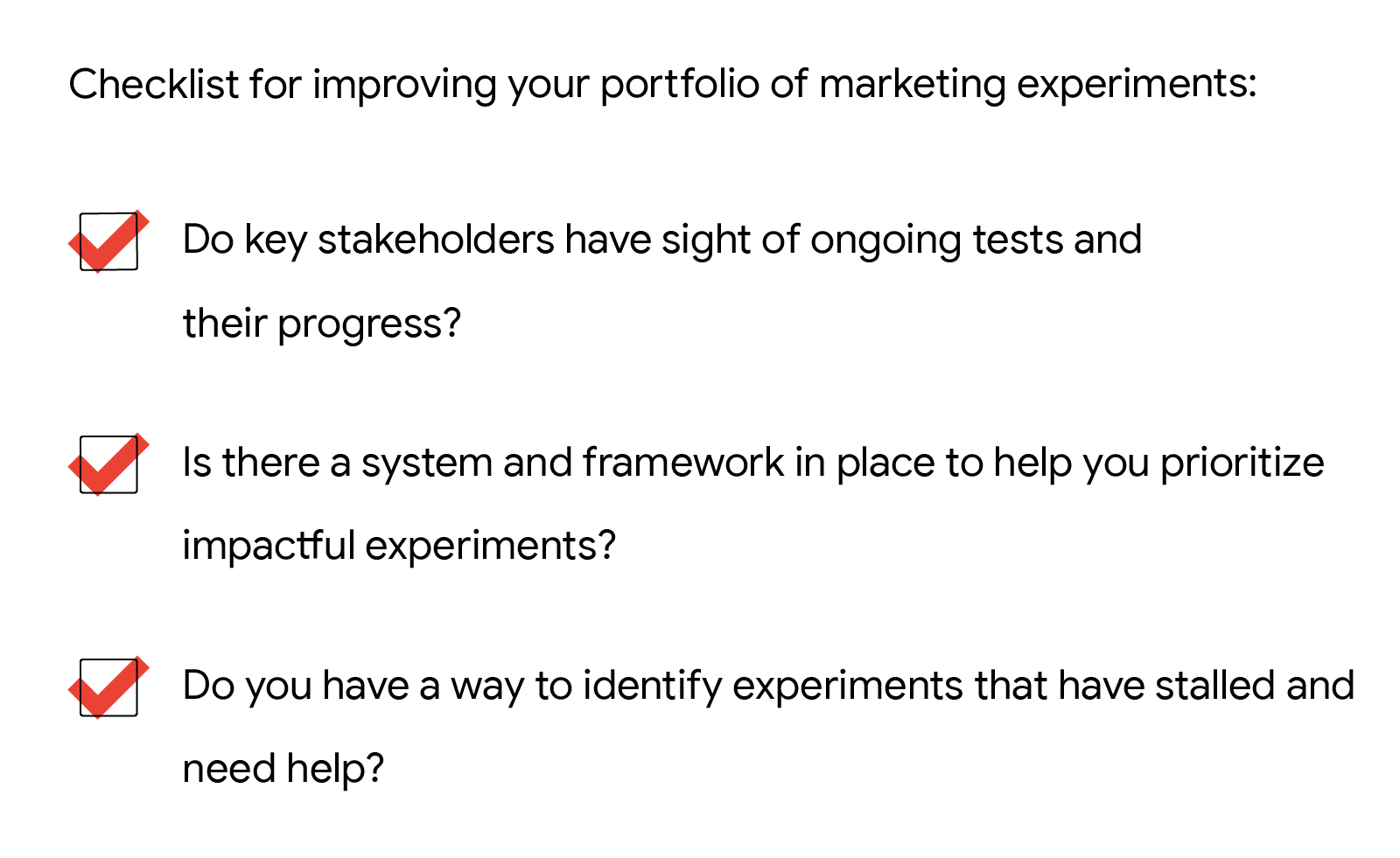 Tap into people's curiosity to share learnings and drive further growth
In my experience, marketers don't always take the time to share their learnings from the experiments they conduct. This, however, means missed opportunities because team members are always curious, and the learnings are often highly relevant and can help their teams accelerate growth throughout the company.
An example of how sharing learnings can drive the experimentation loop is when the YouTube team in India ran a language-based marketing experiment and shared its findings.
The team knew that many people in India set their phones to English, but prefer to communicate in Indic languages. So they ran tests to reach users in their preferred language and saw 1.8X higher click-through rates for promotions in Indic languages. When the Search team learned about the YouTube marketing experiment, my team helped them carry out a similar experiment, which also raised their click-through rate by 1.8X.
But it's not only successful experiments that should be shared. Learnings from unsuccessful tests can help others avoid making the same mistakes and wasting time and effort. Granted, it's not easy to share about failures openly in a high-performance work culture, but my team has found a constructive way to do this.
We work with the relevant project team to figure out the reasons for the initial failure and what we can do to overturn the results. When we succeed, or find out why there is no chance the experiment will work, we share our learnings and are transparent about any initial failure.
The sharing of successful and failed experiments helps to drive the experiment and growth loop.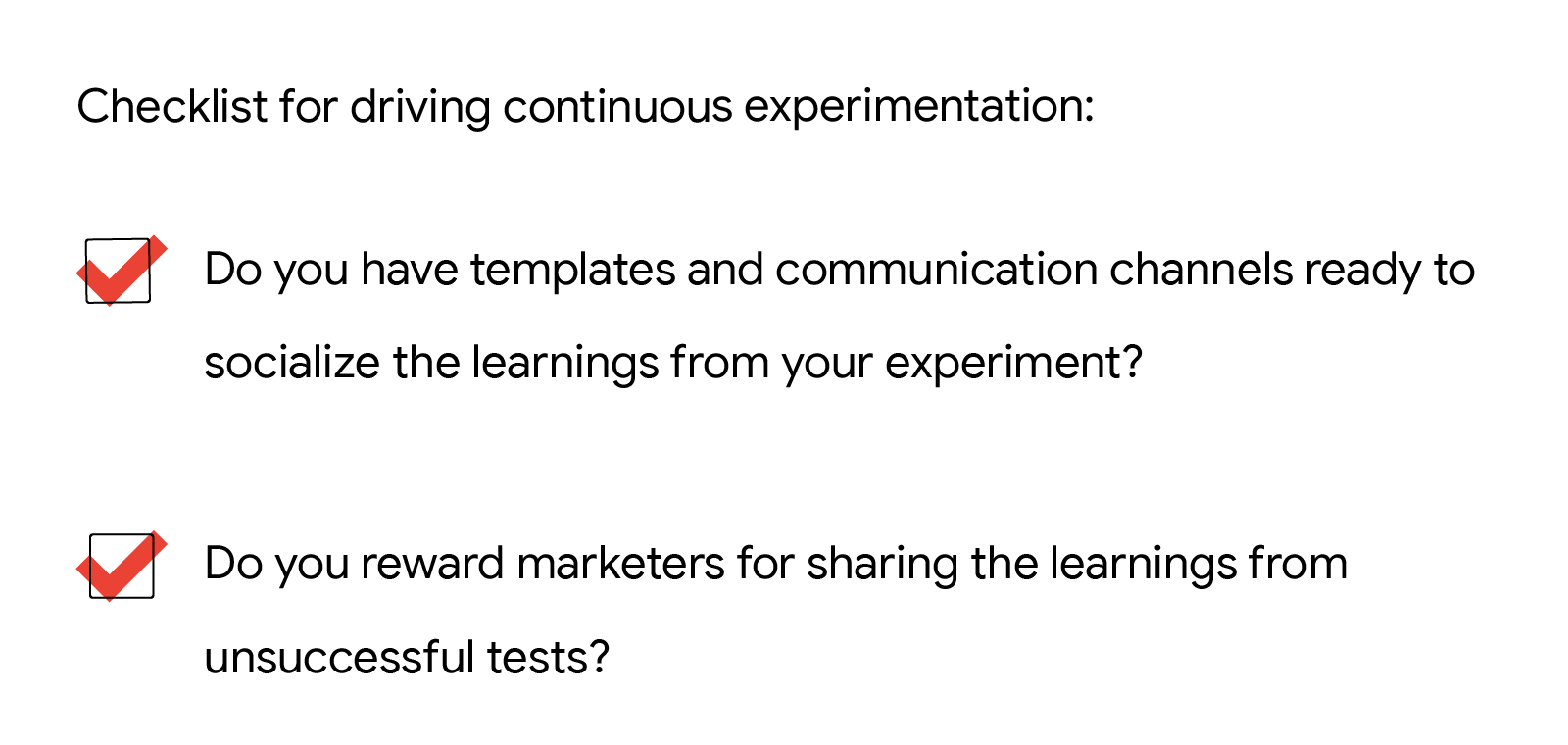 By tapping into common behavioral motivations, you and your team can overcome barriers to experimentation and create a virtuous circle of testing, learning, and innovating to drive sustainable growth. With that, happy experimenting.