Increasingly, Asian consumers are looking for local businesses in their vicinity. As location searches grow, brands need to connect the dots between context, intent, and immediacy to not only be there for their consumers, but to be useful too.
Over the weekend, my wife and I were invited to a friend's daughter's fifth birthday party, and we wanted to pick up a storybook as a gift. But as is almost always the case, we were short on time. I grabbed my smartphone and searched for children's bookstores near me and chose one that seemed to be closest to our house. I got both the directions to the store and its opening hours in a matter of seconds, and we made it just in time to buy the gift.
Turning to our smartphones when we need information has become a reflex. In the past year, mobile's share of online sessions across the web in Asia has increased by 33%. At the same time, we've seen a 20% decrease in time spent per visit across the web in the past year.1 In other words, as mobile accounts for more sessions, the sessions are becoming shorter overall. Here's what these numbers tell me: We no longer research purchases in long, dedicated sessions on a laptop or desktop. Our mobiles allow us to research and make informed decisions faster and in the moment. We call these micro-moments. These are the intent-rich moments when we turn to our mobiles to act on a need. They're also the same moments when our preferences are shaped, and decisions made by what comes up at the top of our little screens.
We recently shared some research around I-want-to-do moments and here, we'll focus on I-want-to-go moments—searches specific to location when consumers want to find something nearby.
Smartphones in those I-want-to-go moments
I-want-to-go moments have a very clear local focus with a sense of immediacy, whether it is finding a gym, restaurant, or in my case, a bookstore in the vicinity. As Chris Sinclair, iProspect client services director, explains, "Today, consumers are more likely to be searching for a store location on their mobile devices rather than on desktop or a tablet—that local focus is far more intense on that device type." In fact, 42% of online consumers in Indonesia search for local information on their smartphones compared to 12% who use a desktop. In Thailand, those numbers are 70% and 37% respectively.2
Mobile plays a very crucial role in these moments because it provides not only immediacy but also context such as location and time of day. In India alone, "near me" searches have increased 38X since 2011 and have doubled since last year3. This has not always been the case. Until a couple of years ago, we were happy looking up the locations of cinemas in town. From there, we'd figure out which one was closest and how to get there. Nowadays, we expect our search results to take our context into consideration: Globally, search queries for "cinemas near me" have dramatically overtaken searching for cinema locations over the past two years.
Search Interest Over Time

As people search for places nearby on their smartphones, they're also making pivotal decisions, often heading straight to the store they just searched for and found. Singaporeans are 112% more likely to go to the store and 70% more likely to buy something in that store if they searched on their mobiles with a decision-oriented intent such as checking for a specific location.4 As Bridget Dolan, VP of interactive marketing at Sephora, neatly summarizes, "You need to think of mobile as a magnet that draws people into your stores."
Success in a micro-moments world
Most consumers feel that local information features are very important, yet despite the demand, this feature is underutilized by businesses. For example, 74% of smartphone users in Australia feel that location information for businesses is important, but 61% also believe that there isn't enough location information widely available. When location information is unavailable, it elicits feelings of frustration or annoyance for a third of Australian customers, and 40% start exploring alternative options.5 The gap between consumer expectations and what's out there presents a great competitive advantage for businesses that offer helpful local information. Here are a few ways to help you win those I-want-to-go moments.
Identifying I-want-to-go moments
Tools like Google's Consumer Barometer can show what people are searching for when they are looking for "near me" information. By understanding what consumers look for, businesses can ensure that the right content is made available.
Types of local business information needed in APAC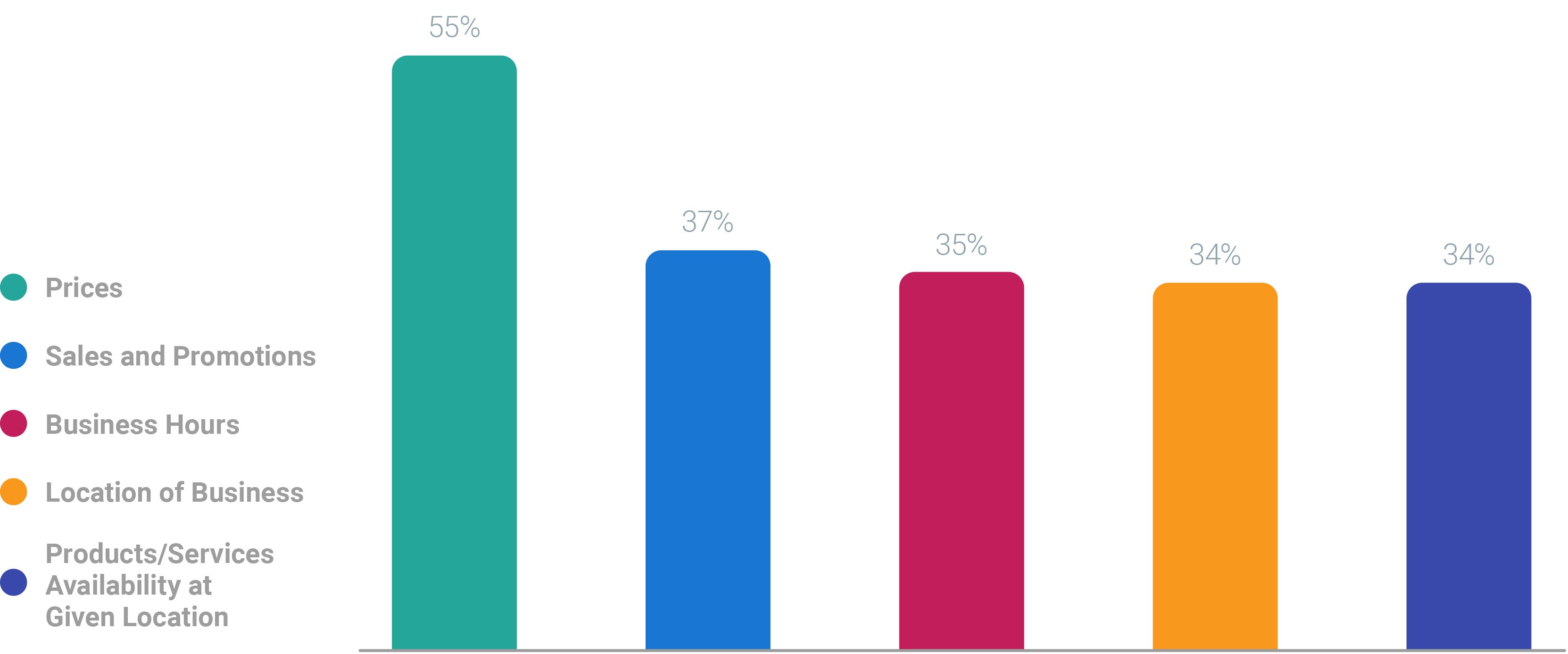 Businesses should think about how customers near their stores are interacting with their brands and ensure that they are not only present but also relevant in those moments.
Deliver relevance based on context and intent, in the moment
Use location signals to build in contextual relevancy while delivering results by highlighting directions, inventory, and pricing in your mobile site, app, and ads. Make sure that this information is easy and quick to access.

Citibank recognized that the majority of local business searches were happening on mobile, so it used this as context to deliver a range of location-based services in their app, such as shopping, dining, and travel credit card offers as well as ATM and branch locators.

To improve ad performance, use location bid adjustments to target nearby consumers and thereby increase the likelihood of them visiting your business.
Add your address, hours, and other information on Google My Business so that you are easily found when people are looking for you.
Beacons take location-based targeting a step further to proximity-based targeting. Thirty-eight percent of Asian online consumers looking for local information are within a few meters of the business.7 The beacon ecosystem is still in its early stages but allows a lot of room for creativity and offers marketers an easy, powerful way to create a positive customer experience by providing the right information at the right time during these I-want-to-go moments.
Measure what matters
"Research online, purchase offline" started as a trend on the desktop but now extends to mobile as well in these micro-moments. According to Keri Smith, director of mobility at iProspect, "What mobile has required us to do is redefine direct response. When it comes to measuring mobile, if we were to look at a 1:1 response or measurement of what our media budget is driving on our mobile site, we're missing a big part of that picture." For example, in the Philippines, 55% of those who research on their mobiles end up buying the product by physically visiting the store. It's therefore important to attribute value to all types of mobile conversions to measure the full value that mobile ads bring to your brand, including leading consumers to your store.
Adidas recognized that potential customers often locate stores via their mobile phones, so it used location extensions in its search ads. The company looked at internal data to calculate the dollar value of every store locator click, revealing the incremental lift in return on investment, rather than simply measuring conversions from its e-commerce channel. Adidas calculated that store locator clicks generated an extra $1.58M in revenue beyond direct mobile purchases.
Domino's Australia sensed that analyzing revenue generated only from its mobile site was a narrow approach. The team began measuring two new conversion types that were important to the company: app downloads and store locator clicks. By using the existing revenue base from its mobile site and adding the revenue from app downloads and store locator clicks, Domino's discovered that its revenue from mobile ads was actually 63% higher than previously calculated.
As Google searches about location expand rapidly in Asia and as more people access the internet via mobile, there is a tremendous opportunity for brands to make sure that when consumers want to go, they are the destination of choice.