To win online shoppers in a competitive landscape, Wowma tapped into automation to fuel a smarter search strategy. Read how the brand used machine learning to discover untapped opportunities in its massive inventory and increase sales from new customers.
The e-commerce opportunity in Japan is riper than ever. According to a survey conducted by the Japanese Ministry of Economy, Trade, and Industry, the volume of e-commerce transactions in the general consumer goods category is approaching nine trillion yen and is growing at an annual rate of 7.5%. But in an environment where frequent shoppers typically wind up buying from their favorite retailers, it'll take smarter, more agile marketing strategies from brands if they want to attract new customers.
Wowma, an online marketplace operated by the KDDI Group that opened in early 2017, has more than 3,000 retail partners and a huge inventory. Until recently, the brand relied heavily on Shopping ads to reach new customers on search. "Aside from women's fashion — where we saw our best last-click performance — we were unsure which other categories had the biggest growth potential," said Katsuya Motoyoshi, the web marketing team leader for KDDI Group's marketing department. "Considering the size of our inventory, manually bidding on every possible keyword and waiting on the results was out of the question." To expand its share in a competitive market, the brand needed a more efficient way to engage potential shoppers on search. 
Using automation to find and reach new audiences
In 2018, Wowma shifted away from its last-click mindset and set up a new search strategy fueled by machine learning. Using a combination of Dynamic Search Ads (DSA), Data-Driven Attribution (DDA), and Smart Bidding, the brand was able to discover untapped search queries, optimize its bidding in real time, and convert more customers among intense competition.

1. Show up for new customers
To decide which queries to home in on, Wowma used DSA to develop search ads based on its site content. Wowma then uncovered and bid on additional queries by matching shoppers' generic search terms with products on its website. By pulling content from relevant landing pages, DSA also automatically generated headlines and description text.
Automation is a boon to more than just brands with big inventories — it's essential to the future of smarter, more effective marketing across the board.
"Dynamic search ads were a double whammy," said Motoyoshi. "They not only helped our marketing team save time on manually compiling keywords, but they also helped new customers easily discover products on our website."
2. Use audience insights to accurately value keywords
By setting up a DDA model in tandem with DSA, Wowma was then able to understand the true click value of each keyword surfaced in its campaigns. Rather than continue giving full credit to the final click, Wowma used DDA to identify additional keywords that led to the final conversion and assigned varying credit to each one.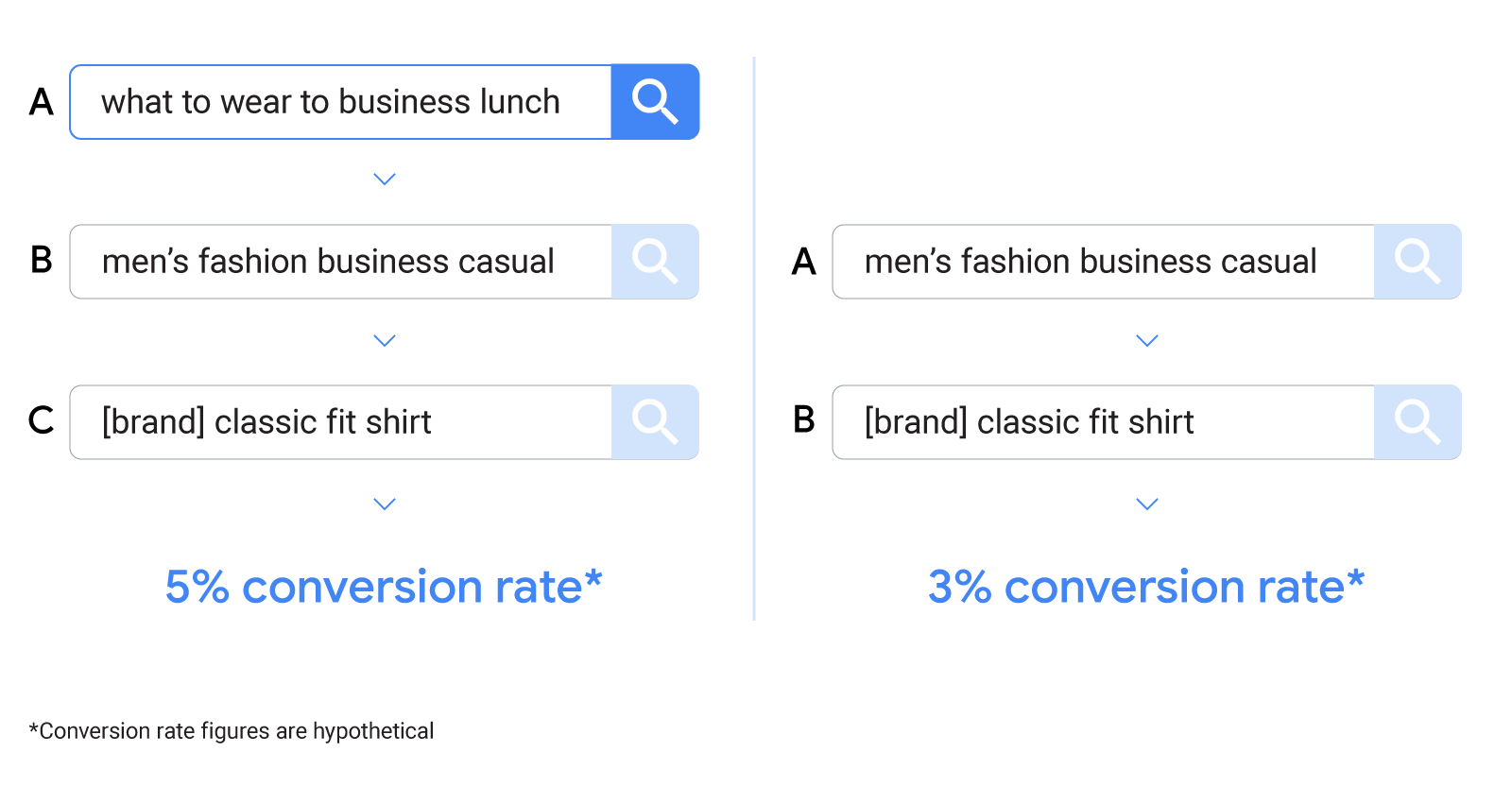 Consider the two search paths above as an example. In one path, Wowma sees a 3% conversion rate from shoppers who started with keywords like "men's fashion business casual" and then clicked through to the brand keyword. They also see a second path that starts with a different generic keyword, "what to wear to business lunch," but drives a 5% conversion rate. By comparing the two, Wowma applied DDA to uncover and automatically prioritize bidding on keywords that lead to more valuable conversions.
3. Automate bidding to drive more valuable conversions  
With the goal of increasing sales from new customers, Wowma's final step was to use machine learning to focus on maximizing conversions that drove the most revenue (rather than ones that drove the most clicks or at the lowest cost per acquisition). The brand used Smart Bidding based on a target return on ad spend (ROAS) to ensure it was bidding on the new queries surfaced through DDA. Rather than simply bidding on every keyword that contributed to a sale, Wowma was able to focus on queries that led to its most valuable conversions.
The full-funnel impact of machine learning
By combining these machine learning solutions, Wowma uncovered 50% more keywords to include in its campaigns from 34 different categories. Within a month of adopting DDA, the brand increased its new customer acquisition by 16%, which led to a 1000% increase in revenue for men's fashion and contact lenses — two categories that had never previously seen strong performance.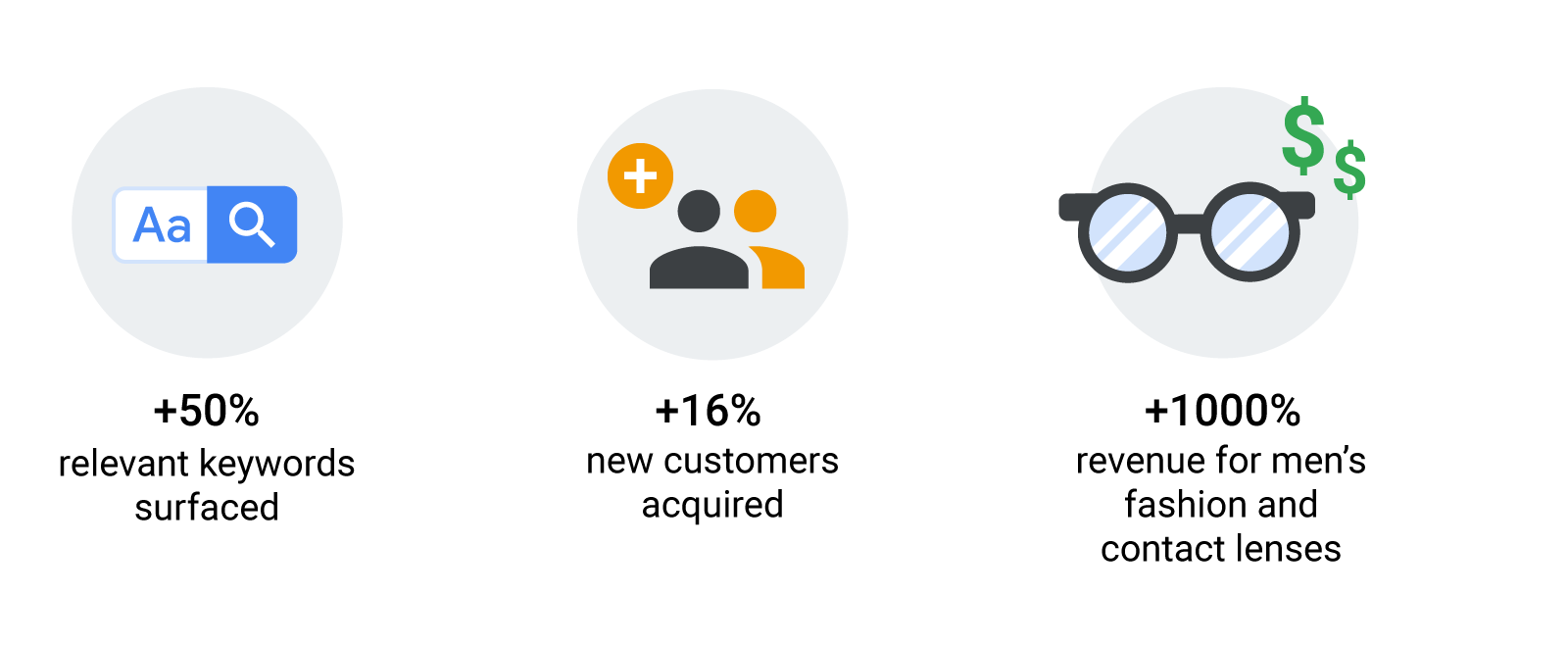 "Machine learning was crucial to parsing insights from our heaps of data and finding where we could show up for new customers," said Motoyoshi. "Along with uncovering new opportunities for growth, it also helped us stay relevant and engaged down the funnel, ultimately leading to higher sales."
Special thanks to Google's Maimi Ito (Measurement & Attribution Specialist) and Natsumi Kondo (Product & Solutions Expert) for their contributions to this article.