Brands in Asia are facing a significant challenge: shrinking marketing budgets due in no small part to the pandemic's uncertainty. Marketers under pressure have been looking for ways to measure the effectiveness and value of their marketing efforts and to maximize the impact of their marketing spend. Savvy marketers, however, have cracked the case, using video marketing to deliver and measure effectiveness at every level of the consumer journey.
The key pillars of marketing effectiveness are reach, brand impact, and sales outcomes. Reach ensures brands focus on connecting with the right audiences efficiently and at scale. Brand impact aims to drive awareness, consideration, and favorability with new and existing customers. Sales outcomes help brands concentrate on delivering results and maximizing their ROI.
For marketers, effectiveness spans three key pillars: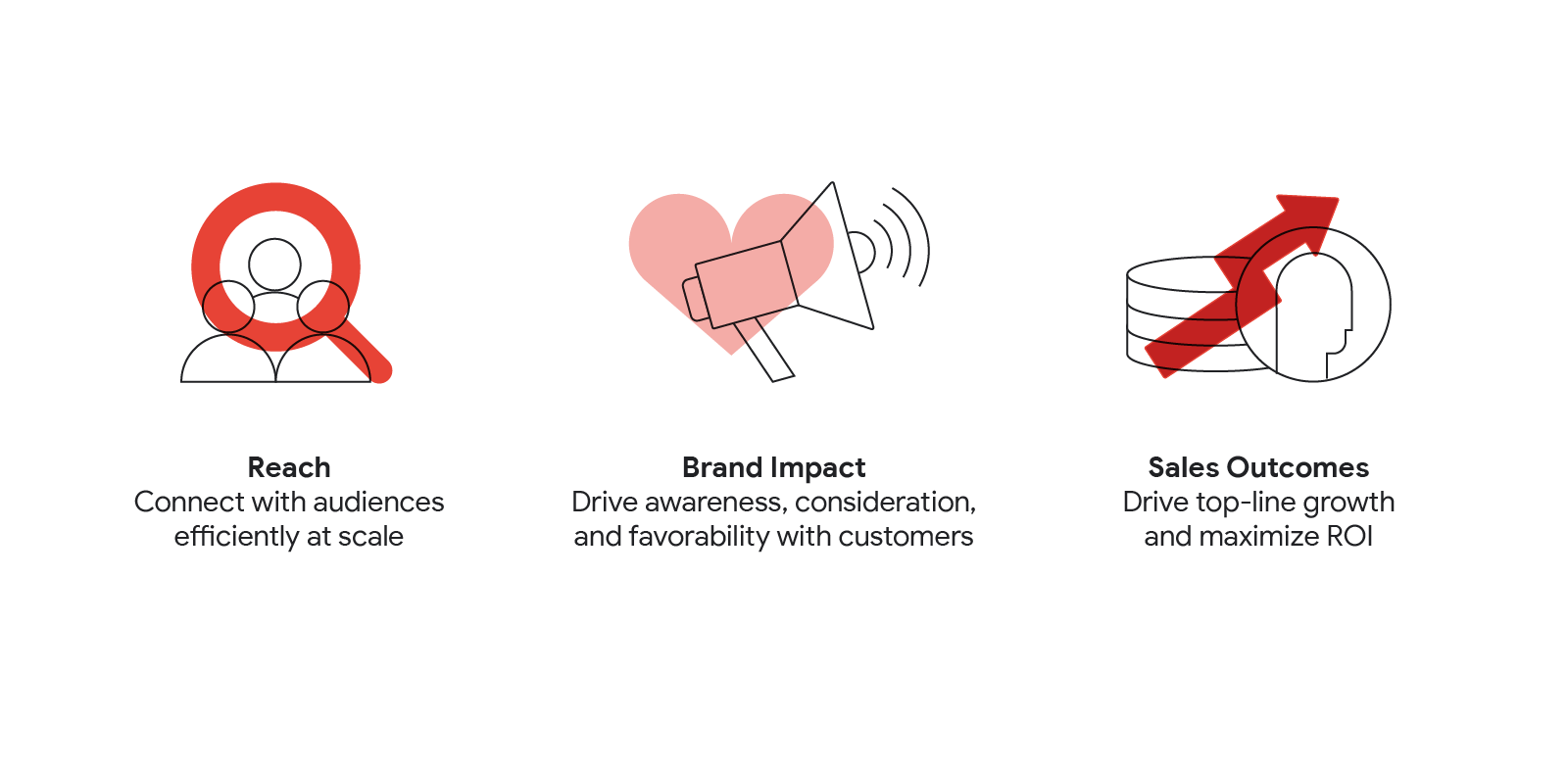 Video marketing covers all three pillars of marketing effectiveness, especially in APAC. Across the region, people are watching more digital video than ever, and there has been immense growth in reach and watch time on YouTube across devices. YouTube on connected TV, for example, grew by more than 75% year over year.1 Already, well-informed brands have been sharpening their video marketing strategy to maximize the impact of their marketing spend.
Spoiler alert: The following are three open secrets successful marketers know, which they have used to unlock the power of video marketing to help them grow bottom lines.
1. There are people you can't reach with TV
With the rise of online video, there's been a huge shift in viewership and video consumption habits, and YouTube is at the heart of this shift. The platform has the content people are looking for and the creators they want to watch. We are observing large viewership numbers in countries like Japan (62 million),2 Indonesia (100 million),3 and Vietnam (45 million),4 and people say that YouTube is the number one platform that they would miss the most if it were no longer available.5
In this video-viewing world, there are also people who only consume content online. A TV-only campaign wouldn't reach these people, so marketers need to go where these audiences are. In a meta-analysis of cross-media reach reports, we noticed that, on average, over 30% of the audiences who were reached on YouTube in Indonesia, Japan, Philippines, Taiwan, and Thailand were incremental to TV. In markets like Vietnam, Korea, and India, the incremental reach was greater than 50%.6
Reaching audiences that TV can't: YouTube's incremental reach in APAC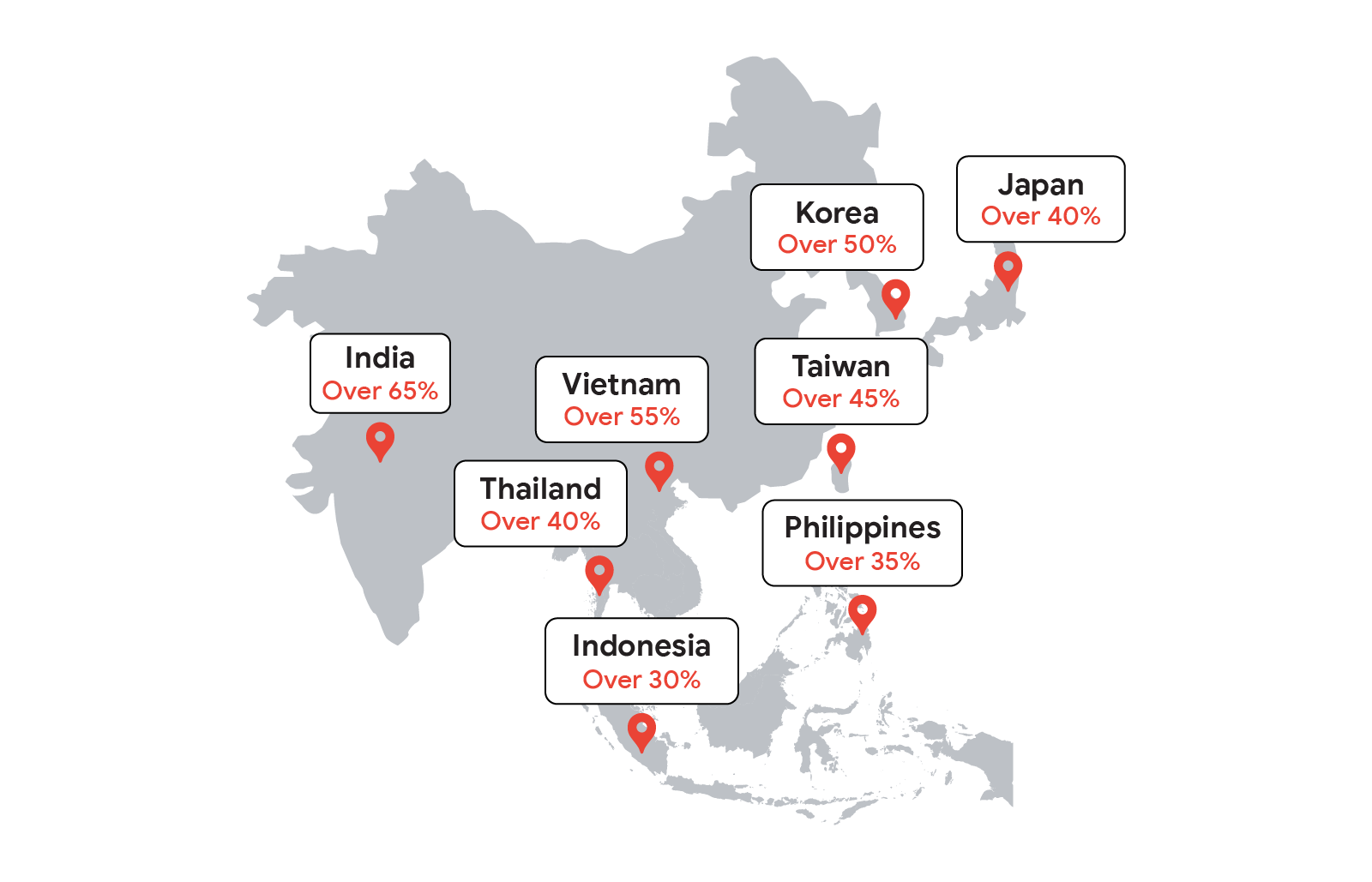 To leverage YouTube's incremental reach and avoid missing out on a critical part of the audience, brands should ensure that their video marketing strategy has the right media mix. They should also have a robust measurement method for determining channel reach and efficiency, and consider using tools like Google's cross-media reporting tool (XMR) to measure the reach and efficiency of their YouTube and TV campaigns.
Jollibee Philippines, for example, adopted a combined TV and YouTube marketing strategy, and used XMR to gauge impact from both platforms, after it noticed a 15% decline in its TV audience share in early 2020 and an increase in online video viewership.

"Our media strategies had to adapt as our audience accessed more videos and watched less TV. Hence, we deliberately took on a digital-first strategy to reach our customers more effectively."
It built an always-on YouTube presence with several creative campaigns, resulting in an overall incremental reach of 22%. One campaign, in particular, which promoted its fried chicken offering, Chickenjoy, delivered 10% growth in overall reach compared with the previous year, while still remaining within the same campaign budget range.
By using the right measurement tools, the brand was also able to optimize the reach and frequency levels of its campaign assets on YouTube, such that the Chickenjoy campaign also generated an 8% lift in ad recall. This is a best-in-class result for restaurants, based on YouTube's Brand Lift Survey, which measures the direct impact of video ads throughout the consumer journey.
2. Reach needs engagement for results
Massive reach doesn't mean that a brand will necessarily stay top of mind. Brands need to ensure they're making an impact by meaningfully connecting with audiences, and online video has shown that it fuels strong engagement and improved brand metrics. For instance, 63% of YouTube viewers say they bought from a brand because they saw it on YouTube.7 Similarly, over half of the respondents in a study say that YouTube makes them more aware of new brands.8
By using the Brand Lift Survey for digital video marketing campaigns, marketers can easily find out if their ads are directly touching the hearts and minds of consumers. We analyzed hundreds of Brand Lift Surveys and found that more than 80% of YouTube bumper campaigns in APAC drove a significant lift in ad recall, with an average relative lift of 13.6%. Our research also shows that more than 70% of non-skippable ad campaigns in APAC drove a significant lift in brand awareness, with an average relative lift of 8.6%.9
Technology company Grab successfully increased its brand impact during Ramadan this year with YouTube marketing. It ran a video campaign that used humor and pop culture references to stay top of mind as people's trusted go-to for all their Ramadan celebration needs. The campaign helped Grab reach 65 million people in Indonesia, or 84% of those they wanted to reach, and it also drove 2.5X higher ad recall and a 1.3% lift in purchase intent.

"As the number one video platform in Southeast Asia, we have always considered YouTube to be an essential channel to effectively build our brand at scale. Specifically, our video strategy is around efficient reach and awareness through digital platforms like YouTube. Strong measurement frameworks are really important to prove the impact of brand building on metrics that matter, like awareness, number of app orders, cost efficiency, and overall share of voice."
3. Attribute sales to marketing communications
Even when brands are able to reach mass audiences and exceed their brand metrics, a concern remains among businesses and marketers: Did the effort and results impact the bottom line? Indeed, until recently, it has been challenging for marketers to visualize how reach impacts sales.
But by using comprehensive measurement tools like marketing mix models (MMMs), brands can make comparisons across all marketing investments and connections across the customer journey and multiple channels. In fact, a recent meta-analysis of 600 MMMs across APAC showed that YouTube is a key channel for generating incremental sales. In APAC, YouTube generated 3.9X greater incremental sales versus TV, and ROI was 1.2X greater than that of TV. Additionally, return on ad spend grew by 108% for brands after collaborating with Google, a 7X increase compared with brands that did not collaborate with Google.10
P&G Thailand partnered with Google and Mediacom this year to use MMM for the first time. The consumer goods brand wanted to refine its video marketing strategy and identify the right media mix that would enable it to improve cost efficiency and generate incremental sales. The collaboration and use of MMM enabled the brand to make essential pivots in both its creatives and media implementation to maximize reach while staying hyper-focused on improving its media ROI.
It optimized the creative assets for its shampoo product Pantene by using Google's ABCD principles to attract, brand, connect, and direct consumers, and generate the most impact. It also diversified its media strategy to include more efficient ad reach formats, such as masthead and bumper ads.
With the new MMM-informed strategy, P&G Thailand delivered higher reach with a significant increase in ROI, and 44% cost per impression reduction. The new format mix also improved consumer engagement and brand awareness, and grew purchase intent, as seen from the higher volume of branded search. Most importantly, the strategy pivot enabled P&G Thailand to increase the market share of Pantene, and achieve a stronger result in both its top and bottom lines.
"The COVID-19 pandemic has brought many unprecedented challenges to our business for both the top and bottom lines. It is imperative for us to ensure we maximize every investment dollar to pedal through the crisis. We have seen an accelerated increase in digital video consumption at the expense of TV viewership. And YouTube is a critical platform for us to reach more consumers every day."
There's no secret to delivering and measuring marketing effectiveness. By leveraging the phenomenal growth in digital video consumption and using the right marketing measurement tools, you will know how best to reach and engage your audience impactfully to drive sales.