Viacom 18's Indian video streaming site, Voot, hosts an ever-growing library of TV shows, movies, and original content. Every new show has its share of plot twists and can't-miss moments. The brand's marketing team wanted to showcase new content in display ads, but manually creating thousands of ad creatives every week was nearly impossible. The team needed an innovative approach; here's how they did it:
Goals
Grow Voot's user base in India
Increase the number of video streams started by users
Reduce time spent building and deploying ad creative
Approach
Built custom creative templates with Display & Video 360 to dynamically insert Voot content into ads
Optimized campaigns to increase number of video streams started by each user
Results
75X increase in video streams
80% decrease in cost per video stream
12X increase in click-through rate (CTR) for data-driven creative campaigns compared to static creatives
24,000 marketing hours saved every month
Viacom 18's Voot, an on-demand video streaming platform, is one of the major players in India's rapidly growing online video space. The brand hosts more than 38,000 hours of content on its website and mobile app—more than three years' worth if watched back-to-back—including blockbuster movies, cartoons, Voot originals, online-only features, and TV shows made available for streaming within a day of airing.
Voot's vast inventory is a major draw for its users, but with thousands of hours of new content pouring in every week, the team needed a quick and efficient way to keep them up-to-date with the latest content. The idea was to use display ads to feature fresh plot twists and developments, driving new and existing users to the brand's website and mobile app to catch the latest happenings.
The problem? Manually creating and delivering thousands of creative variations every week is practically impossible, and doing so saps valuable time that the marketing team could use to find new users or promote multiple shows at the same time. The solution? Using Google Marketing Platform to automatically develop and deliver highly relevant, customized display ads in a matter of minutes.
Voot uses Google Marketing Platform to streamline the creative process
The first step for Voot's marketing team was building the data feed that Display & Video 360 would use to populate each display ad. After filling a spreadsheet with episode titles, images, and URLs from different shows and shorts, Google's team helped build custom templates and feed formats. From there, Display & Video 360 would automatically transform the data feed into customized display ads featuring copy and imagery tailored to each show.
Once the data feed and templates were ready for launch, Voot used Display & Video 360 to serve the ads to users on both desktop and mobile. Using custom affinity audiences, the brand served ads for MTV's "Big F" to fans of romantic thrillers, for example, while drama TV fans would see ads for "Naagin," a highly popular supernatural fantasy drama. DBM also enabled Voot to optimize its campaigns toward the number of video streams started by each user.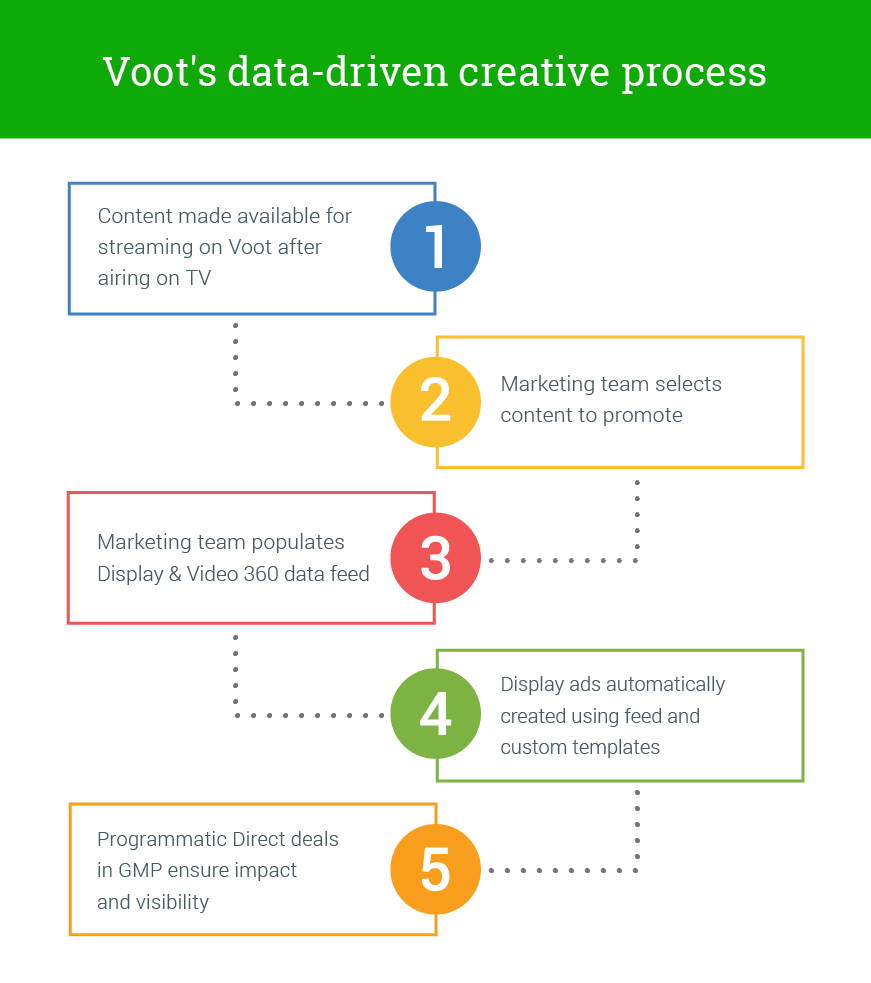 Whenever something new or interesting happened in a show—such as the frequent unpredictable interactions on "MTV Roadies"—Voot's marketing team simply updated the data feed, and all display ads were refreshed in just a few minutes.

To drive more video streams from its mobile app, Voot's marketing team used GMP's app install creative templates, which pull in information about the Voot app from the Google Play store to instantly generate customized display ads. By simply updating a few lines of text in the template, Voot could keep its ads up-to-date and encourage users to download the app to watch the latest video content.
From start to finish, the data-driven desktop and app campaigns were a close collaborative effort between Voot's creative team; its media agency, Sokrati; and Google. Each team's skillset was crucial to ensure the brand got the most value out of using data to drive its media and creative strategies.
Data-driven creative helped boost video streams and cut costs
Voot ramped up video streams on both desktop and mobile by shifting to a data-driven creative process, all the while cutting its costs per stream. The campaigns led to a 75X increase in overall video streams with an 80% decrease in cost per video stream.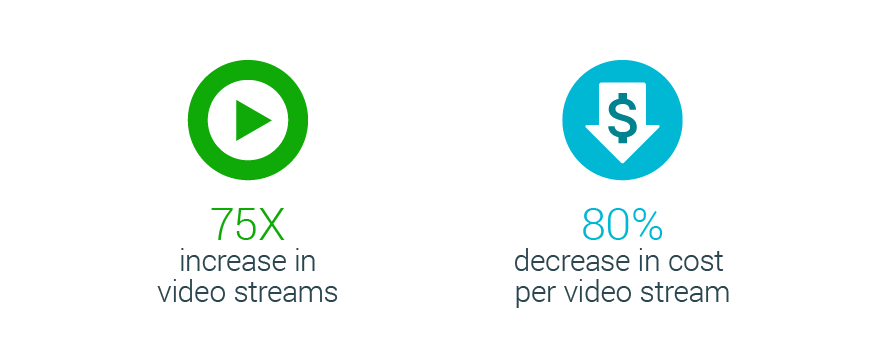 Best of all, the new process was a massive time-saver. Voot's campaigns can now go live in a matter of minutes instead of days, freeing up around 24,000 hours every month that the brand's marketing team can use to promote new content. In the past, the team could only promote four or five shows at once; data-driven creative enables them to promote more than 25 shows simultaneously, and that number is still growing.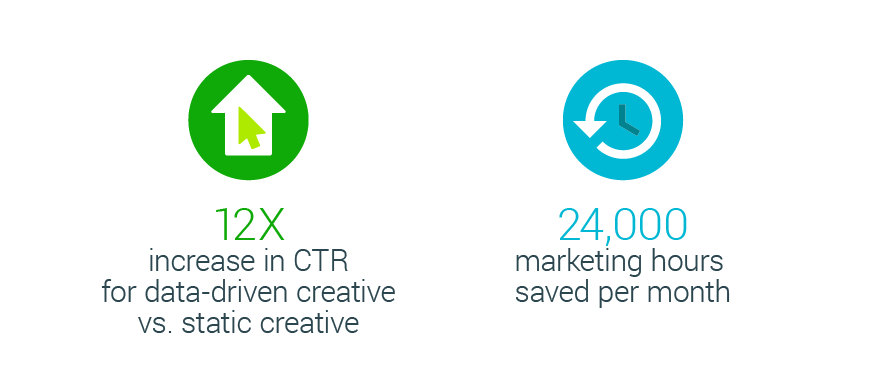 Having realized the value of automation firsthand, Voot's marketing team is looking forward to making data-driven creative a major player in future campaigns. "Piecing together each ad creative for these campaigns could've taken us almost nine years in terms of man hours," said Gaurav Gandhi, chief operating officer at Viacom 18 Digital Ventures. "Google's tools transformed a tedious process into a quick and simple one and allowed us to keep our loyal users engaged and up-to-date on their favorite video content."