Over the past few years, the way people use Search has evolved. From oral care to mobile banking, Indonesians often turn to Search to find the most relevant and helpful information on the brands and products that best suit their needs.
We've seen a 28% increase in search interest for "sekarang" (right now) as Indonesians search for the most relevant and up-to-date information as well as a rise in search queries that incorporate personal and conversational language, such as "saya" (me), which saw 37% year-over-year growth, and "untuk saya" (for me), which increased by 60% year over year.1
Indonesians are personalizing their search queries

As queries become more nuanced, advertisers need to rethink how they can create personalized user experiences to build meaningful engagement and top-of-mind presence. To do this, we explore how four brands in Indonesia set out to understand how their audiences were searching and used the following insights to rethink their strategies.
Dig deep into data to understand your audience's intention
As the digital space becomes more crowded, understanding your audience's intentions — and personalizing your ads accordingly — will help you stand out.
Following Indonesia's stay-at-home order, Indonesians began spending more time decorating and improving their homes. Search interest for "rak" (shelves) rose by 31% year over year, as well as queries relating to "ergonomis" (ergonomic products), which spiked by 158% year over year.
With search interest also increasing in "perabot rumah" (home furniture), Swedish furniture company Ikea needed a way to identify and reach out to people who were looking to furnish their homes.
Using insights from internal data from people who had previously interacted with Ikea's website and audience targeting from Google Ads, the brand created target audiences based on a person's life stage — from singles to mature families to those in the market for home improvement and furniture — as well as focusing on key cities in Indonesia.
After understanding the different groups that are in the market for furniture and their personal needs, Ikea made ad copies based on these insights.
Ads Ikea used to reach audiences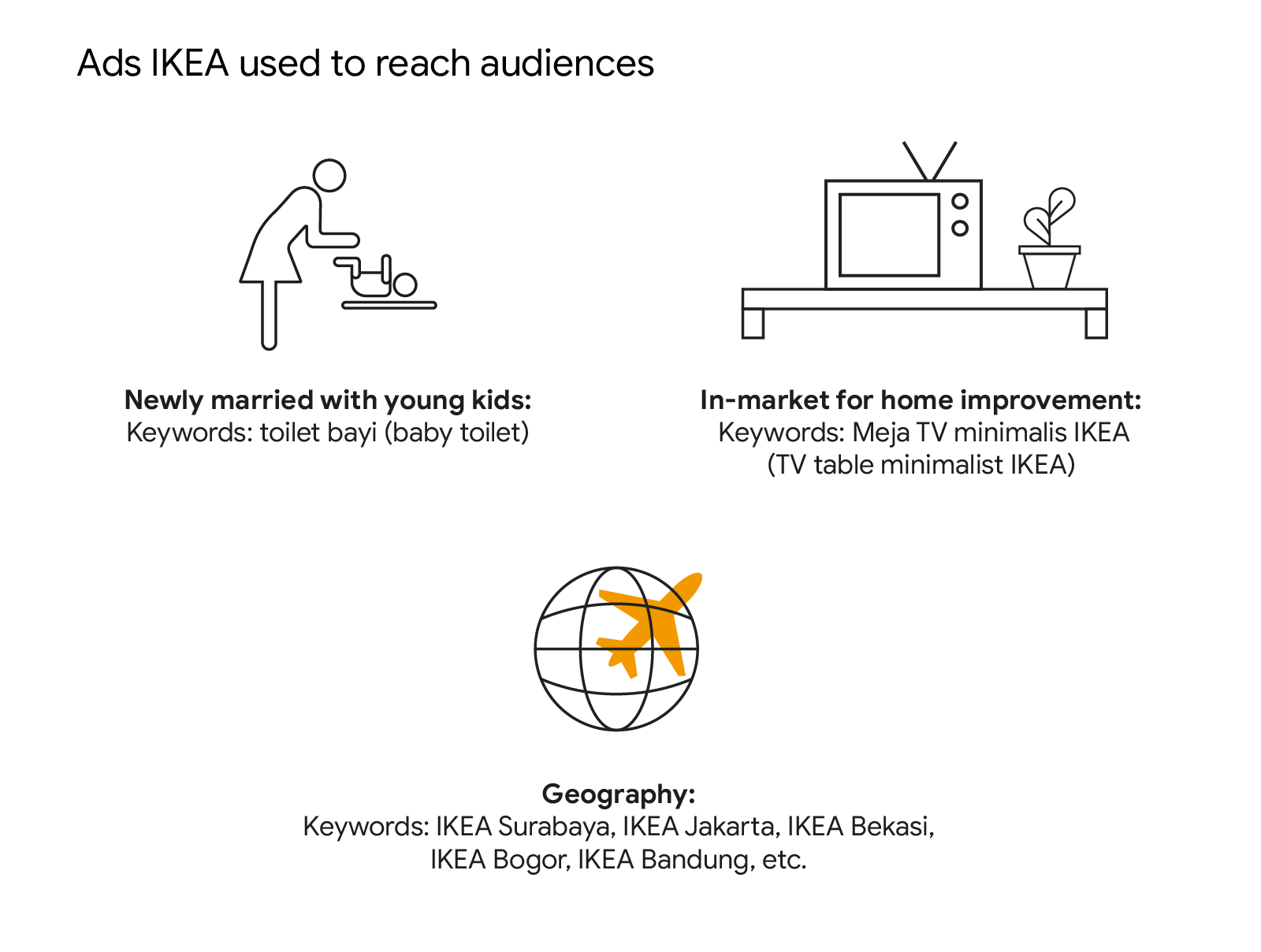 As a result, Search marketing helped to deliver higher conversions at a lower cost per acquisition, making it the biggest digital channel for Ikea. Its website received 2X as many sales, largely driven by Search, as well as a 20% higher conversion rate compared with the previous quarter.
Show you have the solution people want
It's a bit of a shot in the dark to attempt to predict what messaging will resonate with audiences. But by learning what topics consumers are interested in, brands can personalize messaging to provide solutions to their problems.
Wanting to assist consumers who were searching for ways to improve oral care and prevent tooth-related problems, Unilever's Pepsodent evaluated its existing content to understand what information was missing from its website that could help answer some common oral care questions.
After learning that its audience was searching for queries such as "obat sakit gigi" (medicine for toothache) and "cara menghilangkan bau mulut" (ways to remove bad breath), the brand created organic content on its website to answer these questions — going beyond just touting the benefits of its product.
At the same time, the brand used Dynamic Search ads to personalize ad copy according to what consumers searched for, automatically generating a headline based on their search query and linking to matching content on the site.
As a result, Pepsodent saw a significant increase in clickthrough rate (CTR) and website visits (compared with previous campaigns).
Engage people from the beginning of their purchasing journeys
Instead of waiting for audiences to come to you, it's important to reach people early in their purchase journeys by providing them with useful information along the way.
Over the past year, Indonesians have begun their purchase journeys with search terms that start as questions, such as "cara untuk" (how to), which increased 46% year over year, and "cara membuat" (how to make), which rose by 13% in the same period.2
Jenius, an Indonesian digital bank, noticed more Indonesians were proactively educating themselves on financial issues. It saw specific search interest around financial how-tos, like "how to open a bank account," and more complex queries, like "how to get a bank loan to kickstart a new business."
Jenius wanted to be top of mind through the education journey and set out to discover insights from consumers' searches. It found that queries such as "digital wallet" had surged 130% year over year, while "mobile banking" had increased by 1.4X, so the brand used ad personalization to show copy that would be relevant to these queries.
Search interest in Indonesia for financial queries

Depending on the customer journey, Jenius bid on two different groups of keywords — generic and branded.
Generic keywords were geared toward broad search queries made by first-time savers and entrepreneurs. For example, Jenius bid on the keyword "ide bisnis" (business idea) with ad copy that read: "Berbisnis Semakin Mudah | Kasir Digital Buat Bisnis Kamu | Tingkatkan Omset Bisnis Kamu" (Doing business has just been made easier | A digital cashier for your business | Increase your turnover).
As people became more familiar with financial services and began searching specifically for Jenius products, they saw branded ads. Keywords such as "Pembayaran Online Jenius" (digital payment Jenius) triggered ad copy that read: "Jenius Pay — Mudah Transaksi Online Tanpa Kartu" (Jenius Pay — Easy online transactions without a card).
By helping people move along the customer journey, Jenius was able to drive 200,000 new users onto its platform and achieved a 2X CTR compared to the brand's 2018 campaigns.
Help people based on their current life events
When connecting with consumers, it's important to understand how their lives change over time. Personalizing your ad copy based on their life events will help build a relationship and gain your brand more loyal advocates over a longer period.
Knowing that people search for answers during novel life events, Danone SGM, a baby formula brand, was keen to provide relevant information on health, nutrition, and stimulation to new moms starting their motherhood journeys.
The brand decided to use Responsive Search ads (RSA) to show different tailored messages that led consumers to specific content on its website depending on whether they were new moms or already caring for their newborns. RSA dynamically created personalized search ads from a combination of headlines provided by Danone SGM that were most relevant to the consumer's query.
To do this, Danone SGM bid on brand keywords containing its product names and keywords related to its baby formula products. It also bid on generic pregnancy and baby-related keywords to capture people at different stages of their motherhood journeys.
With more relevant messaging, the CTR was 8% higher than Danone SGM's previous campaigns, resulting in a 70% uplift in more moms and moms-to-be visiting their website. These became quality leads for the brand to cultivate membership for its mother's club loyalty program, helping to retain consumers and encouraging them to continue buying its milk formula.
As the way people use Search evolves, so should your brand's Search marketing strategy. By understanding your audience's intentions you can provide helpful solutions for them along their customer journey. Personalizing the Search user experience will help win top-of-mind presence with your audiences, and hopefully lead to more engaged and loyal customers.
Contributors: Stephanie Onie, Account Strategist; Nico Mulyawan, Client Partner Lead; Mickey Pangilinan, Industry Manager; Ryan Sidarto, Industry Manager