Chinese New Year is widely celebrated in Asia, especially in areas with sizable Chinese populations. This year, the big day falls on February 8th, and people across the continent will observe the commencement of the year of the monkey. Traditions abound, with most centered around family reunions, joyous festivities, auspicious well-wishes, and heaping mounds of food proudly displayed on red-clothed tables.
Southeast Asia is certainly a mobile-first region, with 61% of the population using smartphones.1 And in 2015 alone, 29% of Chinese New Year-related queries were performed on mobile.2
To see how people turn to their phones to help celebrate the big day, we took a look at search trends across Malaysia, Indonesia, Thailand, Vietnam, the Philippines, and Singapore. Searches for "Chinese New Year" grew across the board—by nearly 300% in Malaysia and 225% in the Philippines from 2014 to 20153—and are expected to rise even further this year as more and more people across the region come online.
Mobile queries growth for "Chinese New Year" Q1 YoY 2014–20153:

Gong Xi moments
When a need arises, more often than not we look to our phones for help with how to make the best nian gao (new year cake) or where to buy that red dress to usher in the new year. These real-time, intent-filled moments are called micro-moments. And they're the best opportunities for marketers to connect with consumers at the exact moment they're looking for something.
The search volume peak for Chinese New Year typically takes place during the actual holiday period4 with many consumers looking for special promotions and discounts. Because Chinese New Year is quickly becoming one of Southeast Asia's biggest retail opportunities (with last year's e-commerce sales growing by 40% in the fortnight leading up to the holiday), understanding consumer intent and meeting consumers' needs in their micro-moments are key to winning more hearts, minds, and dollars. This is especially true given that mobiles facilitate over a third of transactions in Asia.
Around the new year in Vietnam (Tết), for example, queries for jewelry surge because the new year is considered the prime time to buy gold. This presents a great opportunity for marketers to stay ahead of the game and stay connected to their customers.
Winning micro-moments during Chinese New Year: Be there
As people get ready for the Chinese New Year, many preparations focus on decorating the home and buying new clothes. Understanding intent—what people are searching for and when—helps brands be there in those moments. Search is, after all, a great proxy for intent.
New Year-related search queries begin to increase a month prior to the event4, and the fastest-growing categories are apparel and footwear. In Malaysia, for example, people want to find out how to celebrate the holiday and turn to the internet for answers. The three main themes of "what" questions they ask include: "what to do," "what to eat," and "what to wear." Similarly, the three main categories of "where" questions are: "Where do I celebrate," "Where do I go to eat," and "Where do I buy decorations?"
Top Chinese New Year-related questions searched in Malaysia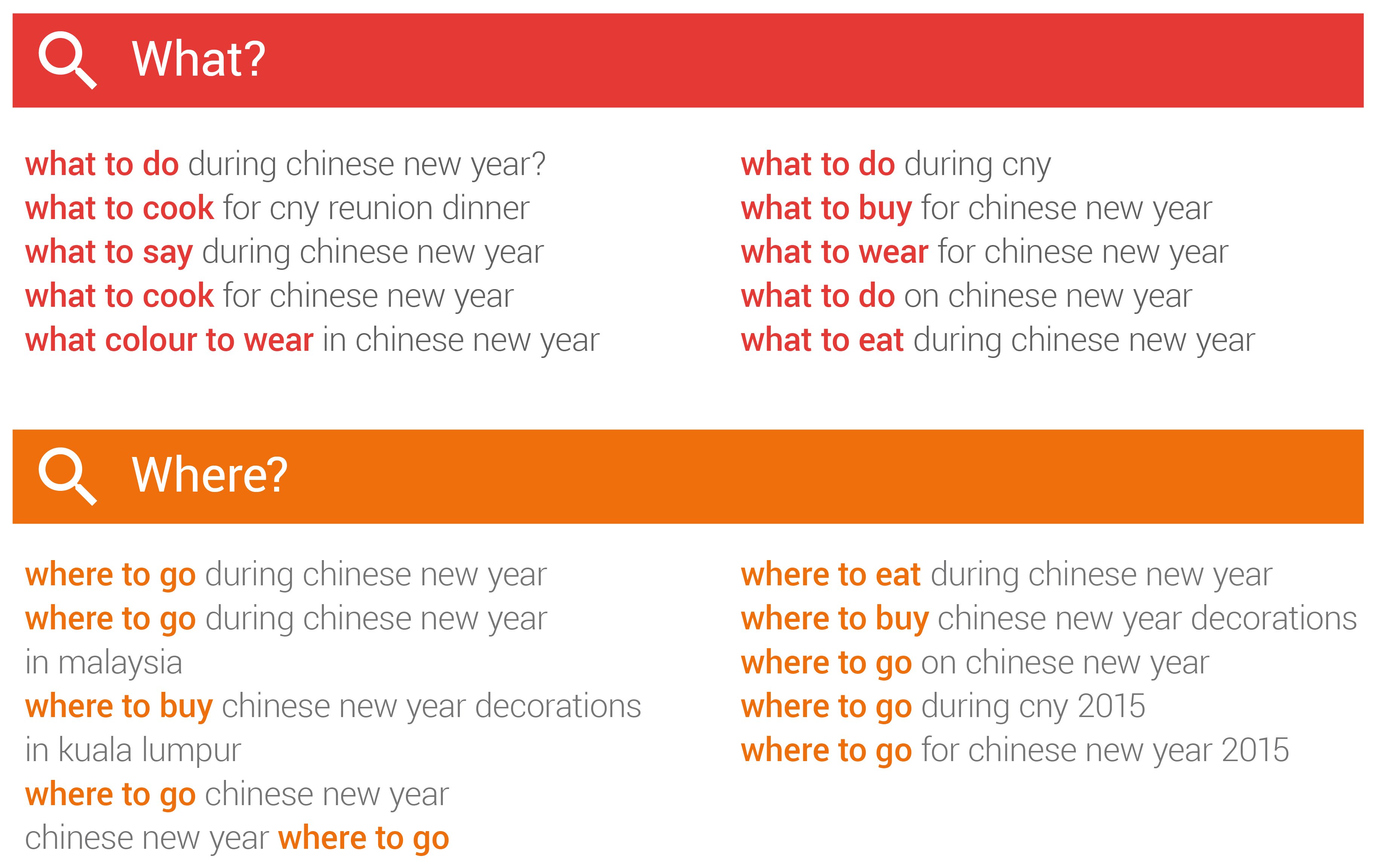 Here are a few ways your brand can be there for your consumers:
Check Google Trends to understand what consumers are looking for related to your brand and category.
Try some of those searches yourself on your mobile device. Are you there and do you like what you see? Do the same for your presence on YouTube.
Work with your team to increase your mobile ad coverage so that you can reduce the gap between the times you're there for key consumer needs vs. all the times you could be there.
Be there for all kinds of moments to cover a range of consumer needs and curiosities, not just when someone is ready to buy.
Be bold; be useful
A step beyond merely being there is to consider how your brand can be usefulto your customers by providing them relevant information when they need it. Not everyone is on the quest for the same thing: Some consumers want inspiration, some product reviews, and others directions to a physical store. In short, identify not just their intent but also their context: Where are consumers when they search? What time is it when they search? What type of device are they searching from? All these elements will affect where your brand should be and with what information.
Here are a few examples of what you can do to be useful and meet consumers in their micro-moments:
Make it easy for consumers to quickly find information on your site or app.
Deliver snackable, educational content in the form of articles or videos that address their needs.
Include relevant languages and localize ad campaigns and content because most queries related to Chinese New Year are in a local language.4
Use location signals to highlight relevant locations and driving directions in your ads and on your mobile site or app.
When a consumer is ready to buy, make it easy for them to buy, whether in-store, from mobile, or cross device.