During Vietnam's week-long Lunar New Year celebrations, e-commerce revenue typically plummets.
To keep up sales throughout the holiday, e-commerce retailer Tiki launched a five-week digital campaign featuring weekly deals on Tết-themed products.
Tiki became the first e-commerce retailer in the country to implement a two-hour delivery promise, which offered families a convenient last-minute solution when they ran out of food, drinks, and household items during Tết week.
Tiki's video content reached 16M total views during the campaign period, and its Masthead featuring a top local singer achieved a record-breaking 4.2M views on its first day post-launch.
Revenue targets were maintained throughout Tết and even drove 150% higher sales in March vs. January.
Tết—Vietnam's Lunar New Year that marks the start of spring—is an exuberant ten-day celebration of Vietnamese culture. Excitement around Tết starts weeks in advance with traditional music, lion dances, fireworks, and joyful reunions with friends and family. It's also a crucial time for retailers when the average consumer in Vietnam will spend the equivalent of one month's income.1
With year-end bonuses to spend and hearts filled with holiday spirit, Vietnamese consumers prepare for Tết by splurging on preparations for family gatherings, apparel like áo dài or cúng ông Táo for prayers, big-ticket electronic items, and gifts for themselves and loved ones. However, despite surging revenues in the weeks leading up to Tết, e-commerce sales typically plummet once Tết week begins—in some cases down 70% compared to an average week.2 As people run out of food, drinks, and household goods while they're spring cleaning and hosting large family gatherings, they have to shop offline at supermarkets for last-minute resupplies because e-commerce logistics and delivery partners are traditionally closed for business.
E-commerce revenue dips during Tết week

Leading up to Tết 2018, Tiki—a fast-growing online retailer in Vietnam—saw an opportunity to avoid the drop in online sales. The company knew a quick, convenient online option would save last-minute shoppers a lot of time and hassle. Based on consumer behavior from the previous year, Tiki came up with an original strategy to offer its customers quick and fuss-free delivery, allowing them to spend more quality time at home celebrating with their loved ones.
Reaching Vietnamese consumers at home and on the go
In advance of Tết 2018, Tiki teamed up with Google to get a better idea of how online behavior in Vietnam changes before and during the holiday. After digging into search data and trends from Tết 2017, they uncovered two key insights:
1) Vietnamese are mobile-first during Tết
While Google search activity fell by 30% on desktop in 2017, mobile searches only dipped 10%.3 This showed that before and even during Tết, most Vietnamese consumers are much more likely to be on their smartphones as they make the long commute across the country back to their hometowns.
Search activity during Tết 2017

2) Watch time on YouTube hits its peak
During Tết 2017, search activity on YouTube increased by almost 50%.3 That's because as work and business slow down before Tết, Vietnamese consumers turn to YouTube as an entertainment hub, whether on mobile when they're traveling or via their Smart TVs as friends and family gather around the TV over the period.
YouTube search activity during Tết 2017

Based on their new findings, Tiki's marketing team came up with a five-week-long strategy to deliver on customers' needs and stay top of mind before and during Tết celebrations.
Merging traditional customs with modern consumer behavior
The team built its new strategy around a two-hour delivery promise in both Hanoi and Ho Chi Minh City. The service, called TikiNOW, was the first offer of its kind from an online retailer in Vietnam. To drum up excitement for TikiNOW, the brand launched a cross-channel campaign five weeks before Tết with a heavy focus on digital, using a mix of Tết-themed YouTube, search, and display ads.
The brand's video campaign featured 28-year-old Vietnamese singer, Bích Phương, famous for her hit song "Bao giờ lấy chồng?" (which loosely translates to "When will you get married," an often-asked question by family relatives during Tết family reunions). Tiki tapped into the hit song's popularity by changing the lyrics to "Bao giờ đến Tết?" ("When will Tết come?"), transforming it into a song about how Bích Phương is too busy to go shopping before Tết, but Tiki's fast delivery can help her buy gifts for herself and her loved ones.
A week before launching the new video on January 15, the brand ran 30-second and 15-second teaser ads to boost awareness. Phương also starred in a nine-minute tutorial video for a special Tết-themed Masthead, in which she offered tips about shopping and getting ready for holiday celebrations.
To complement its YouTube campaign, Tiki promoted new deals on Tết-themed products each week leading up to the holiday—including gift baskets, joss sticks, and chic religious apparel—with a combination of dynamic display ads, six-second bumper ads, and a TrueView for Action spot. The brand homed in on affinity segments such as shopaholics, gamers, and technophiles to make sure its ads reached relevant audiences. Tiki also kept Tết-related search ads running through the entire campaign to capture last-minute shoppers and drive traffic to its website.
Delivering on revenue goals with TikiNOW and Tết-themed deals
Tapping into early Tết excitement on digital was even more effective than Tiki anticipated. Tiki's teaser ads helped boost the brand's user base by 33% before the campaign officially launched, and Tiki was thrilled to see that TikiNOW helped it avoid missing revenue targets during the full week of Tết.
Evolution of Tiki's Q1 revenue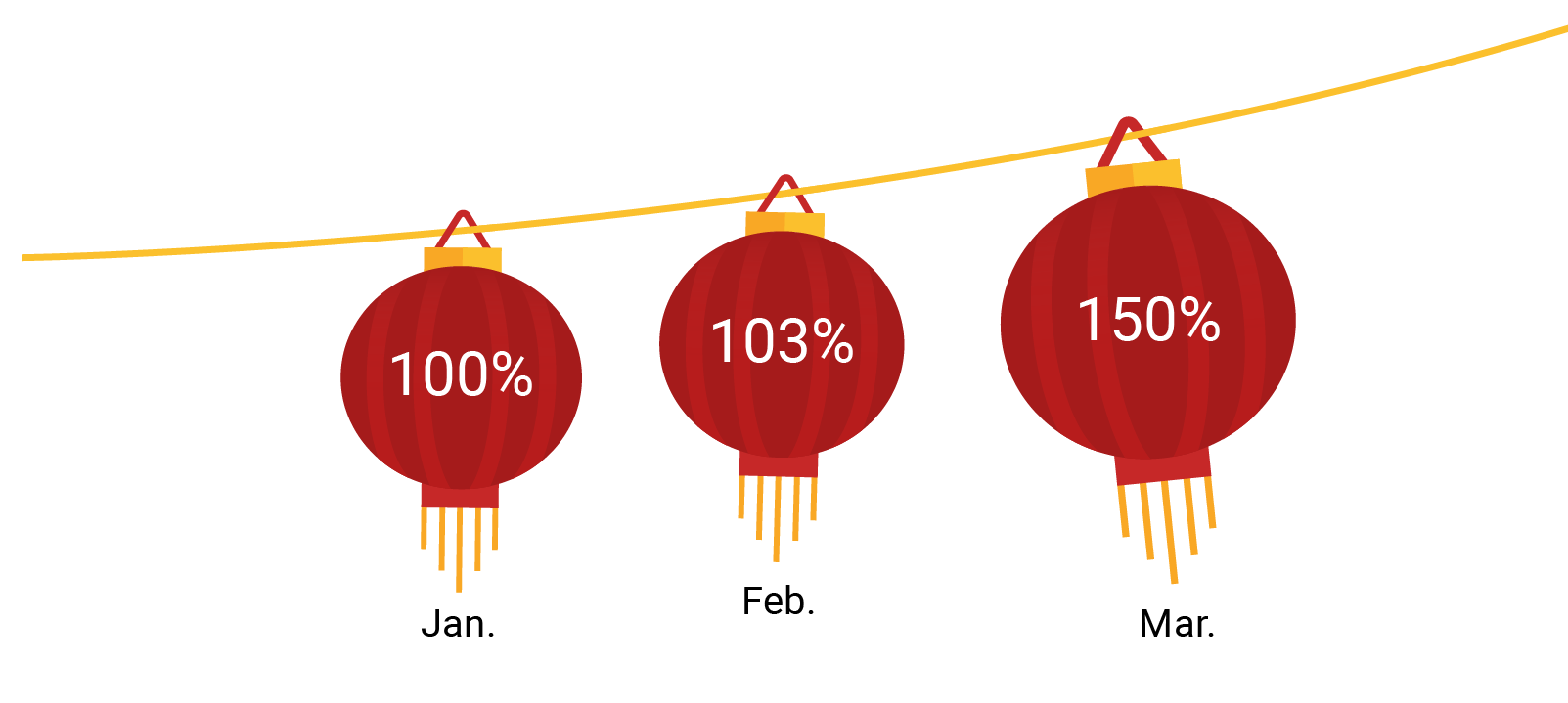 On top of those results, the brand also bounced back faster than the market average post-Tết.
Tiki's revenue vs. market average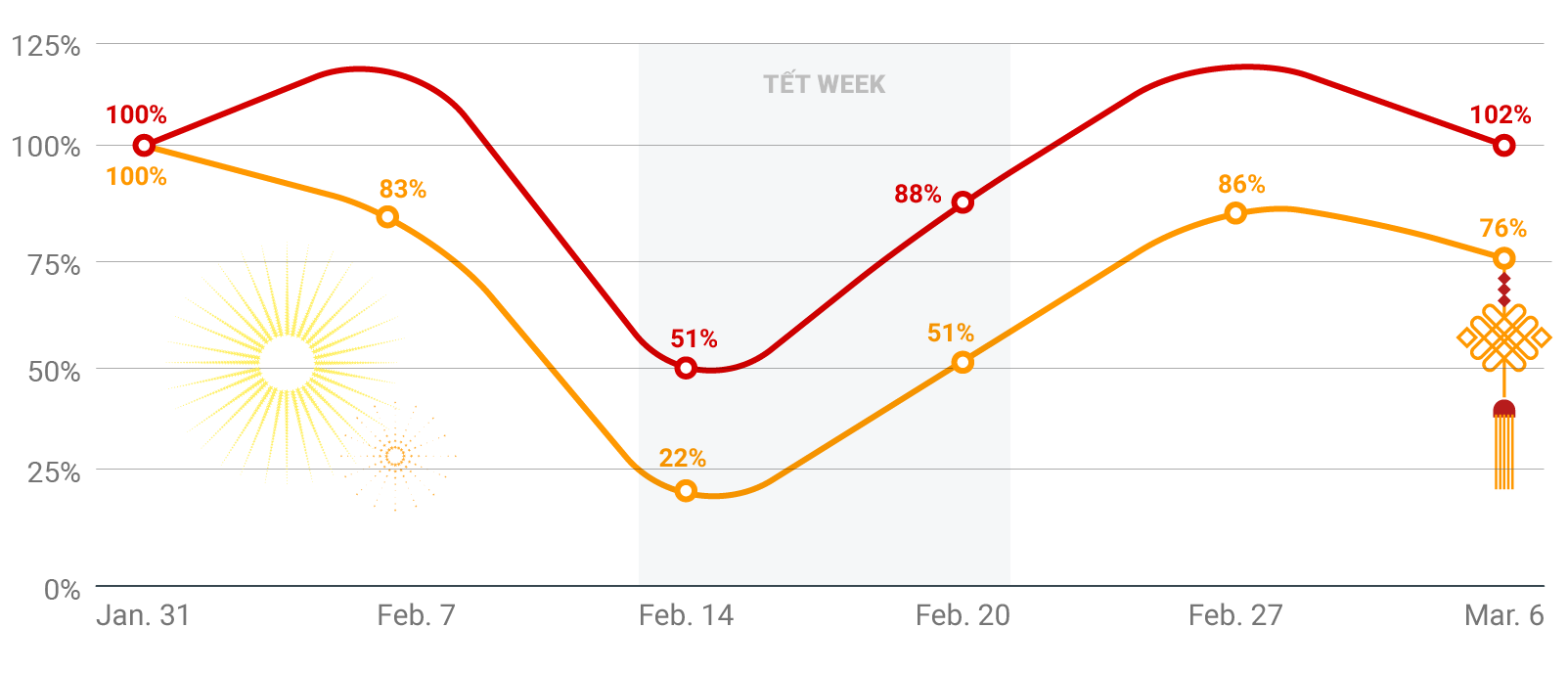 Tiki's video content grabbed more than 16 million views during the campaign period—a 3X growth compared to pre-Tết—amounting to more than 18 years of total watch time. The brand's special Masthead featuring Bích Phương achieved a record-breaking 4.2 million views on the first day it launched and helped drive a 200% increase in brand searches. Even more impressive is the fact that the nine-minute long Masthead achieved a 50% completion rate, which goes to show how engaged and leaned-in Vietnamese audiences are on YouTube during the holiday.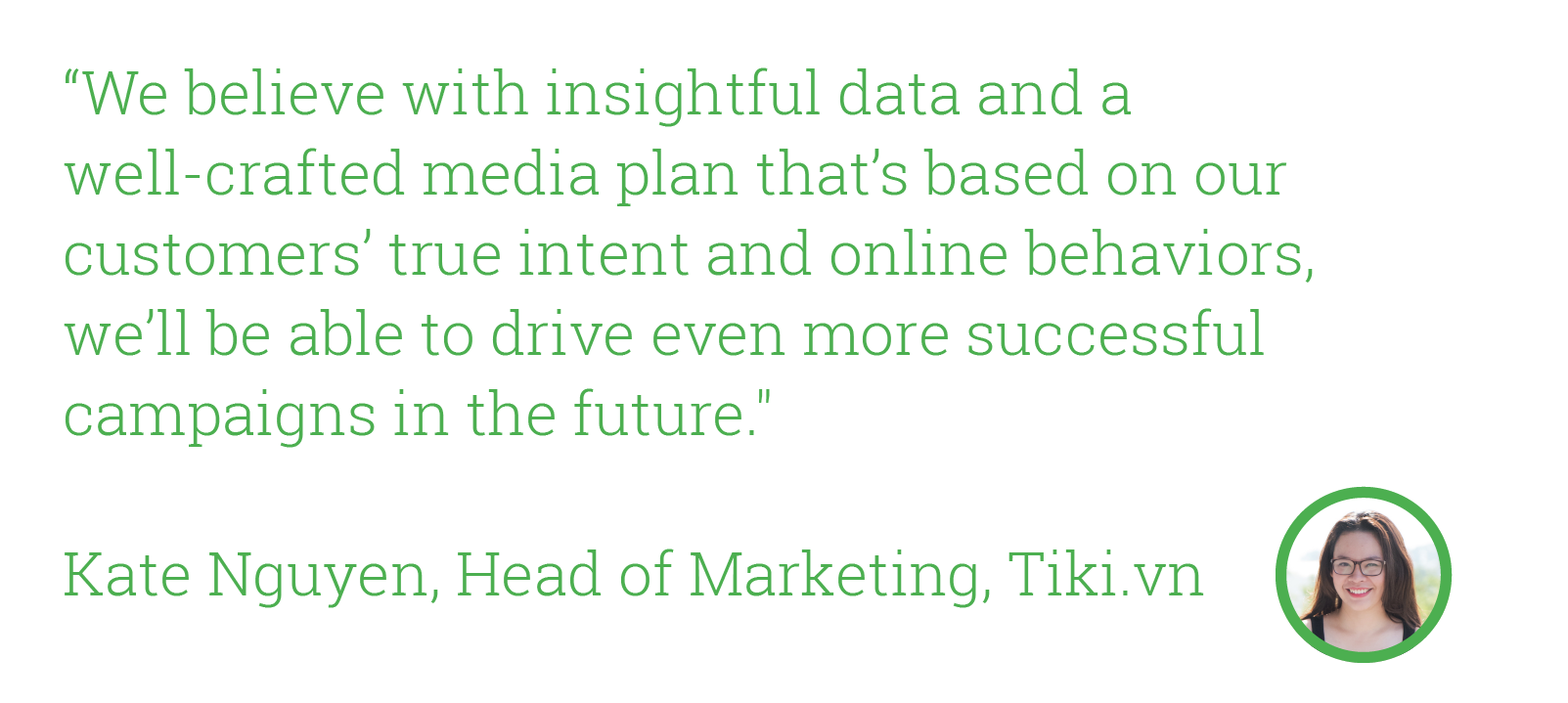 By challenging the norm and highlighting cultural traditions on platforms where people spend the most time during Tết, Tiki was able to deliver on its customers' needs and turn their attention into action. "We're very proud to have worked closely with Google on challenging the status quo and finding a new norm on such a special shopping occasion as Lunar New Year," said Kate Nguyen, Tiki's head of marketing. "We believe with insightful data and a well-crafted media plan that's based on our customers' true intent and online behaviors, we'll be able to drive even more successful campaigns in the future."