Officially a ten-day affair, the Vietnamese Lunar New Year is often celebrated for weeks leading up to it with traditional music, fireworks, lion dances, and joyful reunions with friends and family. To prep for these highly anticipated Tet festivities, consumers head to search and YouTube. As tradition and technology collide during Tet, brands have myriad opportunities to connect. The first step is understanding what consumers are looking for.
A year ago, 55% of people in Vietnam owned a smartphone. This year, smartphone penetration has skyrocketed to 72%. With smartphones at the ready, consumers turn to their devices dozens of times per day when they want to know, go, do, or buy something. A top destination in these intent-rich moments is YouTube, with 78% of consumers in Vietnam watching online videos at least once per week. Among the countries with the highest watch time globally, Vietnam's watch time is growing by 100% year over year.1
This flurry of online activity is never more abundant than during the boisterous celebrations surrounding Tet. In the lead-up (and throughout the holiday), people across the country are on the hunt for entertainment, gift ideas, and a hopeful glimpse into their futures. Here, we've pulled together the key micro-moments that Vietnamese people experience during Tet and insights on how your brand can be involved, particularly on YouTube.
Be timely in I-want-to-celebrate moments
More than anything, Tet is a time for coming together. And when friends and family wax nostalgic about days gone by and look forward to what the New Year holds, festive music is usually involved.
YouTube is the destination for all things music in Vietnam—whether music parodies, remixes, karaoke videos, or musical films. As early as November, YouTube searches for music start picking up; searches peak two weeks before Tet.1
YouTube Searches for Music-Related Content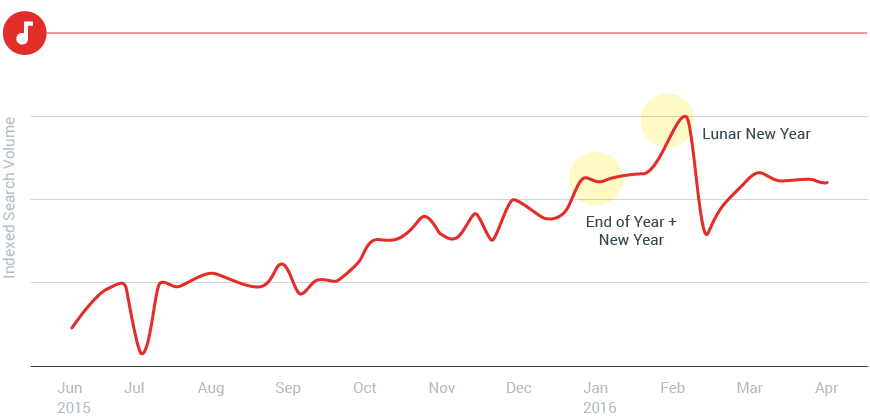 YoY Growth of Top Music-Related YouTube Queries During Tet

Brands should tap into Vietnam's love for music and engage customers where they're looking for just the right tune: YouTube. For example, Comfort Vietnam, the fabric conditioner brand of Unilever, created a special video featuring celebrity children dressed in traditional áo dài clothing, standing hand in hand as they sing the beloved folk song "Tập tầm vông." Designed to connect with people just as they were getting in the holiday spirit and starting to search for content, the video was released at the end of November.
The heartwarming video helped Comfort connect with millions of families, garnering 12M views, driving up Google and YouTube searches for the brand by 741%, and leading to tripled sales volume over the previous year. The video continues to accumulate views today, long after the campaign has ended.
Brands should consider appearing in ads alongside popular music content on YouTube or creating music-related content of your own. (Tip: Music video parodies are all the rage this year!) Study what keywords are popular and see how you might capitalize on what's hot.
Be there in I-want-to-laugh moments
Since the early 2000s, Vietnamese families have looked forward to gathering around the TV, sharing special foods, and settling in to watch the annual Táo Quân show. The part-talent, part-variety show features the top Vietnamese comedians, and families and friends love getting together to see what hijinks will take place.
Today, the hunt for laughs is moving online as YouTube is now a top destination for comedy.1 Just like music, searches for comedy-related content pick up significantly around the holiday and peak right at the New Year.
YouTube Searches for Comedy-Related Content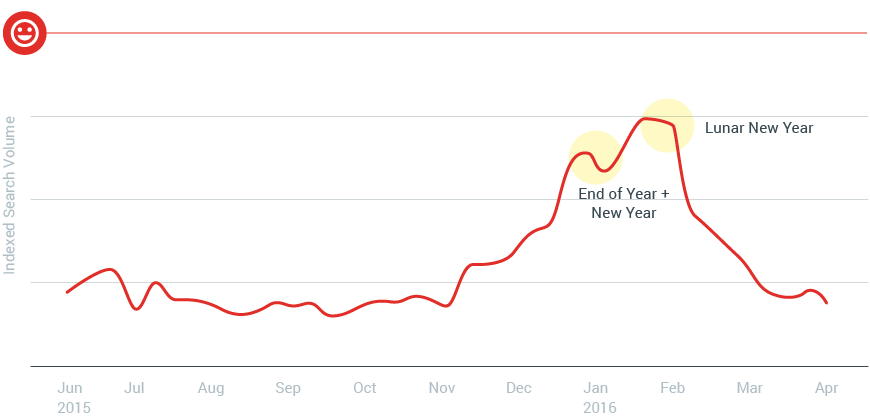 YoY Growth of Top Comedy-Related YouTube Queries During Tet

If your brand has something to say to consumers this Tet, a comedic online video can be an engaging way to say it. Mirinda, the fruit-based soft drink brand owned by Suntory PepsiCo Vietnam, took to YouTube to engage with its core audience of fun-loving, digital-savvy millennials. The brand played off of a traditional part of the Lunar New Year, the red envelope, and made it the focal point of this sketch comedy video.
Fans went wild. Brand affinity increased, sales volume grew by 24%, and Mirinda's market share reached 11.5%—its highest point in three years.
Marketers can tap into comedy's growing importance on YouTube in Vietnam by either creating gut-busting content or hosting ads against popular comedic content.
Be helpful in new-year, new-me moments
The New Year means a fresh start. For some, that means getting a haircut or a whole new look for a big holiday party. For others, the focus is on getting the house spick-and-span in anticipation of family members and loved ones coming to celebrate.
For all of this and more, people turn to search and to YouTube for information and inspiration. Here's a look at how search trends spike during Tet in a couple different categories:2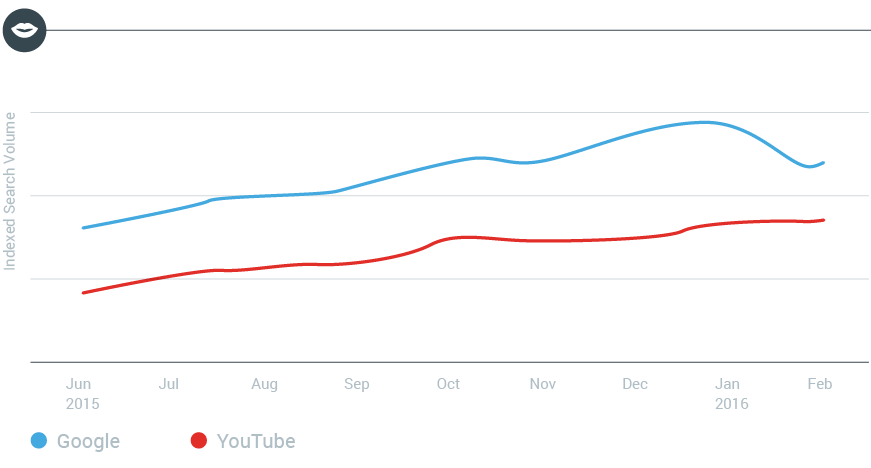 Think about ways your brand can provide helpful content to meet consumers' needs in these new-year, new-me moments. Take a look through Google Trends to get a feel for what people are searching for. Then you can create content that gives them just what they need in key moments.
If you're a beauty brand, for example, consider sharing tutorials for this year's most in-demand looks on YouTube. If you're a home care brand, make home cleanups easier for busy Vietnamese consumers by providing simple cleaning tips.
Be quick in I've-got-some-extra-cash moments
Tet is by far Vietnam's biggest shopping season. Most people get their year-end bonuses right before Tet, so not only are they steeped in the holiday spirit, but they also have more cash in their pockets to burn. Whether for gifts or entertainment, the average consumer in Vietnam will spend the equivalent of one month's income on Tet.3
For this reason, searches for food and beverages, apparel, consumer electronics, and home appliances all peak in the months before the Tet holiday.2

To be in the consideration set when shoppers are looking to buy, your brand needs to be there—plain and simple. Shoppers will often go with the brand that meets their needs in the moment, so find ways to provide them with a quick and frictionless experience for shoppers.
Consider also packaging your offerings for gift givers in particular. An average of 31% of Tet spending will go to gifts for others,3 so explore making your content and advertising relevant to those on the hunt for that perfect gift set. Nestle Vietnam, for example, sold a Tet package online last January. To entice shoppers, the brand created an ad with Google's custom Lightbox solution. When users hovered over the banner ad, it expanded to reveal a playful video that also allowed for immediate buying directly from the ad. This seamless experience transitioned shoppers from interest to checkout that much faster.
Be relevant in I-want-to-see-the-year-ahead moments
As the old year winds down, people turn to what's ahead. Not wanting to leave anything to chance, Vietnamese consumers seek a glimpse into their futures with online fortune telling. Searches for fortune telling spike every year around this time, as do searches for New Year's greetings.
Searches for "fortune telling" (tử vi) in Vietnam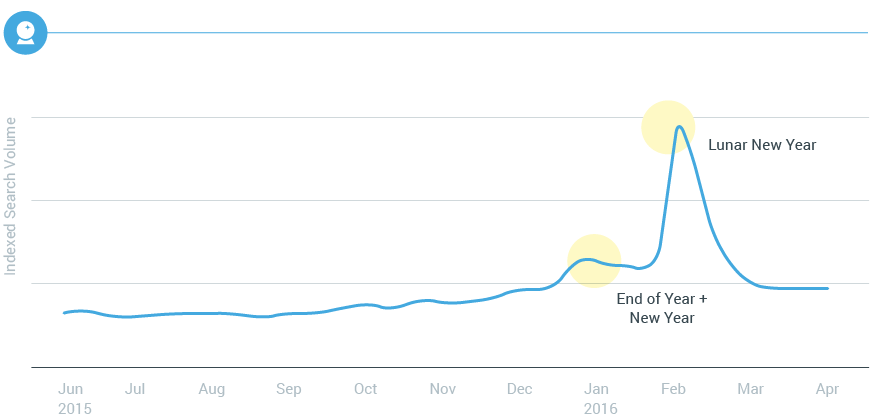 Searches for "new year greetings" (chúc tết) in Vietnam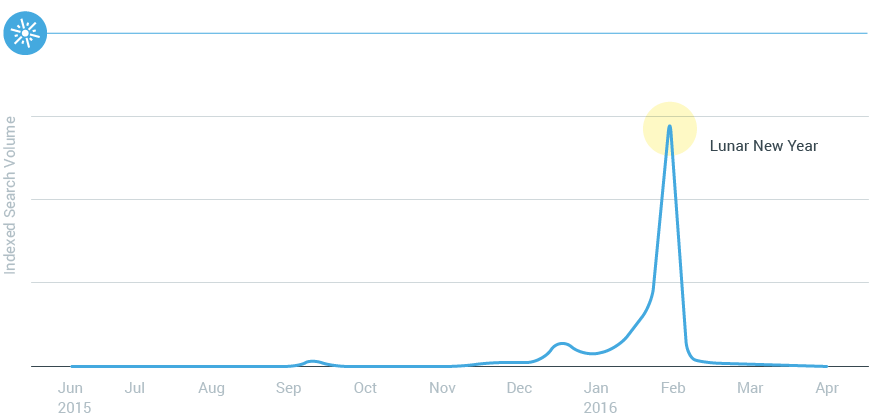 If it makes sense for your brand, think of creating experiences that help people ring in the New Year. For example, branded fortune-telling apps, New Year's resolution micro-sites that helps people enter and track goals, and wish-sending applications that sends goodwill and prosperity are all fun ways to get your brand in on the Tet action.
When Vietnamese consumers turn to YouTube (and they will), be ready with relevant content
Don't miss out on the opportunity to engage with your audiences during these intent-rich, seasonal moments. Inspire Tet celebrators by telling local, relevant stories without any constraints on format, length, or style.
Think about what your audience needs and how that intersects with what your brand does and with your brand values. Better yet, consider what your brand provides that no one else does, and let that guide your efforts as you look to connect with video-loving Vietnamese consumers.