To revamp its image to connect with and empower a new generation of Thai women, Cute Press launched "Goodbye Dry Lips," a YouTube-first campaign to generate buzz before the holidays.
The brand launched a digital-only campaign on YouTube for two weeks before rolling out a nationwide TV and digital campaign to compare the effectiveness of both channels.
The digital-only campaign proved far more efficient, driving 2.5X higher return on advertising spend (ROAS).
The campaign drove a 2X growth in membership among 18-to-20-year-olds and 3X growth among 15-to-17-year-old members.
Cute Press also saw a 60% increase in creamy lipstick sales in the days following the launch of its YouTube Masthead and a 200% increase in overall lipstick sales during the duration of the campaign.
Thailand's Cute Press—a leading beauty brand with a 40-year history—wanted to grow its customer base and connect with a new generation of 15-to-20-year-old Thai women. The beauty brand thus set out to create a lipstick campaign that would appeal to their emotional insight and help them channel their confidence in a fun and fashionable way.
With young people in Thailand (especially cosmetics lovers) spending more time on YouTube, and almost 90% of internet users in Thailand watching YouTube daily, the brand realized digital presented a huge opportunity to reach a younger generation of Thai women.
Reaching a new generation of Thai beauty lovers
To develop its new digital strategy, Cute Press brought its entire marketing team—from juniors to executives—together to collaborate with its creative and media agencies, Sour Bangkok, Initiative, and Google. This level of inclusive teamwork was an entirely new approach that gave everyone a chance to voice their ideas and opinions, mirroring the brand's strategy to encourage women to feel confident in speaking their minds, too.
After diving into beauty-related search trends, the brand could see there was a lot of search interest for "matte lipstick." But a common complaint among women, especially matte lipstick wearers, were dry and cracked lips. That insight inspired Cute Press to challenge the matte trend with a "Goodbye Dry Lips" campaign, featuring a new collection of creamy lipsticks in an assortment of empowering and long-lasting shades. Each unique shade encouraged women to dare to express their real feelings, including a pink shade designed to inspire women to dare to move on from a bad relationship and a nude shade that encouraged women to confidently embrace their accomplishments.
Cute Press unveiled a new fashionable and fun image by teaming up with 28-year-old Thai film actress Toey Jarinporn to be the face of the campaign. In the videos, Toey brought Cute Press' message of empowerment to life by encouraging women to dare to say exactly what they're thinking—"Honest Lips"—and to wear a bold lipstick while they do it.
Cute Press launched its campaign on YouTube at the beginning of November to capture shoppers' excitement around the holiday season and generate buzz with early adopters. By using a combination of bumper ads, Mastheads, and six-second bumper ads, the brand was able to cast as wide a net as possible and drive visits to its online and offline stores. Cute Press took the Meal, Snack, Bite approach, showcasing its five-minute hero creative with a Masthead, TrueView spots served to 18-to-30-year-old women, and two separate 15-second ads to reinforce its key message. Two weeks after kicking off its initial YouTube campaign, Cute Press launched a nationwide TV campaign to continue building up the creamy lipstick buzz.
Cute Press waves goodbye to dry lips and hello to higher sales
The brand's YouTube-first strategy proved to be a massive success. Together, Cute Press' Masthead and TrueView ads boosted brand interest by 60%, ad recall by 40%, and product interest by 19%. The Masthead alone reached 13 million people, and its bumper ad creative reached over two million people in the first half of November.
By stirring up excitement and awareness online before launching the full campaign, Cute Press was able to drive a 2X growth in membership among 18-to-20-year-olds and 3X growth among 15-to-17-year-old members. And after seeing a major lift in in-store sales just a few weeks post-launch, the brand knew its YouTube-first campaign resonated with its target audience. The "Goodbye Dry Lips" campaign helped boost creamy lipstick sales by 60% and was so successful that the line of lipsticks sold out at its 300 retail store outlets across Thailand. This year-end campaign not only helped Cute Press achieve an increase in overall lipstick sales by 200%, but, along with other successful campaigns earlier in 2017, the brand delivered a 27% YoY sales growth and attained the highest-ever sales in its history.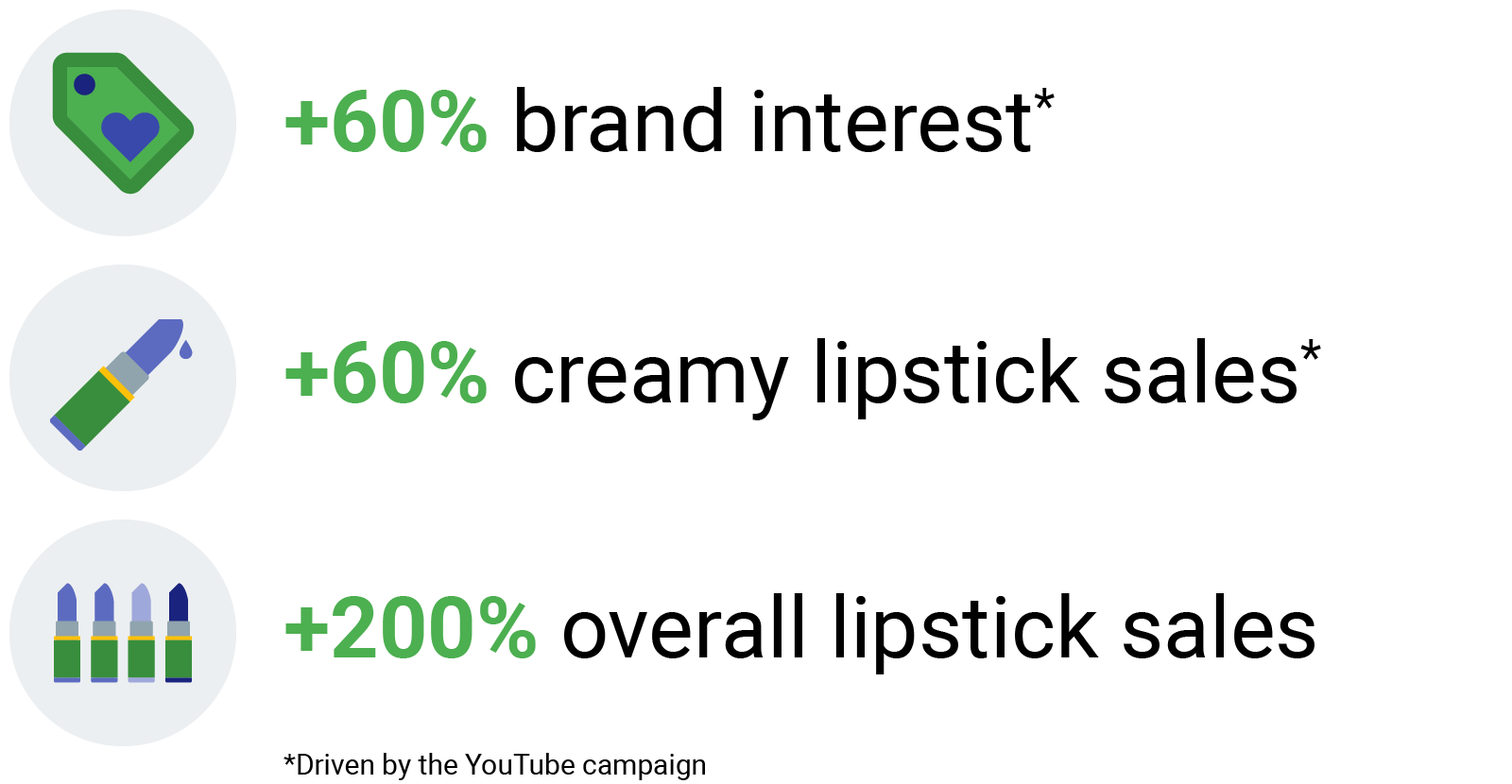 Cute Press also compared the media effectiveness by setting out two main phases: phase one was digital-only, mainly on YouTube, and phase two combined nationwide TV with digital. During the digital-only phase, the brand saw 2.5X ROAS compared with phase two, when the campaign launched nationwide on TV, proving the digital-only campaign had a significantly higher return on investment.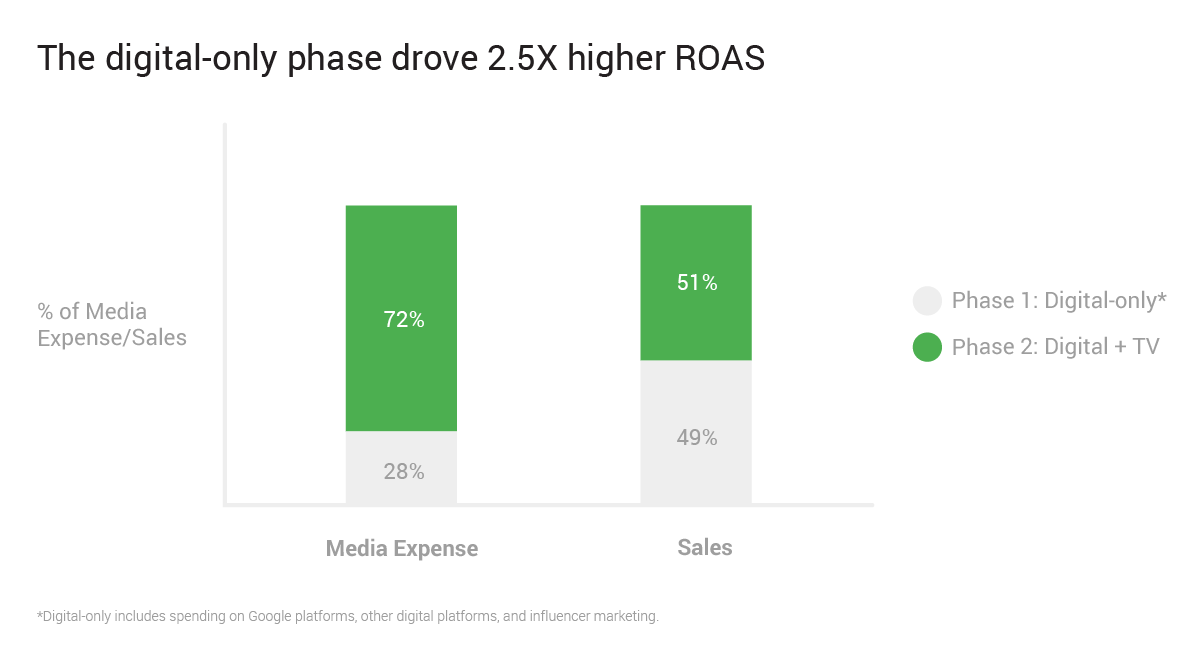 Cute Press conquered a challenge that every brand faces: revamp your strategy to stay relevant with the next generation of consumers or stick with traditional media platforms and miss out on new, digitally connected shoppers. Because no matter how great your creative, if the right audience doesn't see it, the results will never materialize. Cute Press' YouTube-first approach proved key to connecting with beauty mavens across Thailand and empowering them with striking shades in the process.
The campaign's success has encouraged the brand to trial, test, and develop its digital-first strategy moving forward. "Google was integral in helping us reinvigorate our brand by guiding us toward a digital-first focus," concluded Suksiri Sakdibhornssup, director at SSUP Group. "We fundamentally changed our campaign planning workflow, gave a voice to everyone on the team, and, in so doing, learned how to better connect with younger, more digitally-savvy shoppers. The YouTube-first strategy was a bold experiment that resulted in sales growth that exceeded our expectations."