Leading telco provider Globe mixed horror and comedy in a digital-only campaign about WiFi jacking in the Philippines.
The brand used a 60-second TrueView spot, YouTube Mastheads, and search ads to reach and engage customers at every stage of the funnel.
TrueView spot's view-through rate was 33% higher than the industry benchmark, and search ads' click-through rates (CTRs) were 5X higher than industry benchmarks.
Monthly sales increased by 5X during the two-month campaign. Cost-per-acquisition (CPA) decreased by 70% compared to previous campaigns.
As more people in the Philippines gain internet access, the demand for reliable connections and access to online content has hit an all-time high. Those who don't have home broadband connections resort to free or unsecured WiFi-channels from neighbors or public places—also known as WiFi jacking or kapit-WiFi—to avoid the burden of monthly fees and other fixed-connection requirements.
To address this issue, Globe—a leading telco provider in the Philippines—created Globe At Home Prepaid WiFi to provide homes and families with fast, reliable internet access without the hassle of subscription requirements. To maximize resources within a limited marketing budget and against a competitive market, Globe needed to grab the attention of a huge number of families, boost awareness and interest, and ultimately drive sales for the new product. With the knowledge that Filipinos—especially Globe's target audience of 25–45 year-olds—are spending more and more time on YouTube, the brand saw a great opportunity to take an innovative approach to that challenge.
For the first time in the brand's history, Globe's marketing team launched a digital-only campaign to drive online sales. The brand leaned heavily on YouTube's Mastheads and TrueView ads to reach a wide audience, measure clear results, and track sales across all its distribution channels before expanding its search presence to close the loop on sales of the new product.
Globe's YouTube campaign taps into uniquely Pinoy insight
While Filipino advertising tends to be emotive or dramatic, Globe's creative agency, Publicis JimenezBasic, came up with a fresh concept that still kept Filipinos right at the core of the campaign story. The #NoMoreKapitWifi campaign (which translates as "no more neighbor WiFi-jacking") used a light-hearted mix of horror and comedy to highlight the trend in a 60-second TrueView ad with the message, "Now you can enjoy your own stable connection at home without the hassle with Globe At Home Prepaid WiFi." The ad creative relied on suspenseful storytelling to keep viewers on the edge of their seats, waiting to see what lurked outside the family's window.
TrueView allowed Globe to specifically reach families when they watched related entertainment, lifestyle, internet technology, and prepaid services videos. Moreover, the brand could accurately measure watch time and the total number of views to gauge how well the message resonated with a mass audience.
"Best of all, this campaign highlighted the importance of keeping our audience at the core of our marketing and tapping a cultural insight to develop an entertaining and relevant story."
From there, Globe's agency, AdSpark, rolled out Mastheads on four days to capture people's attention and drive awareness of the new product atop YouTube's homepage. The Mastheads also featured an eye-catching "buy now" button that allowed users to easily navigate to the brand's site and make a purchase.
Globe was pleased to see an immediate impact from its horror-comedy mix. The digital-only campaign drove a 5X increase in monthly sales in just two months.
Globe previously ran search ads to capture generic search interest in terms such as "home internet plans," "wifi internet plan, and "wireless internet plan." The brand went a step further for the new launch by bidding on brand-specific terms during the campaign, among them "globe prepaid wifi plan" and "globe home prepaid wifi," to stand out when people turned to Google to find more information about the new product.
Globe's spooky story sticks, drives clicks, and boosts online sales
Globe was pleased to see an immediate impact from its horror-comedy mix. The digital-only campaign drove a 5X increase in monthly sales in just two months. The TrueView spot achieved 95% viewability and audibility, ultimately playing a crucial role in the video campaign's success by showing Globe that its message had grabbed the attention the brand needed to resonate with a wide audience.
As a testament to Globe's compelling storytelling, the TrueView ad also achieved a view-through rate 33% higher than the industry average—despite its being more than a minute long. All in all, Globe's marketing team estimates that the brand's CPA during the campaign was about 70% lower than for its previous online acquisitions.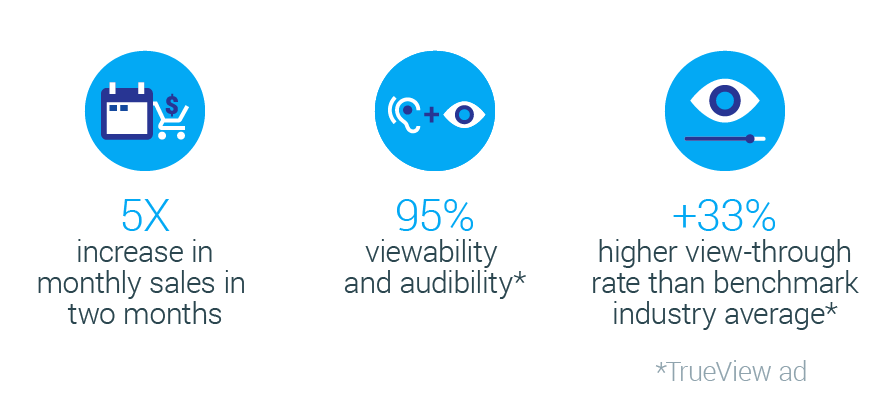 "Now that we understand how effective YouTube can be for driving awareness and search interest, we're more confident in using digital to promote our new products," explained Michelle Castillo, Globe At Home's go-to-market head. "Best of all, this campaign highlighted the importance of keeping our audience at the core of our marketing and tapping a cultural insight to develop an entertaining and relevant story."