It started with the Candy Crush craze. Since then, things just got sweeter and sweeter for the mobile gaming industry. Elizabeth Del Valle, YouTube's global head of marketing for gaming, and Tom Simon, Google's head of gaming, APAC partnerships, share three strategies to drive home the value of reach and engagement on YouTube to keep audiences invested in mobile games.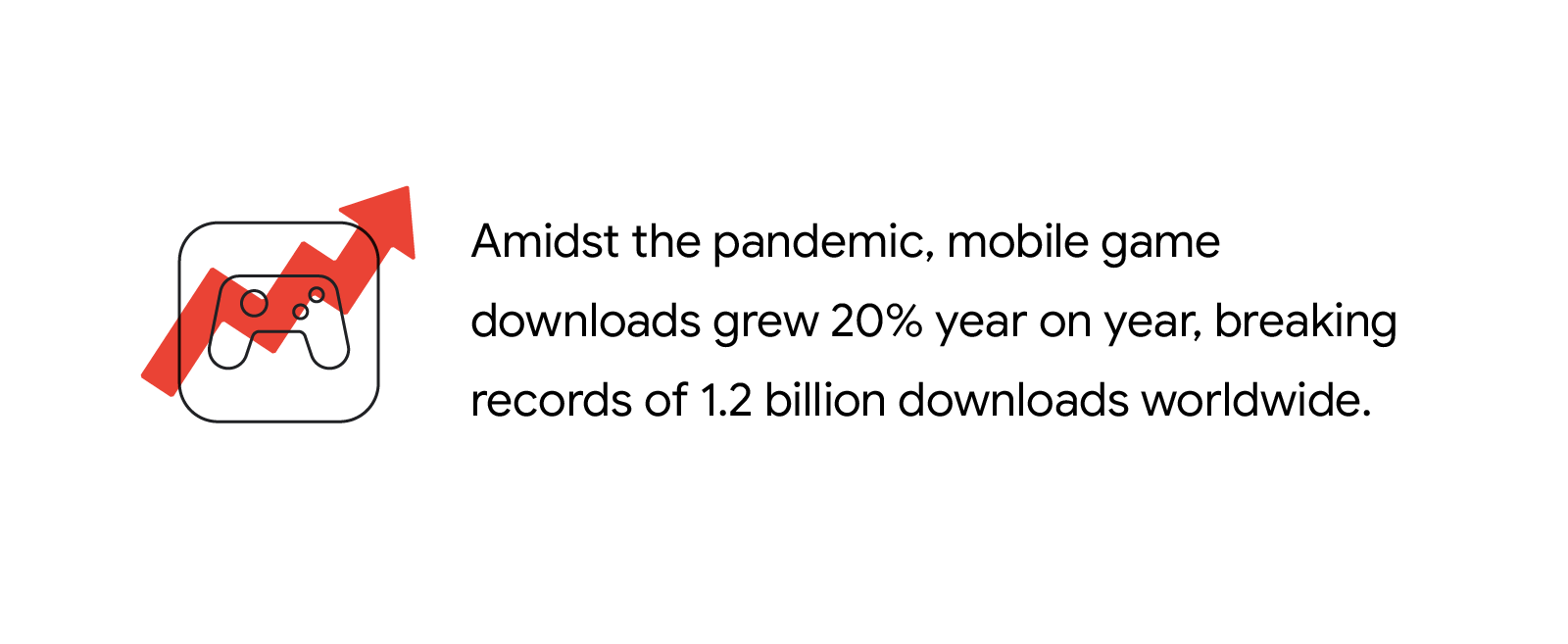 This outlook remains positive for mobile games. This year, Newzoo reports that revenues from mobile games will climb to a staggering $77.2 billion, growing 13.3% year on year.2 That's significantly more than console and PC gaming revenues, which are projected to hit $45.2 billion and $36.9 billion, respectively.3
Much of this growth is fueled by mobile-first markets, such as Southeast Asia and India. Mobile gaming also has the lowest barrier to entry, making games accessible to billions of people around the world who simply own a smartphone or tablet.4 We expect mobile game consumption to continue booming in the next few years as technology improves and more countries transition to a 5G network, helping people play and watch games through high-bandwidth and low-latency mobile connections.
And as consumption grows, watching games content continues to be as important as playing. In fact, last year, more than 35 million channels uploaded a gaming video on YouTube.5 Aditya Sawant from Mumbai is one of India's most popular streamers, with a YouTube channel called Dynamo Gaming. According to Aditya, "When a game is easy to play and accessible to all, the players like to watch the game that they are already playing with friends." The popularity of mobile games in Asia-Pacific is reflected in the content people watch on YouTube — so much so that three out of the top five most-watched games are mobile games: Garena Free Fire, Mobile Legends: Bang Bang, and PlayerUnknown's Battlegrounds (PUBG) Mobile.6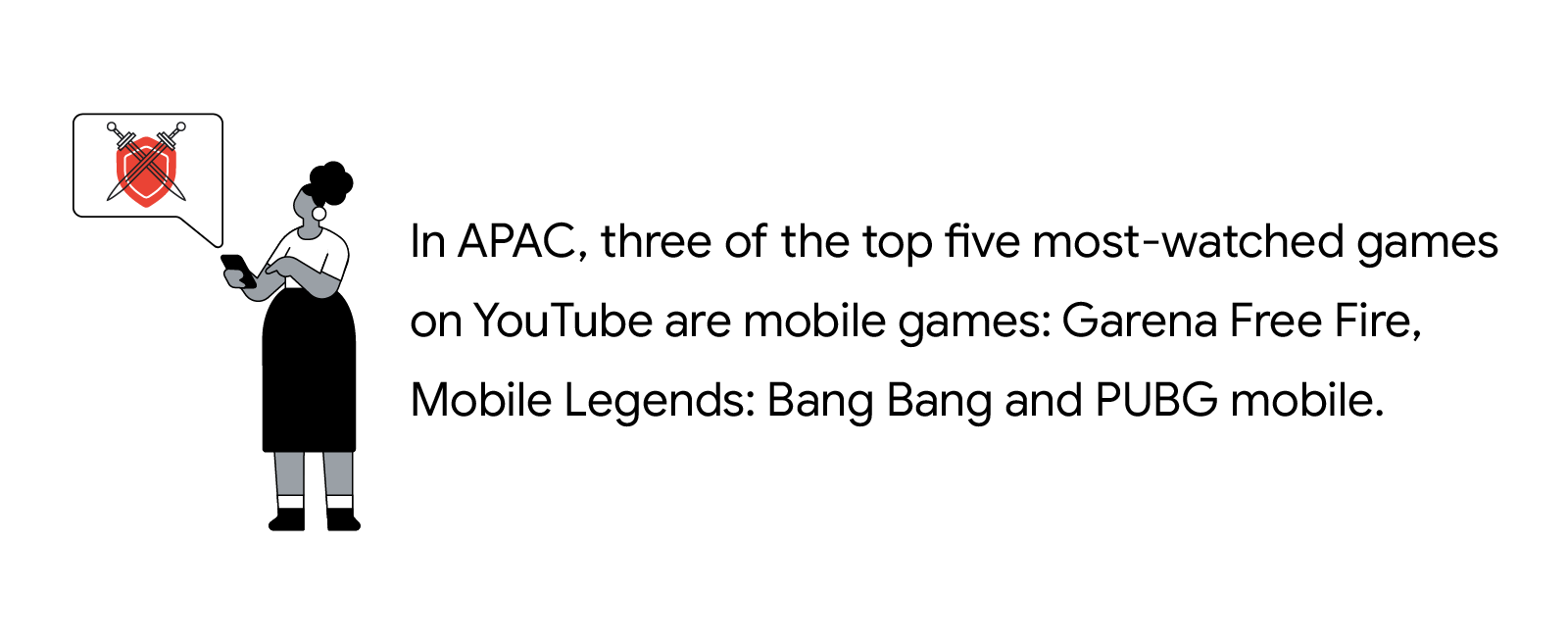 As more people turn to YouTube to entertain themselves via let's play videos and live mobile esports events, we want to share with marketers a few lessons that drive home the value of reach and engagement on YouTube. Inspired by mobile games' developers who are already rethinking their approach to video, here are three strategies to apply to your mobile game marketing mix to keep players invested in your games.
1. Influence through influencers to drive interest and app downloads
Collaborating with influencers, including YouTube creators, has become the bedrock of game marketing, and for good reason. Some of these influencers have millions of subscribers and video views, so the content they post on YouTube can make a real difference in shaping trends for new games and can effectively amass and engage fans.
From let's play videos and tutorials to competitive live streams and mobile esports, content creators play an ever-increasing role in helping marketers captivate huge audiences to generate awareness for game reveals or content updates. Yet, many marketers still question the upside of mobile game influencer marketing, particularly to drive app installs.
A recent study, "Making Influencer Engagement Work," by Francesco Crovetto from Google Play, in partnership with James Day and gaming company Jagex, sought to measure the full impact of having YouTube creators at the heart of the mobile game marketing mix, based on Google Play and YouTube data.
The results were astounding. Looking at data from seven YouTube creator campaigns for the game Old School RuneScape, the researchers found that Google Play store attributed downloads were 357% higher than what Jagex measured via tracking links.7 In addition, 50% of the installs attributed to video happened in the first 30 minutes after watching the content, which demonstrates the profound impact of influencer campaigns, not seen with other marketing touch-points.8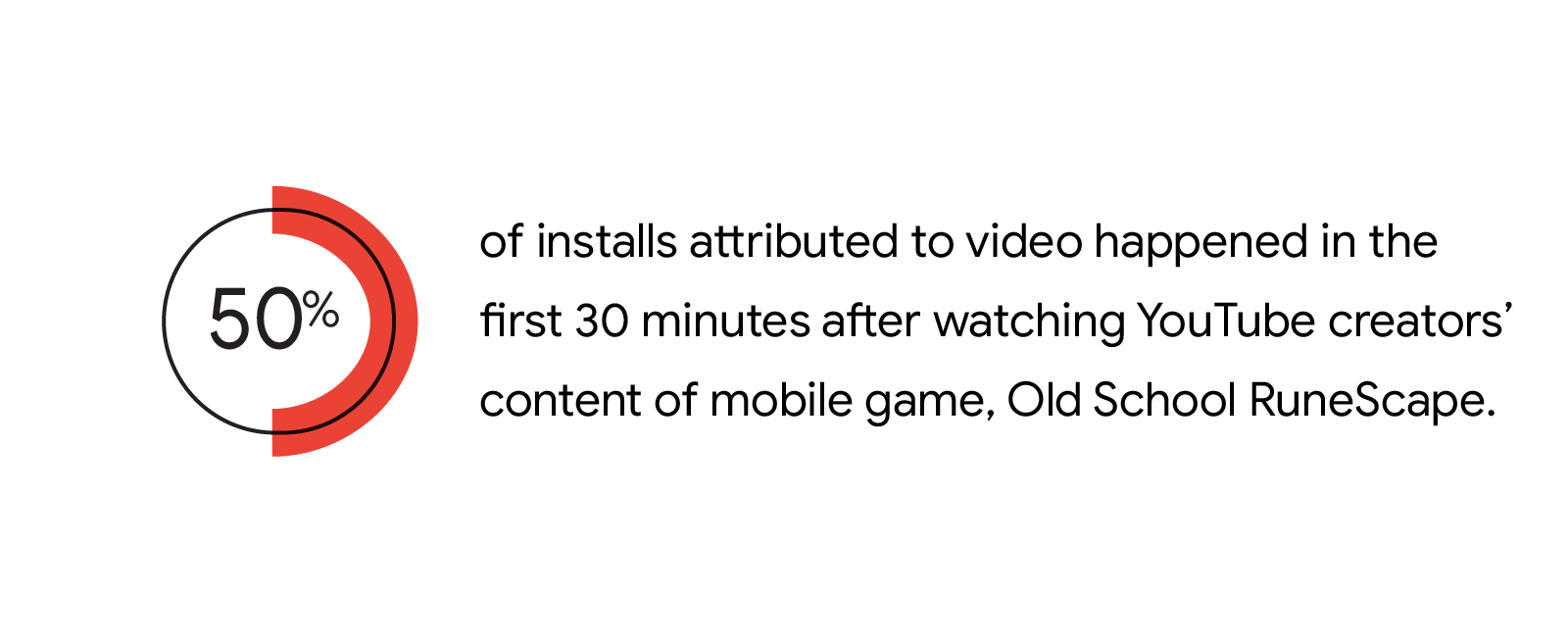 We often see marketers facing difficulties in selecting creators, maximizing impact, and measuring ROI from influencer campaigns. Programs like YouTube BrandConnect help brands collaborate in meaningful ways with YouTube creators to boost awareness for their brands and to expand their reach by connecting with passionate online audiences.
2. Create buzz and excitement to deepen relationships with fans
For developers focused on creating game services with longevity, there is a continued desire to innovate and expand to new content formats, beyond video on demand, to keep players invested in games.
Developer Supercell has turned to YouTube Premieres to help fans virtually gather, connect in real time, and enjoy new game updates together — just like the opening night of a new movie.
Supercell's keen use of Premieres has worked superbly well for the company, particularly for hyping up its fan base and announcing exciting game updates. The team behind Brawl Stars recently organized a community event, "Brawl Stars: Brawl Talk - Summer of Monsters!," which attracted over 750,000 peak concurrent viewers and is the most-watched gaming-related YouTube Premieres video to date.9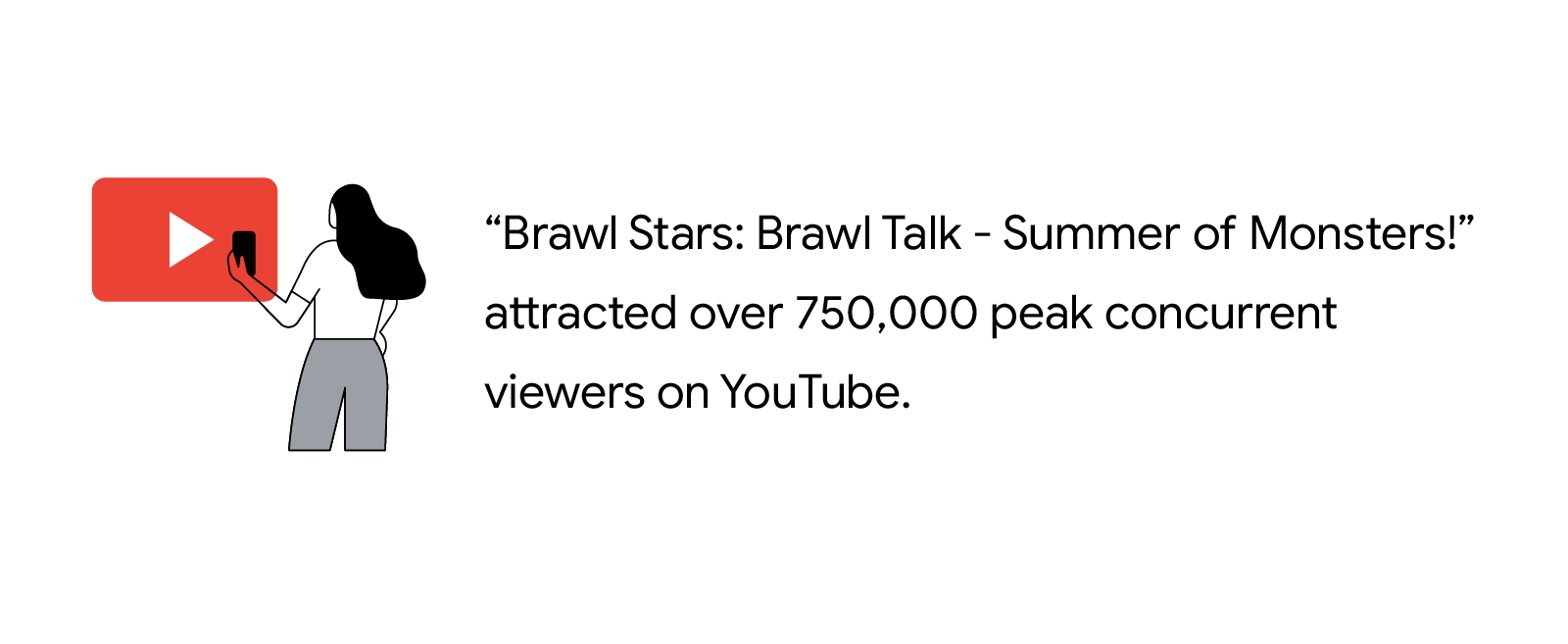 Ryan Lighton, community manager for Brawl Stars, shares, "We use YouTube Premieres for Brawl Stars community updates because it's a great landing page for all our fans to find the latest information. We set a countdown ahead of time and allow players in different time zones across the globe to tune in simultaneously and experience amazing new content together. We find that this sense of excitement and synchronized enjoyment of a new update is an awesome way to release new content to our players and keep them engaged."
3. Lean into live events to keep players engaged
Whether you're offering mobile game players the opportunity to battle with friends, explore new worlds with escape puzzles, or compete in car races, there are thousands of games and brands vying for players' attention. Just as important as acquiring new players is creating unique ongoing experiences that keep them engaged with your content. This is particularly important during game maintenance and technical updates.
Pearl Abyss, developer of Black Desert Mobile, turns to YouTube Live during maintenance as a form of continued engagement, filling in the downtime with real-time interactions. Rather than disengaging with fans during maintenance of the game, Pearl Abyss directs players to YouTube to join live Q&A sessions. This mobile game marketing strategy has proven to be highly impactful, delivering 2X the engagement versus similar video-on-demand content, with 80% of new channel subscribers coming from live events over the past six months.10
With live events, game marketers have the opportunity to immerse mobile game players into their worlds, getting players to remain invested in their games instead of moving to a new game or another activity.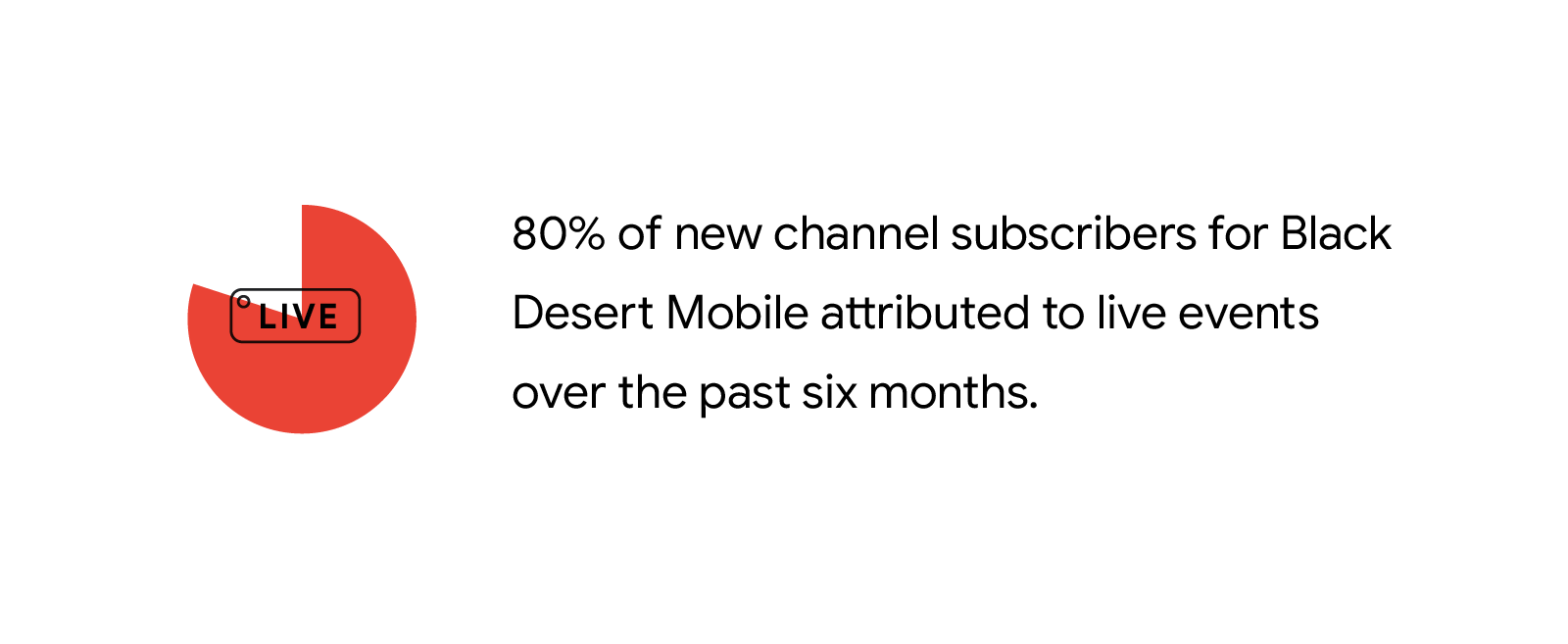 As consumption of mobile games continues to surge, so will the number of viewers of mobile games content on YouTube. When game marketers add YouTube to their mobile game marketing mix the results are outstanding, giving marketers the power to reach and convert viewers to players and engage the most valuable audiences, keeping them invested in mobile games long term.