Users access, choose, and consume a wide variety of content beyond what is offered in today's mass media. In Japan, YouTubers such as Hajime Shacho, a college student, have achieved soaring levels of engagement with over 100M views per month. There seems to be no clear divide between mass and online media when it comes to identifying what content stirs higher engagement levels.
With the internet rendering content and information freely and readily available, users are gradually taking over the driver's seat when it comes to information and content consumption. They decide what they want to watch and when they want to watch it, as well as where and how.
In addition, users are not only consuming information but also sharing and endorsing the content they like with their peers through social media and content sharing channels. This makes them secondary content providers to others with similar tastes and interests, perpetuating the sharing of content in a kind of chain reaction. This phenomenon—users engaging with content that allows them to select it, be moved by it, and fervently share it—has become so impactful that marketers must sit up, take note, and assess its impact.
In this article, with the help of two YouTube case studies, we will look into how users today are engaging with the content they love. The two studies will deep dive into how users search for, identify with, and proactively share the content they love with their peers.
YouTubers, originators of engaging content
The most significant examples of how users are engaging with and proactively sharing content are the productions of various creators on YouTube, aka "YouTubers."
YouTubers are individuals or groups who regularly upload content to YouTube and who are highly engaged with their viewers. They also monetize by means of advertisements that are shown before or during their videos.
What all successful YouTubers have in common is the high engagement they have with their viewers. Not only are their videos watched by many; their channels also are frequently watched by loyal subscribers, receive plenty of comments and positive reviews, and are often shared repeatedly through social networking services.
Let's take an example from one of the most popular YouTubers in Japan, Hajime Shacho (which translates literally as President Hajime), who starred in the 2015 YouTube promotion entitled, "Live What You Love."
Shacho: A college student YouTuber with 100M views a month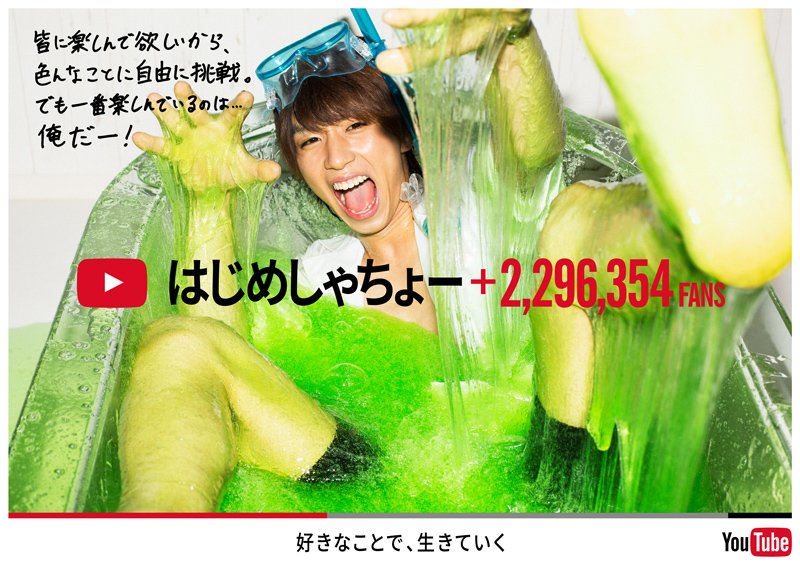 Including his sub-channels, Shacho boasts over 2.3M subscribers and has monthly views of over 100M, making it one of the most popular Japanese YouTube channels to date.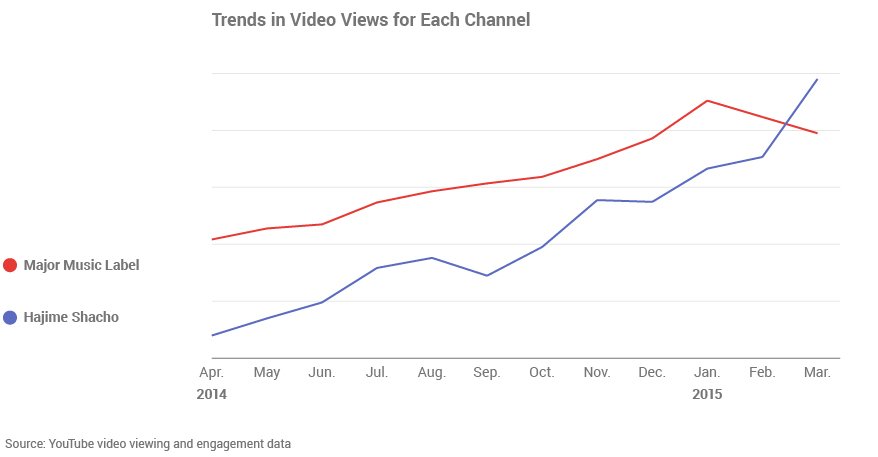 What's even more interesting is the volume of post-viewing responses such as ratings, comments, shares, and channel subscriptions. The numbers are astronomical: Shacho achieves 4X the post-viewing responses of a major record company's channel, a testament to the volume and depth of viewer engagement.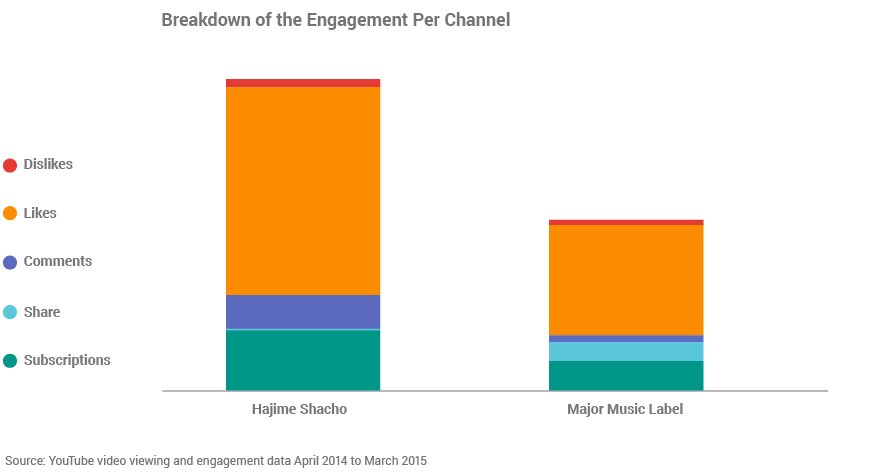 Leveraging users' insight, interest, and participation
Shacho's videos usually depict experimental acts using everyday goods and materials, and they are all planned and shot at his home. His formula for success includes using YouTube analytics to assess the gender and age of viewers, examining their comments, researching their topics of interest, and leveraging the themes of their interest into his videos. By repeating this process and by continual trial and error, he has grown his relevance, appeal, and ability to deliver content that viewers praise and enjoy. He has also created opportunities to foster relationships with his fans through meet-and-greets where he not only receives feedback directly from viewers but also allows them to participate in his videos. As a result, Shacho's fans not only appreciate the interesting content on his YouTube channel but also see him as an approachable, elder-brotherly figure.
The most viewed video with viewer participation - a 30 person Penalty Kick
How mass media can achieve engagement
As the example of Hajime Shacho shows, more and more users are participating in and sharing content that is interesting to them; but traditional content providers are also engaging with their viewers. Let's take another example from the TV program Terrace House, a real-life drama series about a group of young adults living as housemates.
Providing condensed material to spread on the web
Terrace House was a 30-minute program that aired on Fuji TV (one of Japan's biggest terrestrial stations) from October 2012 to September 2014. After each episode, interviews, extra stories, and unaired footage were uploaded onto the program's YouTube channel. This content was then shared with people who had been unable to watch the TV show when it aired so that they could stay updated on the story as it unfolded. Also, content such as actors' profiles was uploaded by Fuji TV so that it could be shared on social networks, stirring a deeper understanding and emotional connection with the program among viewers.
"Interactive and real-time content" increases viewer interest
The program saw an increase in viewers' real-time responses to a segment that depicted the cast's live on-camera reactions to checking their reputations on their SNS accounts. As a result, some cast members' accounts grew rapidly, jumping in some cases from a few hundred to tens of thousands in a single night.
Despite its relatively late airtime of 11:00 p.m., the program's rating during the season reached as high as 9.1%. Each week, the "bonus" videos received a total of 250M views, and the program's official YouTube channel had over 500,000 subscribers. This allowed the content to spread its engagement beyond the boundaries of TV.
Terrace House maintained a presence on the internet even after it stopped airing. The trailer for the movie version of Terrace House (slated for a February 2014 release) was posted on YouTube, and original, exclusive videos about the cast members as well as videos introducing new cast members were posted every day leading up to the film's release. As indicated by the red line in the graph below, the continual posting of original videos triggered strong interest in the movie. Consequently, interactive content surrounding Terrace House received more views on YouTube when the movie was released than while the TV series was on the air. The movie was also highly acclaimed, which resulted in multi-screen engagement with the content through television, the internet, social media, and movie theaters.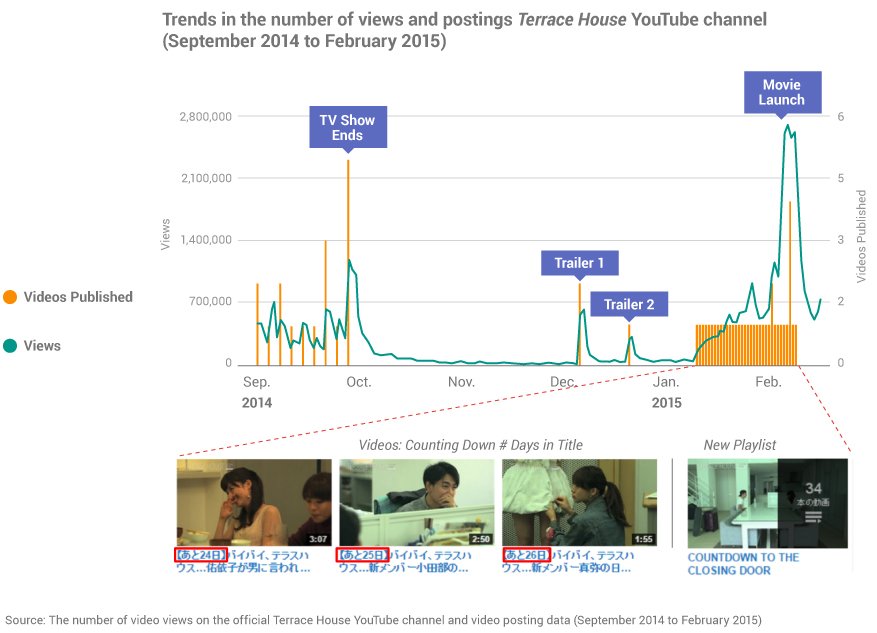 Building emotional bonds with users
What the success of Terrace House and the success of Hajime Shacho's YouTube channel have in common is the frequent redistribution of content on SNS, the provision of content that features characters who are not only attractive but relatable, and a real-time, two-way interaction with viewers through comments that were left on the videos and content that responded to these comments.
Also, content producers in both cases spent much time and effort understanding their viewers' interests. Content produced using this approach generates stronger interest and appreciation among viewers, who in turn redistribute this content to an even wider spectrum of audiences. This proves that viewers are more than mere consumers of information and content.
Given the new ways of enjoying and sharing information and content that are of interest to viewers, it is important for marketers to constantly provide information that users want to engage with in order to keep up with the shift in reciprocity in relation to content. Ongoing engagement builds an emotional connection and feeling of trust for the content producer, which in turn leads to the retention of strong emotional bonds with users.
This article was originally published on June 5, 2015 in Japanese.