Wyeth Nutrition was faced with a common logistical nightmare for Filippino brands: coordinating a nationwide product launch across more than 7,000 islands.
Wyeth needed to get 100% of target stores stocked with Bonakid Pre-School 3+ milk formula before the start of its nationwide marketing campaign.
Two weeks before the campaign launch, the brand tested a YouTube-first strategy in South Luzon, where the new formula was already available. 
In just two weeks, the spot boosted ad recall by 42% and purchase intent by 19% in South Luzon; after six weeks, South Luzon posted the country's highest share gain growth.
Since 1958, the Philippines' leading nutritionals company Wyeth Nutrition—parent company of kids' milk formula brand Bonakid Pre-School 3+—has developed science-proven products to nurture a healthier generation of Filipinos. For the launch of its new and improved formula, the brand was preparing a nationwide marketing campaign around its signature jingle that Filipino kids and moms can't get enough of. But before the launch, the brand faced a familiar yet formidable challenge: product distribution throughout the Philippine islands.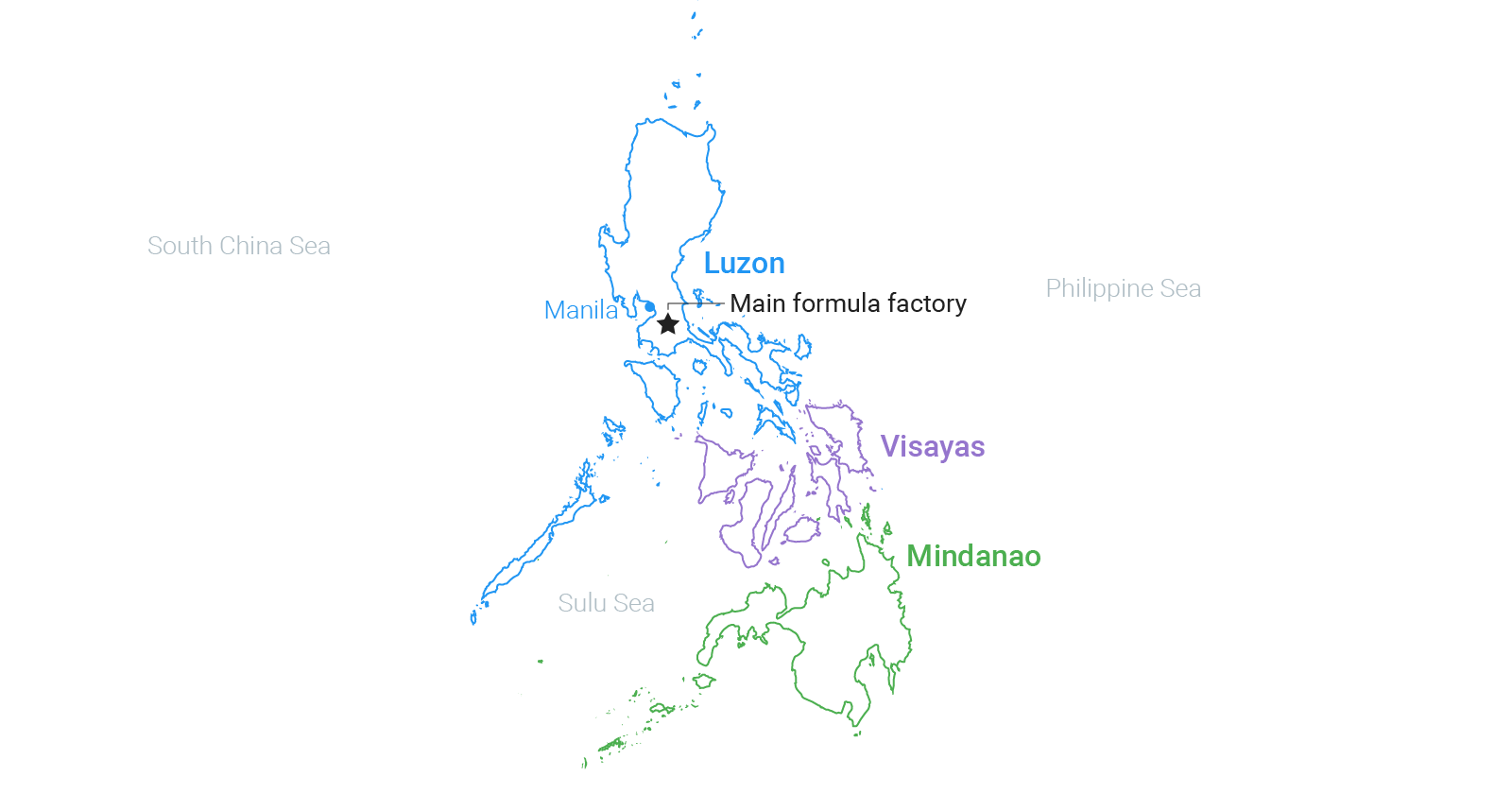 The Philippines contains more than 7,000 islands divided into 81 provinces, which are further grouped into 17 regions. Like all CPG brands in the Philippines, Bonakid Pre-School 3+ knew that distribution of its new formula across all regions would be staggered due to the islands' geography. The brand's challenge was coordinating the launch of a nationwide marketing plan at the same time its new formula became 100% available in stores.
Because its new formula was distributed throughout the Philippines in stages, the brand came up with an unorthodox digital-first strategy to reach customers in regions with fully stocked stores.
Because its new formula was distributed throughout the Philippines in stages, the brand came up with an unorthodox digital-first strategy to reach customers in regions with fully stocked stores. It launched a geo-targeted YouTube campaign two weeks before its nationwide marketing campaign to ensure it would only reach moms who already had access to the new formula.
Taking a tactical approach to reach moms in South Luzon
As the region with the highest number of stores stocked with the new formula—partially because of its proximity to the brand's main factory—Southern Luzon was an ideal launch point for its YouTube-first strategy. Based on the amount of time Filipinos spend on YouTube and the platform's high rates of viewability, Bonakid Pre-School 3+ saw an opportunity to use YouTube to connect with moms in the region.
"It didn't make economic sense to send our advertising message to the masses in the hopes of reaching just a few in those cities where distribution was ahead," said Sarinah Edralin Flores, group product manager for Bonaline Growing Up Milk. "That's why we decided to look into YouTube's reach in provincial areas, which has been questioned by advertisers in the region."
With store shelves in South Luzon fully stocked, the brand launched a 30-second YouTube spot aimed at engaging 18–44-year-old females in the region in August 2017.
After running its campaign on YouTube for two weeks in South Luzon, the brand continued running a one-minute ad nationwide on YouTube and TV for six weeks when the new formula was available in all provinces.
"By deliberately identifying a region and platform where our ad spend would work the hardest, we were able to reduce wasted impressions and turn potential missed opportunities into meaningful consumer interactions."
Digital-first pre-launch strategy boosts ad recall and share gain
To see if its YouTube-first approach paid off, Bonakid Pre-School 3+ compared its share gain growth in South Luzon with every other region. In the South Luzon region, the campaign delivered 1.2M impressions at 2X average frequency in just one week. After running for the full two weeks, the YouTube spot also helped drive a 42% lift in ad recall and a 19% lift in purchase intent in Southern Luzon. Post-campaign analysis showed that the South Luzon region posted the highest share gain growth in the entire country (1.4%), despite having one of the highest pre-campaign market shares within all regions.
Bonakid Pre-School 3+ market share across regions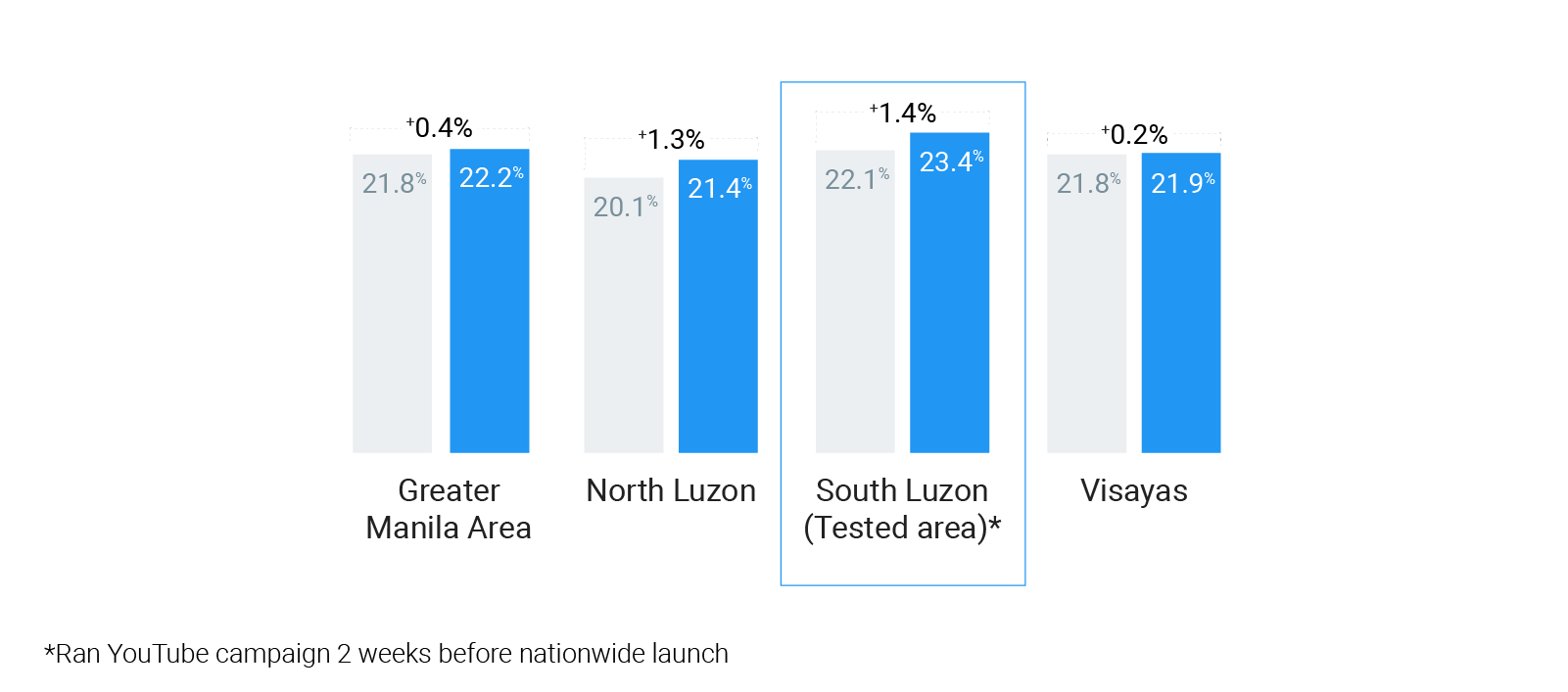 Pre-campaign (Jan.–July '17)

Post-campaign (Aug.–Sept. '17)
Flores was more than impressed with the results. "Going digital-first for our product launch helped us realize that we can move brand metrics and even boost market share with a more targeted, personalized approach. By deliberately identifying a region and platform where our ad spend would work the hardest, we were able to reduce wasted impressions and turn potential missed opportunities into meaningful customer interactions."