Buying a car is unlike typical retail – there's more to the process than browsing, clicking and paying. Facing huge choice and a high price point, auto customers take time to arrive at their decisions. Buying a car is a real journey, so brands can't just reach the consumer at a single touchpoint and expect them to engage. One automotive brand discovered that maximising the chance of sparking a conversion requires being there at all the important moments.
When an automotive brand launched a masthead on YouTube – the world's second largest search engine – it reached 7 million people in a single day, generated huge brand awareness and fuelled the top of its marketing funnel.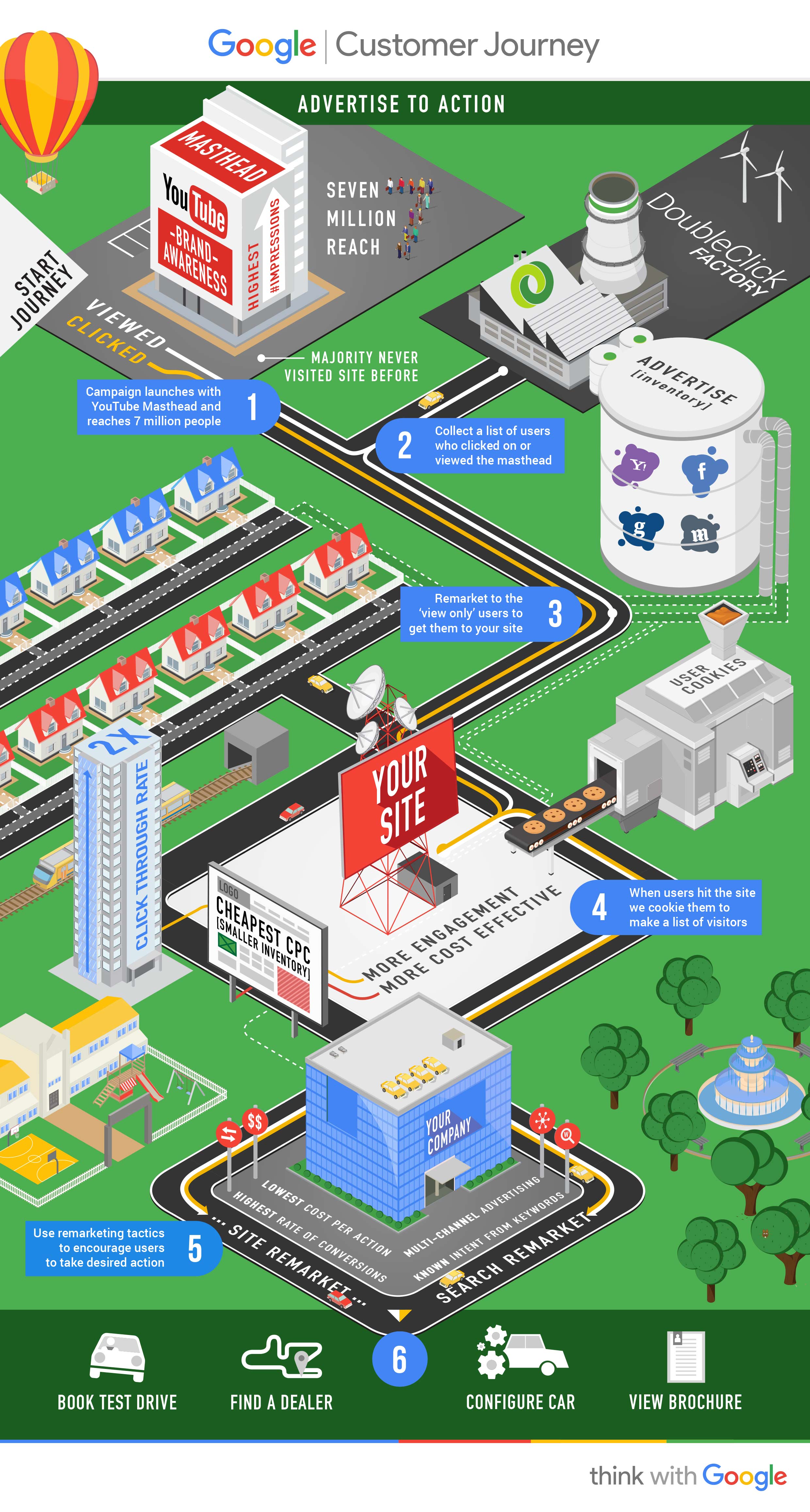 Using DoubleClick technology, the automaker collected a list of users who viewed the masthead without clicking through to the site in order to remarket to this group. The fact that DoubleClick has the biggest reach across the internet increased the brand's chances of finding these users again and more often. It's also the only technology that can integrate with YouTube at a level that allowed the collection of this unique user list.
Consumers who saw the remarketing messages then clicked through to the site. They proved far more brand aware and likely to engage than any other audience, with twice the click-through rate and half the cost to re-engage. This led to more engagement at a more cost-effective rate.
Once people were on the site, the brand dropped cookies to create a list of site visitors. Leads were defined as people who booked test drives, searched for dealers, configured cars or viewed brochures. If a user visited but didn't turn into a lead, the company then used performance tactics including site remarketing and search remarketing. Site remarketing emerged as the biggest driver of conversions, followed by search-to-display.
When the audience searched on Google for a brand, category or generic term and then clicked one of the company's AdWords ads, it took the opportunity to analyse search terms to obtain a clear idea of consumers' intent and inform multi-channel advertising efforts. Using search advertising in this way meant the automaker could make smarter advertising choices, while using the DoubleClick stack enabled visibility into the full user journey from start to finish and allowed the most cost-effective decisions for the campaign.