The pandemic, economic uncertainty, and the war in Ukraine have significantly impacted consumer buying behaviours during the last few years. For new research into the local retail industry we specifically asked Romanian shoppers how the pandemic has changed their purchase habits. And of those who have made a change, 76% said they started shopping more online than offline.1
With that in mind, we know that online shopping is an increasingly important channel for retailers. And that's especially true for brands operating in the Central Eastern Europe (CEE) region.
However, online product discovery, research, and purchasing decisions happen across many digital devices and channels. And as consumer behaviours change, purchase paths are only getting longer and more complex.
This is even true for global household brands in Romania, such as Philips Domestic Appliances (Philips DA). The company prides itself on changing with the times and adapting to these new behaviours. Rather than losing prospective customers in this "messy" path-to-purchase, they tailored their strategy and were able to reach people earlier on in the purchasing journey.
Understanding new customer journeys
With an increasing variety of products available, it's not surprising that 80% of Romanians first do research online, when making a purchase there.2
They want to feel confident they have found the right option. And in this time of uncertainty, recent search trends show that consumers are considering an array of additional information. Shoppers also weigh-up brand value, based on product reviews, popularity, sustainability, and more.
The Phillips DA team spotted this change in consumer behaviour and they set out to make this product research phase easier — and shorter — for customers.
The marketing team supports their key seasonal campaigns with always-on conversion ads during, what they call, "golden-window" time frames. Representing the highest conversion opportunity, ads fall between peak moments to reach new customers and those still lingering on the path-to-purchase.
Previously, these conversion ads featured various products grouped together according to low, medium, or high price categories — along with generic text and image assets. Although this worked well for customers nearing the end of more direct purchase paths, they found that ads were not engaging those consumers still in the earlier stages of the purchasing funnel.
Reaching people at different stages of the funnel with a tailored approach
To maximise hidden potential around key campaigns, the marketing team knew they would need to reach people at all stages of the funnel — not just those ready to make a purchase. That's why they tapped into Performance Max, which is a way to unify ads across every Google channel in a single campaign.
"We saw the opportunity to use individual messaging in our ad-copy that is specific to each product, to reach customers across multiple channels more efficiently," explains Diana Ștefan, Europe's senior direct-to-consumer activation manager at Philips DA. "We also added audience signals into the Performance Max campaign — including targeted search queries, YouTube search terms, affinity, and demographics — to find not only shoppers ready to buy, but also those who were still in the research stage."
The team also invested in a large number of different visual creatives. This meant Performance Max, powered by Google's AI, could tailor both copy and visual assets for different "champion products" on the go. This allowed ads to automatically provide consumers with the benefits of the right product for their needs, at the right moment.
Previously, when searching for an appliance, a customer may be shown an advertisement featuring different Philips DA products along with generic copy raising brand or product awareness. As seen in the following 'before' ad, which translates to: "Choose Philips innovation. Choose from a wide range of Philips products for your home."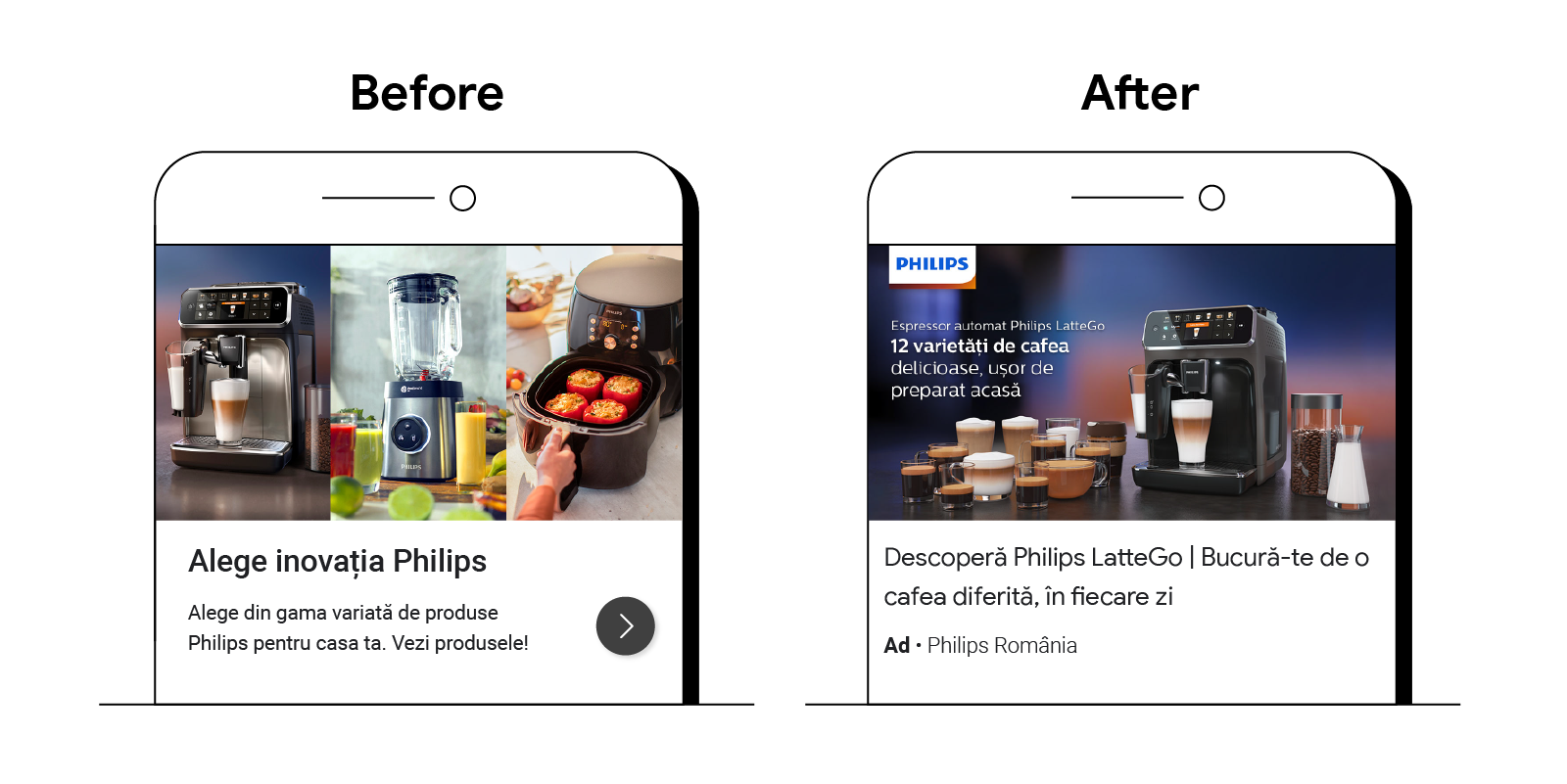 With Performance Max, ads are tailored along the customer journey. For example, if someone is researching the pros and cons of making coffee at home, they may see the above 'after' ad for an espresso machine, which highlights the product's standout features and uses. The ad copy translates to: "Philips LatteGo automatic espresso machine. Twelve varieties of delicious coffee, easy to prepare at home. Discover Philips LatteGo. Enjoy a different coffee, everyday."
3 product categories, 3X increase in revenue
This new approach with Performance Max, which covers YouTube, Display, Search, Discover, Gmail, and Maps, has brought more than just a wider reach along new and complex conversion paths.
"This new campaign approach also helped us with our ad spend," explains Ioana Samoilă, the team's digital marketing and e-commerce manager. "Automated budget allocation directed our ad spend to the highest performing channels. It also increased spend for particular products based on our additional manual input, such as the seasonality, stock availability, or promotional sale of an item."
The two-month test across three product categories was a great success:

The team measured increased purchase intent on their e-commerce site, with shoppers adding espresso machines and air fryers to their carts 8X more during the test period than the previous two months.
Similarly, return-on-ad-spend (ROAS) grew by 49% and there was a 3X increase in revenue across all three product categories that were a part of the test for Romania.
"A singular campaign in sync across all our Google channels means we were able to meet new consumers with the right information at different stages of their purchasing journeys," Ștefan continues. "This will be invaluable for us in 2023, and beyond, as customer behaviours will evolve further and we continue our focus on meeting them."