Black Friday in the Middle East and North Africa (MENA) is big — and it is only getting bigger. This (in)famous shopping day — which traditionally kicks off the festive retail season on November 25 — now covers several major and micro moments, graduating it from a month-long spree to a three-month long shopping extravaganza.
Shoppers are searching earlier than ever
Black Friday is a global phenomenon, but regional consumers start exploring before major markets, like the U.S. and India. Search interest around Black Friday starts 12 weeks before the big day in MENA. That's a whole month before American and Indian consumers start looking.1
Consumers want shopping made easy
No matter what they're buying, regional shoppers value convenience and flexibility throughout Black Friday season. Search interest for "same day delivery" and "free return" saw year-on-year growth of 25% and 30% respectively. "Click and collect" rose by 25%, with a 35% increase in search interest for "near me" suggesting that consumers want to be able to shop both online and in-store. As always, people love a good bargain, with search interest around "discounts" climbing by 30% throughout the season.
Consumers explore Black Friday in 4 aisles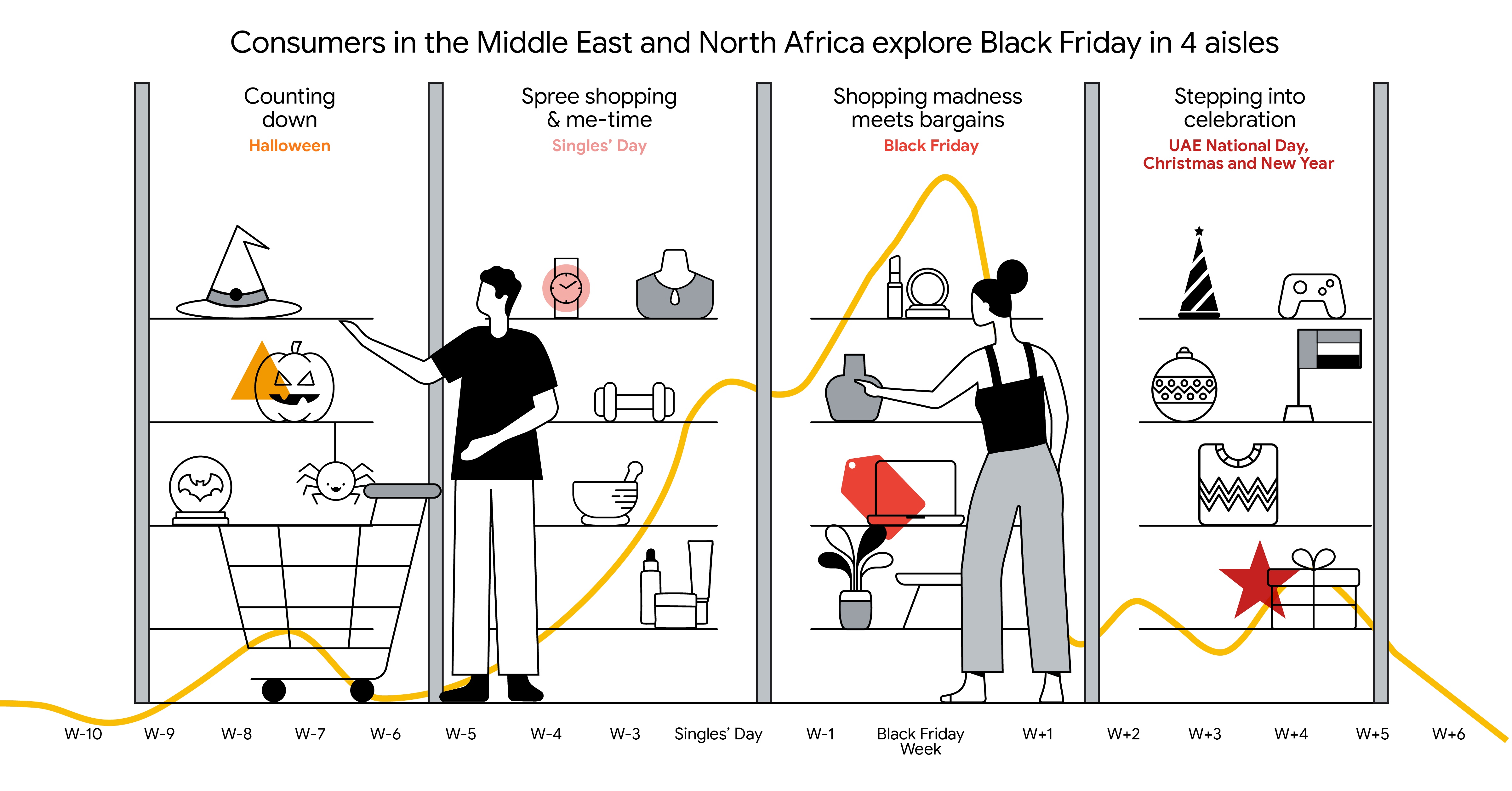 In the weeks leading up to Black Friday, shoppers kick-off their excitement by uncovering what the wider season has to offer, planning for Halloween (October 31) in aisle one, and indulging themselves for Singles' Day (November 11, informally known as 11/11) in aisle two.
When Black Friday gets on stage in aisle three, consumers turn up the volume on shopping across four key sections: decorating indoors and out; stocking up the kitchen; updating their wardrobes, and channelling their inner supermodel.
Finally, they prepare for end-of-year celebrations with Cyber Monday (November 28), the United Arab Emirates' (UAE) National Day (December 2), Christmas, and New Year in aisle four.
1. Counting down
Consumers' anticipation for the retail season starts in aisle one, with shoppers more open to discovery here than any other time. Last year we saw general search interest around Black Friday's micro and major moments increase by 25%.2
Halloween is a growing micro moment, emerging with a louder 'Boo!' than ever before. We saw a 25% increase3 in search interest for "Halloween" across MENA. Saudi Arabia – a country that embraced the day for the first time last year – drove 40% of that growth.
If you've ever thrown a costume party, you'll know that details are the stars of the show. The region clearly agrees, with search interest increasing by 165% for "Halloween candy" and 50% for "Halloween costume".
2. Spree shopping and me-time
Singles' Day is all about people celebrating themselves, and Middle Eastern and North African consumers are there for it in aisle two. We saw general "Singles' Day" search interest rising by 35%, with shoppers focused on spoiling themselves with indulgent buys. We saw search interest increase by 50% for "pendant" and 45% for "workout leggings", with video search interest for "makeup" rising 95%.
While spree buyers are big on treating themselves, it's not just about shopping. They also crave me-time, with self-care and well-being related video search interest on the up by 95% for "breathing exercises", 25% for "home spa", and 30% for "hair care".
And videos help them budget, with discounts and sales videos like this racking up the views.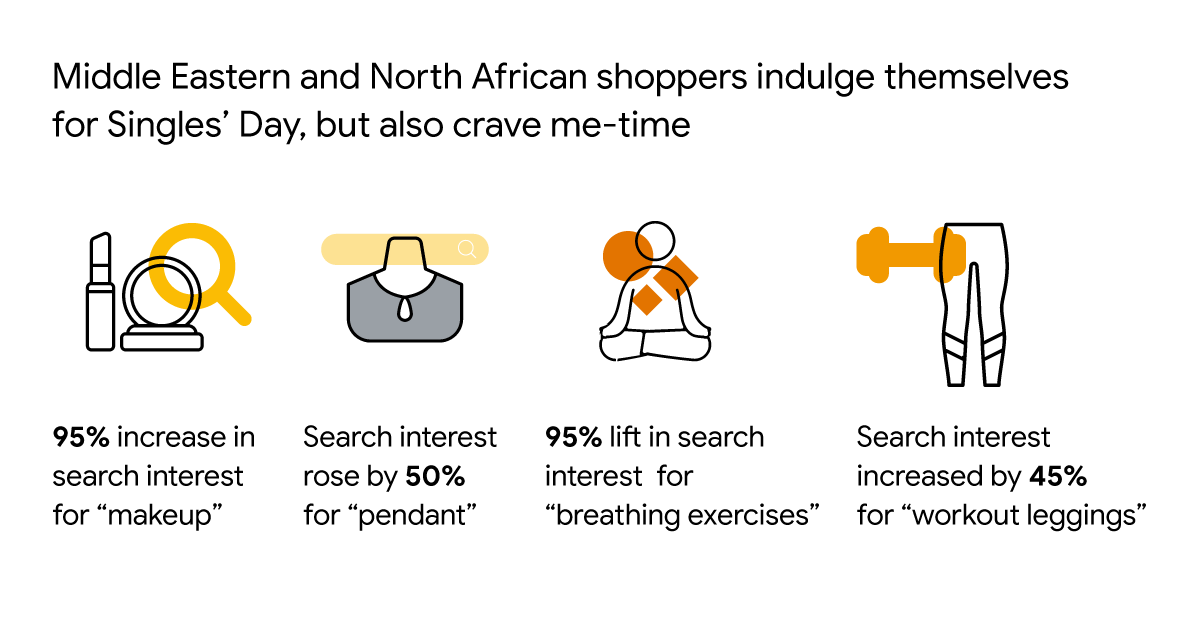 3. Shopping madness meets bargains
Black Friday — the major shopping event consumers know and love — is stocked in aisle three. Retail-related searches spike in this big-deal moment, with shoppers feeling mounting pressure to make the most of it.
Shopping FOMO sees people jumping between different types of buys, with home decorating, kitchen stock-ups, wardrobe updates, and channelling their inner supermodel being particularly popular.
Shoppers want their houses and gardens looking magazine-worthy to soon welcome guests. Search interest increased by 50% for "chest of drawers", 70% for "garden flower", and 35% for "candles".
With the biggest deals of the year in full force, it's the perfect time for consumers to stock up their kitchens. Search interest increased by 30% for "dishwasher" and "air fryer", and 55% for "dishwashing liquid".
Temperatures are cooling and social invites stacking up, so fashion's on shoppers' minds. Last year search interest increased for "formal shoes" by 40%, "scarf" by 85%, and "chino pants" by 35%.
Looking and smelling good never goes out of fashion in MENA, but Black Friday deals make feeling like a million bucks easier than ever. Search interest rose for "oud perfume" by 115%, "lipstick" by 30%, and "concealer" by 25%.
No matter what they're buying now, shoppers do not want to miss out on a good deal. They turn to video to get quick access to discount tips, with search interest for "coupon" on YouTube increasing by 25%, and general Black Friday discount searches increasing by 90% — the highest of the season.4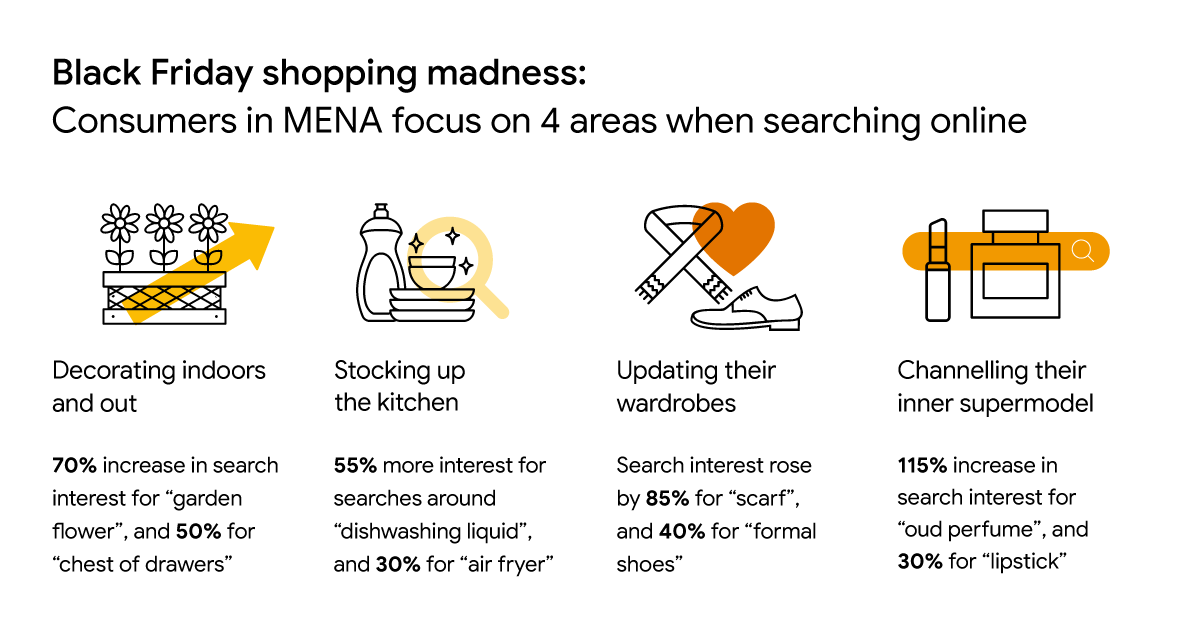 4. Stepping into celebration
There's so much to celebrate in aisle four, the three-month shopping extravaganza finale. There is growing excitement around emerging micro moment UAE National Day, and major events like Cyber Monday, Christmas, and New Year.
Patriotic UAE shoppers love kitting out their homes for UAE National Day. We saw a 45% increase in search interest for "balloons" in the country that week, with "UAE flags" flying high at 150%.
Festive preparations kick into high-gear, with search interest for "Christmas dress" increasing by 65%, and "jumpsuit" rising by 30%. In the realm of festive home decoration and party planning, "Christmas ornaments" saw a 50% rise, with "New Year's Eve food" on the up by 105%.
When it comes to presents, consumers across the region look to video for inspiration, with a 70% increase in search interest on YouTube for "gift for him", 55% for "gift", and 45% for "gift for her". They also turn to search to find one-of-a-kind gifts, with searches for "special edition" increasing by 110%. And we can't forget our last-minute shoppers, with a rise of 35% in search interest for "gift card".
Tips to help marketers bag Black Friday season
Regional shoppers start searching earlier than ever, and it's important to be there for them throughout their browsing journey. Performance Max, a goal-based campaign, takes online presence to the next level. It can complement keyword-based Search campaigns, grow performance across Google inventory, and drive foot traffic to your store.
YouTube has evolved from an entertainment destination to a source of inspiration and decision-making, where consumers can deep dive into products and topics they've got an eye on. Help connect with customers at scale via Video reach campaigns, and then entice them to buy with Video action campaigns.
Shoppers want buying to be quick and seamless so, if you have an app, the goal should be to get it into the hands of as many customers as possible. App campaigns make it easy to promote your app across Google. Pop in some text, a bid, assets, and the rest is optimised to help shoppers find you.
For more deep dives on other seasonal moments, head to our Seasonal Calendar.